New carpool lane on northbound 405 finally opens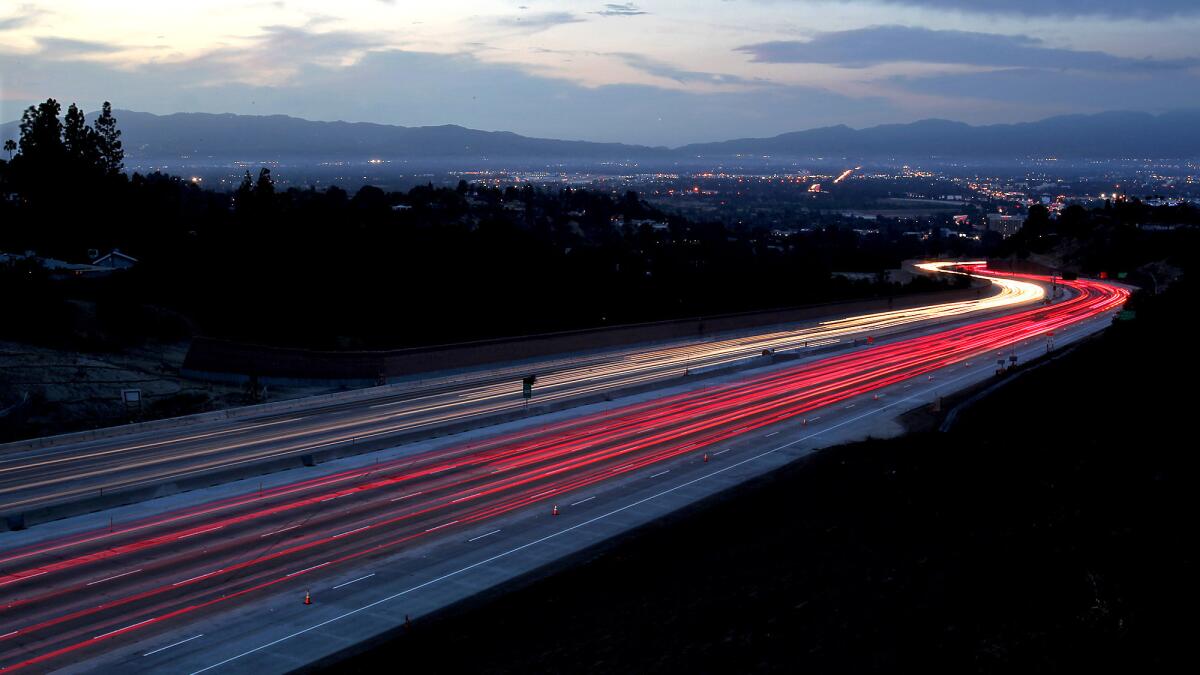 After countless delays, cost overruns, gridlock gripes from Tesla's Elon Musk and a phenomenon known as "Carmageddon," officials Friday will finally unveil on the 405 Freeway the nation's longest continuous carpool lane.
The opening marks a milestone for L.A. commuter culture and the notorious 405, the nation's busiest urban interstate highway. The full carpool route runs for 70 miles from southern Orange County to near the northern tip of the San Fernando Valley, matching the existing carpool run on the southbound side.
Transit officials expect commuters to save at least 10 minutes per trip during peak hours on the new 10-mile stretch of carpool lane. In theory, the shift of high-occupancy vehicles to that lane should also help solo travelers roll more smoothly.
Southern California's aging freeway system has little room to grow; L.A.'s last new freeway — the 105 — opened 21 years ago. Adding carpool lanes has become the main tool for increasing road capacity to keep up with growing population and demand.
The 405 carries about 300,000 vehicles a day, a number that the Federal Highway Administration expects to grow by nearly 50%, to 447,000, by 2025.
The $1.1-billion 405 construction project has been the most challenging of a series of carpool lane projects that Caltrans and the Los Angeles County Metropolitan Transportation Authority have undertaken. Workers also are in the process of adding a lane along the 5 Freeway in Southeast L.A. and through the San Fernando Valley. The hope is for the 5 to one day have a continuous lane from San Clemente into Santa Clarita, except for a 4.5-mile stretch around downtown L.A.
Combined, Southern California has 950 miles of carpool lanes, with 70 more miles under construction. An additional 58 miles are in the design stages.
Each HOV lane in L.A. County carries 3,100 people in 1,300 vehicles per hour, said Carrie Bowen, director of the California Department of Transportation's District 7.
That means a single carpool lane carries about double the number of people as a regular lane. And officials expect those carpool lane numbers to grow as the network expands and ever-worsening traffic induces more commuters to share rides.
"If you're going to drive from the Irvine area up to somewhere in the … Valley, if there's any way you can get together with your co-worker … and drive together, you'd be insane to not do it," said Shawn Nelson, an Orange County supervisor.
As carpool lanes boom, one looming question is whether they will eventually be converted into so-called HOT lanes, which lone drivers with transponders may use if they pay a toll along with carpoolers.
Los Angeles has already converted carpool lanes on the 110 and 10 on an experimental basis. Those high-occupancy toll lanes have saved time for drivers who use them, but early analysis showed that regular lanes slowed as solo drivers who had been cheating and using the carpool lanes went back to normal lanes.
The HOV-lane concept originated in the 1960s in northern Virginia and the Washington, D.C., area. The idea gained steam after the federal Clean Air Act of 1970 required states to come up with programs to improve air quality. The first carpool lanes arrived in Southern California a few years later, but construction really took off in the 1990s.
For more than four years, Westside residents and commuters have had to slog through disorderly 405 traffic and cope with nighttime rumbling, dust and seemingly capricious closures.
Among those who grumbled was Musk whose commute in his electric Tesla to his Space Exploration Technologies factory in Hawthorne from Bel-Air took a toll. More than a year ago he told The Times: "I've super had it."
The project, among the largest of 12,000 highway jobs underway in the nation, required workers to rebuild and seismically upgrade three key bridges (Skirball Center, Mulholland and Sunset), construct flyover ramps and erect 20 miles of new retaining walls and soundwalls.
Some of the highest-profile construction took place during weekend closures in 2011 and 2012 — dubbed "Carmageddon" I and II — which gave workers time and space to demolish the Mulholland Bridge. In both cases, the feared gridlock didn't materialize.
Several months of landscaping, paving and other clean-up work remain (and, yes, there will be more lane closures), but the opening of the HOV lane is what construction-weary motorists have been anticipating. It is a year overdue.
Sooner or later things will back up again, and transportation officials will have to consider whether to turn parts of the 405 carpool lane into a toll lane or increase the occupancy requirements to ride in it.
"This [project] is almost a quintessential example of a large-scale complex investment in transportation in a well-developed metropolitan area," said Martin Wachs, professor emeritus at UCLA and former director of transportation studies at Rand Corp., a think tank. "It had very large costs and also will have very large benefits that will be welcomed by people over a long period of time."
Los Angeles County Supervisor Zev Yaroslavsky praised Westsiders and commuters for their remarkable forbearance during "this mother of all public works projects."
"What they should know now is that we see the light at the end of the tunnel," he said. "This has been a difficult project, but it's something we had to do."
Sarah Piehl of Brentwood vowed to reserve judgment about the project until she actually drives the new stretch of carpool lane. But she said she expected the ultimate effect on traffic to be marginal compared with the burdens the project has placed on her and her neighbors.
About 10:30 one recent weekend night, Piehl recalled, she and friends were delayed getting home by more than 30 minutes because of consecutive ramp closures on the 405.
"We've had to live through all of this," Piehl said. "And the word is that, by the time it's done, we're going to have so many more people … that the freeway is still going to be congested."
Sign up for Essential California for news, features and recommendations from the L.A. Times and beyond in your inbox six days a week.
You may occasionally receive promotional content from the Los Angeles Times.