A Hollywood tragedy, a neighborhood remembrance
"Thirteen Women," starring Millicent Lillian "Peg" Entwistle, was shown in the parking lot of the Beachwood Market in Hollywood on the 82nd anniversary of the young actress' suicide.
(Genaro Molina / Los Angeles Times)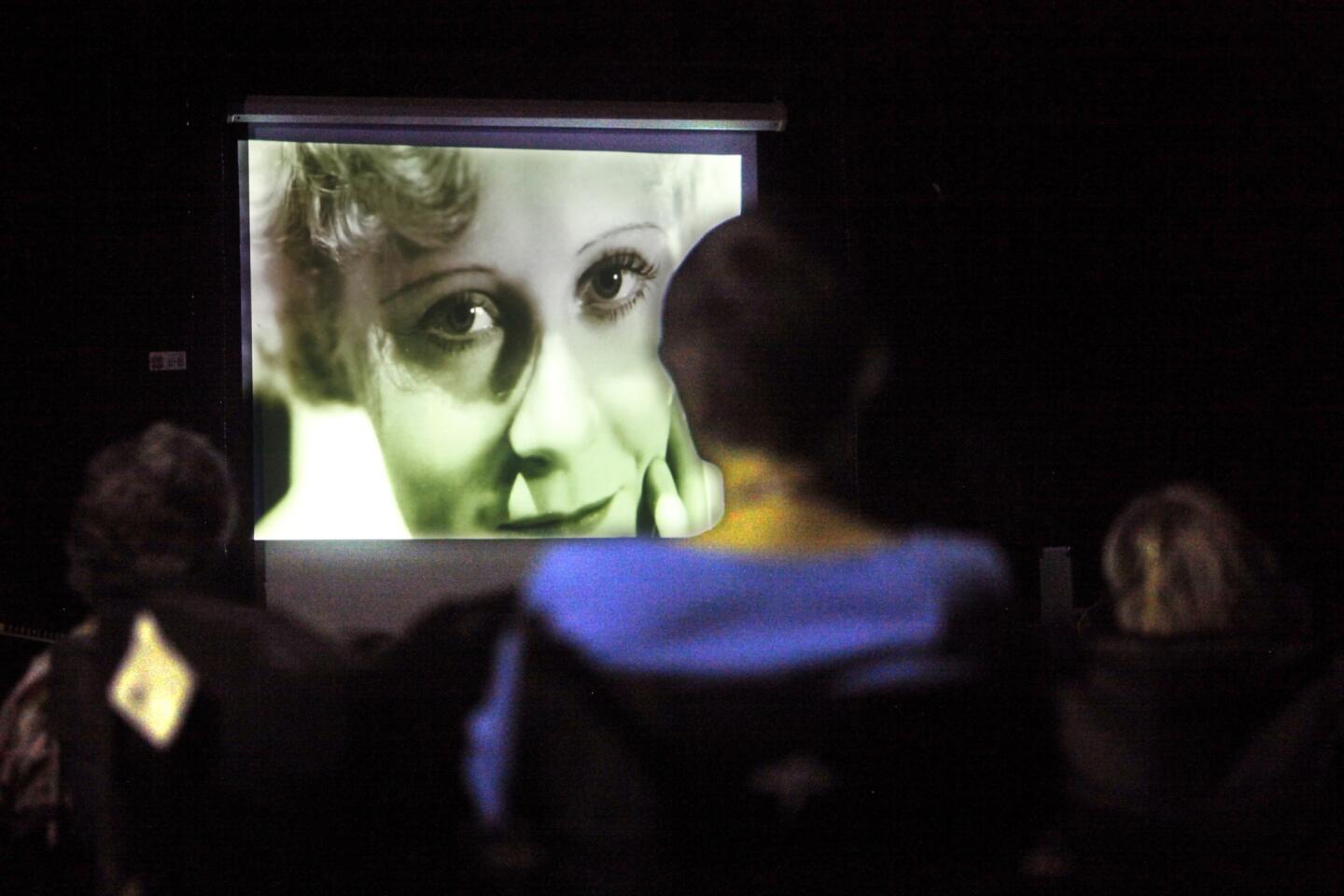 Millicent Lillian "Peg" Entwistle appears on-screen. The movie night is organized by the Beachwood Canyon market, an antique store, a flower shop and the Beachwood Cafe.
(Genaro Molina / Los Angeles Times)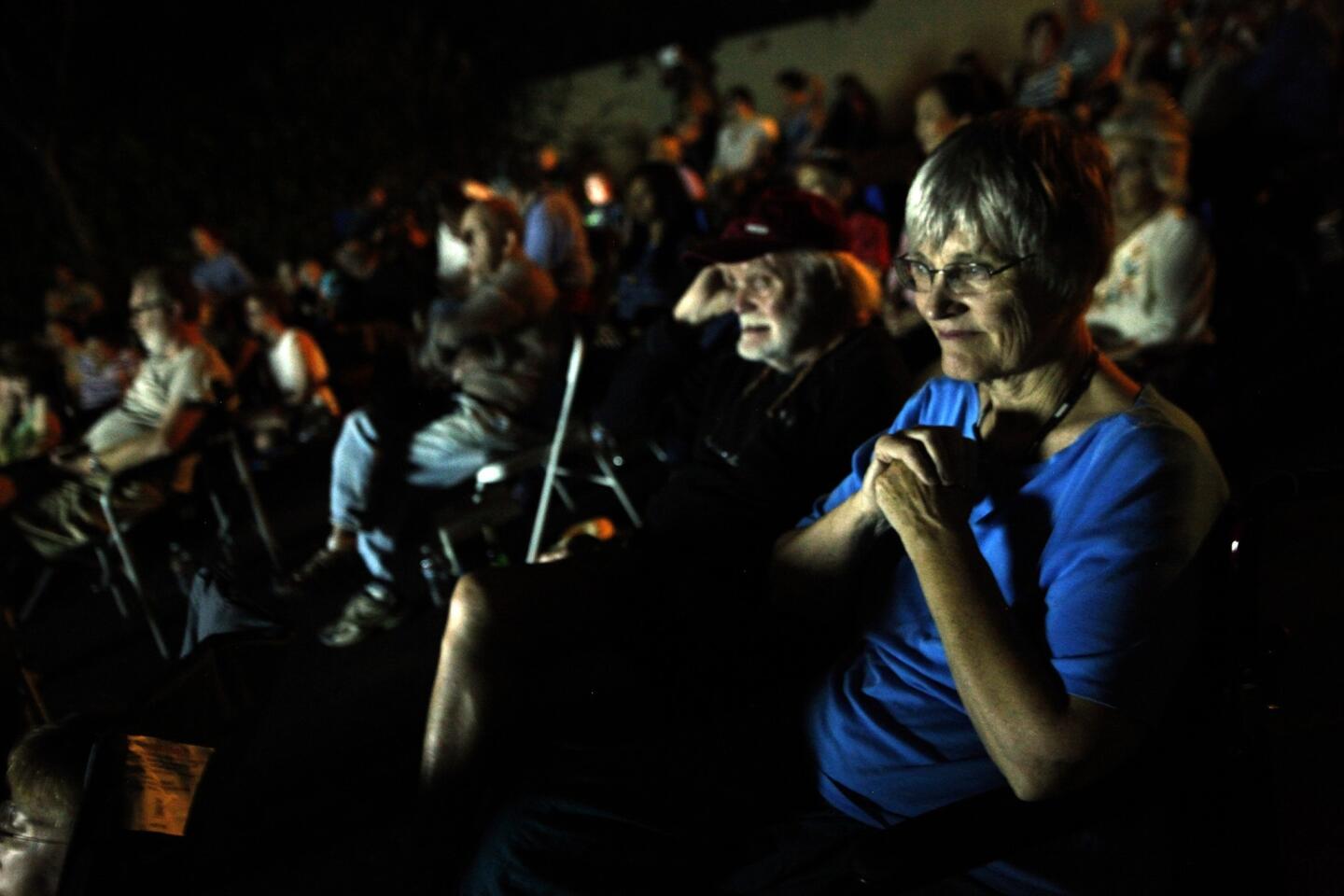 The movie night remembers Millicent Lillian "Peg" Entwistle, who left her uncle's home on Beachwood Drive in 1932 and took her life at age 24 by jumping off the H on the Hollywood sign, which read "Hollywoodland" at the time.
(Genaro Molina / Los Angeles Times)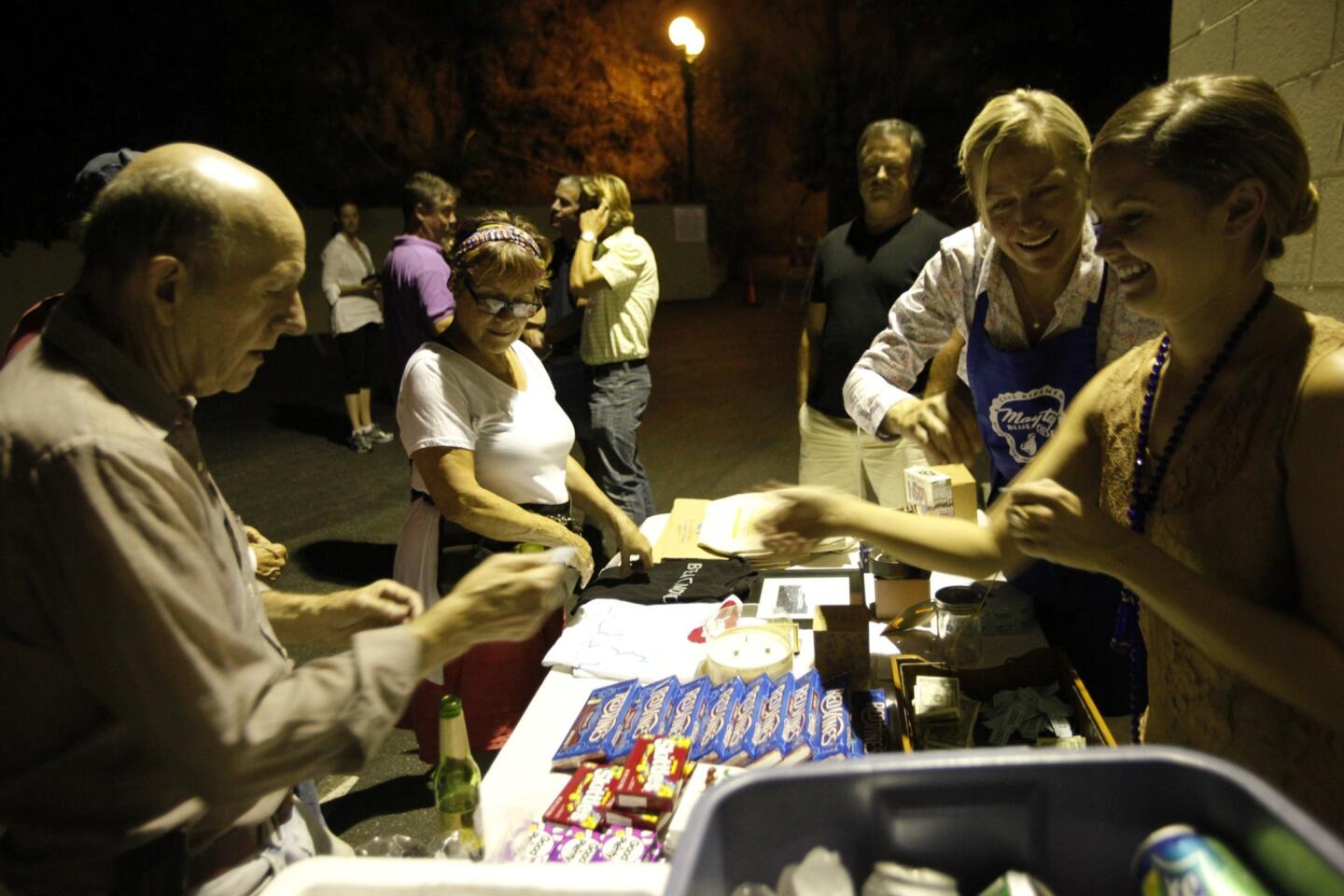 Aprils Brooks, right, and Patty Peck sell raffle tickets before watching "Thirteen Women." It was the 82nd anniversary of Millicent Lillian "Peg" Entwistle's suicide. Proceeds from the raffle went to the American Foundation for Suicide Prevention.
(Genaro Molina / Los Angeles Times)
A portrait of actress Millicent Lillian "Peg" Entwistle resides in the front window of Hollywoodland Antiques & Fine Time Pieces in Hollywood.
(Genaro Molina / Los Angeles Times)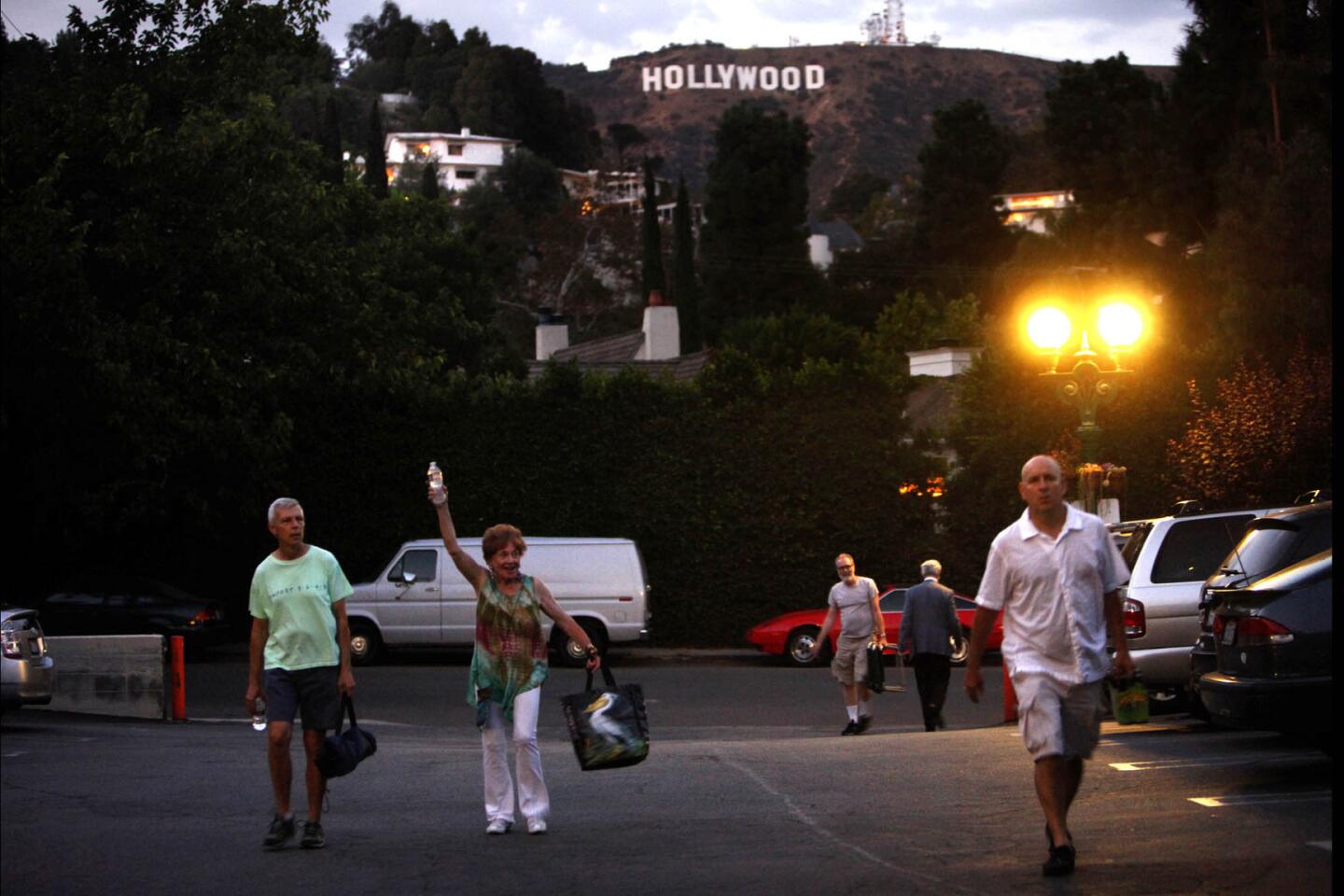 Residents of Beachwood Canyon arrive to watch "Thirteen Women."
(Genaro Molina / Los Angeles Times)
Peg Entwistle was the first to bring the Hollywood sign fame, albeit in a heartbreaking way.
On Sept. 16, 1932, the 24-year-old actress jumped to her death off the giant H.
She had lived below the sign, in a Beachwood Drive bungalow. On Tuesday night, the anniversary of her suicide, nearly 100 people gathered to pay tribute in Beachwood Village, just above the stone gateways to Hollywoodland.
To the parking lot of the Beachwood Market, which opened in 1933, they brought camp chairs, picnic dinners, dogs on leashes and babies in strollers. They came to watch Entwistle in her only known movie role, in the campy psychological thriller "Thirteen Women." The film, released after her death, features two suicides.
But if the remembrance sounds macabre, it wasn't.
Before the movie, there were Looney Tunes on the big screen. People won raffle prizes donated by the village's cluster of shops. For snacks, there were Red Vines and bags bulging with popcorn. One couple brought margarita-filled water bottles. Others drank beer and wine.
Outdoors together on a hot night, neighbors — many of whom had lived in the canyon for decades — mingled in a movie theater fashioned from a pull-down screen balanced between pillars of stacked milk crates.
From where they sat, they couldn't see the landmark where Entwistle ended it all.
In 1932, the big white letters spelled HOLLYWOODLAND to advertise the still growing neighborhood in the hills. Lighted at nighttime by 4,000 bulbs, groups of letters would flash in succession: HOLLY, then WOOD, then LAND — then all of them at once.
The sign the whole world now knows had been put up to attract home buyers, not tourists, and didn't yet symbolize fame or success. But in the news, the young woman's leap from it immediately was ascribed to her despair at not having attained them.
"Suicide Laid to Film Jinx," read the headline in this newspaper. Wrote the New York Times: "Police found yesterday, at the foot of a gigantic electric letter "H," evidence of a movieland tragedy — the bruised body of a girl who failed."
That storyline almost certainly oversimplifies. Entwistle likely suffered from depression, said Jeffrey von Meyer, the event's prime organizer who for 18 years has owned Hollywoodland Antiques & Fine Time Pieces.
In planning the night, he and the other village shop owners — from the Beachwood Cafe, the market, My Fair Lady's Flowers — decided to donate money raised from the raffle and concessions to the American Foundation for Suicide Prevention, in Entwistle's name.
That meant a lot to Jonathan Roberts, 37, who with his partner, Keith Aldridge, brought taquitos, salad and margaritas to the parking lot screening. Roberts' sister, Karen, took her own life three years ago at age 29. The foundation's programs — including a November walk Roberts plans to take part in — are helping him in the difficult process of moving forward, he said.
But he didn't know about Tuesday's fundraising in advance. What drew him to the parking lot was the "small-town" spirit of his community.
That, said von Meyer, was a big reason for getting together. So was a desire to have Entwistle remembered more richly.
Born in Wales, she lived in Boston and New York, where she earned fine reviews on the stage. A young Bette Davis reportedly said she wanted to be just like Entwistle after seeing her act in a Henrik Ibsen play.
Years ago, Entwistle's brother walked into Hollywoodland Antiques. When he later sent a photo of his sister, von Meyer promised to keep her face in the front window always.
There she is, smiling gently, looking out on her old world.
"The motivation is really to celebrate her life, who she was," von Meyer said. "She was more than just a girl who jumped off an H."
Follow City Beat @latimescitybeat on Twitter and at Los Angeles Times City Beat on Facebook.
Sign up for Essential California for news, features and recommendations from the L.A. Times and beyond in your inbox six days a week.
You may occasionally receive promotional content from the Los Angeles Times.