They've been 'Hall of Fame bookends' on Dodger airwaves for 55 years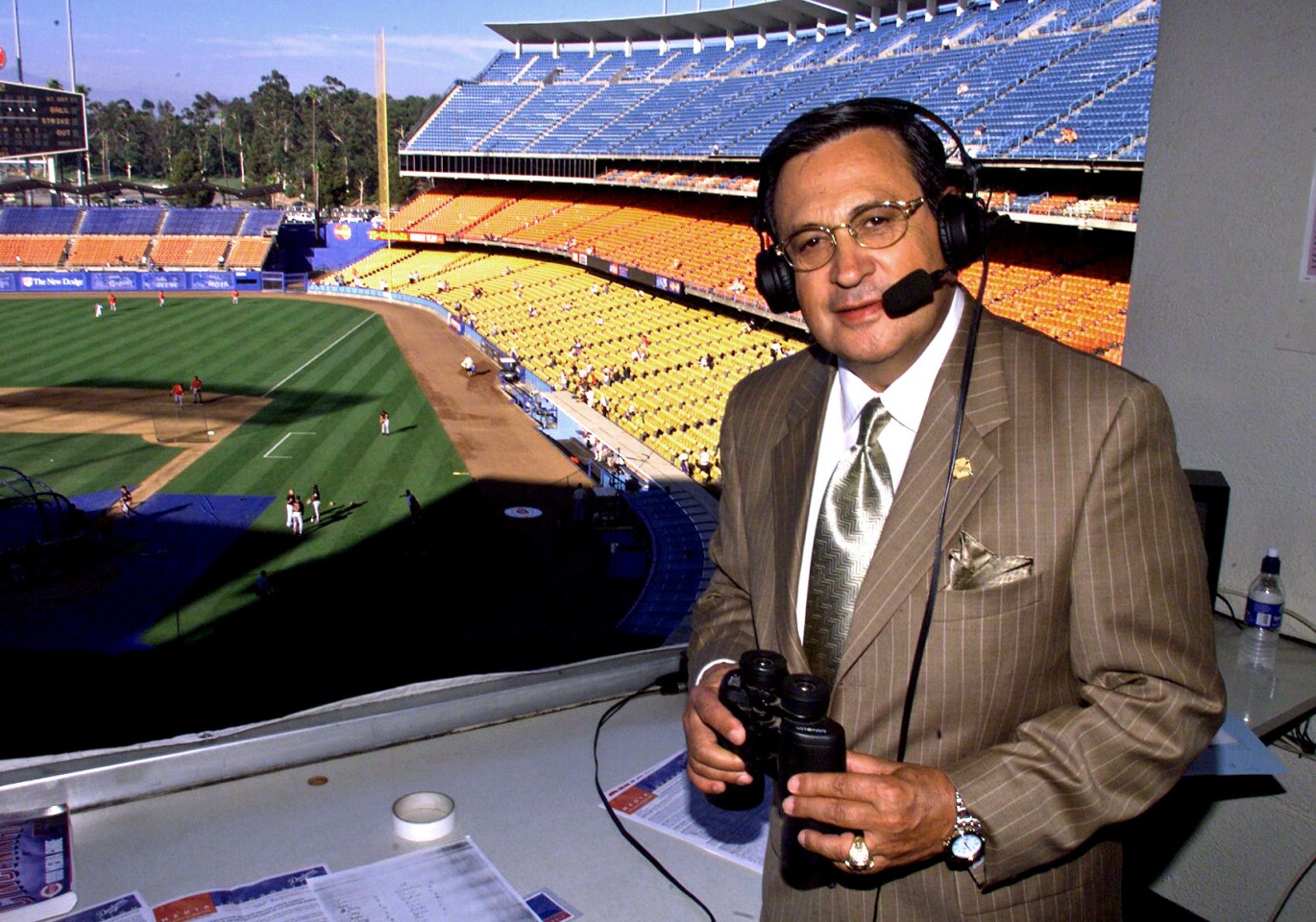 Los Angeles Dodger radio and TV broadcaster Jaime Jarrin, now 77, started working for the franchise when he was 19.
(Gina Ferazzi / Los Angeles Times )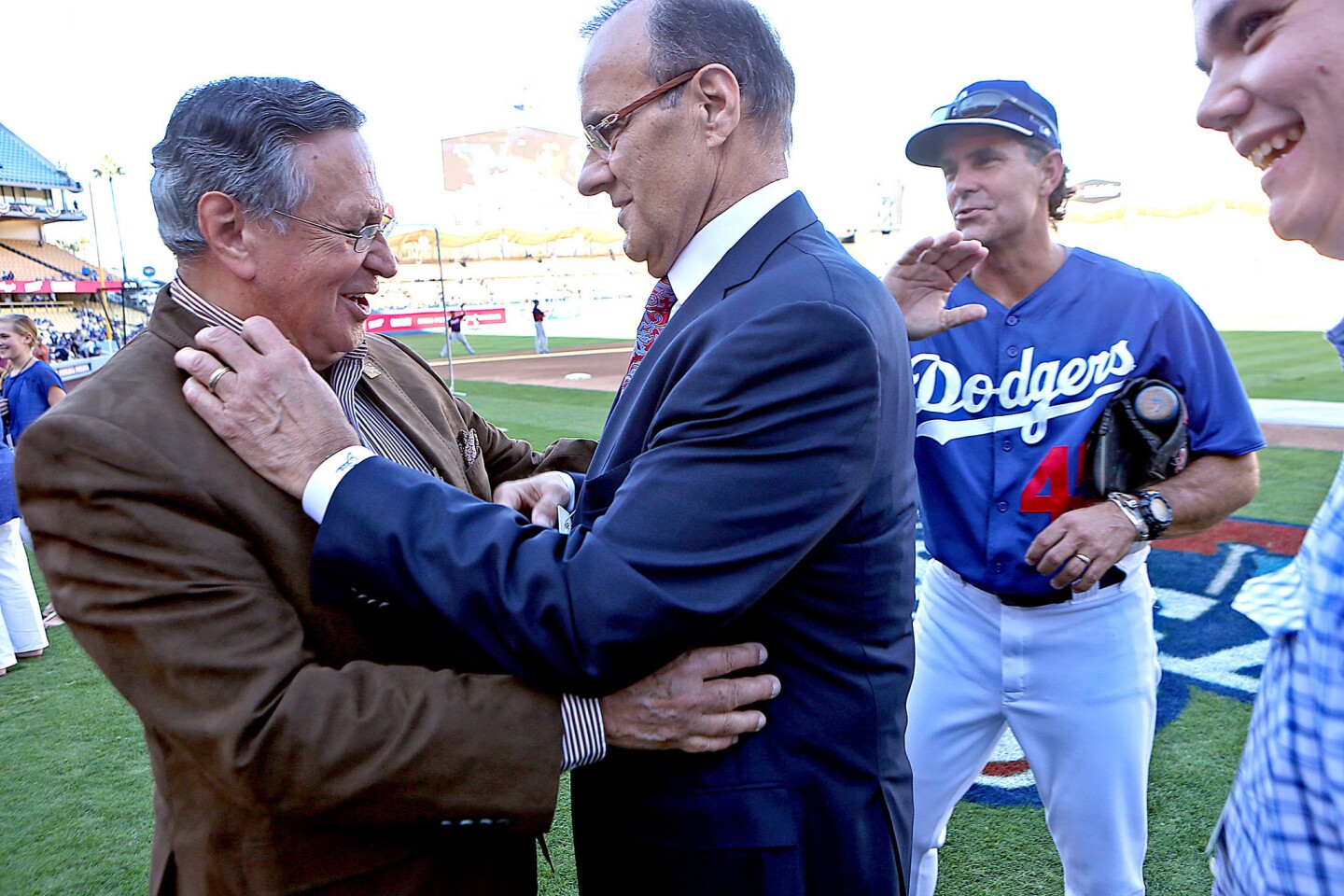 Announcer Jaime Jarrin, left, is greeted by former Dodgers manager and current MLB executive Joe Torre on the field Monday before Game 4 of the National League Division Series at Dodger Stadium.
(Robert Gauthier / Los Angeles Times)
Announcer Jaime Jarrin chats with Dodgers first baseman Adrian Gonzalez on the field before a playoff game at Dodger Stadium in 2013.
(Robert Gauthier / Los Angeles Times)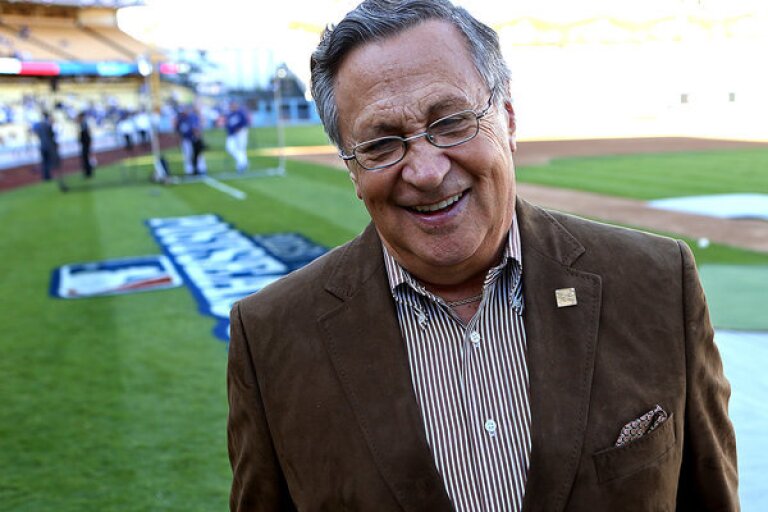 Long time Dodgers announcer Jaime Jarrin on the field before Game 4 of the 2013 National League Division Series at Dodger Stadium.
(Robert Gauthier / Los Angeles Times)
The ball soared off left fielder Carl Crawford's bat once, then twice, into the dimming blue sky.
And each time, the home runs conjured a familiar call for listeners of Spanish-language radio, one that has made its way onto Dodgers shirts and blended seamlessly with the roaring crowd for generations.
"La pelota se va, se va, se va, y despida la con un beso!" Dodgers announcer Jaime Jarrin exclaimed in a voice that seemed practically iambic in its rhythm. "The ball is going, going, going, and you can tell her goodbye with a kiss."
Vin Scully may be baseball's poet laureate, but the man who has shared the Dodgers airwaves with him for 55 years is no slouch in the lyricism department.
As the Dodgers tried to close out the Atlanta Braves in Game 4 of the National League Division Series, Jarrin described a wicked, arching pitch by Dodgers ace Clayton Kershaw as "aristocratic" in its curvature. A swing and a miss accomplished nothing more than "fanning the breeze."
Jarrin, 77, has been a fixture with the Dodgers since joining the organization as a 19-year-old and broadcasting his first game a year later. Once a news reporter, Jarrin covered the Watts riots and the funeral for John F. Kennedy. He has called 25 World Series, the Olympics and the "Thrilla in Manila" boxing match between Joe Frazier and Muhammad Ali.
Like Scully, he is a Hall of Famer, making the Dodgers the only team with two announcers enshrined in Cooperstown. But in many ways, and perhaps not surprisingly, he inhabits a parallel world that makes him hard to fully appreciate if you're not a Spanish speaker.
"He's kind of like Vin Scully to Spanish-speaking people," Dodgers first baseman Adrian Gonzalez said before Monday's game. "He's been here so long; he's been through it all."
It's a common comparison. But, strolling through the press box, the 85-year-old Scully protested in a way perhaps only he could.
"He's one of my dearest friends. We go back so many years together," he began. "He's not the Spanish Vin Scully. He is what he is, Jaime Jarrin. He stands on his own two feet. He's a Hall of Fame announcer and a wonderful human being."
::
Jarrin arrived in the United States from Ecuador on June 24, 1955 — the day Sandy Koufax made his debut for the Brooklyn Dodgers. When he brought his team to L.A., Walter O'Malley wanted to make inroads with the Spanish-speaking community.
Jarrin was signed to a radio deal in 1958 and was soon told he'd be calling baseball games. But first he had to learn the sport.
Although about a third of Major League Baseball players today are foreign born, with several from Latin America, that was not the case back then. Before the team moved into Dodger Stadium in 1962, they played at the Coliseum, where Jarrin said only about 8% of the fans in attendance were Latino. Now, about 47% of fans attending games are Latinos, according to the Dodgers.
During one inning of Game 4, Gonzalez, Yasiel Puig and Juan Uribe came up to bat for the Dodgers, introduced with music from Latin American singers.
"Vin and Jaime are Hall of Fame bookends," said Mark Langill, the Dodgers' historian. "When they celebrated the 50th anniversary of the stadium, what were the odds the English and Spanish soundtracks for the Dodgers would still be in place?"
But Langill said that in many ways, it took a long time for Jarrin to get the recognition he deserved. Over the decades, there wasn't "necessarily an equal footing between English and Spanish" broadcasters in Major League Baseball, he said.
When Fernando Valenzuela joined the Dodgers, Jarrin was assigned to be the translator of the shy 20-year-old rookie who inspired "Fernandomania" back in 1981.
"I still recall Fernando answering 'Bueno,' and Jaime saying, 'Fernando is so pleased to be here…' I was like, 'Wait a second!'" Langill said with a laugh. "Suddenly they were a pair, and Jaime started really getting his due."
Valenzuela, now a color commentator with Jarrin, said the veteran broadcaster has meant a lot to him.
"I think of when I met Jaime in spring training my first year and he always said, 'If you need anything, just ask,'" Valenzuela said.
Still, there were slights for Jarrin. When one manager in the 1990s decided he didn't want the broadcasters flying in the first-class section of the charter jet with the coaches, the thought of moving Scully would have been sacrilegious. But Jarrin was moved. That lasted only one flight, Jarrin said, emotional from the memory of several players walking past his seat and expressing surprise and anger.
Last year, in Frank McCourt's last season as owner, the Dodgers unveiled 10 bobblehead dolls celebrating Dodgers heroes. Scully, Koufax, Valenzuela, Tom Lasorda, Kirk Gibson and Orel Hershiser were among the figures released. So were more obscure Dodgers such as Joe Beimel. But Jarrin was not among them, a point Times columnist Bill Plaschke criticized.
Jarrin insisted he felt "loved and appreciated" and that he had no complaints. But in May, the team finally released a Jarrin bobblehead doll as the broadcaster threw out the first pitch.
"I'm glad they did it this year, but it wasn't because of a petition from me," said Jarrin, whose dapper clothing, salt-and-pepper hair and metal-framed glasses give him the look of a courtly professor. "I was touched that it meant enough for a lot of people."
Even after more than half a century as the announcer for one of the most storied teams in sports, Jarrin doesn't act like a star.
Before Monday's game, he hesitated to walk into the players clubhouse because he wasn't wearing his credentials. When told it seemed absurd he would need it given his Hall of Fame bona fides and history with the Dodgers, Jarrin said he didn't want to get any worker in trouble.
Eric Karros, a former Dodgers first baseman and broadcaster for Fox, said Jarrin is the kind of guy who will frequently ask about his son or his parents, who traveled with him when he was a player.
"There is no sweeter, kinder man," he said. "To the English-speaking audience, Jaime Jarrin is the Spanish broadcaster of the Dodgers. But when you see who he's rubbed elbows with, he is the Spanish voice, period."
Karros reflected on how fortunate L.A. sports fans have been over the years with Scully and Jarrin doing Dodgers games, Bob Miller doing play-by-play for the Kings and Chick Hearn doing Lakers games for decades before his death in 2002.
"I think those voices are a way of life," Karros said. "We've been blessed and spoiled, and sometimes you don't realize it until you don't have it. It's like anything — you take it for granted."
::
During Jarrin's first years working for the Dodgers, Scully became a mentor. Among the lessons he learned from Scully was to be impartial and fair, to call a great play as a great play, whether it was done in the service of the Dodgers or a rival team.
"If the shortstop for the Cincinnati Reds makes a great play, why not sing it with the same joy as if the Dodgers shortstop did it?" Jarrin said. "I believe that the obligation of an announcer is to be as impartial as possible. I ask God to illuminate me to see the game not with my heart but with my eyes."
Naturally, he said, some plays might cause him to "sing with more enthusiasm." But he has to be fair and call it like it is.
Which is what he did Monday night. After the promising start, the Dodgers had fallen behind the Braves going into the eighth inning. Jarrin praised the Braves' bullpen. He described the silence the Braves had imposed on the 54,000-strong sea of blue that filled Dodger Stadium. When a speed gun captured a pitch by Dodgers reliever Brian Wilson at 100 mph, Jarrin expressed skepticism.
Then came the bottom of the eighth inning. Right fielder Puig led off with a double. With third baseman Uribe at bat, Jarrin exclaimed, "An interesting game is coming to an end, with two teams battling like dogs, face up."
After two unsuccessful bunts, the count was two balls, two strikes. The Braves pitcher prepared. The crowd chanted, "Let's go Dodgers!"
"The pitch, and a swing deep into left field," Jarrin said, his voice rising. La pelota se va, se va, se va, y despida la con un besooooo!
Uribe rounded the bases and the Dodgers took a one-run lead. An inning later, with the series win on the line, Jarrin channeled the crowd's anticipation: "Ya se ven las casitas de mi pueblo…" "Ladies and gentlemen, now I can see the little houses of my town.... We can almost see the end of this interesting series."
Dodgers closer Kenley Jansen struck out a Brave, the third out exploding in the catcher's mitt. The Dodgers were moving on. In his booth, Jarrin couldn't resist the urge to raise his arms and clench his fists.
And when it was over, as blue streamers slithered from the sky, Jarrin riffed off the words of the poet Pablo Neruda.
"The color blue is the most beautiful color of them all," he said. "It is the color of the infinite."
p>
---
The stories shaping California
Get up to speed with our Essential California newsletter, sent six days a week.
You may occasionally receive promotional content from the Los Angeles Times.