Deadline nears on proposed L.A. County toll lanes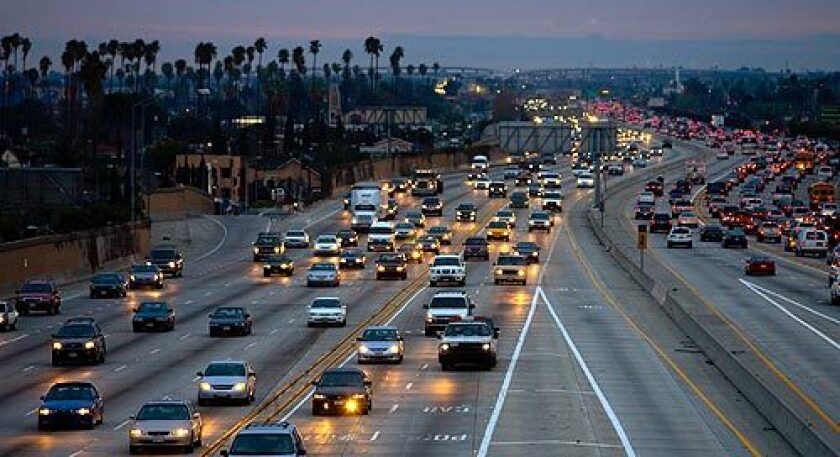 Los Angeles Times Staff Writer
SACRAMENTO —
State lawmakers are moving to allow lone motorists to use carpool lanes on congested stretches of the 110 and 10 freeways -- for a fee.
Vehicles carrying more than one person could still cruise in those lanes without charge under a proposal under consideration by the Legislature.
The measure must be passed by midnight Sunday or the Los Angeles County Metropolitan Transportation Authority risks losing a $210.6-million federal grant that would pay for toll plazas, road and rail improvements, and a fleet of clean-fuel buses that would run as a rapid line along the route.
"What will be extraordinary about this will be the impacts it will achieve in terms of traffic congestion relief, economic development and jobs, and the obvious environmental impacts it will have," said state Sen. Mark Ridley-Thomas (D-Los Angeles).
Ridley-Thomas, who is running for a seat on the Los Angeles County Board of Supervisors, wrote legislation to implement the project with the federal money.
He gutted a bill that previously addressed high-speed rail and inserted the proposal for toll lanes.
The proposal, approved by the Assembly Transportation Committee this week, is already sparking controversy.
"This reflects a view that if you have money, you get to go in the fast lane and if you don't you are stuck in congestion," Sen. Jenny Oropeza (D-Long Beach) said during a Senate debate.
The project is proposed for the one carpool lane in each direction on a 16.5-mile-stretch of the 110 Freeway between 182nd Street and Adams Boulevard, and the two carpool lanes in each direction on a 14-mile stretch of the 10 Freeway between Alameda Street and the 605 Freeway.
"The overall goal of the program is to improve the movement of everybody in the corridor," said Michael Turner, an MTA manager, adding that congestion would be relieved in the non-toll lanes as more people shifted to the fast-track lanes.
Although the tolls have not yet been set, Turner said such projects in other parts of the state charge from $1 to $10, depending on whether a driver is using the affected lanes during rush hour or at off-peak times.
Normally, the driver gets an electronic pay card that is automatically recorded each time the vehicle uses the toll lane.
The legislation, SB 1422, would require the MTA to provide a system for discounting tolls for low-income commuters.
Toll revenue would pay for mass transit improvements to further reduce gridlock, said Richard Katz, an MTA board member and former assemblyman.
"In other parts of the country where this has been tried, there has been a significant difference in congestion," Katz said.
Similar projects have worked in San Diego and Orange counties and in Salt Lake City, officials said.
Ridley-Thomas' action to bring a major project to his district is "part of a time-honored tradition of candidates from both parties acting to show what they can do for their constituents just before an election," said Dan Schnur, director of the Jesse M. Unruh Institute of Politics at USC.
patrick.mcgreevy @latimes.com
---
The stories shaping California
Get up to speed with our Essential California newsletter, sent six days a week.
You may occasionally receive promotional content from the Los Angeles Times.