Cash payments made at Coliseum raves to be probed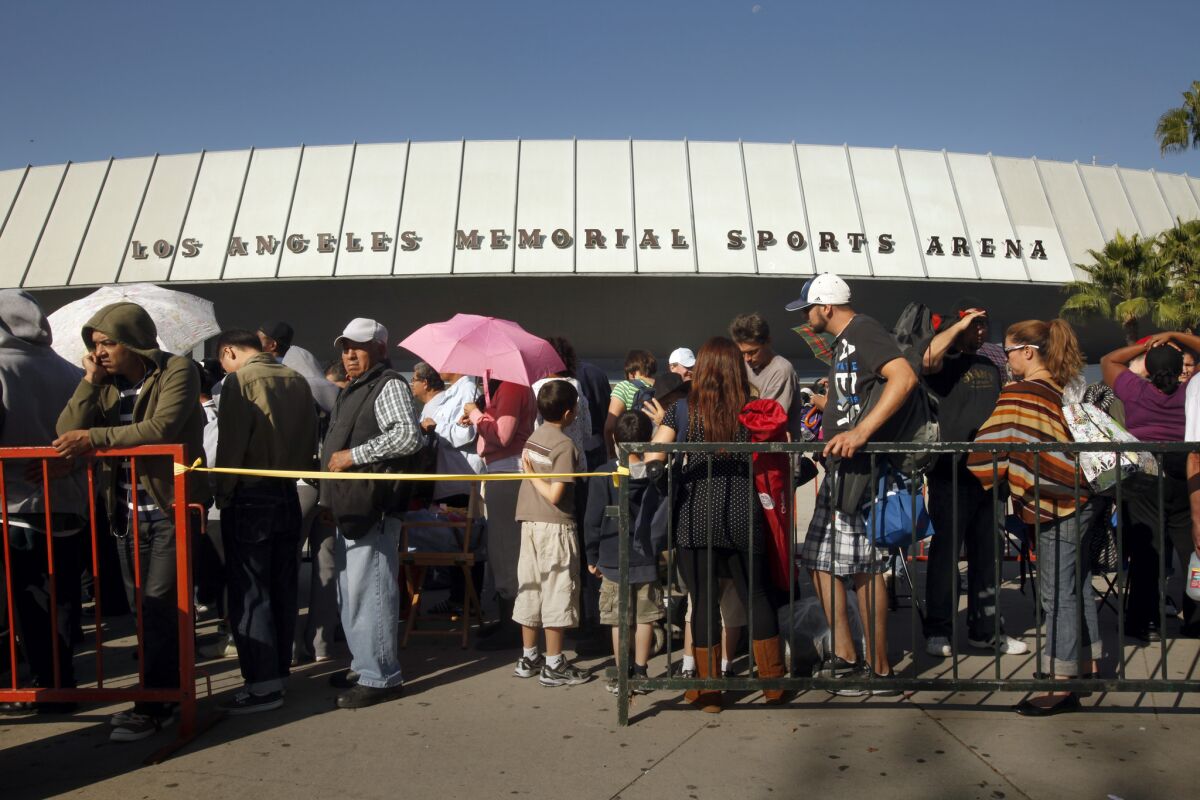 Los Angeles Times
The Los Angeles Memorial Coliseum Commission said Monday that it would amend a lawsuit against two of its former managers and a pair of rave companies to include new allegations that large cash payments were improperly made to a union representative as wages for stadium stagehands.
In a statement, the panel said the payments "had been made by certain commission employees on behalf of certain promoters, or directly by the promoters," on days the stagehands worked on events at the Coliseum and companion Sports Arena.
The statement did not contain specific allegations of wrongdoing. It said the commission "is continuing its investigation of all matters pertaining to these cash payments, including, among other things, the total amount of such payments, who personally benefited from the payments, and whether appropriate taxes and pension payments had been withheld."
The Coliseum employed the workers under a union contract that required contributions to their retirement plan.
City Councilman Bernard C. Parks, a commission member, said that an accountant began looking into the payments in response to a California Public Records Act request by The Times in September for information on the Coliseum's failure to make contributions to retirement accounts for employees.
In response to that request, the commission said in November that "current staff has insufficient information" and asked for clarification. However, Parks said The Times query led to an internal examination of documents that showed tens of thousands of dollars in regular cash "advances" for years to the International Alliance of Theatrical Stage Employees.
Copies of those documents, obtained by The Times, list advances of $82,000 to the union for a 2010 New Year's Eve rave and $54,600 for a Halloween concert that year. Examples of earlier advances ranged from $24,565 to $71,200.
Parks said the discovery of the payments "just continues to show us what a cesspool" the Coliseum operations had become. The Times has been reporting financial irregularities at the taxpayer-owned property since February.
Parks said commissioners were told the money was taken from the Coliseum box office or a stadium bank account and delivered to the union agent -- sometimes in suitcases filled with $100 bills -- to pay the stagehands. From that point, he said, "there were no controls" by the Coliseum over how the money was distributed.
A business agent for the union, Mark Madrigal, said Monday that he had no information about the payments because he started his job just this week. He said cash payments to a union representative "could be unusual; it depends on whether there's a standing agreement."
The commission -- a joint operation of the city, county and state -- sued former General Manager Patrick Lynch and ex-Events Manager Todd DeStefano in November, seeking recovery of money the two allegedly received from rave concert firms and other companies that did business at the Coliseum.
Lynch and DeStefano have said they did nothing wrong. Lynch's lawyer, Tony Capozzola, said in a recent interview that his client was not involved in the stagehand payments but that such cash outlays are common in the concert business.
The commission's suit also names the concert firms, Insomniac and Go Ventures. Their representatives have denied any wrongdoing.
City Controller Wendy Greuel said her office is reviewing the stagehand payments.
She said that if they are true, the allegations that the workers got paid in cash, without proper deductions, are "outrageous."
In its statement, the commission said it would amend its lawsuit Tuesday.
It said it would create a reserve fund to pay any back taxes and other debts associated with the payments. Recovery of those expenses would be sought in the suit, the panel said.
The Times has reported that two firms set up by DeStefano have received at least $1.8 million from the rave producers and other companies that did business at the Coliseum and Sports Arena, according to records and interviews.
Lynch, meanwhile, received nearly $400,000 in payments from a Coliseum janitorial contractor, with most of the money deposited in a Miami bank account, records and interviews show.
paul.pringle@latimes.com
ron.lin@latimes.com
---
Life is stressful. Our weekly mental wellness newsletter can help.
You may occasionally receive promotional content from the Los Angeles Times.