Cal State L.A. alumni go from radical activists to honored donors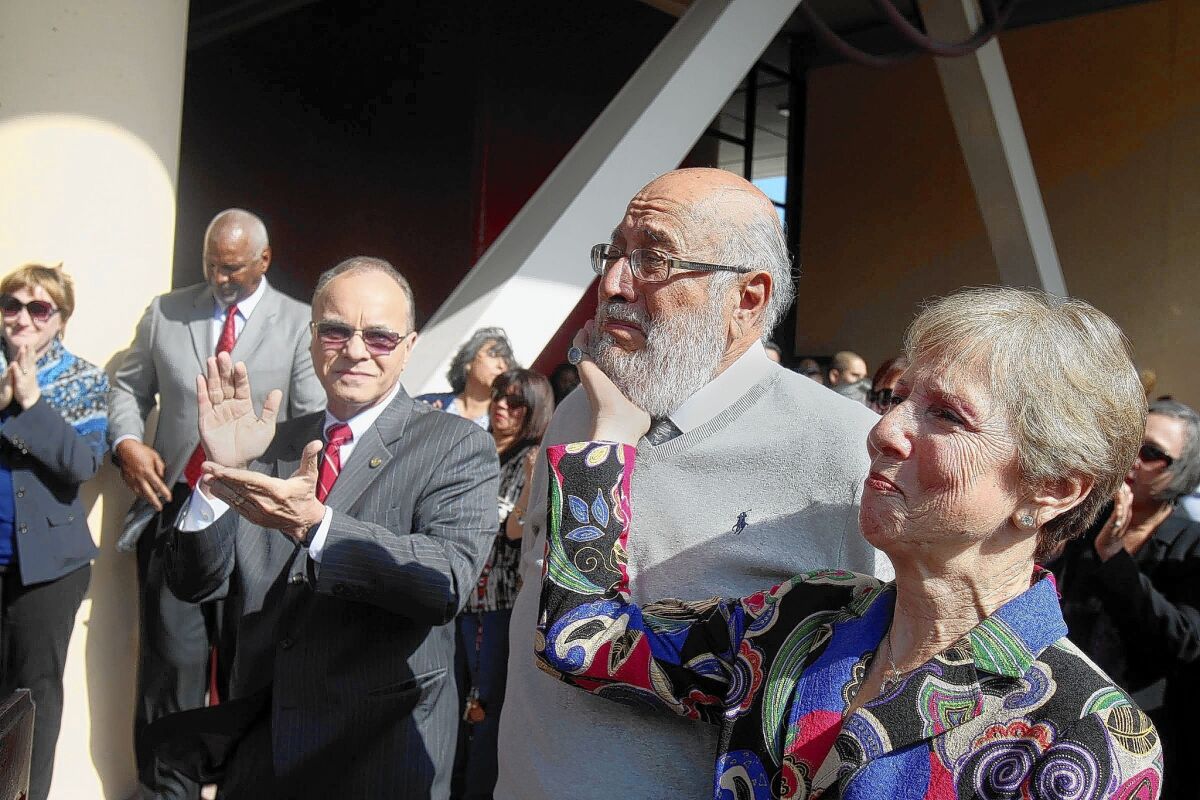 Cal State Los Angeles alumni Charon D'Aiello Sandoval and David Sandoval were dedicated revolutionaries in the late '60s, active players in civil rights and labor protests who keep up a progressive ideology to this day.
D'Aiello Sandoval joined La Raza Unida, a Chicano political party, and was a member of the Young Workers Liberation League, an arm of the Communist Party. Sandoval was a Brown Beret, who traveled to the former Soviet Union and Cuba.
Neither could have foreseen this day: On Wednesday, Cal State L.A.'s Student Services Center was named in their honor. The couple established a $350,000 permanent endowment to support student programs.
They don't appear to fit the typical image of high-profile donors — both are former employees of the university: Sandoval was director of the Educational Opportunity Program and D'Aiello was head of the Affirmative Action Office.
But they say their progression from undergraduate activists to university benefactors makes perfect sense. After all, they have spent their lives committed to improving the lives of students.
"When you're in a situation where you have some money and you're older, you start thinking about what you value and how you might make life better," said D'Aiello Sandoval, 71. "We both went to Cal State L.A. and did our entire life's work there, so how could we not want to support it?"
Their donation, which they said came from real estate holdings, will be used to expand the campus' Summer Bridge Program, which helps poor and disadvantaged students develop the skills to transition to college life.
"It's a very significant gift," said Cal State L.A. President William Covino. "It means a lot in terms of what they are giving back and also gives our other employees and alumni who may have come from circumstances that are not affluent a sense of the possibility of giving back to the university at whatever level."
Wednesday's ceremony was part of a week of events to mark the investiture of Covino as the seventh president of the university.
The couple is gratified that "two old radicals" will be able to help a new generation of young people.
"It's not just giving back to the school, but very specifically giving to student services and helping the neediest students," Sandoval said.
D'Aiello Sandoval, of Italian-Jewish heritage, grew up in El Sereno and pursued a business degree at Cal State L.A. while also working as a secretary on campus. Her world view changed in 1967 when her brother was killed in Vietnam and, like millions of youths, she began to question the status quo.
She sought out more politically pointed lecturers and faculty, and was drawn to radical groups in the Chicano rights movement.
"At the heat of the moment when I was really involved I believed revolution was around the corner and that there would be fundamental change by whatever means necessary," she said. "It wasn't very realistic even then, but there were hundreds of thousands and even millions of people demonstrating."
She earned a bachelor's degree in Pan-African Studies. Despite her politics, D'Aiello Sandoval continued working on campus and in 1977 was hired as director of the affirmative action program to recruit and hire more minority and female faculty and administrators.
She went on to earn a specialized master's degree in intercultural communications, personnel management and political science.
Sandoval, 66, grew up the son of a laborer in what is now the city of Commerce. As a teenager he attended a summer program called Encampment for Citizenship, which was sponsored by a New York social justice group. He became much more aware of the nation's inequalities and the social conditions of poor people, including in his own East L.A. neighborhood.
He was admitted to Cal State L.A. through the university's program for low-income and socially disadvantaged students, which he would later direct, and was an early member of MEChA, a Chicano student empowerment group.
When one campus demonstration got out of hand, he was briefly expelled. But he earned a bachelor's degree in Chicano Studies and a master's in education. He directed the EOP office for 23 years until 2008 and led student trips to Selma, Alabama; Cuba and Chiapas, Mexico.
Sandoval has written and produced documentaries and co-produced the first Los Lobos album.
The couple met through their political activities off campus.
They endured tragedy in 1992 when their 16-year-old son, Ochari D'Aiello, was killed while in Atlanta to attend a summer program at Morehouse College. They'd encouraged the trip so that Ochari, whose biological father was African American, could explore his black roots.
They have established a scholarship at Cal State L.A. in his honor.
The stories shaping California
Get up to speed with our Essential California newsletter, sent six days a week.
You may occasionally receive promotional content from the Los Angeles Times.