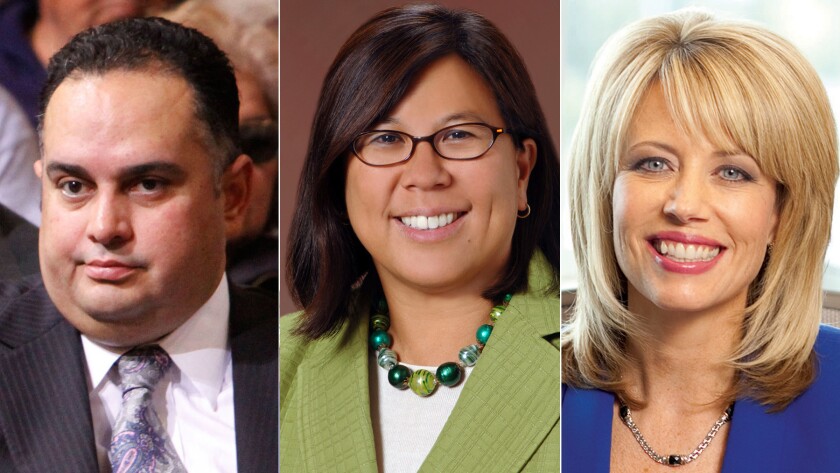 Reporting from Sacramento —
California's budget may be on the mend, but the race for a top state financial office could be one of the year's most tumultuous election battles.
Two Democrats, Assembly Speaker John A. Pérez and Board of Equalization member Betty Yee, and a Republican, Fresno Mayor Ashley Swearengin, are facing off in what is mostly a three-way primary contest for state controller.
Pérez is an influential politician from Los Angeles; Yee has financial expertise and is from the Bay Area. Swearengin is considered a rising star in a Republican Party starved for competitive candidates.
The controller's office is being vacated by John Chiang, a Democrat from Torrance who has held the job for eight years and is now running for state treasurer.
Chiang is facing Greg Conlon, a Republican and retired accountant from Atherton who fell short in a 2002 campaign for treasurer, and Ellen Brown, an author and Green Party candidate from Santa Clarita.
California's controller and treasurer have wide-ranging responsibility for state finances. The controller manages cash flow and ensures that bills are paid on time, while the treasurer handles state debt, which includes selling the bonds that fund major projects.
Both officials also sit on boards and commissions, including the panels that manage California's two major pension funds for public employees, the largest of their kind in the country.
In addition, the offices of controller and treasurer can provide a megaphone for ambitious politicians.
Swearengin, 41, has pledged to provide an alternative voice in a Capitol dominated by Democrats. No statewide office is occupied by a Republican.
"Voters in California are concerned about one-party rule in Sacramento, particularly when it comes to state finances," she said. "People are looking to the state controller to be independent."
A Field Poll released April 12 suggested many Californians are inclined to agree with Swearengin: 28% of likely voters surveyed said they supported her, more than the backing shown for any other candidate. Yee received 19% support, and Pérez 14%. But 38% were undecided, indicating the race remains wide open.
Swearengin became Fresno's mayor in 2009 as the city was struggling with the recession, and she said steering the city clear of bankruptcy qualifies her to handle the state checkbook. She also cited her experience with economic development organizations, saying the controller should spend more time advocating for a streamlined tax system and business regulations.
Mike Madrid, a GOP political consultant, said his party has lacked a steady supply of strong candidates. As a woman with an executive position, Swearengin is the type of candidate Republicans would like to see more of, Madrid said.
"It's a good chance to change the face, tone and image of the party," he said.
With Swearengin expected to draw Republican voters, Yee and Pérez are expected to divide up the Democratic pie. Other candidates in the race include Tammy Blair, a Democrat from Los Angeles who has worked as an administrator at private companies and the county mental health agency; David Evans, a Republican former mayor of California City; and Laura Wells, a Green Party activist and former financial analyst from Oakland.
Pérez, 44, was a union official before winning an Assembly seat in 2008. He became speaker in 2010 and has been center-stage as lawmakers navigated California's budget crisis.
"I want to run for controller so I can be involved in enforcing the level of fiscal discipline and stability that I've worked so hard to create with my colleagues and the governor," he said.
Like other candidates, Pérez said he would focus on the controller's auditing team, which all three described as a key tool for ferreting out waste and abuses. He also said the state needs to set aside more money to fund healthcare for retired state workers, a growing cost that lawmakers have failed to keep up with.
Yee, 56, worked in Gov. Gray Davis' Department of Finance and became a member of the Board of Equalization, which administers tax policies, in 2004. She said her experience helped her "develop a sixth sense" about financial issues that would serve her well in the controller's office.
She wants to stabilize state revenue by expanding the sales tax to some services and to play a more active role in managing the troubled teacher pension fund, whose investment forecasts she feels are too optimistic.
Pérez is counting on strong fundraising to help put him over the top, and the latest fundraising reports showed him with a significant advantage. By mid-March, he had almost $1.8 million in the bank, far more than Yee's roughly $100,000.
Swearengin, who announced her candidacy in March, has reported nearly $212,000 in contributions so far.
Doug Herman, Pérez's campaign consultant, highlighted the speaker's fundraising haul and union support in a recent memo.
"Pérez brings together significant assets that no other candidate can match," Herman wrote.
Yee bemoaned the role of money in politics in a speech at the Democrats' March convention in Los Angeles.
The "influence of money to buy support and power comes at the expense of working families, at the expense of students and at the expense of our environment," she said.
Yee has denied Pérez one asset — an endorsement from the state Democratic Party. She made a concerted effort to drum up enough support among delegates to prevent Pérez from gaining the party's official approval.
"I was on the phone calling everyone and telling them to hold off on an endorsement," Yee said.
She also has a potential advantage in that voter turnout tends to be stronger in the Bay Area than in Los Angeles.
Pérez, on the other hand, has won endorsements from high-ranking elected officials like outgoing Treasurer Bill Lockyer and U.S. Sen. Dianne Feinstein (D-San Francisco) and powerful union organizations like the California Federation of Labor and the California Teachers Assn.
In the treasurer race, Chiang, 51, said he would focus on lowering the cost of California's borrowing, which the state has struggled with in the past.
"I want to make sure we get Sacramento to engage in healthy, sound fiscal policies," Chiang said. "My actions as controller have already saved the state a lot of money."
He had more than $2 million in campaign funds in the bank as of mid-March, according to his latest filing with the state.
Chiang's Republican opponent, Conlon, gave $1,755 to his own campaign and reported three other contributions, including $6,800 from GOP donor Charles Munger Jr. Conlon, 81, has never been elected to office despite campaigns for treasurer, the state Assembly and the City Council in Atherton, where he chairs the city's audit and finance committee.
Conlon said he wants to be treasurer "to fix the mess." California still has the second-worst credit rating of any state, he noted, "in spite of all the financial backslapping everyone is doing."
He said taxes are too high in California, and the state is risking alienating some of its wealthiest residents. At his golf club, he said, "there are guys who are so angry … that they leave the state."
"Without Silicon Valley, California is Greece," he continued. The technology sector is "where the wealth is."
Ellen Brown, a writer and former lawyer from Santa Clarita, is in the race as a Green Party candidate.
Both Chiang and Conlon want to prod lawmakers to repair the teacher pension fund, which faces a $73.7-billion shortfall that continues to grow.
Chiang said teachers, schools and the state all need to contribute more money to prevent the retirement system from becoming insolvent.
"The sooner we all accept it, the sooner we take action, the sooner we can provide a solution to this challenge," he said.
---