A soldier's final homecoming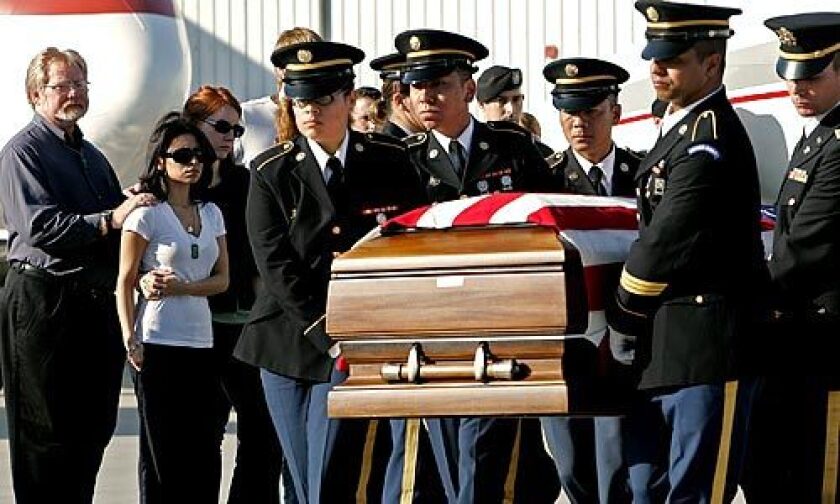 Los Angeles Times Staff Writer
They stood on a small landing strip for private aircraft at Long Beach Airport. A mother and father, a wife, family and friends. They gathered for the arrival of the body of Army Sgt. David J. Hart, who was killed in combat in Iraq.
There were no speeches, no eulogy. Those will come later. On Tuesday afternoon, there was only the quiet, methodical ceremony of a soldier's final homecoming.
Framed by a clear blue sky, eight members of a military honor guard stood at attention, waiting for a small charter airplane. The group's leaders walked down the line, adjusting hats to sit just so, wiping away the faintest smudge. To their right, police officers and sheriff's deputies stood, hands behind their backs, waiting to lead Hart's casket in a procession from the airport to a Boyle Heights crematory.
Just before the aircraft made its final stop, 47 members of the veterans group Patriot Guard Riders filed out of a terminal reception room and fanned out, forming a long line with fluttering American flags.
Across the way, a group of airport workers in faded gray uniforms left their jobs when they saw what was happening and stood quietly observing, at attention in their own way. Even air traffic seemed to abate as everyone waited in silence.
Hart, of Lake View Terrace, died in Balad of wounds suffered in a firefight with insurgents Jan. 8 in Samarra, north of Baghdad. He was 22.
Two other soldiers also were killed: Pfc. Ivan E. Merlo, 19, of San Marcos, Calif., and Pfc. Phillip J. Pannier, 20, of Washburn, Ill.
They were all assigned to the 2nd Battalion, 327th Infantry Regiment, 1st Brigade Combat Team, 101st Airborne Division (Air Assault) at Ft. Campbell, Ky.
Hart's family and friends waited just outside the terminal door. His mother, Sheri, stood with her arms wrapped around his widow, Nicole, quietly whispering words of consolation. They watched as the plane pulled up and its door opened.
Army Spc. Richard Gilbert, who served with Hart in Iraq and who escorted his body home, walked out of the plane and stood at attention nearby.
The honor guard's leader whispered instructions to other members, who quietly made their way, marching in lock-step to the plane, where they lowered the flag-draped casket onto a stand.
Arm-in-arm, Hart's widow and mother made their way up. They hesitated for a minute, and then Nicole draped herself over the wooden casket. Her mother-in-law held her.
Soon, they were joined by the rest of the family -- Hart's father, Jack; brother, Daniel; sister, Sarah; and his in-laws, Ruth and Ramiro Gonzalez, and their son, Ramiro Jr. Each of them laid a hand on the casket, every once in a while whispering words to each other. They did not let go until the driver of the hearse gently said it was time to go.
The honor guard, whose members had been waiting quietly at attention, made its way again to the casket and carried it to the hearse.
The last soldier in line closed the door softly. She saluted and whispered final instructions to her group before it marched away. The click-clack of dress shoes on the pavement was the only sound.
---
The stories shaping California
Get up to speed with our Essential California newsletter, sent six days a week.
You may occasionally receive promotional content from the Los Angeles Times.