L.A. city attorney candidates spar in combative debate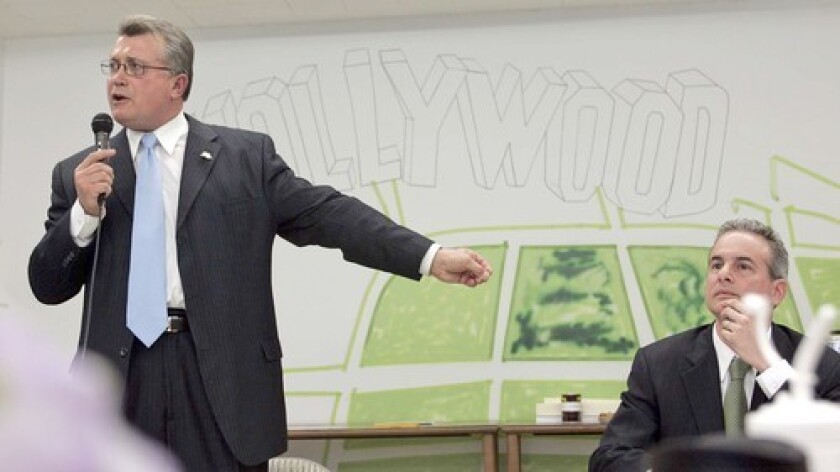 The two candidates vying for the Los Angeles city attorney's job entered a combative new phase of their runoff race at a debate Saturday, attacking each other's qualifications and trading charges over conflicts of interest.
During the forum in Hollywood, attorney Carmen "Nuch" Trutanich cast Westside City Councilman Jack Weiss as a legal "novice" with little to show for his two terms on the council. Weiss hammered Trutanich for representing polluters and sharing a law practice with an attorney for the National Rifle Assn. and other gun groups.
Over the course of the hour-and-a-half debate, the two men often avoided making eye contact and handing the microphone to each other, placing it instead on the table between them. At several points, Weiss stood inches from Trutanich, jabbing his finger toward his opponent and demanding that he disclose all his firm's clients.
"You are a walking, talking conflict of interest. You need to tell the people of this city who the conflicts are and how much it's going to cost us," Weiss said, arguing the city would have to spend millions on outside counsel if any of Trutanich's clients faced the city in court. "Please do us a favor now, rather than on July 1, of 'fessing up on who your clients are."
Trutanich, whose firm's website already lists the names of many of his clients, said he would find other government lawyers to represent the city if there were even an appearance of a conflict of interest.
"Here's a guy who is in the back pocket of almost every developer in the city telling me to disclose something?" Trutanich retorted, referring to some of Weiss' contributors. "He feels he's entitled to this job and he's not, because he's done nothing to deserve it."
The debate set the stage for an acerbic six-week countdown to the May 19 runoff, when voters in the city's 5th District will also decide who should replace Weiss on the council.
The city attorney's race was once thought to be an easy mark for Weiss, a former federal prosecutor who amassed a $1.7-million war chest for the primary and was endorsed by Mayor Antonio Villaraigosa and Police Chief William J. Bratton. But Trutanich raised nearly $800,000 with the help of matching funds and secured the endorsements of Los Angeles County Dist. Atty. Steve Cooley and Sheriff Lee Baca.
In the low-turnout primary on March 3, Weiss finished first among five candidates with 36% of the vote, and Trutanich took second with 27%.
During the debate, both candidates pledged to reduce reliance on outside counsel and said they would strengthen the neighborhood prosecutors program. But they sparred over who was best qualified to crack down on the proliferation of billboards in Los Angeles.
Trutanich, who said he would give owners of illegal billboards 90 days to take them down before imposing penalties, argued that Weiss' legal experience did not stop the City Council from approving a settlement that gave two companies the right to convert up to 840 billboards to digital formats.
Weiss said he had led "the legislative fight" on billboard blight while on the council, and accused Trutanich of contributing to "visual pollution" by using at least one billboard in his campaign.
Some of the most contentious exchanges were over the gun clients of Trutanich's firm.
"If you believe that we have enough controls in place right now on weapons and guns in America, then you absolutely should support my opponent," Weiss said.
Trutanich stressed that he was not an NRA member and had never personally represented the NRA, and pointed to his experience as a gang prosecutor in the district attorney's office in the 1980s and to recent endorsements by several law enforcement agencies including the Los Angeles Police Protective League. "I know what a gun can do, and I'll tell you right now when it comes to gun laws, if it's on the books, I'm going to enforce it," he said.
Hesaid some of the gun control ordinances Weiss has authored -- including a ban on the sale of .50-caliber ammunition -- were "window dressing."
---
For reporting and exclusive analysis from bureau chief John Myers, get our California Politics newsletter.
You may occasionally receive promotional content from the Los Angeles Times.