Deportees to Mexico's Tamaulipas preyed upon by gangs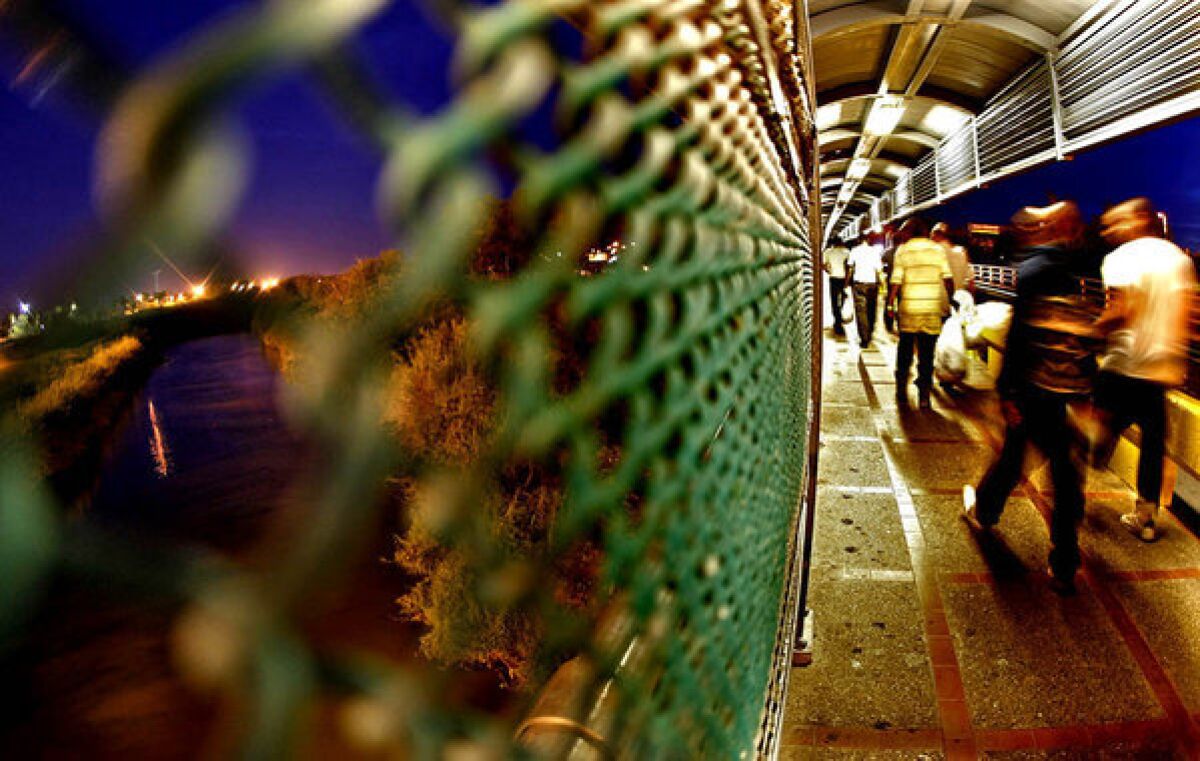 MATAMOROS, MEXICO — They stuck together, walking slowly on busted sidewalks, approaching corners warily. They hurried past smoky taco stands and fleabag hotels. Nobody strayed.
Deported from Southern California the night before, the 20 men had gotten a few hours of fitful sleep at the bus station of this lawless border city. Now they just wanted to get out of town.
"We were moving as one, like a ball," said Rodrigo Barragon, 35, formerly a construction worker in Los Angeles. "But when I looked back, the ball had a tail."
PHOTOS: Mexican deportees face a dangerous future
Five men were following them. Up ahead, three vehicles screeched to a stop, blocking their way down Avenida Washington. The migrants scattered, tearing through streets and alleyways, clutching small bags that held their belongings.
Hours later, they straggled through the door of the Diocese of Matamoros migrant shelter, beneath an image of the Virgin of Guadalupe. A plaque beside the entryway bore a dedication: "To the 72 murdered migrants and to those we know nothing about," men and women who were massacred or who simply disappeared.
Even this shelter couldn't guarantee safety: Fifteen residents were dragged away at gunpoint on Christmas Eve from the dining room where the newcomers now stood.
FULL COVERAGE: Without a country
The men headed deeper into the compound, through an open yard surrounded by razor-wire fence, to the dormitory. There, they found a man sprawled on the floor, his legs bloodied and bruised.
The migrants had been flown 1,500 miles to the Texas-Mexico border as part of a U.S. enforcement program aimed at making it harder for them to return. Many were deported after traffic violations or drunk driving arrests exposed their undocumented status, or after repeatedly entering the country illegally.
Now, they joined in prayer, then quietly ate dinner.
"I feel like something bad can happen at any time," said Serafin Salazar, formerly a car mechanic in El Monte.
::
U.S. immigration authorities have sharply increased deportations to one of Mexico's most fiercely contested drug-war battlegrounds, the northeastern state of Tamaulipas, where few migrants have any connections or family.
Repatriations to the besieged border cities of Matamoros, Reynosa and Nuevo Laredo jumped nearly fivefold to 124,729 last year from 25,376 in 2006, according to Mexico's National Institute of Migration. More than one-fourth of all deportees from the U.S. are sent to Tamaulipas, even as violence here escalates.
Deportees arriving in Matamoros are schooled quickly about the dangers they will face. The moment these 20 men crossed Gateway International Bridge from Brownsville, Texas, orange-shirted agents from Grupo Beta, the Mexican migrant safety force, gathered them for a lecture:
Criminal gangs consider you rich targets.
They will try to get phone numbers of your relatives in the U.S. for ransoms.
Dial 0 after making calls on public phones so previously dialed numbers can't be accessed.…
Some of the new arrivals scribbled phone numbers backward, in case they fell into the wrong hands. They stuffed the pieces of paper into their shoes. Then they squeezed onto the Grupo Beta pickup trucks, which whisked them to the city bus station.
Stay inside, the agents told them, promising to pick them up in the morning and help arrange discounted bus fares for trips home. Many of the migrants were heading to towns and cities deep in Mexico's interior, a two-day bus ride away.
But the Grupo Beta agents, busy handling more repatriations, never returned for these men. They were now at the mercy of organized crime groups that have gripped Tamaulipas.
Lookouts track new arrivals from the moment they enter Mexico. Gunmen intercept deportees at migrant shelters and buses and outside money-transfer businesses. They hold them for ransom, recruit them into gangs, sometimes assault, torture and "disappear" them. Church-run shelters and social service groups, once safe ground, no longer are.
"Deporting people here is like sending them into a trap … to be hunted down," said Father Francisco Gallardo, a Roman Catholic priest who oversees the diocese's shelters in Matamoros and Reynosa.
Tamaulipas, sharing a 150-mile border with Texas, is a battleground between the Gulf Cartel and the paramilitary-style Zetas. Warring groups have blockaded highways, launched grenade attacks against government buildings and confronted Mexican military units in firefights that have left cities shrouded in smoke.
Organizations trying to document the migrants' plight have been chased out. A human rights group in Nuevo Laredo shut down last year after receiving threats. Local journalists have stopped covering cartel-related crime after at least 13 reporters were kidnapped or slain in recent years.
Many police departments have been disbanded. Criminal gangs have seized control of major streets and highways, as well as transportation hubs including bus stations. On a highway leading to Matamoros in 2010, 72 migrants, most of them from Central America, were massacred after being hauled off a bus. The bodies of some 200 other migrants have since been found in clandestine graves. Many northbound migrants now avoid the region, leaving criminal gangs with a new prey: deportees.
The Mexican government successfully petitioned U.S. authorities to reduce deportations to violence-plagued Ciudad Juarez, across from El Paso. But the change merely increased deportations to Tamaulipas.
Last year, 21 illegal immigrants at a detention center in New Mexico enlisted the help of migrant and civil-rights rights groups in asking authorities not to deport them across the Texas border, for their safety. The efforts failed. All were expelled through Texas, 10 of them to Tamaulipas, according to U.S. Immigration and Customs Enforcement, which said detainees are not permitted to specify where they will be deported.
Most paths out of Matamoros lead through the downtown bus station, a low-slung, yellow building bustling with vendors, travelers and gang crews. Several migrants have been kidnapped from bus platforms, including one woman who was pulled by the hair into a waiting car. Getting on a bus is no guarantee of safety. In May, a deportee was hauled off a bus. His battered body was found on a highway south of the city.
In the station, gang members sidle up to migrants and ask questions. Those with deep ties to the U.S. are deemed secuestrable, or "kidnapable." Young migrants are potential recruits.
The gangs' dominion is absolute. "When I go and look for somebody, they approach me and say, 'You can't take anybody because everyone in the bus station is accounted for," said Gallardo, the priest. "They call the shots.... They decide who comes and who goes."
Outsiders rarely escape notice. Two men identified by several migrants as gang members interrupted a Times reporter conducting interviews. The one said to be the boss, a neatly dressed man in his mid-30s, sported a silver thumb ring and a new Puma watch. He said he had been deported from Chicago for a drunk driving offense last year.
Breezing through the corridor, flashing an easy smile, he told migrants they had nothing to fear, that the gang was there to protect migrants from the Zetas.
But he was firm on the rules: The charge was $500, he said, for anyone trying to reenter the U.S. through gang-controlled territory. As he made the rounds, heavily tattooed men hovered nearby, wielding walkie-talkies that migrants said were used to summon convoys of gunmen.
The boss didn't seem to sympathize with the plight of the migrants — they had committed crimes, he noted. "The U.S. opens its doors and we close them on ourselves," he said.
Unlike many deportees, he felt no urge to return to the U.S.
"We're doing just fine here," he said, chuckling with an underling.
::
A shelter run by a priest ought to be one of the safest places in Mexico. In Matamoros, it's one of the more dangerous. Grupo Beta agents stopped taking people to the Diocese of Matamoros shelter months ago after kidnappings and assaults in and around the compound escalated.
But the 20 deportees who arrived July 10 had nowhere else to go after they were left at the bus station by Grupo Beta and nearly captured by gang members on nearby streets.
"I was scared to death," said David Espinoza, 28, formerly a construction worker in Oregon, who was sitting inside the fenced compound. "I ran like the devil."
"More like Speedy Gonzalez," joked Octavio Ordaz, 43, formerly a welder in Sacramento.
The shelter was spotless and offered showers and clotheslines and plates spilling over with beans. But small comforts couldn't ease the dread.
Gang lookouts on bicycles prowled the street. Just a week earlier, gunmen armed with AK-47s marched through the front door and forced residents to take their shirts off. They were looking for rival gang tattoos. One gunman tried to persuade the men to join their ranks. "I used to be just like you," he said. "You don't have to go to the U.S. to make money."
The newcomers now worried about their tattoos, mostly homages to children or long-forgotten girlfriends. Would they be misinterpreted? They still needed to take risky walks around the city, to collect money transfers from family members. They wondered if they would ever get out of Matamoros.
The man with the scarred legs lay on the floor next to his crutches. He told the new arrivals he had been mistaken for a Zeta the week before, kidnapped, beaten and driven from safe house to safe house. He said he shared the back seat of the car with the corpse of a man who had been tortured to death.
The deportees reminded each other not to walk the streets alone. "They are like the wolves and we're the sheep," said Carlos Valdivia Nun¿ez, 43, who was a day laborer in Huntington Beach before being deported. "If you leave the herd, they go and attack. You can't wander off."
As the sun dipped and mosquito swarms buzzed the compound, more deportees walked through the front door. Sympathetic city bus drivers had given them free rides across the city, they said.
By nightfall, a head count showed that they were one short of the original 20. Missing was a boyish-looking 30-year-old from Tijuana wearing a green checkered shirt over his portly frame. Maybe he caught a long-distance bus or made it to the Grupo Beta office, a few migrants offered.
"We never saw him again after the chase," said Salazar, the former El Monte mechanic. "Who knows where they grabbed him?"
At 9 p.m. the lights went out. As the men slipped under clean sheets, an elderly security guard made the rounds. He was unarmed. The only thing keeping out intruders was a metal screen door.
Floor fans whirred beside the neatly made bunk beds. The men tried to sleep.
Times researcher Cecilia Sanchez in Mexico City contributed to this report.
The U.S. has deported more than 1 million illegal immigrants since 2008. This is one in a series of occasional stories chronicling the people and communities affected.
The stories shaping California
Get up to speed with our Essential California newsletter, sent six days a week.
You may occasionally receive promotional content from the Los Angeles Times.