In jails trial, FBI agent explains smuggling cellphone to informant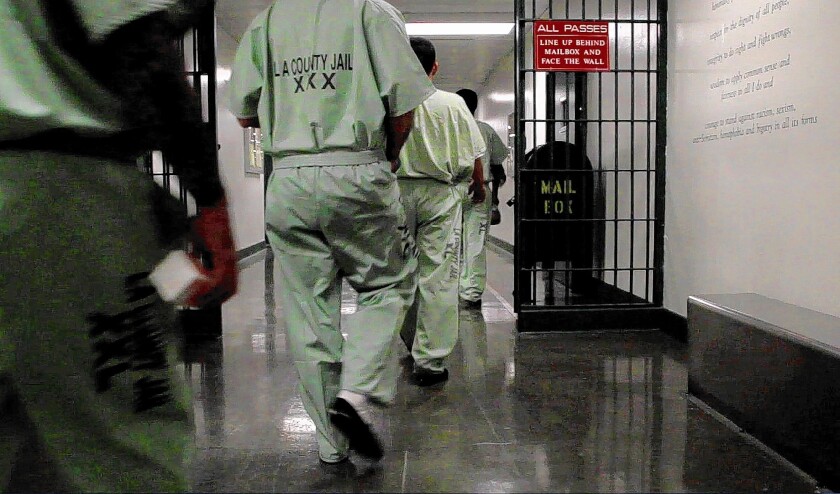 A defense attorney representing a Los Angeles County sheriff's deputy charged in a jails corruption case grilled the lead FBI agent Thursday about her agency's decision to smuggle a cellphone to an inmate with a history of violence and lying.
Deputy James Sexton stands accused of obstruction of justice and conspiracy for his actions involving the handling of inmate Anthony Brown, who sheriff's officials discovered in 2011 was working with the FBI and had received a smuggled phone with which to document violence by deputies. Sexton and six others schemed to move Brown around within the jails to hide him from his FBI handlers, prosecutors allege.
Thomas O'Brien, Sexton's attorney, enumerated before the jury Thursday Brown's lengthy criminal record, history of drug use and past falsehoods and pressed Agent Leah Marx about the wisdom of placing a contraband cellphone in his hands within the jails.
"Did it concern you, Agent Marx, at that point that Mr. Brown … had been convicted of 15 felonies and sentenced to more than 400 years?" O'Brien asked.
Marx said that all informants' criminal histories are of concern, but that the FBI determined it had to take the risk to be able to corroborate claims of serious corruption and abuse by deputies in the L.A. County jails. She said she personally monitored calls and text messages to and from the phone on a daily basis to make sure Brown was communicating only with an undercover FBI agent.
O'Brien noted that in July 2010, just as the federal investigation was starting, the FBI issued a "law enforcement bulletin" warning of the dangers of cellphones in jails.
"Prisoners have used them to, for example, intimidate and threaten witnesses; transmit photographs, including offensive pictures sent to victims; orchestrate crimes, such as gang activity; coordinate escapes; bribe prison officers; order retaliation against other inmates; text other prisoners; gain access to the Internet; and create security breaches," that bulletin states.
In his cross-examination, O'Brien asked Marx how the FBI chooses its informants, and asked whether their sentences, underlying crimes, history of truthfulness or history of using "mind-altering substances" were factors.
Marx said that it wasn't really a choice, that agents use as informants people with access to the information they are seeking. She said Brown, a 47-year-old convicted robber, was the first prison informant for whom she acted as a handler. Marx said she had been with the FBI for little more than a year when she began investigating use of force in the jails.
She said she was aware of Brown's past use of crack cocaine and prior crimes of robbery and mail fraud, and said that even though he had never officially been an FBI informant before, he had provided information to prosecutors as part of his plea deal in the mail fraud case. Marx said the decision to send the phone into the jails without alerting then-Sheriff Lee Baca was made after discussions involving the "entire team" — the U.S. attorney's office, top brass at the FBI's L.A. field office and "lots of meetings with headquarters in Washington, D.C."
There were discussions about giving Brown eyeglasses or a homemade cross fitted with a secret camera, in order to corroborate inmates' statements about violence and corruption in the jails, Marx said. She said agents ultimately settled on a "flip phone" capable of taking photos and video that would both prove what Brown was telling agents about deputies who were willing to smuggle in contraband for a bribe, and also enable him to document abuses by deputies.
The phone was discovered by deputies before Brown was able to document any incidents, Marx said. She said that Brown has told agents about more than 50 cases of jail beatings and that although the information hasn't yet resulted in charges, "the case is still ongoing."
Shortly after sheriff's officials discovered the phone on Brown and realized it was part of an FBI investigation, they confronted Marx at her home. Prosecutors played a video recording of the brief September 2011 confrontation. Several of Sexton's co-defendants, who are scheduled to be tried immediately after this trial concludes, are accused of threatening Marx with arrest as part of a conspiracy to impede the federal investigation.
"Do you know that you're the main suspect in a felony complaint?" Sheriff's Sgt. Scott Craig asks Marx in the video, in front of her apartment building. "What we're going to do to arrange for your arrest — when we're ready to do that, is we can either do this —" Craig says, lifting his arms.
Marx said she took that to mean they would come to arrest her at her home in front of her neighbors.
"I was concerned for my safety," she said.
---
Life is stressful. Our weekly mental wellness newsletter can help.
You may occasionally receive promotional content from the Los Angeles Times.