Jurors hear of deputies' attempt to coerce FBI agent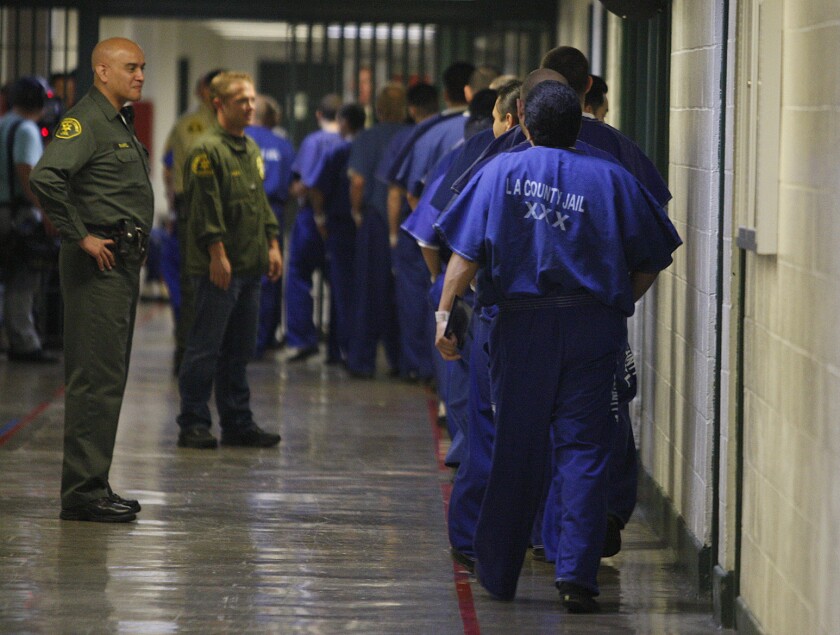 Two Los Angeles County Sheriff's Department sergeants showed up at an FBI agent's home in September 2011 and told her that they were in the process of obtaining a warrant for her arrest. That evening, the agent's concerned supervisor called the sergeants, asking what the charges would be, when the warrant would be issued and whether the sheriff knew.
After hanging up the phone, Sgt. Maricella Long turned to her partner and said with a chuckle: "They're scared."
"You're still rolling," Sgt. Scott Craig told her, pointing out that the recorder was on.
------------
FOR THE RECORD:
Sheriff's Department: An article in the June 7 LATExtra section about the obstruction of justice trial of six Los Angeles Sheriff's Department officials misspelled the first name of one of the defendants, Maricela Long, as Maricella. The misspelling also occurred in articles Dec. 10, Dec. 17, May 20, May 28 and June 5.
------------
On Friday, a federal jury hearing the obstruction of justice case against Long, Craig and four others heard Long admitting in her own words that throughout that encounter with the FBI, she was lying. She knew there was no warrant coming. She knew the Sheriff's Department had no authority to investigate a federal agent. She had no idea whether the sheriff had been briefed about the steps they were taking.
She told the lies, she testified before a federal grand jury, in an attempt to find out the details of the FBI's civil rights investigation into county jails.
"So this was more of an intimidation tactic?" a prosecutor asked Long before the grand jury.
"I wouldn't call it intimidation.… We weren't trying to scare her. We were trying to get their attention, the FBI's attention," Long said in her grand jury testimony, which was read for jurors Friday. "In the hopes that they would reveal or admit that they were conducting an investigation within the L.A. County jail."
Prosecutors rested their case Friday after trying to show that the six sheriff's officials were acting with the intent to block federal scrutiny of the jails and keep any investigation of misconduct within the department. This week, jurors heard the statements of Long, Craig and their boss, Lt. Stephen Leavins, made before a federal grand jury describing the events of summer 2011.
Leavins recounted how after sheriff's deputies discovered a cellphone on an inmate claiming to be a federal informant, Leavins' unit, the Internal Criminal Investigations Bureau, was given the task of finding out what had happened. Investigators went to a Superior Court judge, asking him to sign off on an order compelling the FBI to turn over information about the jails investigation. The judge denied it, Leavins said, saying that he had no jurisdiction because federal laws take precedence over state laws.
"The judge said 'You're out of your mind, you can't do this,' " Leavins said.
But even after the request was denied Sept. 8, Craig and Long pressed their investigation of FBI Agent Leah Marx, the case agent on the civil rights investigation into excessive force and corruption among jail deputies, who was behind the smuggled phone. They had a surveillance team follow her and on Sept. 26, they confronted her in the driveway leading into her apartment.
"We had no intention of arresting her," Craig told the grand jury. "I think we wanted her to talk to us and tell us ... was there an investigation, are there more cellphones in central jail, who directed her to do this."
"You threatened to arrest her in order to see if she would then reveal to you the extent of the FBI investigation, is that correct?" a prosecutor asked.
"I don't know that I would use the word 'threatened' ... coerced her, or however you want to describe it, yeah, I used a ruse," Craig said.
After prosecutors rested their case Friday, defense attorneys called as their first witness former Undersheriff Paul Tanaka, whom prosecutors have previously identified as a subject in the ongoing jails investigation. Tanaka said throughout the investigation surrounding the smuggled FBI cellphone that investigators reported directly to him.
Steps taken to move the federal informant in the jails under a string of false names were part of an attempt to keep the informant safe from abusive deputies, Tanaka said.
"The people that were charged with protecting him had the authorization to use whatever lawful means they had," he said.
He said then-Sheriff Lee Baca had also made clear his orders that the inmate was to be kept secure: "That phone and that inmate were to go nowhere," he quoted Baca as saying.
Tanaka, a candidate for sheriff who came in second in this week's election, said he had trouble remembering many of the details of what he was informed of at each stage. Regarding Marx's surveillance, he said he was probably apprised of it "either shortly before, during or after."
He is expected to resume his testimony next week.
---
For reporting and exclusive analysis from bureau chief John Myers, get our California Politics newsletter.
You may occasionally receive promotional content from the Los Angeles Times.