Gang rivalry grows into race war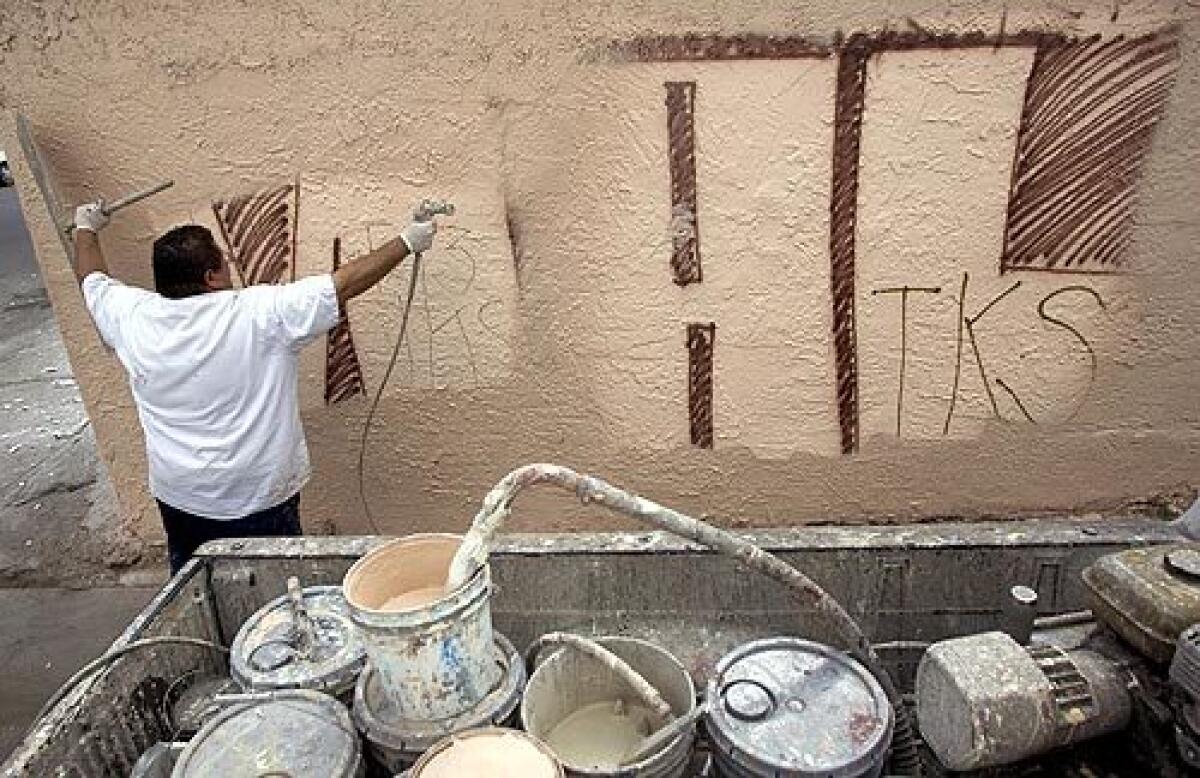 Los Angeles Times Staff Writer
As the story goes, the East Coast Crips robbed a Florencia 13 drug connection of a large quantity of dope nearly a decade ago. Since then, the tale of how a black street gang ripped off a Latino rival has taken on mythic proportions.
But to this day police are uncertain if the fabled heist ever occurred.
"You hear so many different variations of this crime," said Terry Burgin, a Los Angeles County Sheriff's Department gang detective. "Who knows what really happened? [But] the effects are tremendous."
Over the years, the two rival gangs have battled over control of the drug trade in Florence-Firestone, an unincorporated neighborhood north of Watts.
The feud has escalated into what many residents call a race war.
It used to be that innocent bystanders were not targeted, said Chris Le Grande, pastor of Great Hope Fellowship in Faith, one of Florence-Firestone's largest black churches. "Now it's deliberate. 'I'm deliberately shooting you because of your color.' "
On Tuesday, the U.S. attorney's office announced a sweeping indictment against more than 60 members of Florencia 13, accusing the Latino gang of waging a violent campaign to drive out African American rivals. Once primarily black, the working class community of 60,000 today is mostly Latino.
But some say that's only part of the truth. The war has two sides, said Robert Ramirez, a Florencia 13 gang member.
"I'm not going to say we're angels, but it's 50-50," he said, as fellow gang members sprayed walls with Florencia graffiti. " 'Any black, shoot on sight?' -- it's not true. Nobody likes a racist person."
The neighborhood saw 41 homicides in 2005, surpassing the homicide rate in some of the nation's most dangerous big cities, authorities said. About half of those killed had no gang affiliation.
Homicides dropped to 19 last year after a major law enforcement crackdown that led to 230 felony arrests and the seizure of 130 weapons. But the level of violence remains high.
Authorities attribute the neighborhood's gang troubles in large part to the huge demographic shift that occurred in this economically depressed community over the last 20 years, tipping the balance of power from black to Latino and turning it into a tinderbox of racial tensions.
That kind of demographic shift has occurred in many parts of Southern California, but Florence-Firestone is one of the places where it has turned violent. The violence threatens an economic revival that has begun to revitalize the neighborhood.
Mexican Mafia strategy
For years, the two rival gangs resisted outside pressures to go to war, according to those active in Florencia in the 1990s.
Like many black and Latino gangs, they ignored each other during the worst gang years of the late '80s and early '90s. Instead, they focused on attacking rivals of their own race.
But during the mid-'90s, the Mexican Mafia prison gang began directing Latino gangs to stop fighting each other, to "tax" drug dealers and to push blacks from their neighborhoods, according to numerous gang members and law enforcement officers.
Florencia, in particular, had warred for years with 38th Street, a Latino gang to the north.
But under the new rules, Florencia was forced to get along with rival Latino gangs and once even played a pickup football game with 38th Street, said one Florencia gang member who requested anonymity out of fear for his safety.
The Mexican Mafia "didn't understand how it worked," he said. "I hate 38th Street. I didn't have no problem with the guys from East Coast because I grew up with them. It's kind of hard to say, 'Now I'm going to. . . kill this black guy just because he's black.' But that's how they wanted to do it."
In 1996 tensions erupted when members of a gang associated with East Coast Crips, known as the 6-5 Hustlers, killed a Florencia member.
After some retaliation, the gangs held a peace summit at Parmelee Elementary School one night, and that "kind of squashed everything," the gang member said.
But the fighting resumed when word, perhaps mythical, spread about the East Coast Crips' drug rip-off of Florencia 13.
Race, gang rivalry and drugs have become impossibly tangled as motives in killings and assaults in the neighborhood, authorities and residents say. The result: a gangland version of racial profiling.
"They just see a young man of the opposite race and they shoot," said Olivia Rosales, a former hate-crime prosecutor, who prosecuted all the East Coast-Florencia murder cases for the last two years. "They don't stop to question whether or not they are a member of the gang."
Of the 20 cases she prosecuted, said Rosales, who now runs the district attorney's Whittier office, "most of the victims have not been members of the rival gang."
Demetrius Perry, 22, was shot to death by Latinos yelling a gang epithet as he played basketball in January at Drew Middle School, witnesses said.
"We used to kick it with" Latinos, said Perry's father, Benny, who is black and grew up in the area. "Now you constantly hear about it: This is their land first and they've come to take it back."
Timothy Slack, who lives a few blocks from Great Hope Fellowship church, said Latino gang members often drive by shooting at blacks. He doesn't allow his kids to go to the store and he never uses alleys anymore.
Slack grew up in Florence-Firestone when it was mostly black and had few Latinos.
Back then, "they were timid," he said. "But as their numbers started getting bigger, then they started trying to be tougher. They started thinking they could demand stuff."
But non-gang-affiliated Latinos have also been killed.
In 2005, Alejandro Barrales was on his way to work at his family's restaurant when he was shot to death allegedly by Crips while in his car at a stop sign.
Gabino Lopez, 52, was killed that year while walking to a mini-market for a beer after work. A youth who reportedly wanted to join the Crips is charged with his killing.
In the neighborhood where Lopez was killed, people no longer sit outside in the evening, said his daughter, Mayra Lopez.
"You never know when you're going to be the next target," she said.
Economy looking up
All of this comes as Florence-Firestone is beginning to rebound from a prolonged economic depression that began with the Watts riots in 1965. For years after, say longtime residents, no new housing or commercial development was built.
Today, a new shopping center is going in at Alameda Street and Florence Avenue, and rows of town houses are rising on Gage Avenue.
But "the gang war puts a damper on everything that you do here," said Joe Titus, 79, who was born in Florence-Firestone and volunteers with several community organizations. "You don't want to go out at night."
Fewer people ride bikes; fewer children play outside after school. Movable basketball stanchions, once ubiquitous in driveways, are gone.
Irv Sitkoff, a local pharmacist, said people of one race complain if his employees attend faster to people of the other race.
"You've got to very careful," he said. "Before, we didn't think about it."
Sitkoff said his pharmacy has sold grim supplies to customers because of neighborhood violence: more colostomy bags, for example.
One Latino mother bought antidepressant medication from him for many months after her son, an innocent bystander, was killed by a black gang, Sitkoff said.
"She didn't talk directly about it, but there's fear," he said. "How could there not be? I have black families who are the same way."
Meanwhile, the exodus continues. More black families depart every year for Palmdale or the Inland Empire. Some cliques of the East Coast Crips in the neighborhood don't exist any more.
One former black gang member said he hasn't left Florence-Firestone because he still has family and property there.
But "it's going to come a time when everybody's going to have to leave," he said. "Everybody's going to have to go."
Sign up for Essential California for news, features and recommendations from the L.A. Times and beyond in your inbox six days a week.
You may occasionally receive promotional content from the Los Angeles Times.