'Jane Doe #59' was a 19-year-old from Montreal -- was she also a Manson victim?
A woman whose death was feared to be connected to the Manson family slayings was identified late last year as a Canadian teenager, but Los Angeles police detectives still have no concrete evidence linking the vicious stabbing death to the series of slayings carried out by Charles Manson and his followers in 1969, LAPD investigators said Wednesday.
In December 2015, police confirmed that "Jane Doe #59" was Reet Jurvetson, a Montreal resident who was stabbed 150 times before her body was spotted by a child on Mulholland Drive in November 1969, according to Det. Luis Rivera, a cold case investigator with the Los Angeles Police Department's Robbery-Homicide Division.
Police began investigating the death again in 2003, after a retired LAPD cold case investigator turned up a "piece of evidence" connected to the woman's death that contained a DNA sample, Rivera said. The detective uploaded the sample and photographs of the victim to the National Unidentified and Missing Persons System, according to Rivera, who said the case then went quiet again for 12 years.
A friend of Jurvetson noticed the photo in June 2015, and contacted the victim's sister, Anne. Police then obtained a DNA sample from Anne Jurvetson, and a positive identification was made in December of last year, Rivera said.
Reet Jurvetson traveled from Montreal to Los Angeles in 1969 to meet a friend named "John or Jean," according to Rivera, and kept in sporadic contact with her family. While her relatives were concerned, they never filed a missing person's report, he said.
"They missed her and they wondered about her, but no official report was made," Rivera said.
While the positive identification may seem like a major revelation, police have little more than tangential links between Jurvetson's death and the Manson family murders.
Police initially considered Manson because the family's other victims had been stabbed to death, according to Rivera, and Jurvetson's death happened around the same time as the cult killings. In his 1974 book, "Helter Skelter," former Manson prosecutor Vincent Bugliosi also said he believed "Jane Doe #59," later identified as Jurvetson, was killed because she had witnessed another murder long believed to be linked to the Manson family, the killing of John Phillip Haught.
Investigators initially believed Haught died accidentally while playing Russian Roulette in Venice in November 1969. But Simon Wells, author of the Charles Manson biography "Coming Down Fast," later found out that Manson family members were present when Haught died.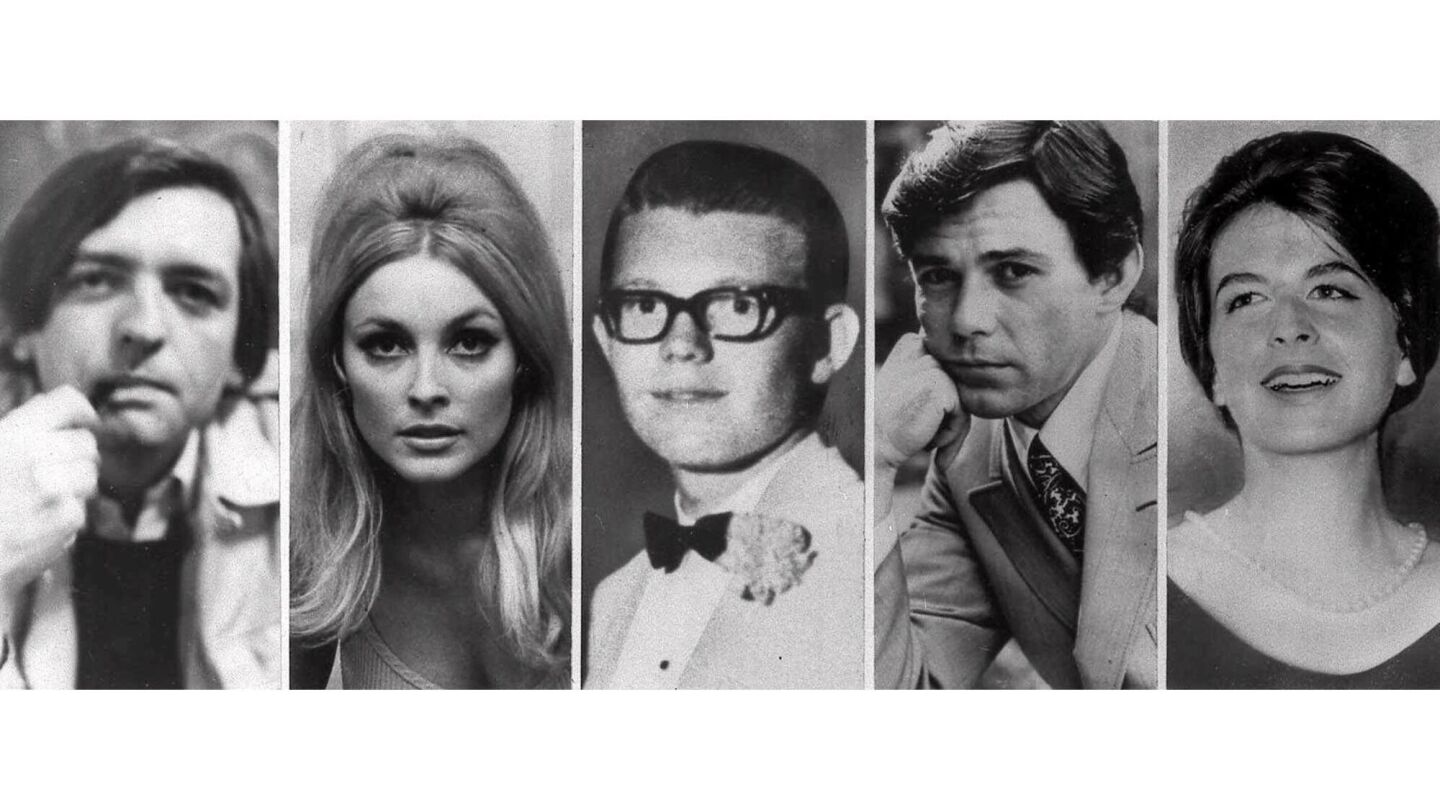 The five victims slain the night of Aug. 9, 1969 at the Benedict Canyon Estate of Roman Polanski. From left, Voityck Frykowski, Sharon Tate, Stephen Parent, Jay Sebring, and Abigail Folger. The next night, it happened again. Rosemary and Leno LaBianca, a wealthy couple who lived across town, were stabbed to death in their home.
(Associated Press)
Charles Manson is led back to his cell after court appearance in 1970.
(Bill Murphy / Los Angeles Times)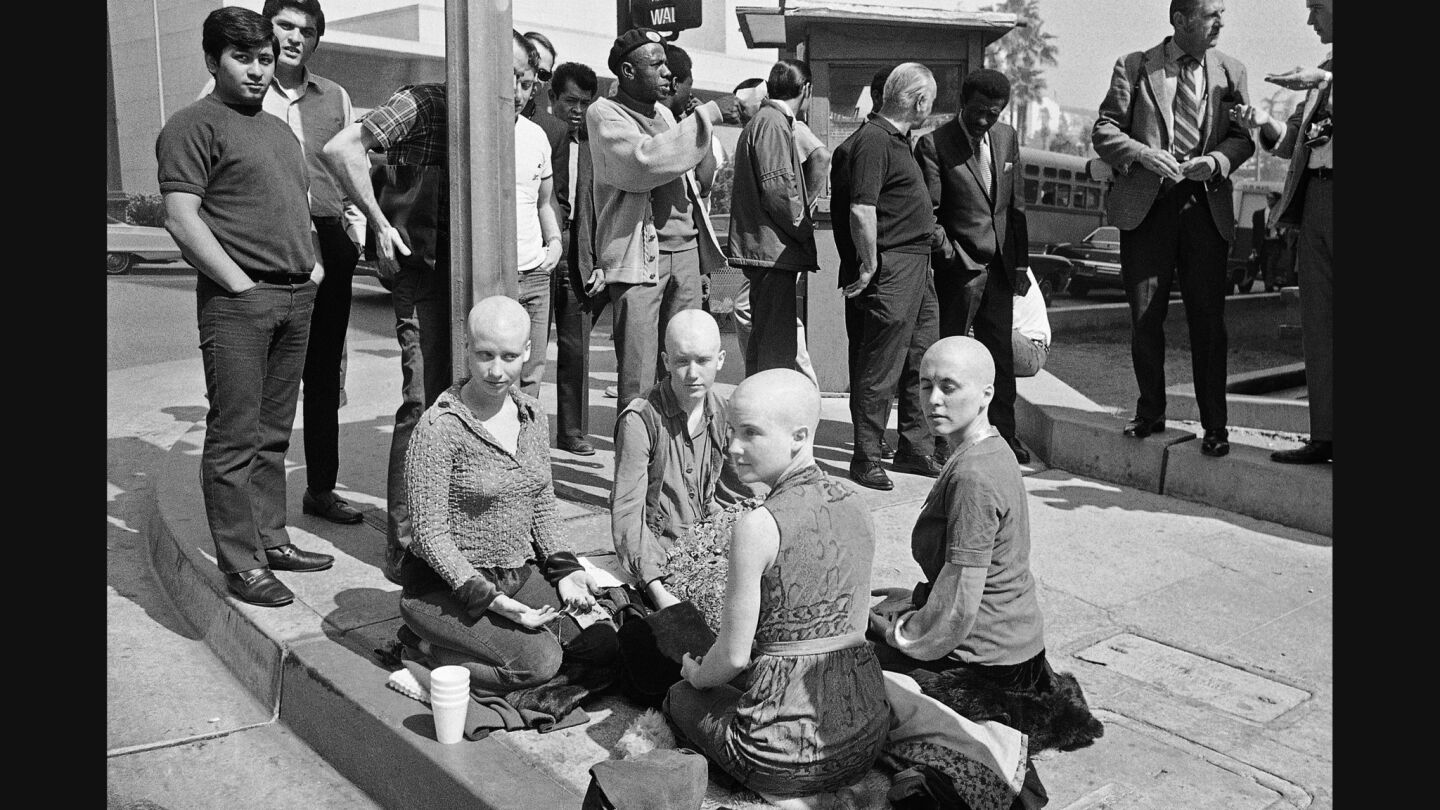 Four young female members of the Charles Manson "family" kneel outside the Los Angeles Hall of Justice on March 29, 1971, with their heads shaved. The women kept a vigil at the building throughout the long trial in which Manson and three others were convicted of murdering actress Sharon Tate and six others.
(Wally Fong / Associated Press)
Charles Manson is escorted to court for preliminary hearing in 1969.
(Bill Murphy / Los Angeles Times)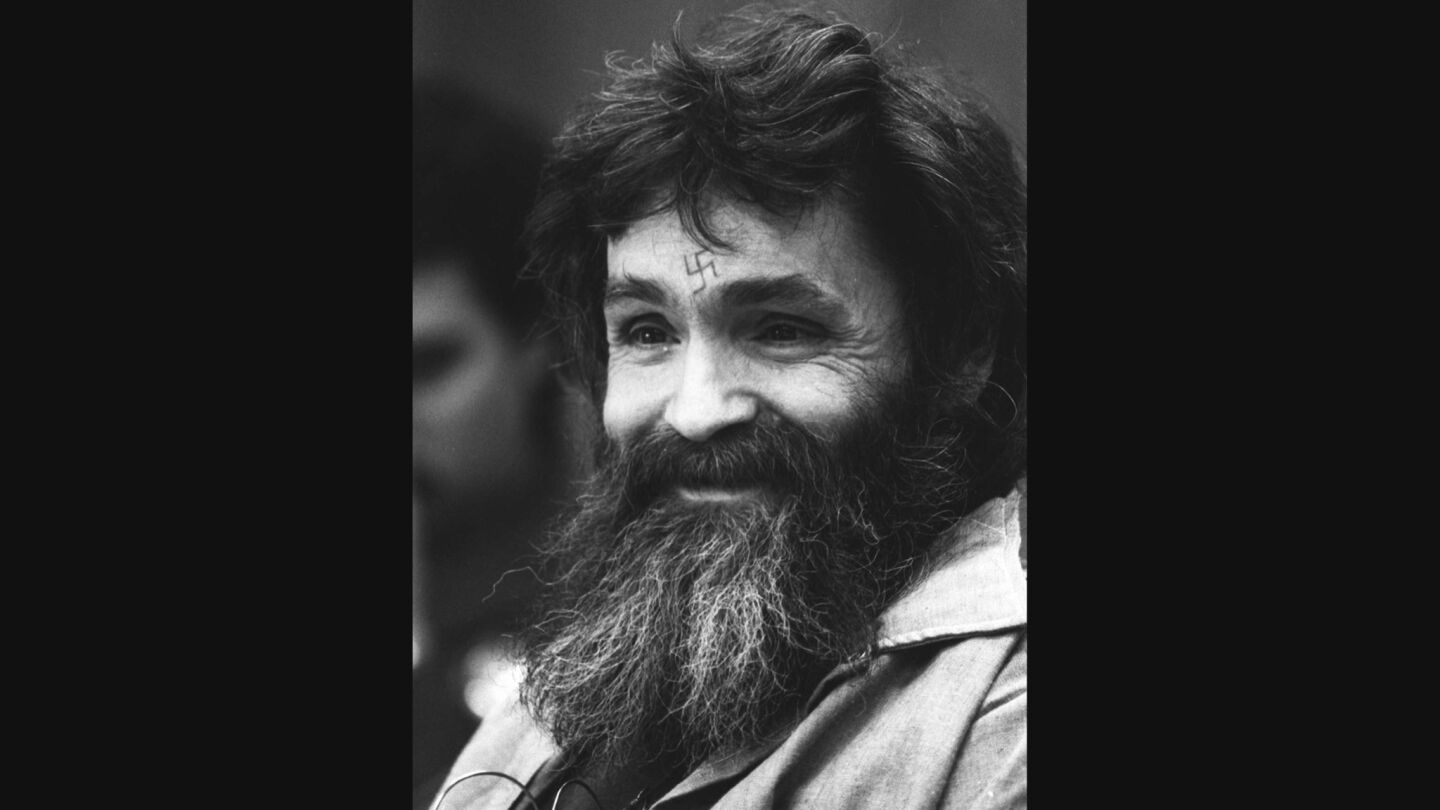 Charles Manson receives the news that he was denied parole in 1997, for the ninth time in March, 1997.
(Eric Risberg / Associated Press)
Charles Mansion in the high security area of the Corcoran State Prison in 1998.
(Kirk McKoy / Los Angeles Times)
Rivera said he was aware of the theory, but said the LAPD has nothing to formally connect the deaths.
"We have not been able to find any evidence, any link, other than the timeframe of the murders," Rivera said. "Other than that there's no direct link."
Attempts to contact Jurvetson's sister, and her acquaintances in Canada, were unsuccessful.
LAPD investigators traveled to Corcoran State Prison to interview Manson last year, according to Capt. Billy Hayes, commander of the Robbery-Homicide Division, but the convicted serial killer did not provide any additional information. Hayes downplayed any connections between Jurvetson's death and the Manson slayings in an interview with The Times on Wednesday.
"Talking to Charlie is like talking to a wall," Hayes said.
News of Jurvetson's identification was first reported by People magazine Wednesday morning. A caretaker at Spahn Ranch, the Manson family's main haunt, told police that Jurvetson resembled a woman named Sherry who had spent time at the ranch, according to the People report. But Rivera said the LAPD has no information linking Jurvetson to the Manson family, and detectives are not certain that she knew Manson or any of his followers.
Jurvetson was born in Sweden but grew up in Montreal, according to People.
"As incredible as it seems, my parents never thought to report Reet missing to the police," Anne Jurvetson wrote in a statement provided to People. "They thought that she was just living her life somewhere and that eventually news from her would turn up."
Rivera said the case is not part of a larger initiative to identify additional Manson victims.
While prosecutors initially blamed the cult for eight separate murders across Los Angeles in 1969, prosecutors and Manson scholars have always believed the group was responsible for additional slayings.
Manson once bragged to a cellmate that his followers committed as many as 35 murders, according to former L.A. County prosecutor Stephen Kay, and police had hoped a series of recorded conversations between Manson family member Charles "Tex" Watson and his attorney uncovered in 2012 might reveal information about additional victims.
The tapes were turned over to the LAPD in 2012, but Hayes said Wednesday that there was "nothing of significance on the tapes. Nothing we didn't already know."
Still, Manson family members have long been considered suspects in a number of unsolved or suspicious deaths in 1969. Joel Pugh, the boyfriend of Manson follower Sandra Good, was found dead in a London hotel months after the Manson murders. British authorities listed his death as a suicide, but Kay previously told the Los Angeles Times that he believed Pugh was murdered.
"Manson despised him," Kay told The Times in a 2012 interview. "People who Manson hated ended up dead."
Ronald Hughes, a 35-year-old attorney who was part of Manson's defense team, was also found dead in a Ventura County creek in November 1970. Some believe Manson's followers killed him because of his conduct at the trial, during which legal experts say he strongly defended Manson family member Leslie Van Houten at the expense of Manson.
The slayings that have been officially attributed to Manson and his followers all took place during a panic-inducing stretch of the summer of 1969. Gary Hinman, a 34-year-old musician, was the first victim, stabbed to death by Manson after he refused to surrender his money and property to the cult leader.
A week later, four Manson followers -- Susan Atkins, Patricia Krenwinkel, Watson and Linda Kasabian -- marched through the Hollywood Hills to Benedict Canyon, where they broke into the estate rented by Sharon Tate and her husband, director Roman Polanski.
Steven Parent, Tate, Jay Sebring, Voytek Frykowski and Abigail Folger were all killed at the estate. Tate's blood was used to smear the word "PIG" on the front door of the residence.
Later that month, Manson broke into the Los Feliz home of 44-year-old supermarket owner Leno LaBianca. The cult leader tied up LaBianca and his wife, Rosemary, and left them to be butchered by Watson, Krenwinkel and Van Houten.
Donald "Shorty" Shea, a hand at the Spahn Ranch in Chatsworth, was the last victim whose death resulted in a conviction against a Manson family member.
Manson remains incarcerated at Corcoran State Prison, and will not be eligible for parole until 2027. Nearly all of Manson's other followers remain jailed or dead. Lynette "Squeaky" Fromme was released from prison in 2009, more than 30 years after she was convicted of attempting to assassinate President Gerald Ford. Kasabian was also granted immunity for testifying against other Manson family members.
A California review board recommended parole for Van Houten earlier this month, though her release could still be blocked by Gov. Jerry Brown.
Twitter: @jamesqueallyLAT and @lacrimes
ALSO:
The long, strange odyssey of the 'Barefoot Bandit' just got stranger
San Diego officials join the move for a study on suicide-prevention barriers on Coronado Bridge
Donald Trump says illegal immigration is at a record high. He's wrong
---
Life is stressful. Our weekly mental wellness newsletter can help.
You may occasionally receive promotional content from the Los Angeles Times.