Daredevils climb top of Golden Gate Bridge and perform somersaults
Two Wisconsin natives are under investigation after they filmed themselves scaling San Francisco's iconic Golden Gate Bridge, performing somersaults and hanging from cables over cars below.
The heart-stopping video posted last week by Peter Teatime shows him and Tommy Rector as they climbed vertical steel suspension ropes until they reached a flat surface on the bridge's steel beams.
One climber appeared to be holding on to the cables as they sprinted toward one of the bridge's main towers. The climber then stepped one foot off the beam and held on to the cable with one hand as his body hung over the bridge. The video follows the friends as they scaled a series of stairs, performed somersaults and back flips and hung their bodies off the bridge.
"Guys, we've just made it to the top," one teen says in the video. "This is incredible, to be honest. This is so beautiful up here."
More than a month after the death-defying stunt was performed, Golden Gate officials say they have launched an investigation and are planning to beef up security on the bridge.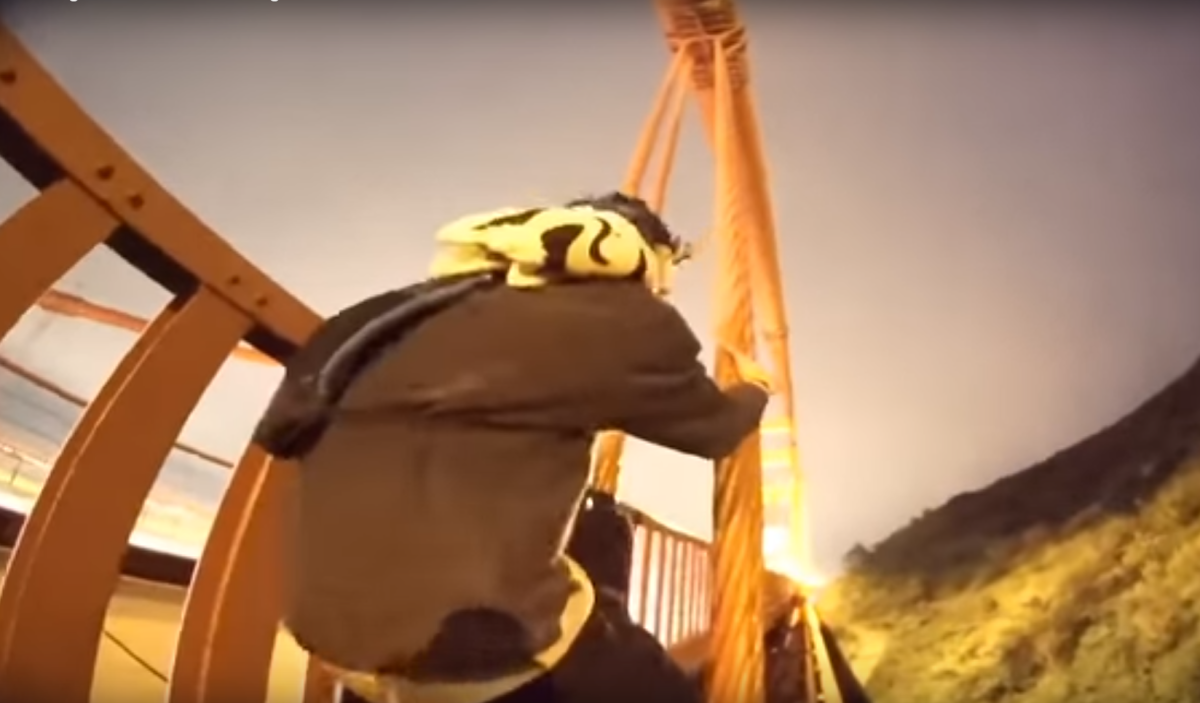 ---
Decision to climb
'Let's give it a try'
Teatime, an 18-year-old high school student, told The Times he and Rector were visiting friends in San Francisco for spring break in early April when they decided on "just a whim" to climb the bridge.
The teen said he and Rector came to a simple understanding: "Let's give it a try."
Although the Milwaukee resident could not recall the date of the stunt, he said it was about 3 a.m. when he and Rector began scaling the ropes and steel beam. They were on the bridge for about an hour, he said.
The climb up the bridge was filled with obstacles such as strong winds, mist, fog and slippery conditions, he said.
Teatime, who has been climbing all his life, said he wasn't afraid because he has climbed taller structures before. During the ascent, he said, he maintained focus and concentration.
"It was an amazing experience," Teatime said. "You can see all of San Francisco and all of the city's lights."
Once they reached the top of the bridge, Teatime said, the friends decided to perform somersaults and hang their bodies to add another level of thrill to the climb. Teatime said they were mindful of the cars below and the risk they posed to those vehicles.
Before performing a stunt, he said, they made sure the road was clear.
"We weren't bothering anybody," Teatime said.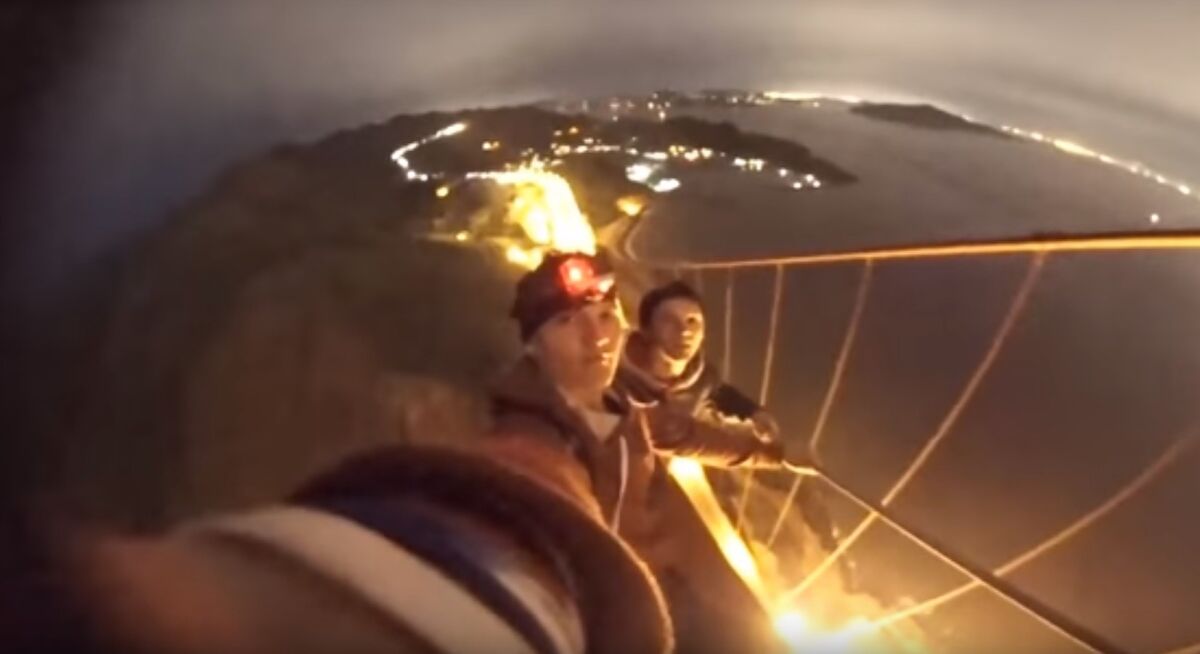 Possible safety risks
'Golden Gate Bridge is not an amusement park ride'
Golden Gate Bridge officials said the climbers could have posed a danger to motorists if one of them had fallen.
"Their behavior could have harmed motorists below," said Capt. Lisa Locati, who leads the Golden Gate Bridge patrol.
Golden Gate Bridge officials became aware of the stunt a week and a half ago when they saw the video online, authorities said. Authorities don't know how the climbers got access to the bridge since their visit didn't trigger any alarms.
"The Golden Gate Bridge is not an amusement park ride," said Denis Mulligan, general manager of the Golden Gate Bridge Highway and Transportation District. "It is vital public infrastructure and it's a symbol of our community."
The bridge was not damaged or harmed by the climbers, he said.
Authorities are now looking at ways to safeguard the bridge as well as to boost security to ensure similar acts don't occur in the future, Locati said.
Locati said the bridge's security system was "not designed to protect thrill-seekers from harming themselves."
Risk, but no reward?
Climbers could be slapped with trespassing charge
The California Highway Patrol is investigating the stunt and the climbers could face misdemeanor trespassing charges and fines, said Mulligan, the bridge's general manager.
Additionally, other steps could be taken against the climbers.
Mulligan said a man who tried to climb the bridge four years ago was placed on a no-fly list and lost his job, which required him to fly, he said.
Teatime said he respects law enforcement officials and wasn't trying to stir up any trouble.
"We weren't doing anything wrong," he said.
The teenager said he is willing to work with authorities to show them how he got access to the bridge, so they can improve security.
"I would definitely discourage anybody from climbing the Golden Gate Bridge," Teatime said.
He said the climb was a one-time deal.
"I don't think I need to do it again," he said.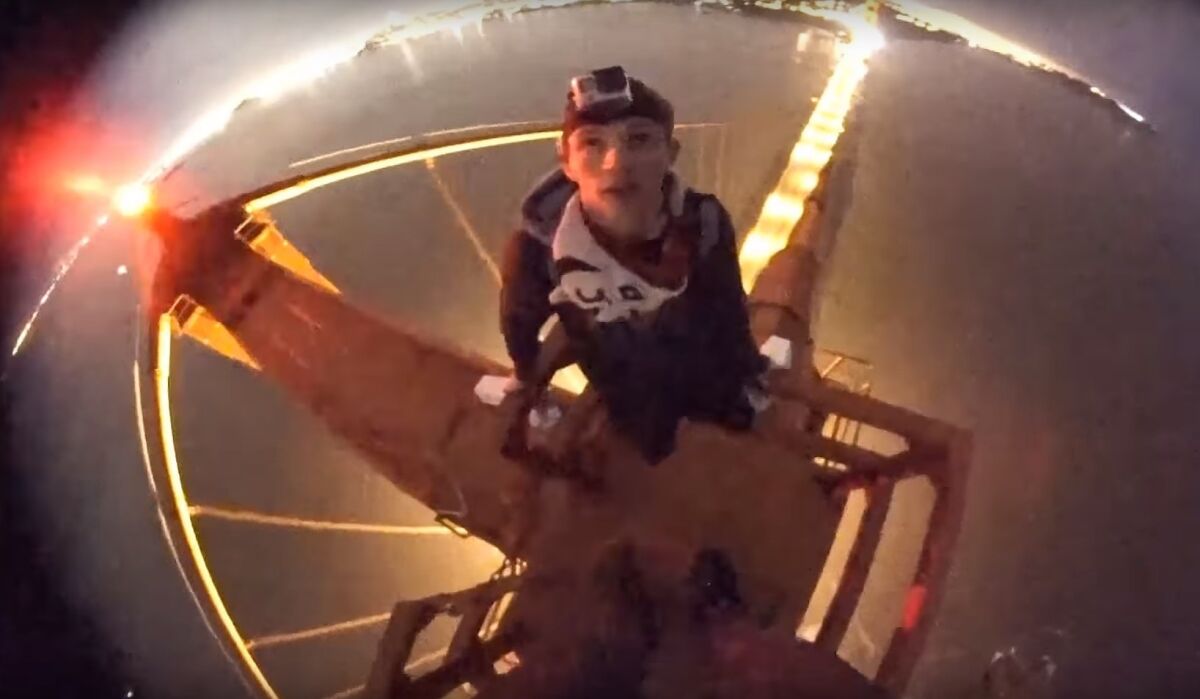 ---
The stories shaping California
Get up to speed with our Essential California newsletter, sent six days a week.
You may occasionally receive promotional content from the Los Angeles Times.