Jackie and Joan Collins: Rivalry, friendship and sisterhood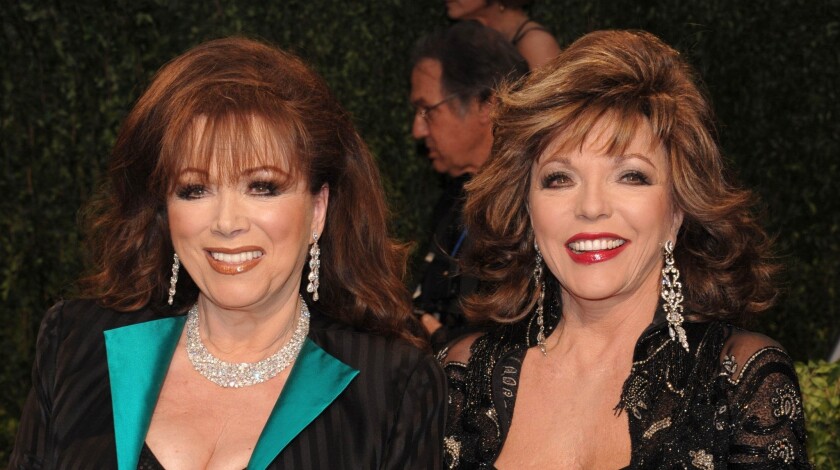 When author Jackie Collins arrived in Hollywood in the late '50s, her movie star sister Joan Collins met her at the airport with car keys.
"I'm off to a movie location. Learn to drive immediately," she told the younger Jackie, who recounted it decades later to The Times.
But in an interview with People, 82-year-old Joan revealed that she holds a much softer spot for her sister than as just a chauffeur.
"She was my best friend, " she told People. "I admire how she handled this. She was a wonderful, brave and a beautiful person and I love her."
Jackie died Saturday after a long battle with breast cancer. She was 77.

Here are some highlights from The Times' archive tracking their ups and downs through the years:
Both Jackie and Joan grew up around famous people and learned not to get impressed. She (Jackie) was thrown out of a boarding school at 15 for smoking, she says, and her parents, despite her professed interest in writing, sent her to live with Joan, already a starlet with 20th Century Fox.
Sibling rivalry has never looked more glamorous than when Annie Leibovitz shot the high-profile sisters Jackie and Joan Collins in Los Angeles for Vanity Fair in 1987, at the height of the "Dynasty"-era excess. Competing, cantilevered cleavage and dueling baubles were just the half of it. Rumor has it that tensions were high between the actress and the author because Joan had signed a multimillion-dollar book deal with Jackie's publisher.
"Jackie was the Queen of Dish, and Joan was the Queen of Soap. The two of them were white-hot, and you could see that success on the page." -- David Friend.
"There's absolutely no feuding. We're perfectly good friends. She's in Europe for a few months" -- Jackie Collins
Almost everyone I meet says, "Oh, I could do that, I could write a book." And they could, they could write one book. It would be about themselves. I never wrote about myself, and I never wrote a kiss-and-tell, and I never wrote about old love. . . " nor has she written about her sister or her husband.
Twitter: @MelissaLeu
MORE ON JACKIE COLLINS:
Jackie Collins, best-selling author of sexy Hollywood novels, dies at 77
PHOTOS: Jackie Collins through the years | 1937-2015
Jackie Collins chronicled the steamy side of L.A.'s rich and famous
---
Get breaking news, investigations, analysis and more signature journalism from the Los Angeles Times in your inbox.
You may occasionally receive promotional content from the Los Angeles Times.