For Perris couple arrested after kids found chained, home-schooling kept spotlight away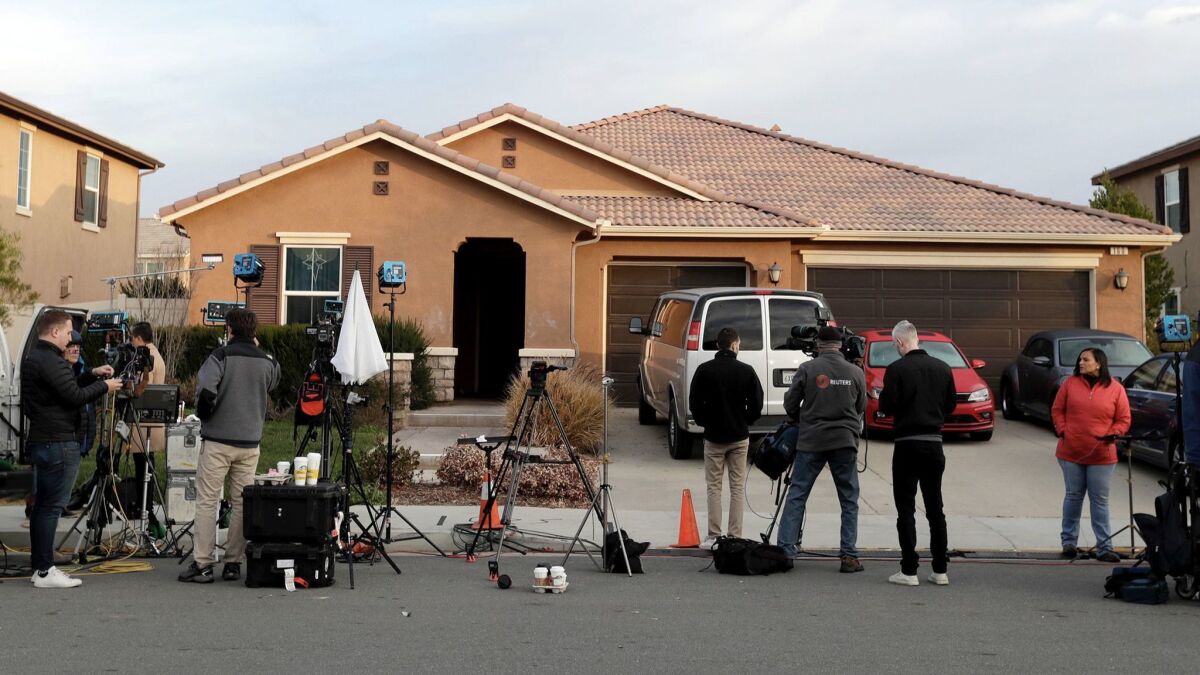 Days after law enforcement authorities found a dozen siblings locked up in a foul-smelling, dark home in Riverside County, the discovery is focusing new scrutiny on California's loose home-schooling regulations and raising questions about whether they contributed to the children's prolonged neglect.
Arrested on nine counts of torture and child endangerment, David Allen Turpin, 56, and Louise Anna Turpin, 49, have so far offered no public insight into why they shut their 13 children inside their home in Perris.
For the record:
10:40 a.m. Jan. 17, 2018An earlier version of this story gave David Turpin's age as 57. He is 56.
The Riverside County Sheriff's Department said deputies had never been called to the home while the family lived here, nor had the county Department of Public Social Services. Had the children attended a public school, they would have interacted daily with teachers who might have noticed their emaciated bodies and contacted law enforcement, authorities say.
Ultimately, home-schooling proved to be another way to shield their children from anyone's oversight.
Like many California families who choose to home-school their children, the Turpins registered with the state Department of Education. Beginning in 2010, when the family lived in Murrieta, David Turpin filed paperwork to run a private school out of his home, putting himself down as principal of what he called the Sandcastle Day School. For several years, he described it as a full-time, religious school unaffiliated with any denomination, but recently he wrote that it was nonreligious.
He submitted these forms every year, but the information sought by the California Department of Education — such as address, type of school, enrollment — told authorities little about the children's lives.
That paperwork, known as a private school affidavit, is all that California law requires of home schools.
Neither the Department of Education nor the local school districts had any legal responsibility to knock on the Turpins' front door, review their curriculum or assess their children's academic performance.
Under the law, private school employees must submit to fingerprinting and background checks, but there is no such demand placed on parents teaching their own children.
"We are sickened by this tragedy and relieved the children are now safe and authorities are investigating," said a spokesman for the California Department of Education in a statement sent to reporters.
"Private schools are required to register with the state to record their students' exemption from compulsory attendance at public schools. Under current California law, the CDE does not approve, monitor, inspect, or oversee private schools," the statement said.
"We really knew nothing about them," said Grant Bennett, superintendent of the Perris Union High School District. "If they were in home school from the beginning, they wouldn't even have been on our radar."
According to the Coalition for Responsible Home Education, a nonprofit that advocates for more active oversight of home-schooled children, California is one of 15 states that ask little more of parents other than that they register with the state. This group includes states such as Nevada, Arizona, Alabama and Mississippi that historically eschew government regulation.
Eleven other states don't require parents to submit any documentation, including Texas, where the Turpins lived for a time.
"We know that many home-schooling parents provide their children with a safe and child-centered home environment," said the coalition's executive director, Rachel Coleman. "Unfortunately, current law provides nothing to stop families like the Turpins from using home-schooling to isolate and imprison their children."
Citing numerous cases of home-schooled children who have been abused, Coleman called for significant changes. She said states like California should require such children to interact with "mandated reporters" — for example, teachers and doctors — through annual performance reviews and checkups. She also called for states to mandate criminal background checks for families who elect to teach their children at home.
There are states, such as New York, that require home-schooled children to take standardized tests or have portfolios of their work reviewed by teachers. In Pennsylvania, the law bars parents from home-schooling if they've been convicted of an offense that would prevent them from teaching at a public school.
But efforts to pass more stringent requirements in many other states have met with little success, Coleman said.
"Part of the reason is the home-school lobby tends to interpret these bills as some sort of indictment of them," she said. "As long as the laws are so lax, these things are going to keep happening."
On Tuesday evening, Assemblyman Jose Medina (D-Riverside) released a statement saying that in response to the Turpin case, he is "looking into" proposing legislation to change the state's home-schooling law, though he did not say precisely how.
The Home School Legal Defense Assn., a national advocacy group, is one of the most vocal organizations working to ensure that states don't increase regulations. Scott Woodruff, the association's senior counsel, said that while California lawmakers might be tempted to respond to the Turpin case with "knee-jerk calls for more red tape burdens," he is confident such attempts would fail.
"When people of goodwill have time to look at the data, they realize the home-school laws are not the problem," Woodruff said. "We have not seen a clamping down in response to a very vivid case of tragic abuse."
Twitter: @annamphillips
---
UPDATES:
5:25 p.m.: This article was updated with a statement by Assemblyman Jose Medina about considering a proposal to change the home-schooling law.
This article was originally published at 4:50 p.m.
The stories shaping California
Get up to speed with our Essential California newsletter, sent six days a week.
You may occasionally receive promotional content from the Los Angeles Times.