Transformation of L.A. Unified's Locke High into a charter school is Green Dot's biggest test yet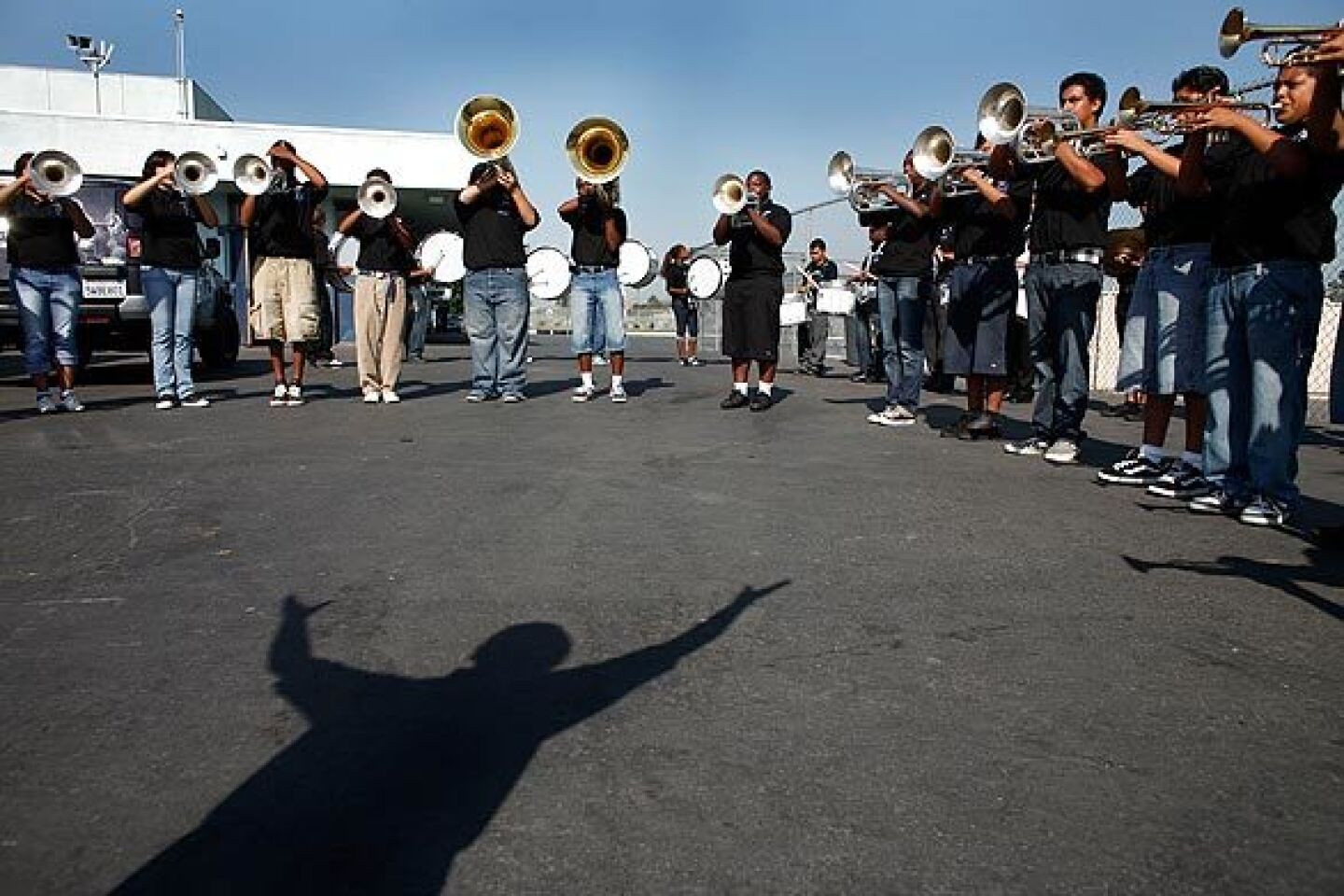 The Locke High School marching band rehearses for the reopening ceremony for the long-troubled school. Green Dot, which has achieved some success with small charter schools, has taken over the large urban campus.
(Michael Robinson Chavez / Los Angeles Times)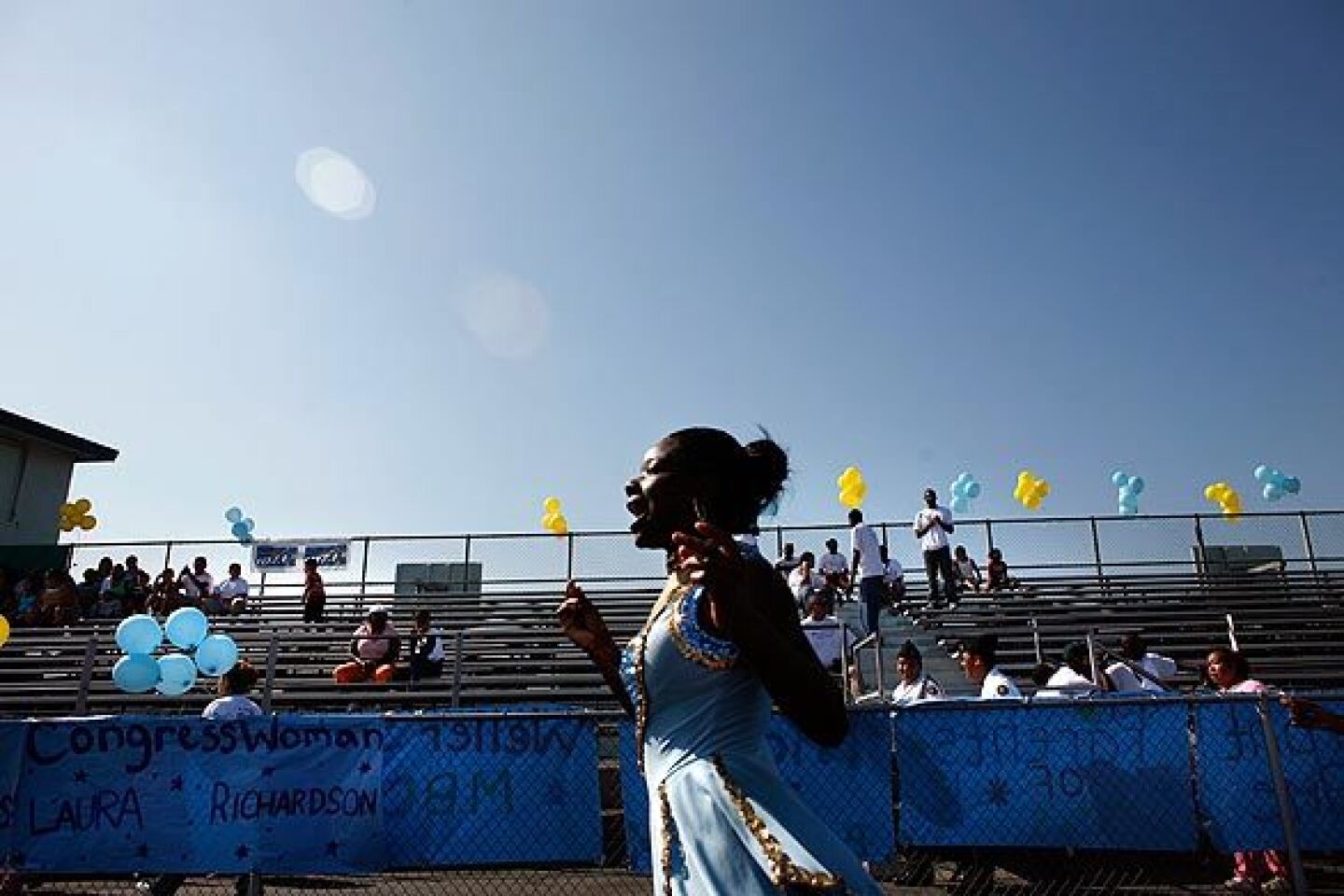 A Locke cheerleader performs at the reopening ceremony.
(Michael Robinson Chavez / Los Angeles Times)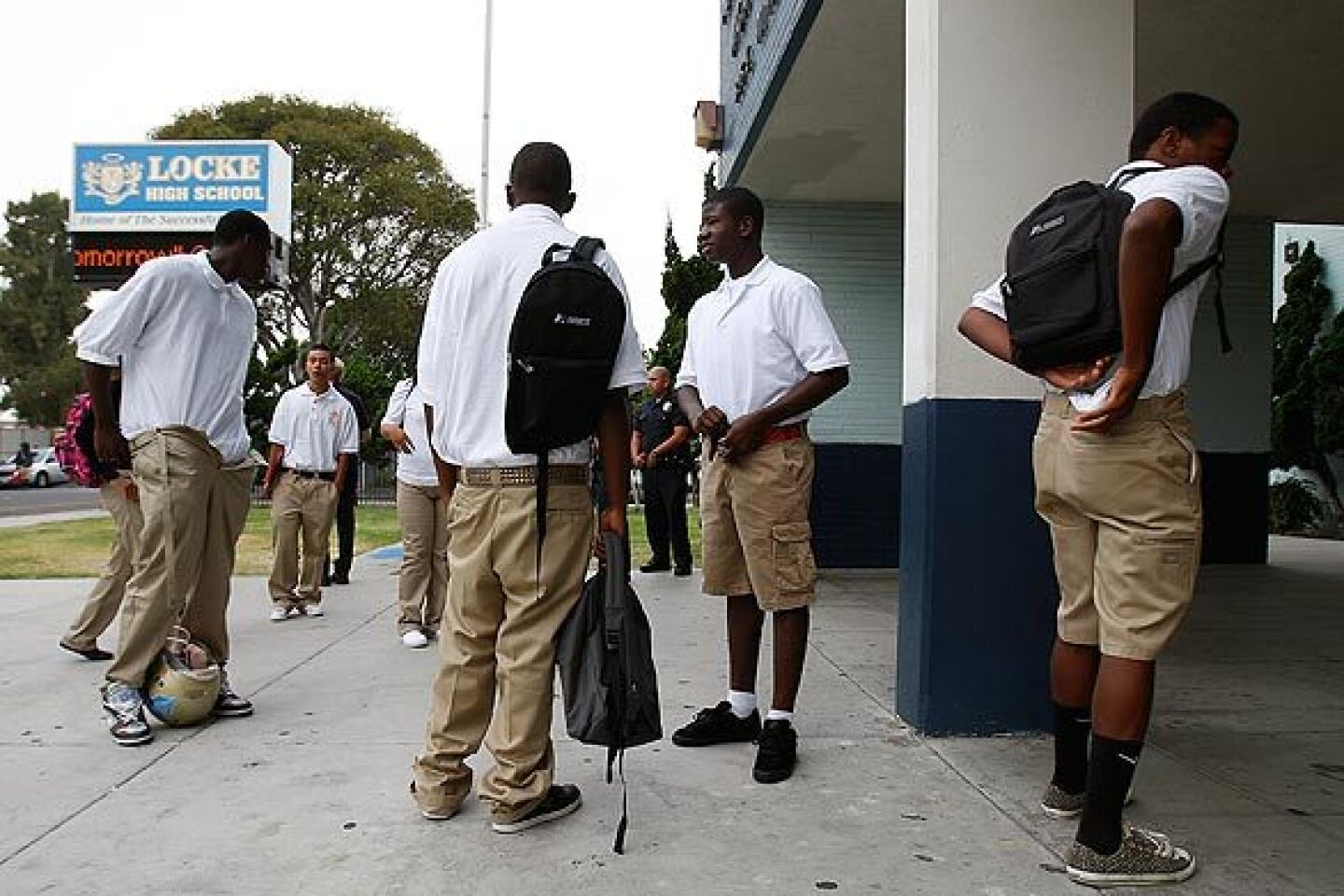 School officials tell students to tuck in their shirts, hike up their pants and tighten their belts in their new school uniforms on the first day of school at Locke High School in Watts.
(Allen J. Schaben / Los Angeles Times)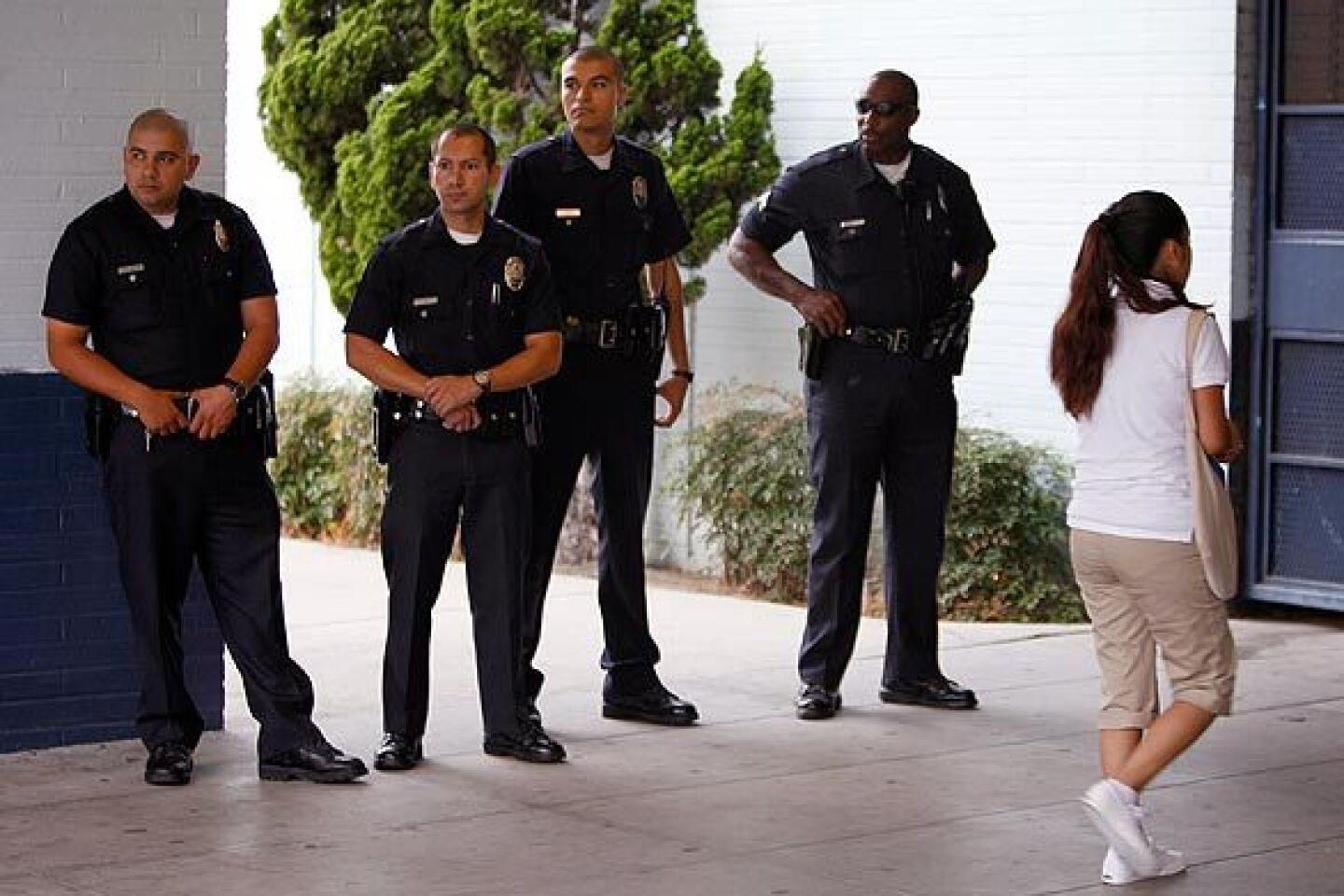 Because of the school's past problems with violence, police officers keep an eye on students as they start their first day of school Locke High School in Watts.
(Allen J. Schaben / Los Angeles Times)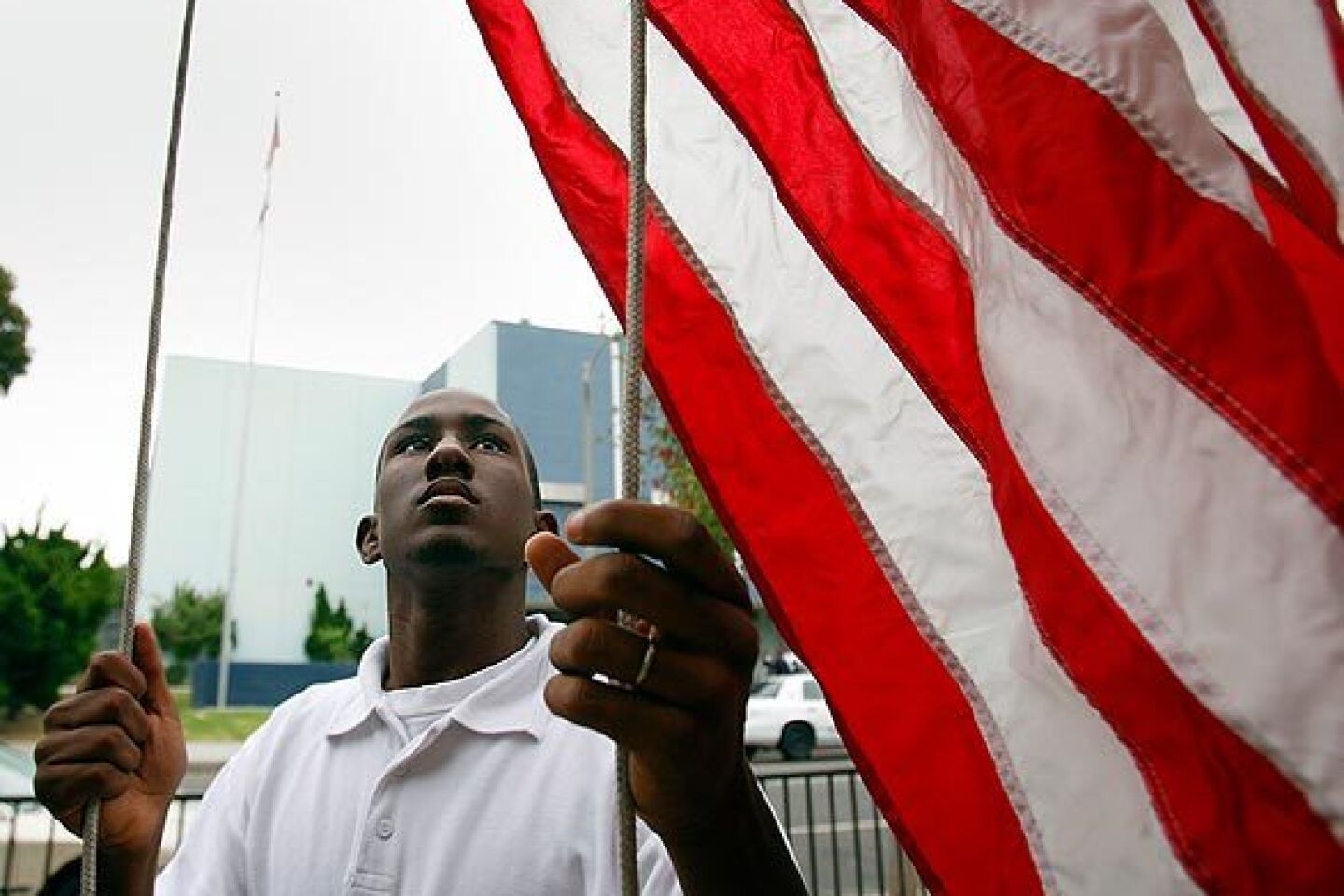 Ulis Morris, 16, an 11th grader at Locke and a member of the Reserve Officers Training Corps, raises the American flag at Locke on the first day of school.
(Allen J. Schaben / Los Angeles Times)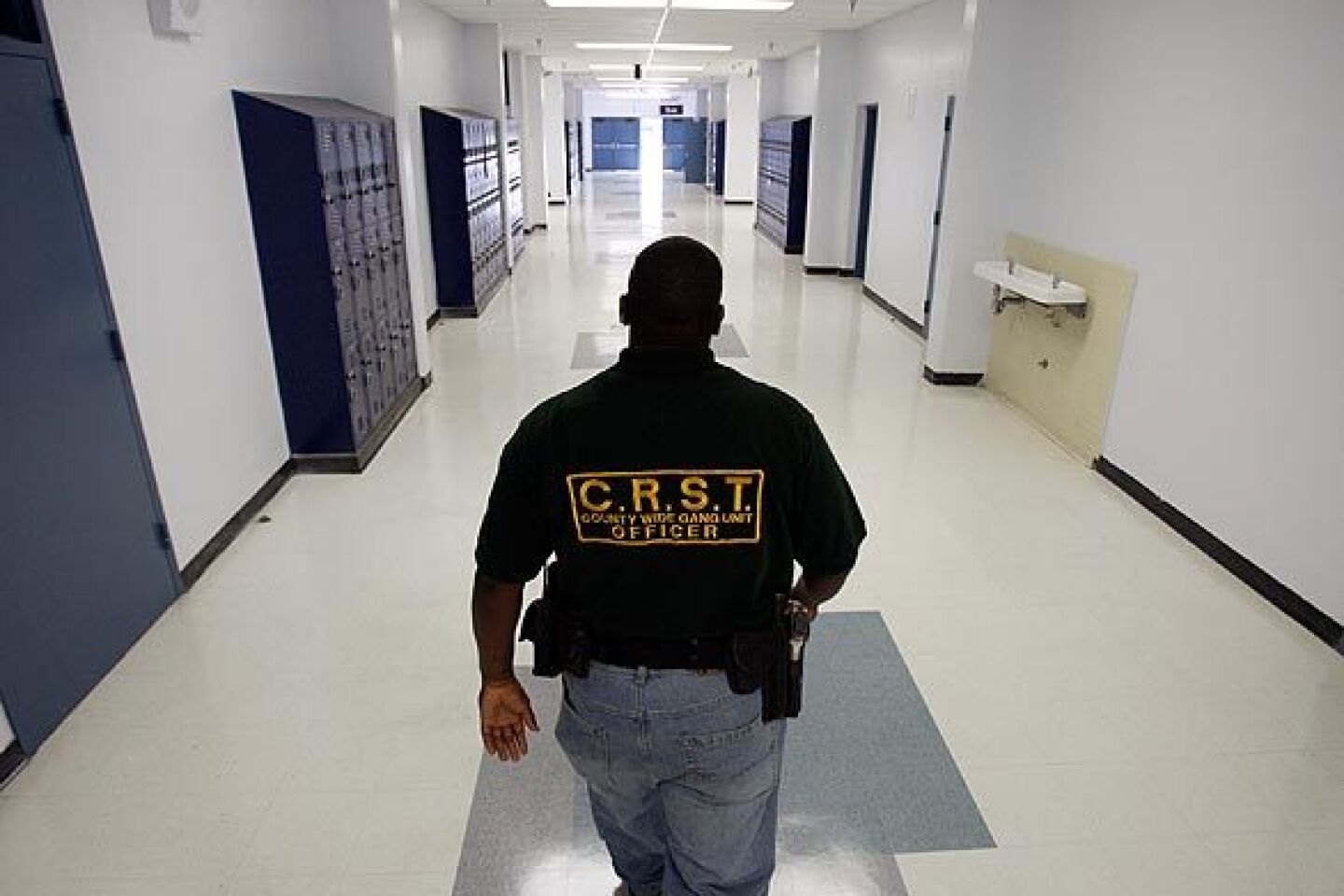 Sgt. Darnell Stephens, a gang unit officer with a private company, patrols the graffiti-free hallways of Locke High School on the first day of school.
(Allen J. Schaben / Los Angeles Times)
Tenth-grade English teacher Beth Schmidt works at Locke High School in Watts, where Green Dot has taken over the operation of the campus.
(Allen J. Schaben / Los Angeles Times)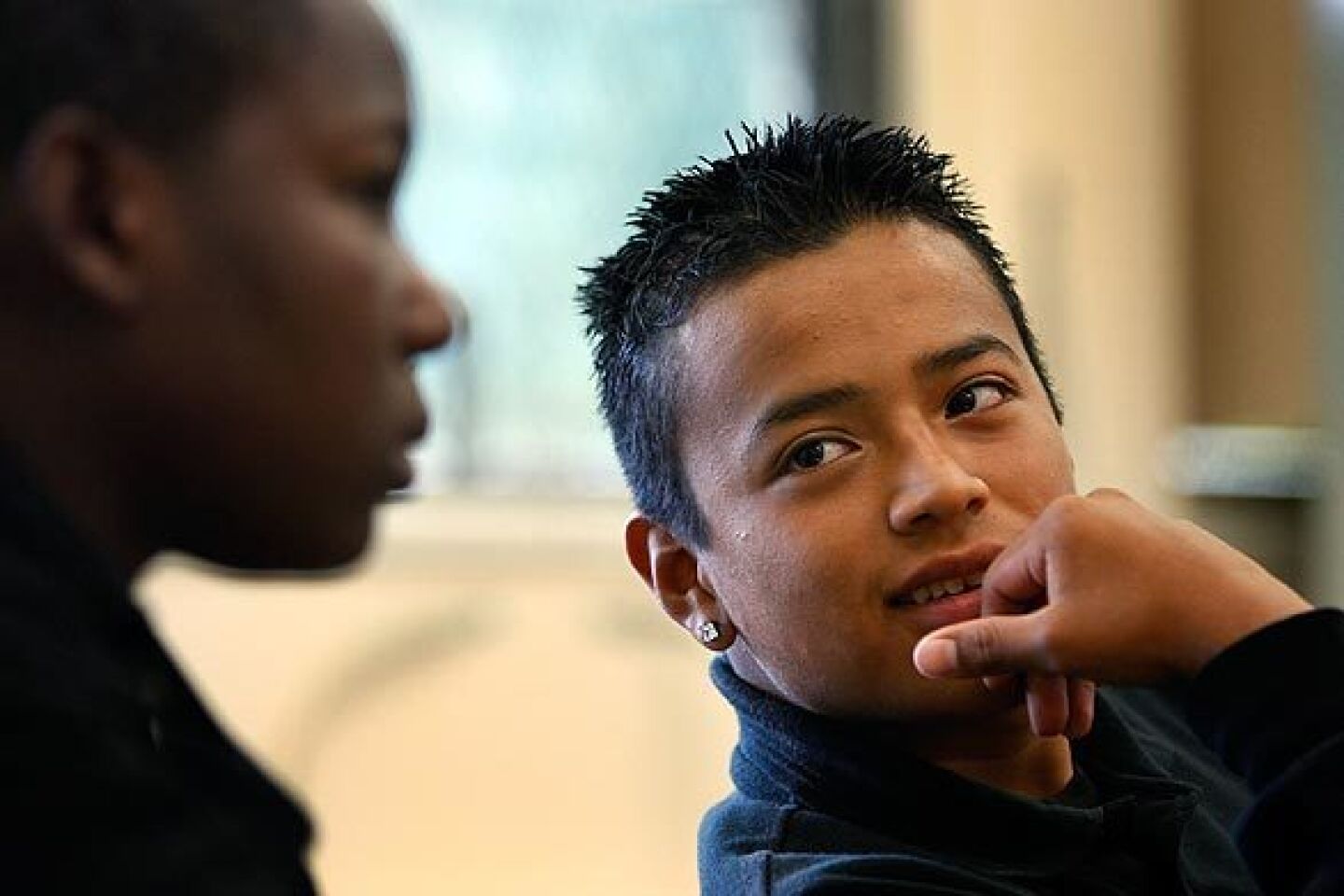 Sophomores Wally Onayemi, left, and Luis Castillo, both 15, work together on an assignment: defining guidelines for a good learning environment at Locke High School.
(Allen J. Schaben / Los Angeles Times)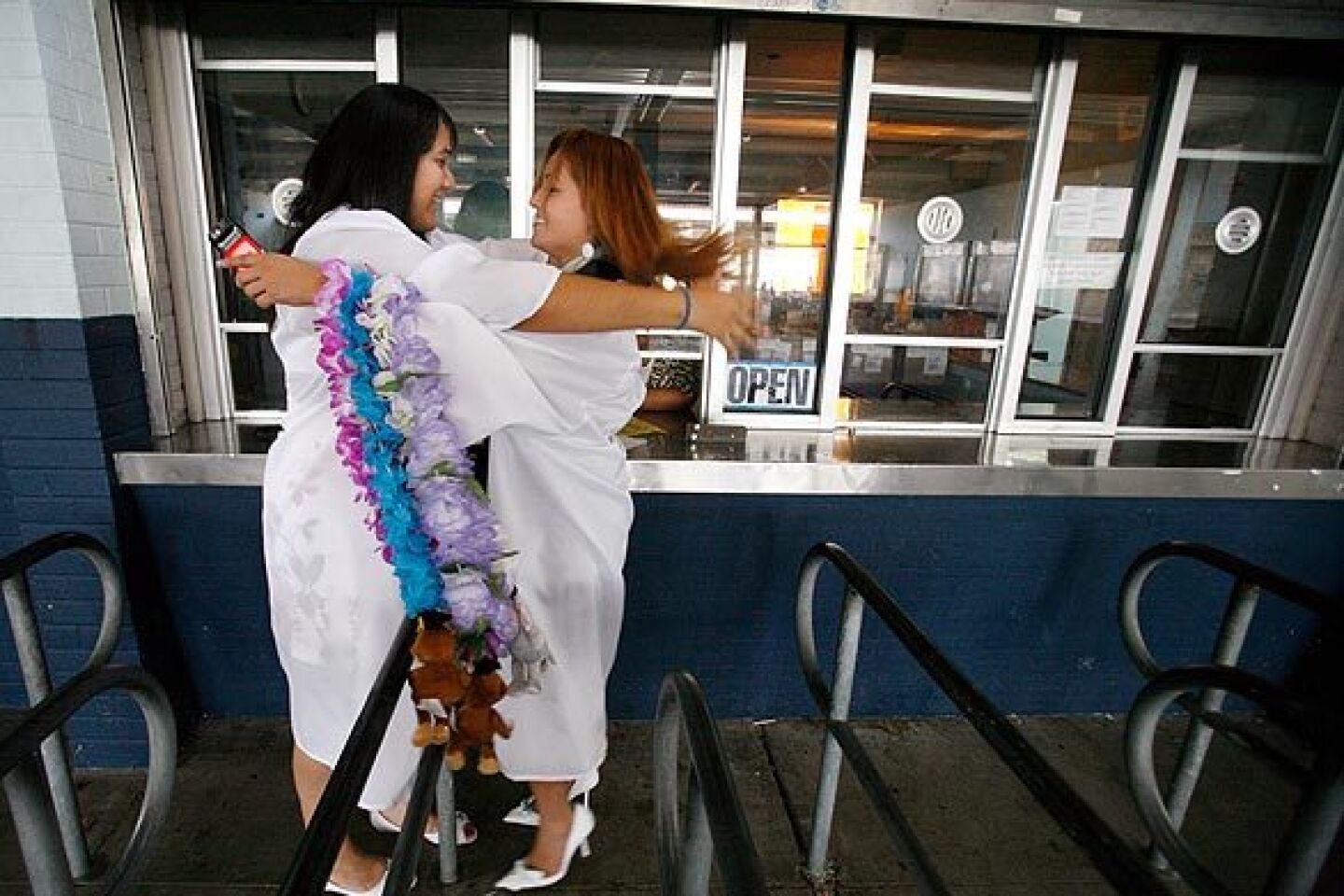 Blanca Rodriguez, left, and friend Perla Guzman hug before Locke's graduation ceremony last July 19. Guzman was the class valedictorian and planned to go to UCLA. Both girls helped classmates by lending them money to help pay for their graduation garb.
(Francine Orr / Los Angeles Times)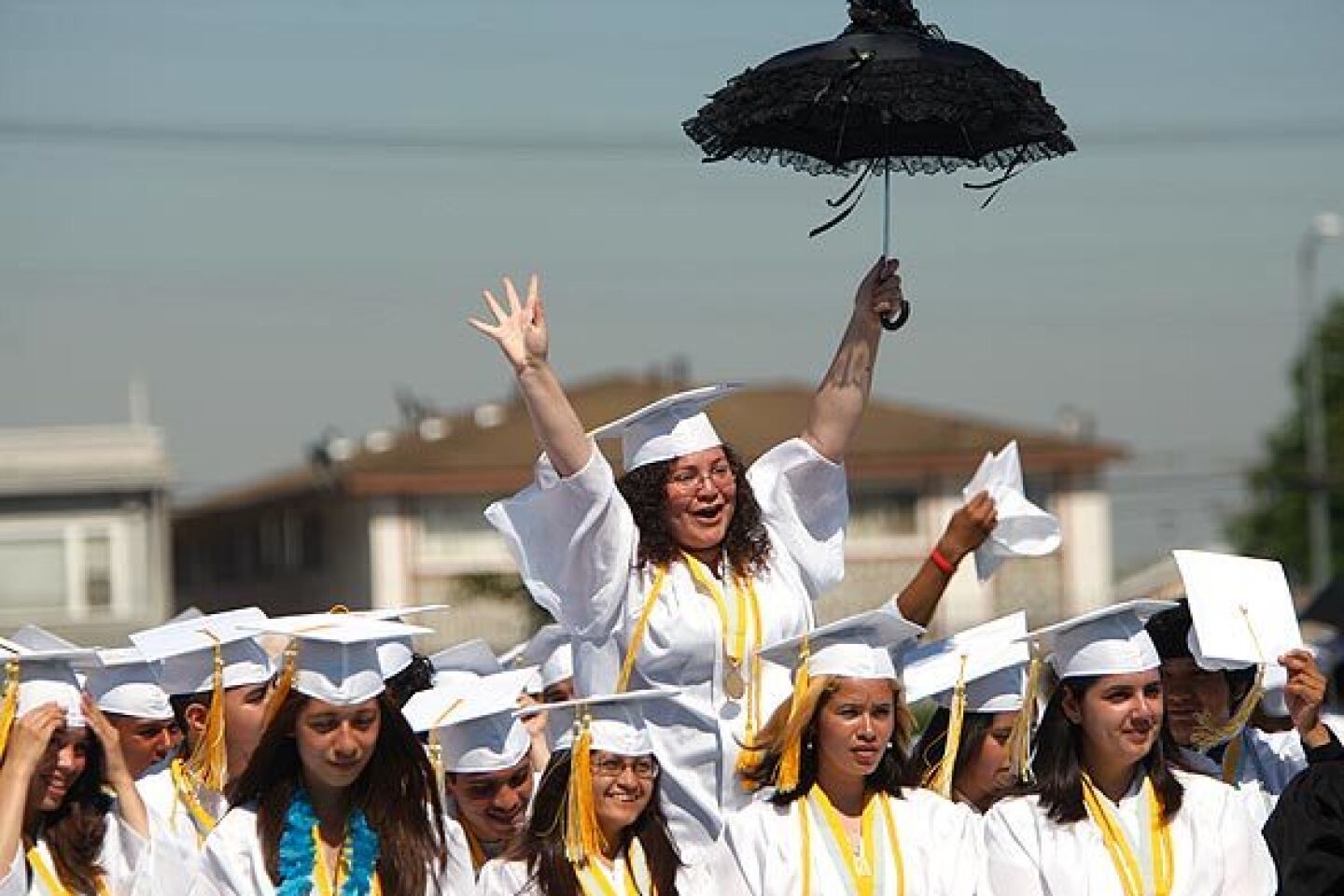 Students celebrate graduation from Locke last July.
(Francine Orr / Los Angeles Times)
Los Angeles Times Staff Writer
One in a series of occasional articles on the reform effort at Locke High School.
Locke High School opened last week under new management, and things look strikingly different.
Students are wearing uniforms. Private security guards have joined staff security aides to keep students on the Watts campus -- and gang members out. Lunch is courtesy of a private caterer. Freshly planted olive and pepper trees line the quad.
Even the teachers are mostly new.
For the first time in the Los Angeles Unified School District, a traditional school is being run by an outside organization, Green Dot Public Schools. The move is a seminal experiment in whether a charter operator can transform a large, troubled urban school, whether Green Dot can replicate what it has done in small schools nearby -- that is, raise scores, increase safety and graduate more students.
About 1 in 9 Locke students scores proficient or better in English on state tests. In math, it's fewer than 1 in 25. And more students drop out than graduate.
The stakes are high for students, but also for Green Dot and the charter-school movement. Locke represents a major expansion for Green Dot and its success -- or failure -- will be watched by education reformers around the country.
"Locke is a full test of the charter model because the agreement with Green Dot is they will take all children in that attendance area," said L.A. schools Supt. David L. Brewer. "We expect they're going to have the same kids we have had there before."
In trying to boost test scores and graduation rates, Green Dot will wield flexibility uncommon in L.A. Unified. Charters are independently run, publicly financed schools. They are exempt from district union contracts and from some rules that govern traditional schools.
Green Dot can hire and fire principals at will, without finding other jobs for them, as L.A. Unified does. Teachers also work with fewer job protections. Like many charter companies, Green Dot typically employs a younger, less experienced and less expensive staff than L.A. Unified, which allows Green Dot to pay young teachers more while also helping to keep class sizes smaller.
Locke also will benefit from extra state funding for low-achieving schools as well as private philanthropy. An actor made an anonymous donation of more than $200,000 for the new, mature trees, which instantly gave the well-worn 40-year-old campus a more tended, artful feeling. Donations are paying, too, for $400,000 in other physical improvements.
Meanwhile, because Green Dot has split Locke into seven separately run academies, the school will run up a deficit of $3 million to $6 million over the first four years, an expense also covered by benefactors. (After that, Green Dot schools are expected to meet expenses without charity.)
None of which will necessarily make the job easy.
"The task Green Dot's taking on is monumental," said A.J. Duffy, president of United Teachers Los Angeles, the district teachers union. "The school district has shown for 20 years or more they can't do this job."
Former Locke teacher and dean Frank Wiley, who now teaches at Hamilton High, said frustration with years of failure and mismanagement led him to join the narrow majority of Locke's tenured teachers who signed a charter petition. That document became the legal basis for Green Dot's takeover. But Wiley didn't remain at Locke; at 45, he worried that the intensity of the Locke project could lead to teacher burn-out.
"At Hamilton, I have regular high school kids," Wiley said. "If you come prepared, they come prepared to learn. At Locke, it's like there's a postwar syndrome. I loved who the students were and what they were about. But there's an edge. These kids have a hard life."
Green Dot typically starts a school with only a freshman class, adding one year at a time to build, gradually, a culture of academic excellence. At Locke, Green Dot inherited a ready-made student body.
Most students complied with the uniform policy, but many had to line up during opening week for loaner polo shirts and khaki pants.
"We can't show our gear anymore," complained junior Rafael Reyes as he pulled on a regulation shirt.
"You can't even tell who everybody is 'cause they all look the same," said Kevin Simpson, a sophomore.
Senior Terry Vance finally stalked out of the gear line. "I don't wear no uniform," he said quietly.
But no one got past the guard on 111th Street, who turned back students who slyly insisted they'd been told to go home for lack of a uniform.
Green Dot had to develop a strategy for about 150 students who return to school at various times from juvenile detention facilities. Locke students have grown up in drug- and gang-plagued neighborhoods, many living in foster homes or with single parents. In May, street violence spilled onto Locke when a brawl broke out; it was quelled by police in riot gear.
Sixteen of the 38 permanent teachers who signed the Locke petition are staying on. Others could have remained but would have had to sacrifice tenure with L.A. Unified, which could have meant lower pay for veteran teachers, reduced job security and loss of lifetime health benefits. Negotiations with the district to preserve these sweeteners broke down.
The huge staff turnover -- long an issue at the school -- removes institutional and community knowledge, said Rudy Barbee, a Locke alumnus and education consultant who works with the Los Angeles Area Chamber of Commerce. It also deprives students of vitally needed continuity from familiar adults, he added. Still, Barbee retains high hopes for the charter organization.
One of the last long-timers to depart was music department fixture Reggie Andrews, 60, a respected local figure and musician who started teaching at Locke in 1969, one year after the school's celebrated opening in response to the 1965 Watts riots. He quickly became a cornerstone of stability as the school churned through teachers and administrators.
Andrews recruited teachers to support the Locke takeover effort; he said he believed Green Dot would encourage meaningful faculty and community input. But later he judged Green Dot to be inflexible, not inclusive enough.
Andrews and others pushed for vocational classes as an alternative to Green Dot's standard college-prep formula.
Chief Operating Officer Marco Petruzzi insists that his team listened. This year, there's an academy for students far behind in credits. Their school day will consist of four hours in a massive computer lab, where students work at their own pace, with teachers standing by.
Andrews counters that the program stigmatizes failing students, when it also could offer enriching, appealing courses in music and fashion design, for example.
Although Green Dot runs the show, athletic director Stephen Minix said staff involvement in the life of the school and its students has expanded enormously.
Concerns voiced by staff led to a $500,000 commitment in buses or, where possible, bus passes for students living more than five blocks from school. The goal is to spare students from having to cross rival gangs' turf.
During the registration process, some parents appeared largely uninformed about anything to do with Green Dot.
Others defended the quality of the old Locke, recalling good teachers, pointing to their child's good grades or characterizing campus safety concerns as overblown.
But returning parent Tonja Turner recounted her move to Redlands because, she said, gang members threatened her son on campus.
The new Locke, she believes, will serve her two daughters well.
"There wasn't any order here, any structure," she said. "It was chaotic."
Some students said they already see positive changes.
"Last year, some teachers didn't care," said senior Juan Gonzalez, 17. "My history teacher wouldn't do nothing. This year my teacher is ready to teach, and I'm ready to learn."
The stories shaping California
Get up to speed with our Essential California newsletter, sent six days a week.
You may occasionally receive promotional content from the Los Angeles Times.