Metro fares will increase despite protests of low-income riders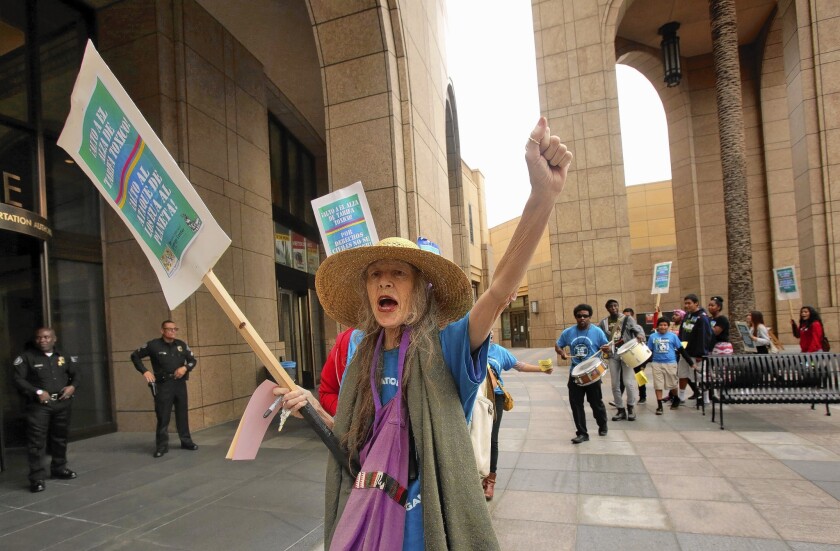 Amid concerns over a projected budget deficit in Los Angeles County's growing bus and rail system, officials Thursday voted to raise Metro fares in September, but opted to postpone a decision on further increases in 2017 and 2020.
After a lengthy meeting punctuated by yelling and applause from the packed audience, the Los Angeles County Metropolitan Transportation Authority Board of Directors voted 12 to 1 to raise one-way bus and rail fares from $1.50 to $1.75. Monthly passes will also go from $75 to $100 and day passes will increase from $5 to $7.
The room was silent as the votes were tallied. But when Los Angeles County Supervisor Gloria Molina voted against the increase, dozens of audience members rose to cheer.
Metro will also change its transfer policy to allow two hours of unlimited rides. Currently, passengers must pay each time they board a bus or train, which Metro says puts unneeded strain on some lines and leaves others underused.
Metro analysts say the fare increase will help offset an expected $36-million gap in the agency's 2016 operating budget, which could deepen to $225 million within the decade. Without a fare hike, agency staff would have considered laying off nearly 1,000 of Metro's 9,000 employees or cutting up to 1 million hours of bus and rail service.
The fare vote comes as Metro accelerates the biggest rail boom in Los Angeles history: By the end of this year, five rail lines will be under construction, spanning downtown Los Angeles and Mid-City to Azusa, South L.A. and Santa Monica. Once in service, those lines will add significantly to Metro's operating budget.
More than 130 public speakers, some in tears, asked Metro directors to lower fares or keep them at current levels. Several said they would have to choose between buying bus tickets and feeding their families if fares went up.
Riders' advocates said the increase will disproportionately hurt minority passengers, who make up about 80% of bus ridership. More than 90% of Metro riders are low-income, with an average household earning less than $20,000, according to agency data.
"Do you even understand how much we're struggling day by day?" said Hee Pok Kim, a 92-year-old woman who could barely see over the public comment lectern. She spoke in Korean through a translator. "When we reach out to you for help, you shouldn't push us away. You should grab our hands."
On a motion from director Mark Ridley-Thomas, a Los Angeles County supervisor, officials agreed to keep fares for students at current rates until a panel of independent experts can analyze Metro's long-term finances.
Molina asked the board to delay the fare increase for eight months while Metro staff found ways to cut from next year's $5.5-billion budget. She said the agency should not fix its budget problems "on the backs of the very poor."
"If you look at the expenses, the redundancies, the consultants, all the things that are going on, you know what I'm talking about," Molina said. "MTA needs to go back to the drawing board."
Los Angeles Mayor Eric Garcetti said putting off fare increases was the easier political decision, and said the agency couldn't afford to punt on a fare hike until next year. He becomes the chair of the Metro board in July.
"One thing I'll never do here is give people false hopes," Garcetti said. "I do believe, this coming year, we need this first step."
Molina said Metro should stop worrying about what portion of the operating budget is funded by fares. That ratio is 26%, making Los Angeles one of the most subsidized transit networks in the world. Fares covering less than 33% of the agency's budget could jeopardize Metro's chance of receiving future federal grants.
"We should abandon that model," Molina said, saying that helping low-income passengers was more important. "There is no other bus system in the country that has a more dramatic number of low-income and minority bus riders. Those are unbelievable and startling figures that this organization has to come to grips with."
Metro board members said they would not vote on fare increases proposed for 2017 and 2020 until they could learn more about the agency's long-term financial outlook.
"And how about 2014?" one man in the audience shouted.
"Why don't you sit tight for a minute and let us deliberate?" Ridley-Thomas responded.
Director Mike Bonin, a Los Angeles City Council member, pushed Metro to make it easier for low-income riders to find out about the agency's fare subsidy programs, including advertising at train stations and bus stops and working with community groups, including churches.
"Whether the increase is justified or not, the action we take is going to cause real pain to people," Bonin said. "If we're going to approve any increase, we need to bend over backwards, and break our backs, to try and mitigate it."
An alternate proposal that officials did not support would have made one-way fares as high as $3.25 during rush hour, which Metro officials said would encourage people to travel during off-peak hours.
This is Metro's fourth fare increase since 1993. The most recent was in 2010, when one-way fares rose from $1.25 to $1.50. Fares for seniors and the disabled have not increased since 2007.
---
The stories shaping California
Get up to speed with our Essential California newsletter, sent six days a week.
You may occasionally receive promotional content from the Los Angeles Times.