Metrolink launches new train control safety system
Hutch Topikian, a road foreman for Metrolink, climbs down from the first Metrolink train to be equipped with a positive train control system, which will eventually be standard on every Metrolink train. The collision avoidance system is designed to prevent tragic accidents like the incident in Chatsworth that killed 25 people in 2008.
(Rick Loomis / Los Angeles Times)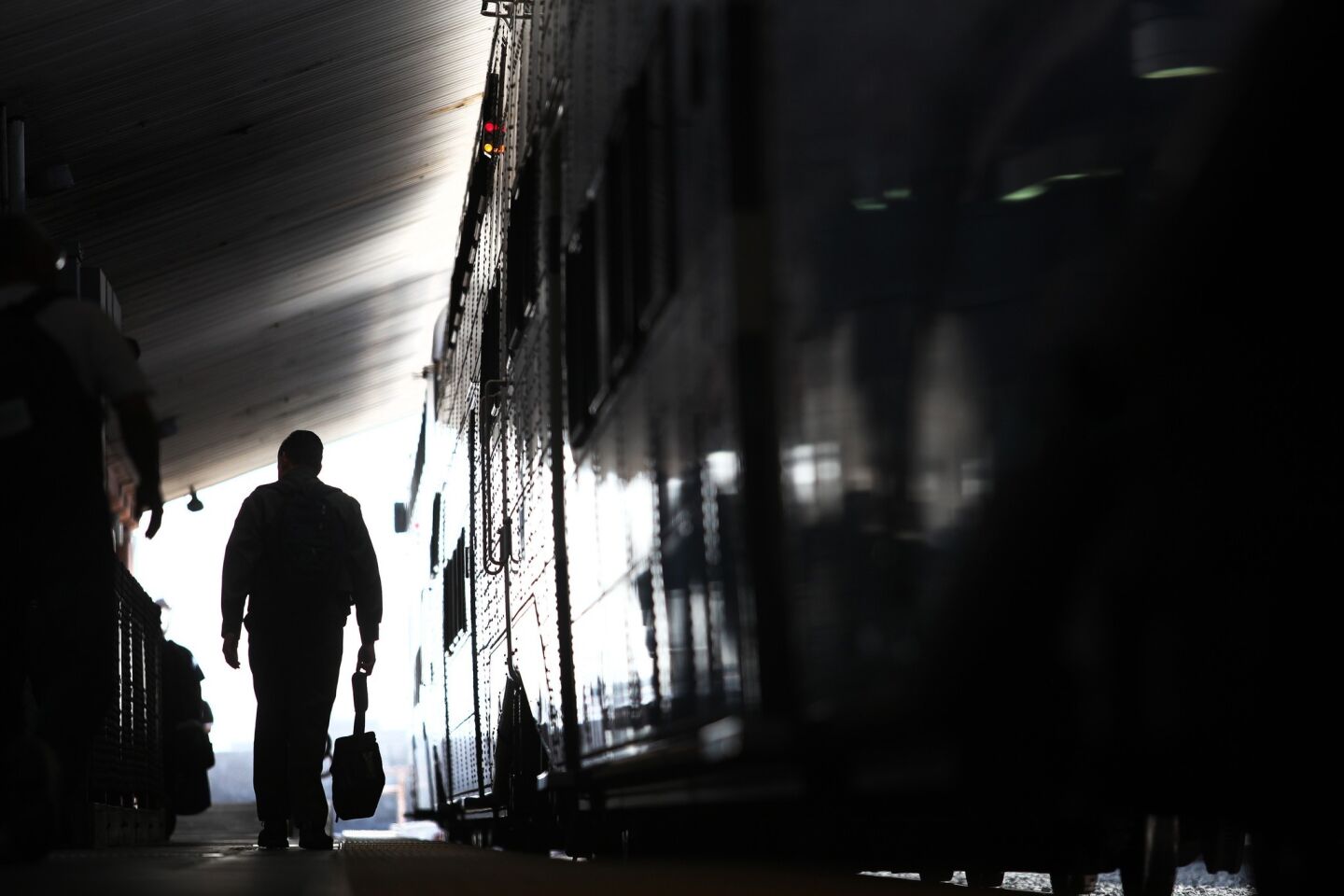 A commuter walks the platform at Union Station where the first Metrolink train to have a positive train control system was unveiled during a press conference.
(Rick Loomis / Los Angeles Times)
Metrolink road foreman Hutch Topikian uses a simulator to demonstrate the positive train control system.
(Rick Loomis / Los Angeles Times)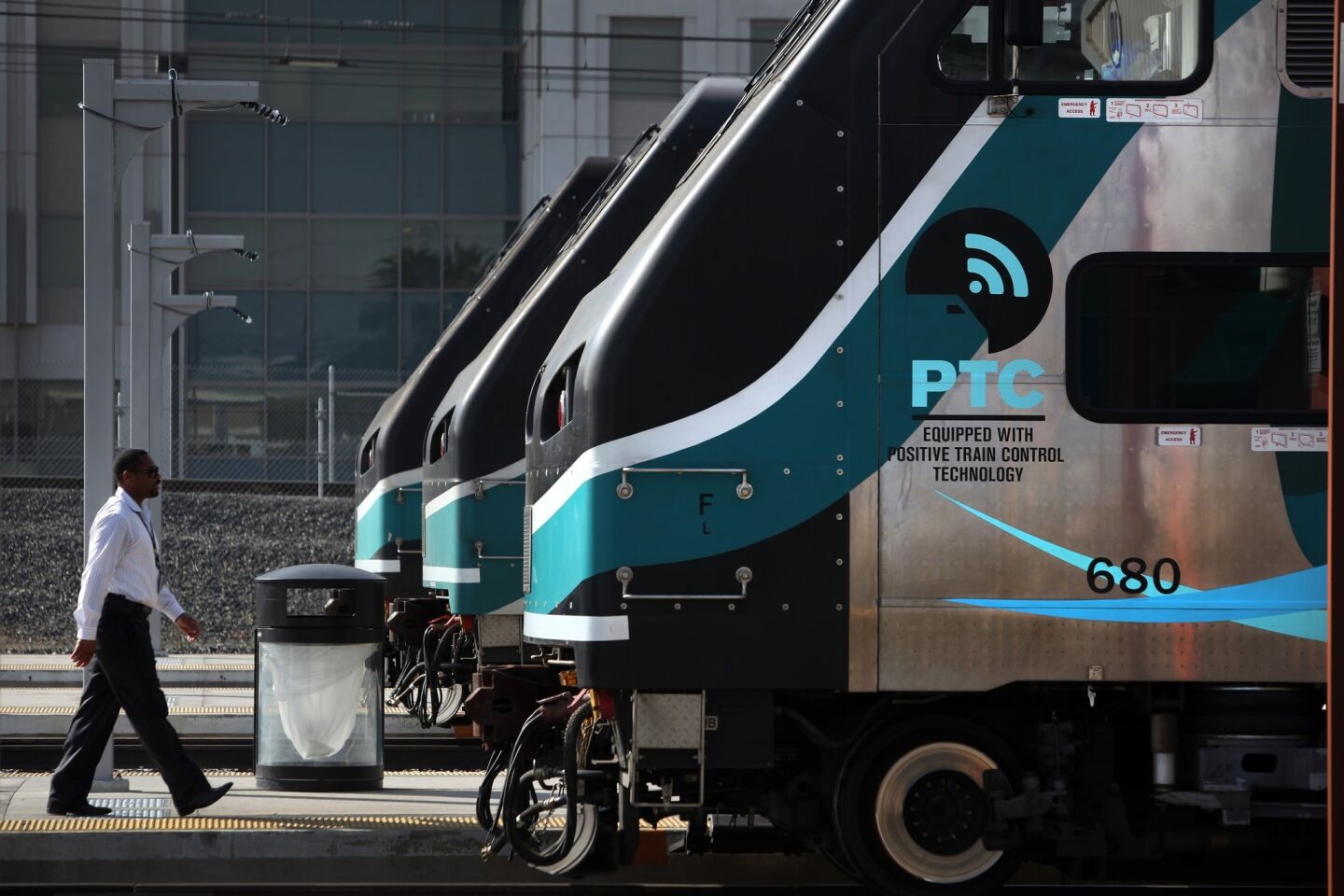 The first Metrolink train with a train control system sits at Union Station.
(Rick Loomis / Los Angeles Times)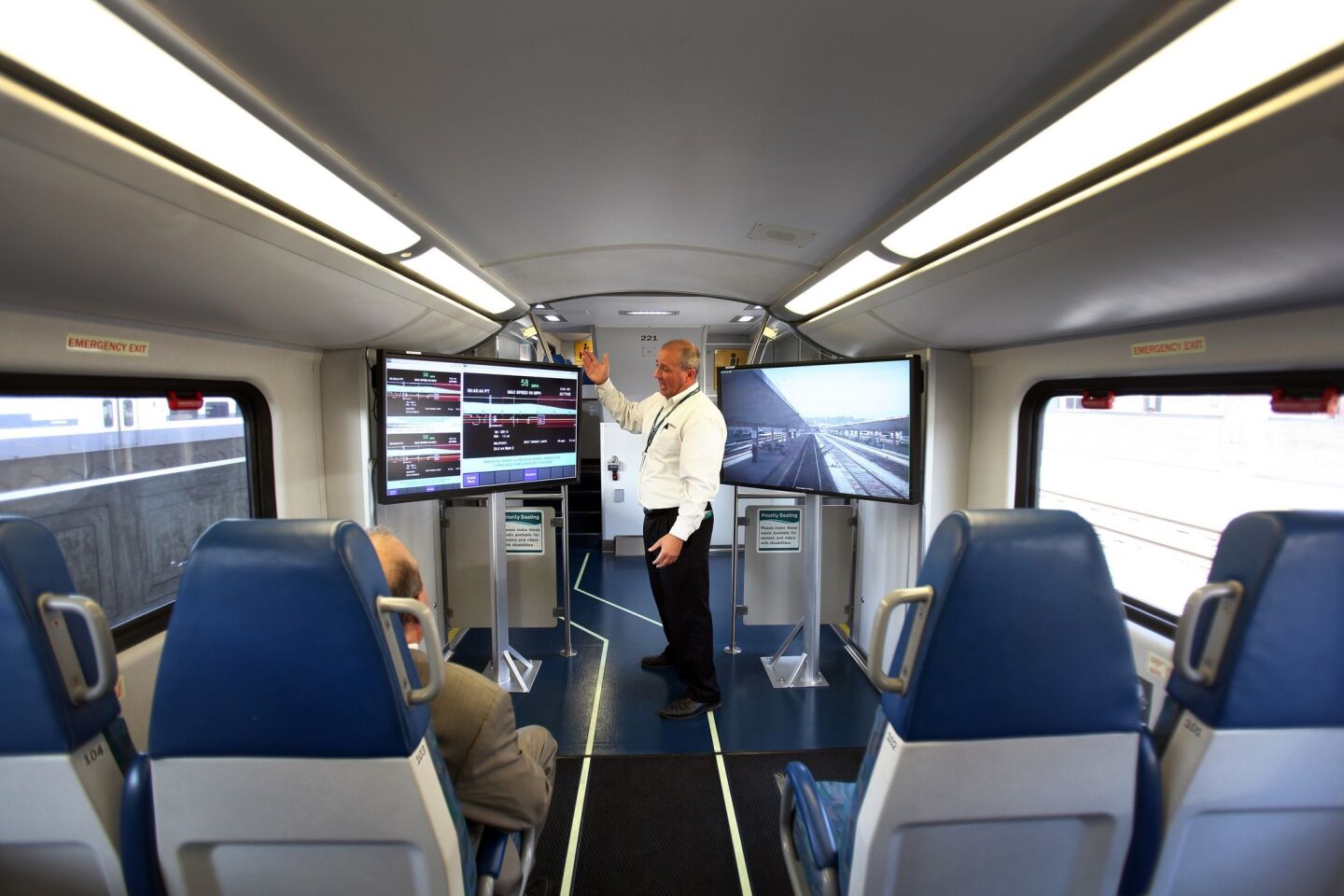 Neil Brown, a mechanical systems integrator for Metrolink, demonstrates the capabilities of the positive train control system during a media event on board the first Metrolink train to run such a system.
(Rick Loomis / Los Angeles Times)
At Union Station, Jose Dominguez, 50, of Fontana, Ca., waits to board a Metrolink train, just one of all of the network's locomotives that will one day be equipped with the positive train control collision avoidance system.
(Rick Loomis / Los Angeles Times)
In a ceremony that remembered victims of the deadly Chatsworth crash in 2008, the Metrolink passenger railroad Thursday launched a state-of-the-art safety system along sections of its 512-mile network in Southern California.
The rollout of "positive train control" on three Metrolink routes distinguishes the line as the first commuter service in the nation to put the technology into daily operation.
"Here is a small railroad bringing forward positive train control before major transit agencies and national railroads," said U.S. Sen. Dianne Feinstein (D-Calif.), who championed legislation to require the technology nationwide by December 2015. "Other railroads across the country have lobbied Congress to delay the deadline, but Metrolink has never flinched."
Feinstein, who spoke at a railroad event at Union Station in Los Angeles, worked to pass the Rail Safety Improvement Act after the Chatsworth crash killed 25 people and injured 135.
That collision with a Union Pacific freight train was blamed on a Metrolink engineer who was texting on his cellphone and failed to stop for a red signal after departing Chatsworth Station. Safety experts say positive train control could have prevented the tragedy.
The technology, which relies on global positioning satellites, digital radio communications and computers to monitor trains, can automatically override the engineer and apply the brakes to prevent an accident.
Under then-chief executive John Fenton, Metrolink embarked on a $210-million project to install positive train control. He and other Metrolink executives have vowed repeatedly to implement the system well ahead of the federal deadline. Full implementation is now set for the end of 2014.
"Why be first with positive train control?" said Richard Katz, an alternate Metrolink board member. "It was the right thing to do. We are keeping faith with the victims and the families of the victims."
Mike Wiederkehr was aboard Metrolink 111 and suffered serious shoulder, knee and ankle injuries in the collision. He can no longer compete in triathlons and had to step down as Glendale's public works administrator due to post-traumatic stress disorder.
"For me personally," he said, "this helps to partially redeem the tragic events of that horrible day."
The stories shaping California
Get up to speed with our Essential California newsletter, sent six days a week.
You may occasionally receive promotional content from the Los Angeles Times.