From the Archives: O.J. Simpson's Ex-Wife Found Stabbed to Death
Football great O. J. Simpson's former wife and a 26-year-old man were found apparently stabbed to death outside her Brentwood condominium early Monday morning, and Los Angeles police questioned the Hall of Fame running back, calling him a potential witness.
The Simpsons' two young children were asleep inside the Mediterranean-style condominium in the 800 block of South Bundy Drive at the time of the slayings sometime before midnight, detectives said.
Police said a passerby found the body of Nicole Brown Simpson, 34, sprawled on the steps of a walkway in front of the condominium shortly after midnight. The body of Ronald Lyle Goldman of the Agoura area was found a few feet away in shrubbery. Both were fully clothed.
"Sharp-force injuries," such as stab wounds, appear to have played a part in the deaths, but other causes had not been ruled out, said Scott Carrier, a spokesman for the Los Angeles County coroner's office.
Police said little about the crime, declining to identify possible suspects, offer a possible motive or say exactly when the attack is believed to have occurred. Officers said only that there were signs of a struggle and that there was no evidence the attack occurred during a robbery or a burglary.
Nicole Brown Simpson's body was found outside her home at 875 S. Bundy Drive in Brentwood. Police examine the area where her body was found.
(Francine Orr / Los Angeles Times)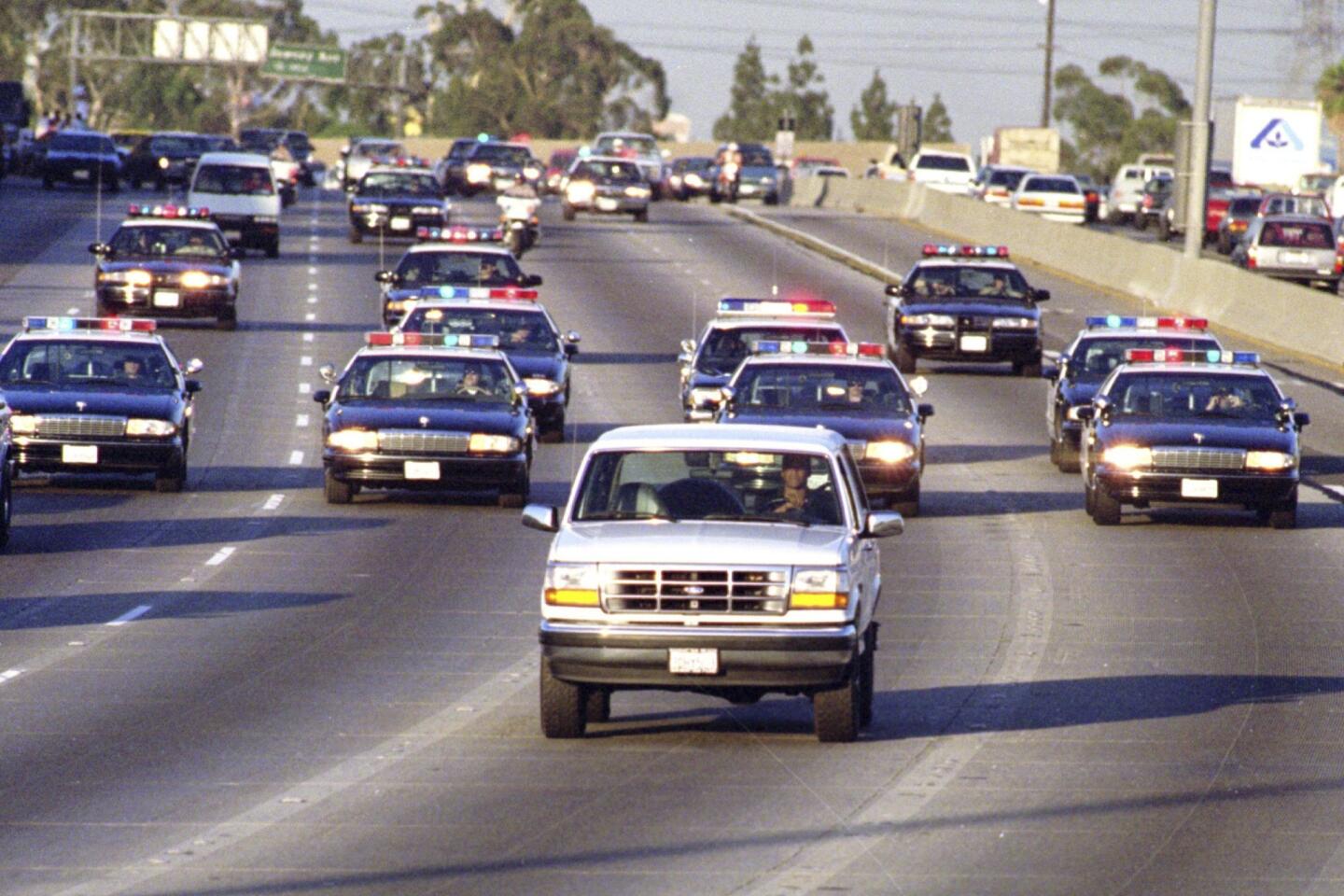 California Highway Patrol units chase Al Cowlings, who is driving the white Bronco, and O.J. Simpson, hiding in the rear, on the 91 Freeway shortly after Simpson was charged in slayings.
(Al Schaben / Los Angeles Times)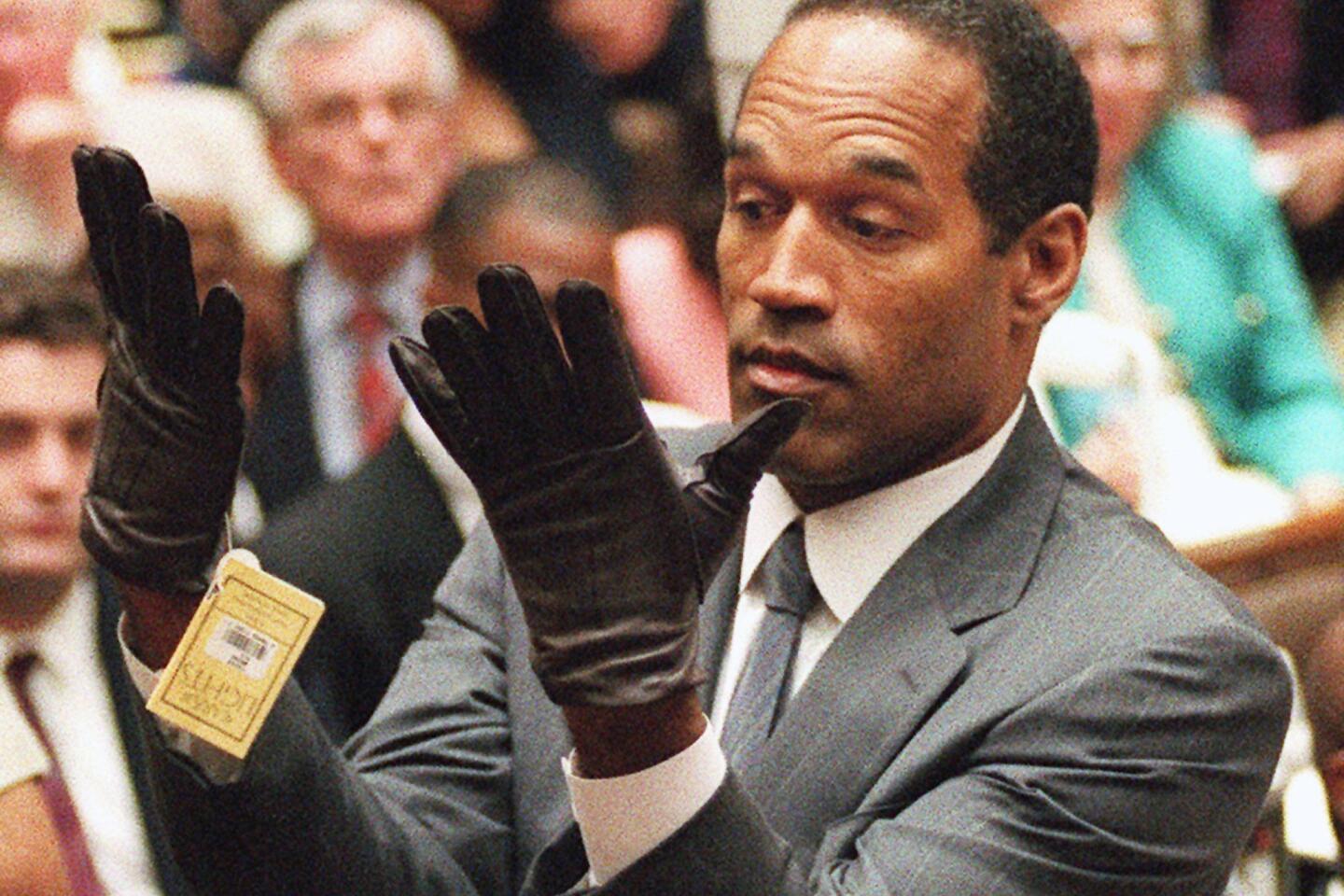 Simpson holds up his hands before the jury after putting on a new pair of gloves similar to the infamous bloody gloves during his double murder trial in Los Angeles.
(Vince Bucci / Associated Press)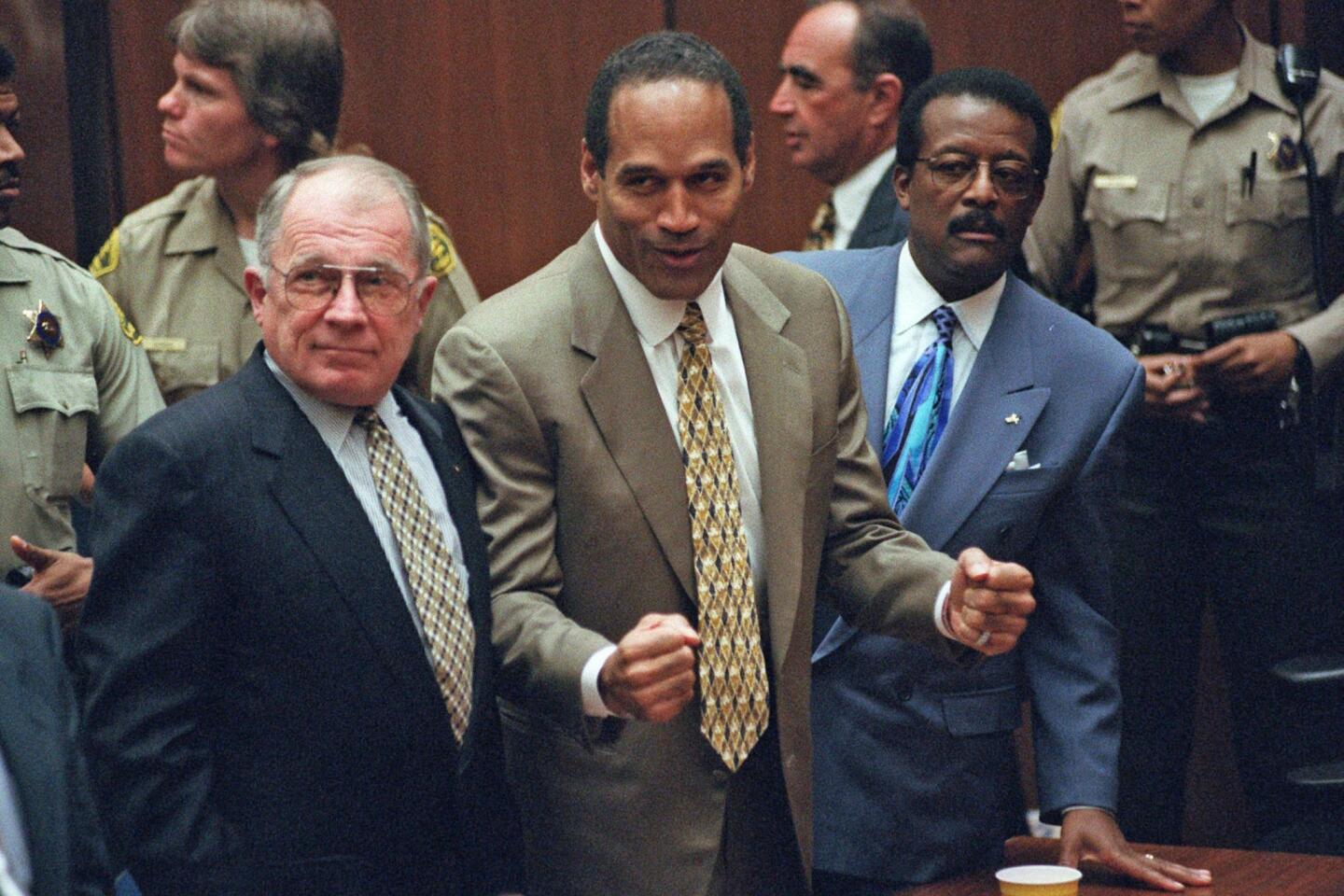 O.J. Simpson reacts in 1995 as he is found not guilty of murdering his ex-wife, Nicole Brown Simpson, and her friend Ronald Goldman. With him are members of his defense team, F. Lee Bailey, left, and Johnnie Cochran Jr.
(Myung J. Chun / Los Angeles Times)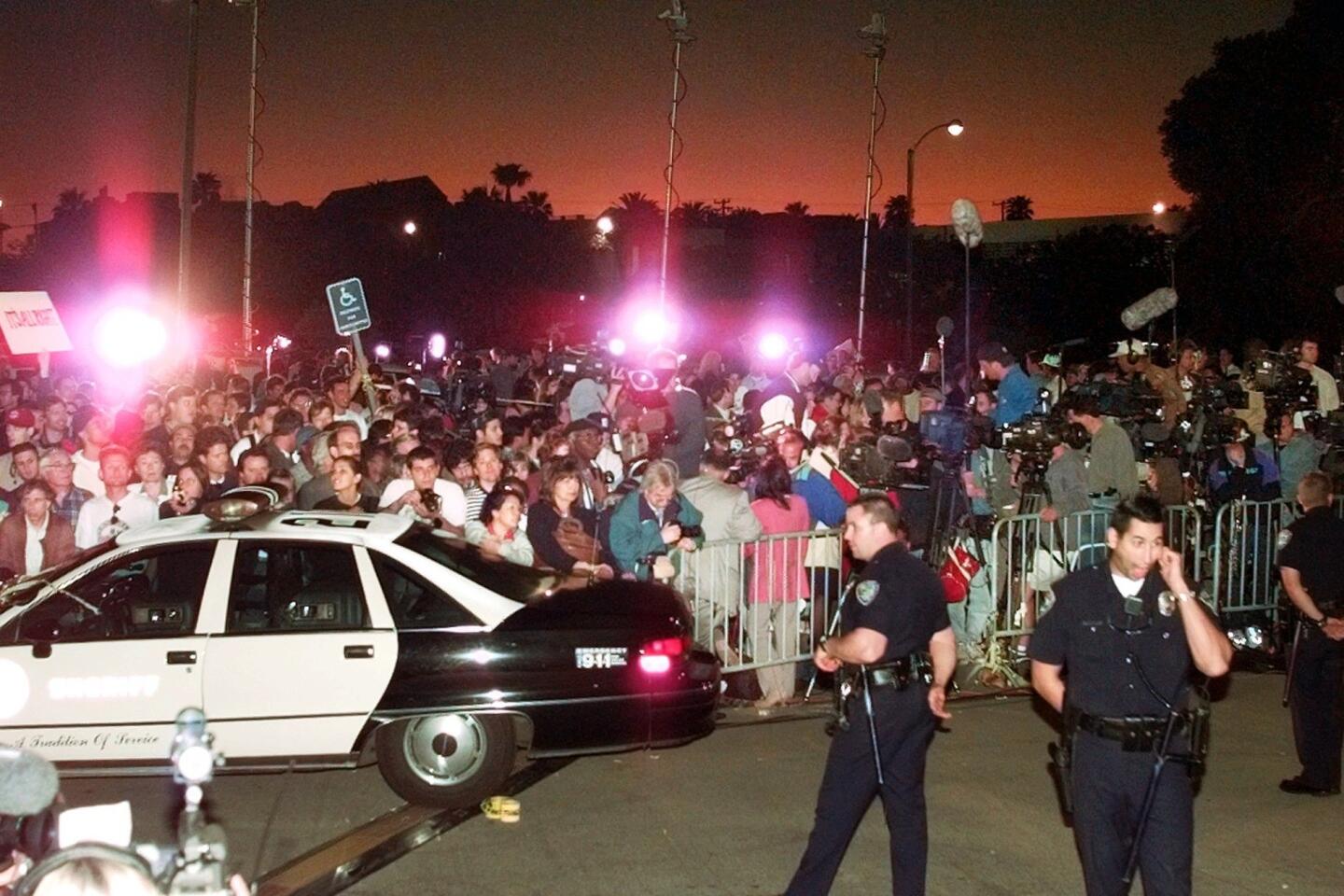 A large crowd gathers outside Los Angeles County Superior Court in Santa Monica to hear the verdict in the wrongful death civil trial against Simpson. He was found liable in the deaths of Nicole Brown Simpson and Ronald Goldman.
(Mark J. Terrill / Associated Press)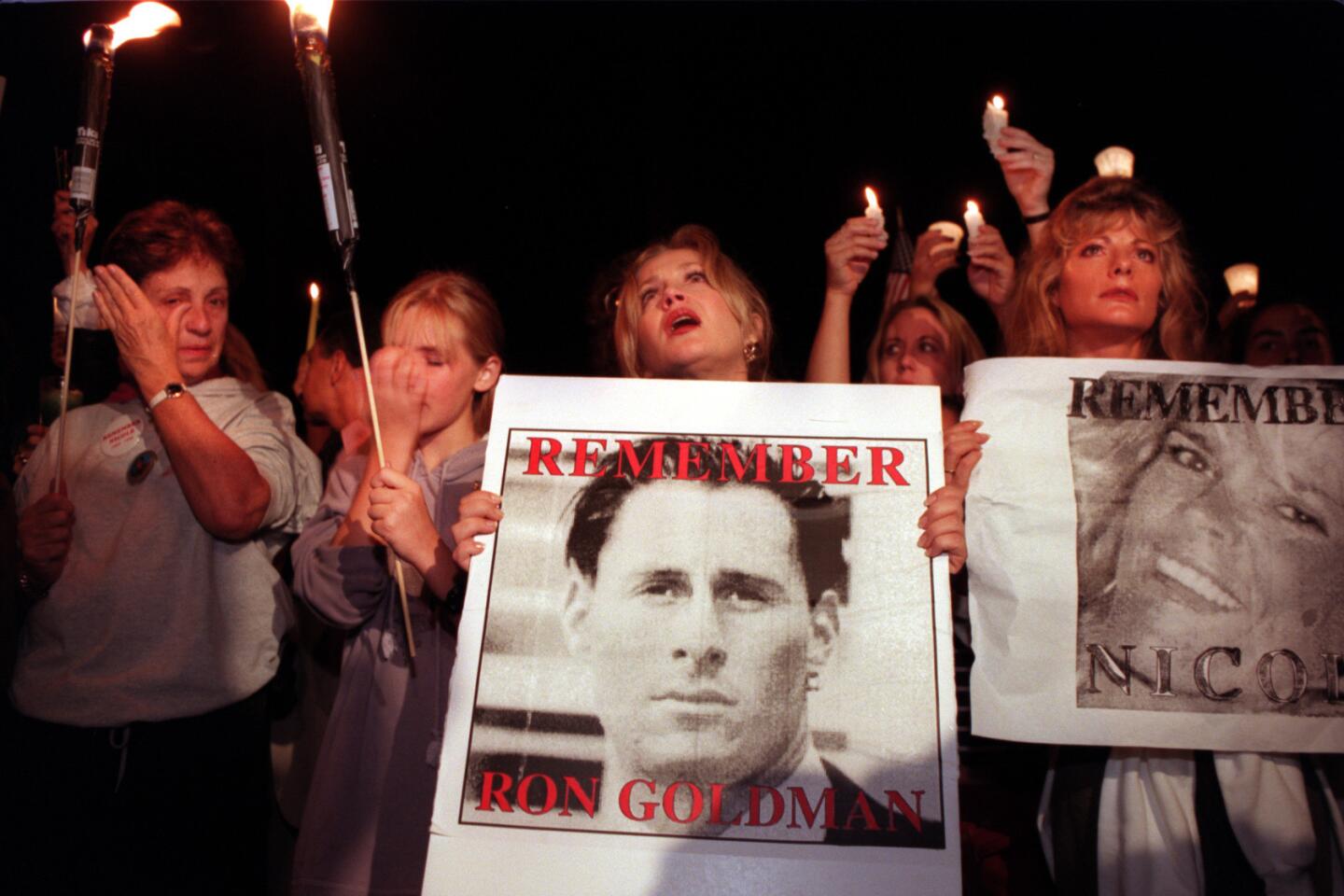 A candlelight vigil is held for Nicole Simpson Brown and Ron Goldman near the murder scene on Oct. 7, 1995.
(Francine Orr / Los Angeles Times)
Shortly after the grim find, police began looking for the football star, learning several hours later that he was in Chicago. When Simpson, 46, had gone to Chicago was not immediately clear, although his attorney, Howard Weitzman, said it was sometime in the "late evening" on Sunday.
*
Pete Phillips, general manager of the O'Hare Plaza Hotel near Chicago-O'Hare International Airport, said Simpson checked into the hotel at 6:15 a.m. Monday, Chicago time, indicating that the football star could have taken any of at least three flights that left Los Angeles after 11:30 p.m. Sunday.
Phillips said Simpson had made a reservation three to five days earlier, and he showed up "just about the time" his reservation had indicated. Simpson checked out about 8:30 a.m., Phillips said.
The hotel manager said Simpson told him that Hertz, the auto rental company for which the ex-athlete long has been a spokesman, was holding "a function" in Chicago. "He was in here to talk to the people and play a little golf," Phillips said.
Police said that Simpson was reached by telephone in Chicago, and he immediately took a flight back to Los Angeles. Shortly after he reached his home in Brentwood, police went to the house, and for a time at least, Simpson was handcuffed.
Yellow police tape was spread across the driveway gate of Simpson's estate, about two miles from the condominium where the killings occurred. Police placed cardboard markers in Simpson's driveway, marking small reddish-brown droplets leading up the driveway to a point about 50 feet from the garage. Simpson's black Rolls-Royce was parked in the driveway.
Weitzman said that at his request, Simpson's handcuffs were removed. Simpson--grim-faced, wearing slacks and a polo shirt--was driven to the Police Department's Parker Center headquarters Downtown.
"We have brought him in to conduct a follow-up investigation and to question him as a potential witness," Officer Rigo Romero said.
Weitzman said his client was shocked by the crime. "He had nothing to do with this tragedy," Weitzman said.
After about two hours, Simpson left police headquarters and was driven away.
Simpson and his wife divorced several years ago after he pleaded no contest to a spousal battery charge. The charge was filed in 1989 after he allegedly hit her, kicked her and told her, "I'll kill you."
Friends said that the couple had been trying to get back together in recent months but that the reconciliation attempt came to an end several weeks ago.
The crime was discovered by a pedestrian who glanced inside the gated garden in front of the condominium and saw Nicole Simpson's body on the walkway steps, a few feet inside the gate. Police were called, and the body of Goldman was found nearby.
As dawn broke, neighbors and passersby began gathering outside the crime scene. Denise Pilnak, a jogger who lives nearby, remembered hearing dogs barking shortly before midnight.
"It was nonstop barking," she said. "It made me think something was going on with the neighbors."
Pauli Orchon, 35, a marketing director who lives in the neighborhood, said she was there Monday morning when officials removed the sheet they had used to cover Simpson's body.
"She was lying on her side, just crumpled down," Orchon said. "I could see some abrasion to the side of her face. . . . There was a lot of blood on both bodies."
Orchon said she had often seen Nicole Simpson walking her dog in the neighborhood in recent weeks, and she theorized that Nicole Simpson might have been doing that when the attack occurred. Orchon said passersby found a dog with a leash wandering through the neighborhood Monday morning, "and everyone says it's her dog."
A man named Jeff, who declined to give his last name, said he lives across the alley from the back of Nicole Simpson's home and had seen the football star there several times.
"There weren't wild parties, there wasn't a lot of noise," Jeff said. "I can't remember one wild thing there."
Amy Goodfriend, 25, a music publisher who stopped by to see what was going on Monday, said she had been a friend of Nicole Simpson's for several years.
"She's blonde, she's tanned, she's absolutely beautiful," Goodfriend said. "I'm in shock. I can't believe this."
O. J. Simpson--best known in recent years for his Hertz commercials, his work as a football analyst on NBC and his roles in "The Naked Gun" and other movies--was one of the game's most popular stars.
During his two years at USC, Orenthal James Simpson equaled or bettered dozens of records, culminating his collegiate career with the Heisman Trophy--awarded to the nation's best college football player--in 1968.
After he was drafted in the first round by the Buffalo Bills in 1969, he went on to establish a National Football League single-season rushing record of 2,003 yards in 1973. He finished his 11-year pro career with the San Francisco 49ers as the second leading rusher in NFL history, and in 1985, he was inducted into the Pro Football Hall of Fame.
*
Times correspondent Scott Collins, columnist Peter H. King and staff writer Josh Meyer contributed to this story.
FROM THE ARCHIVES:
Timeline: O.J. Simpson murder trial
Simpson not guilty: Drama ends 474 days after arrest
O.J. Simpson white Bronco chase: How it happened, minute by minute
Sign up for Essential California for news, features and recommendations from the L.A. Times and beyond in your inbox six days a week.
You may occasionally receive promotional content from the Los Angeles Times.