From the Archives: O.J. Simpson white Bronco chase: How it happened, minute by minute
The O.J. Simpson "white Bronco" chase was one of the most surreal moments in the history of Los Angeles criminal justice.
After being asked to surrender in connection with the murder of his ex-wife and her friend, Simpson instead led authorities on a wild chase across L.A.'s freeways that was broadcast live on television around the world.
The chase started in Orange County and ended in the driveway of Simpson's Brentwood estate.
Here is a timeline of that day two decades ago as compiled by The Times on Friday, June 17, 1994: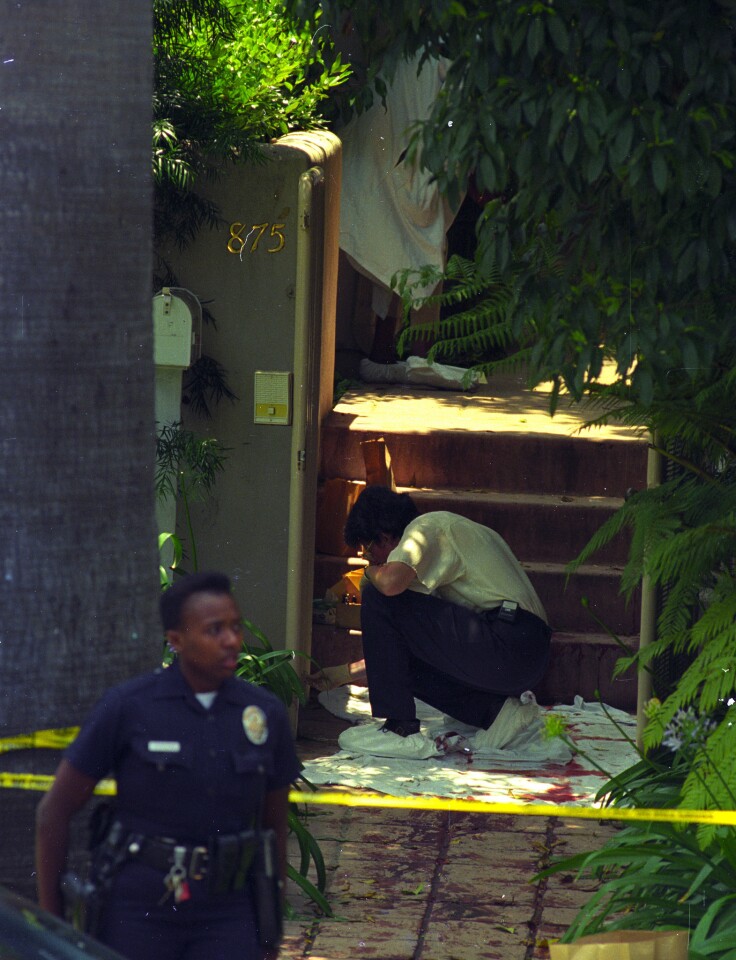 Nicole Brown Simpson's body was found outside her home at 875 S. Bundy Drive in Brentwood. Police examine the area where her body was found.
(Francine Orr / Los Angeles Times)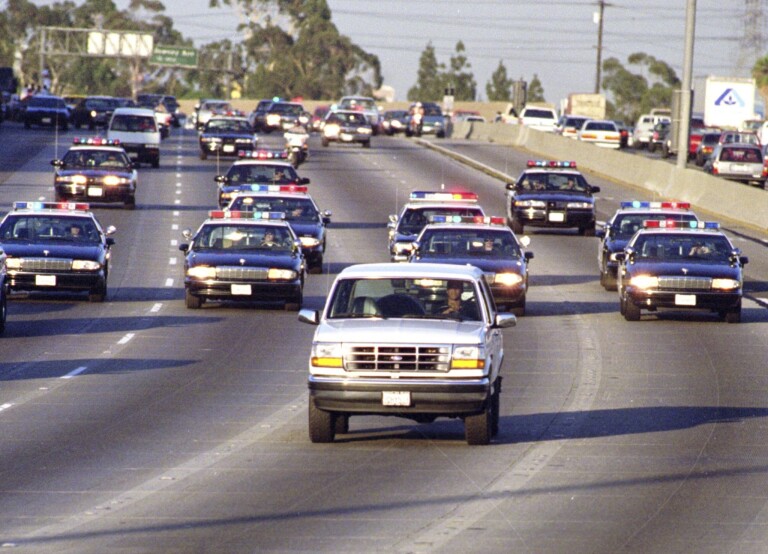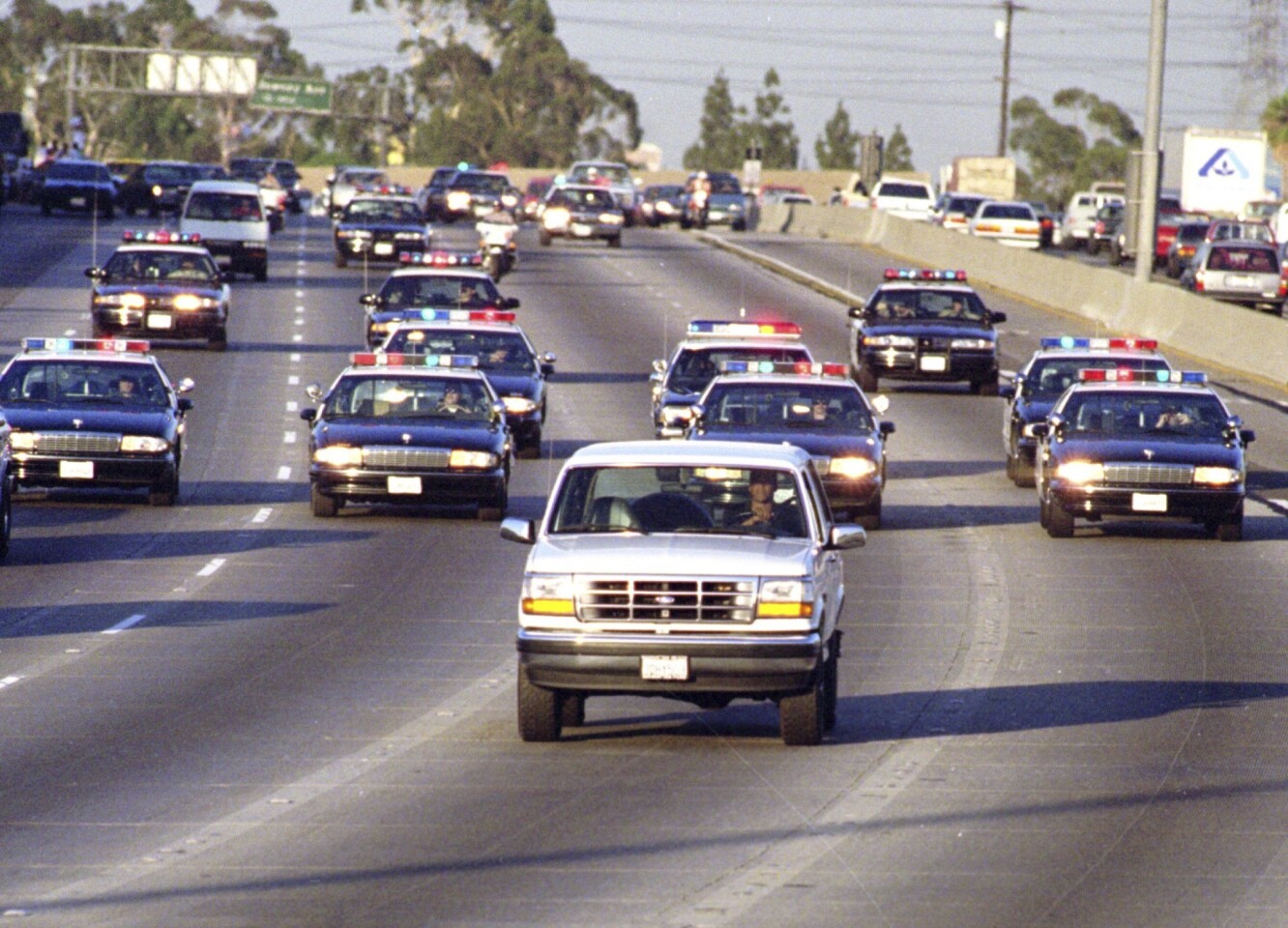 California Highway Patrol units chase Al Cowlings, who is driving the white Bronco, and O.J. Simpson, hiding in the rear, on the 91 Freeway shortly after Simpson was charged in slayings.
(Al Schaben / Los Angeles Times)
Simpson holds up his hands before the jury after putting on a new pair of gloves similar to the infamous bloody gloves during his double murder trial in Los Angeles.
(Vince Bucci / Associated Press)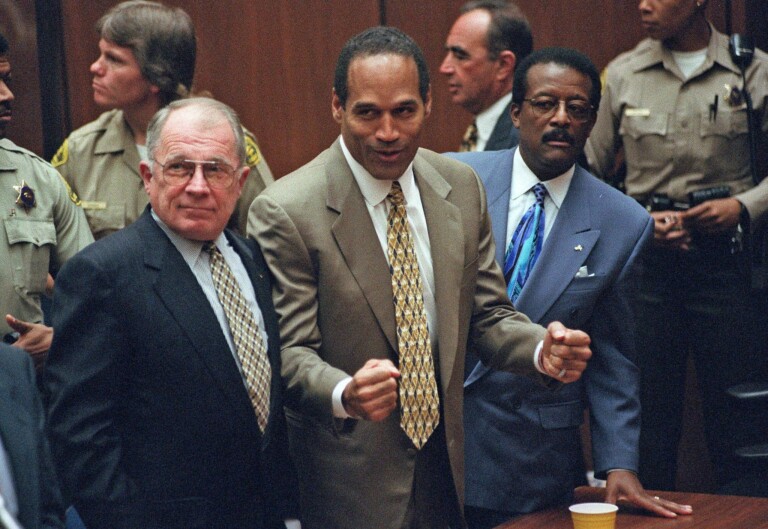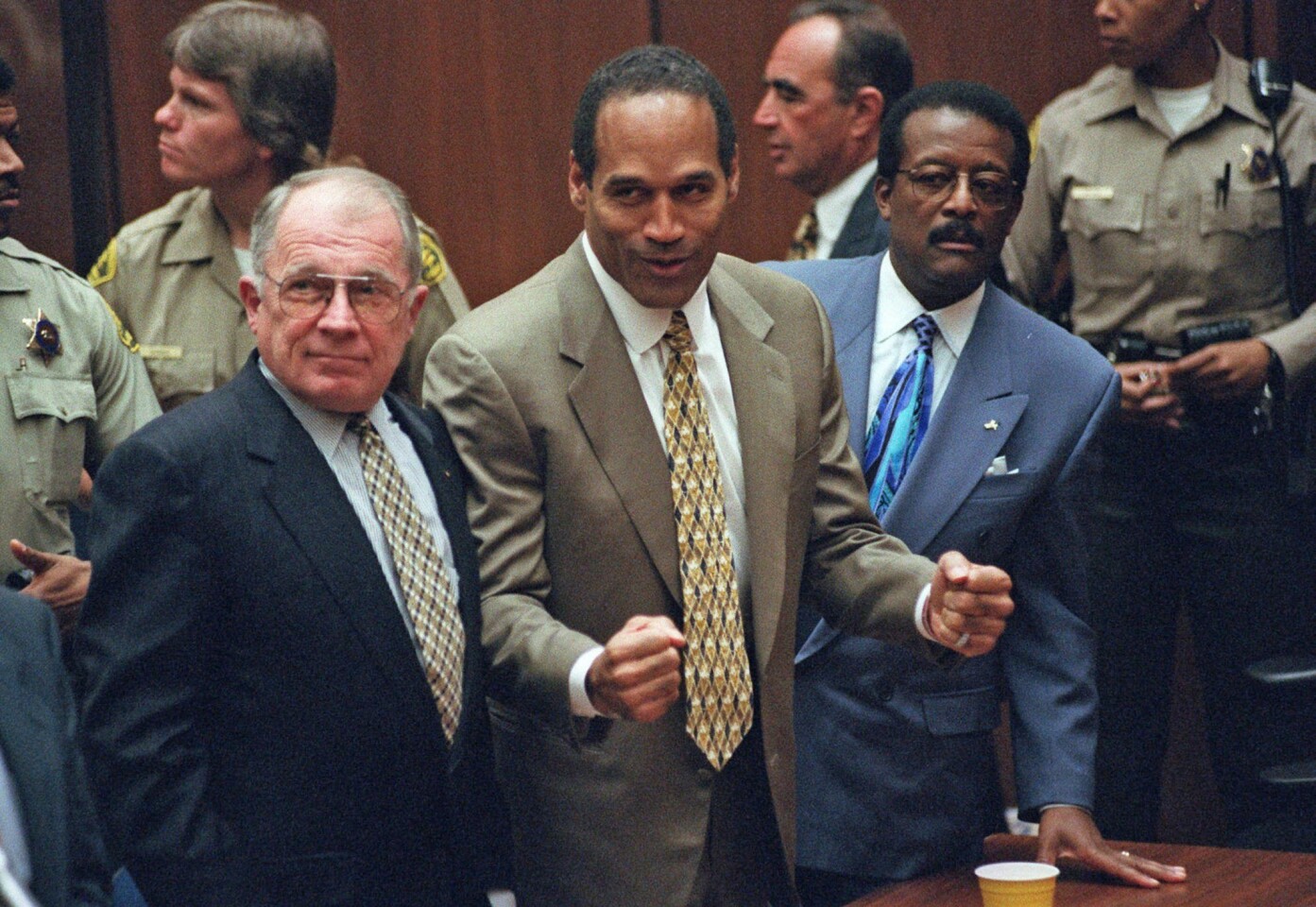 O.J. Simpson reacts in 1995 as he is found not guilty of murdering his ex-wife, Nicole Brown Simpson, and her friend Ronald Goldman. With him are members of his defense team, F. Lee Bailey, left, and Johnnie Cochran Jr.
(Myung J. Chun / Los Angeles Times)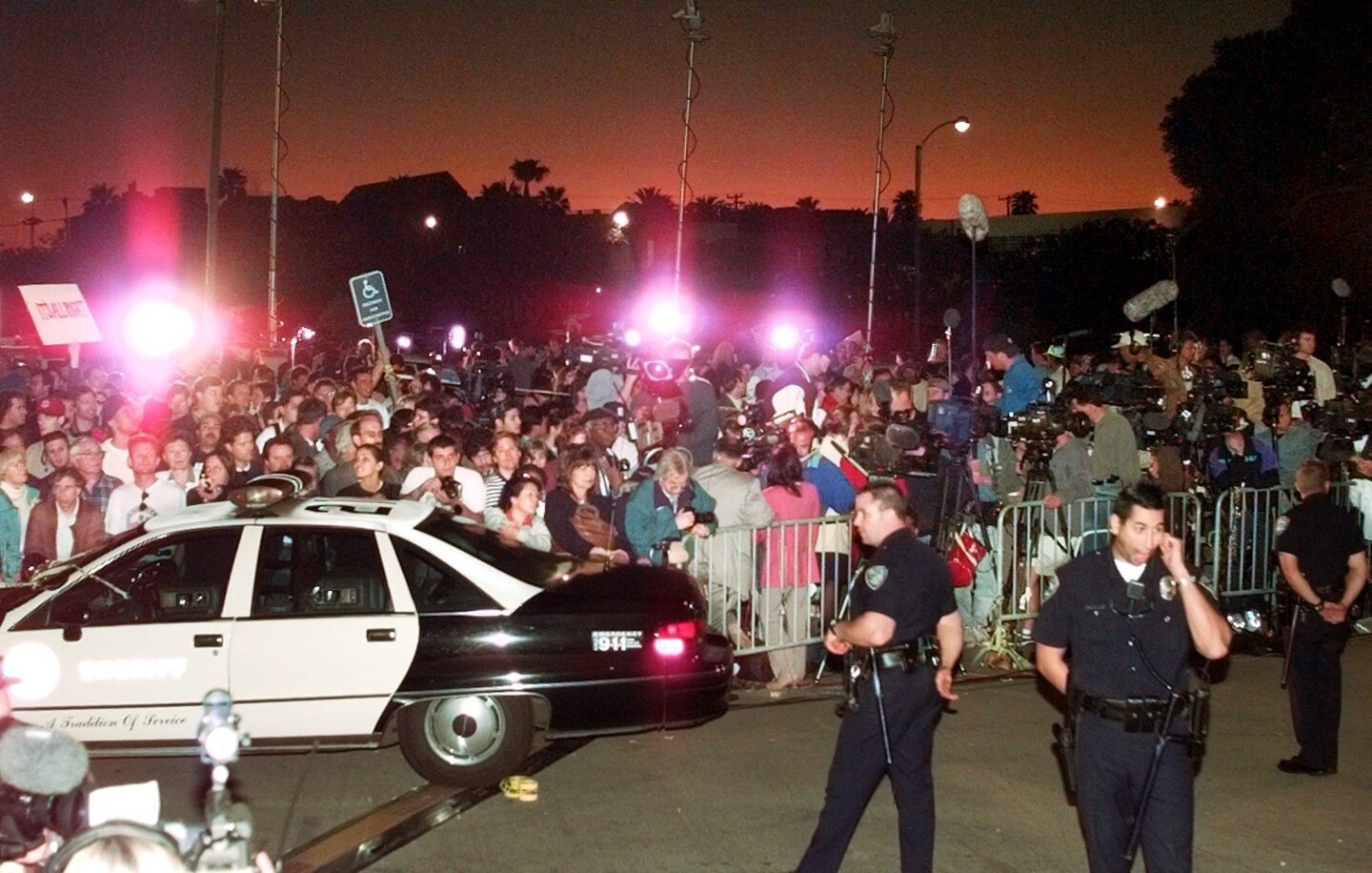 A large crowd gathers outside Los Angeles County Superior Court in Santa Monica to hear the verdict in the wrongful death civil trial against Simpson. He was found liable in the deaths of Nicole Brown Simpson and Ronald Goldman.
(Mark J. Terrill / Associated Press)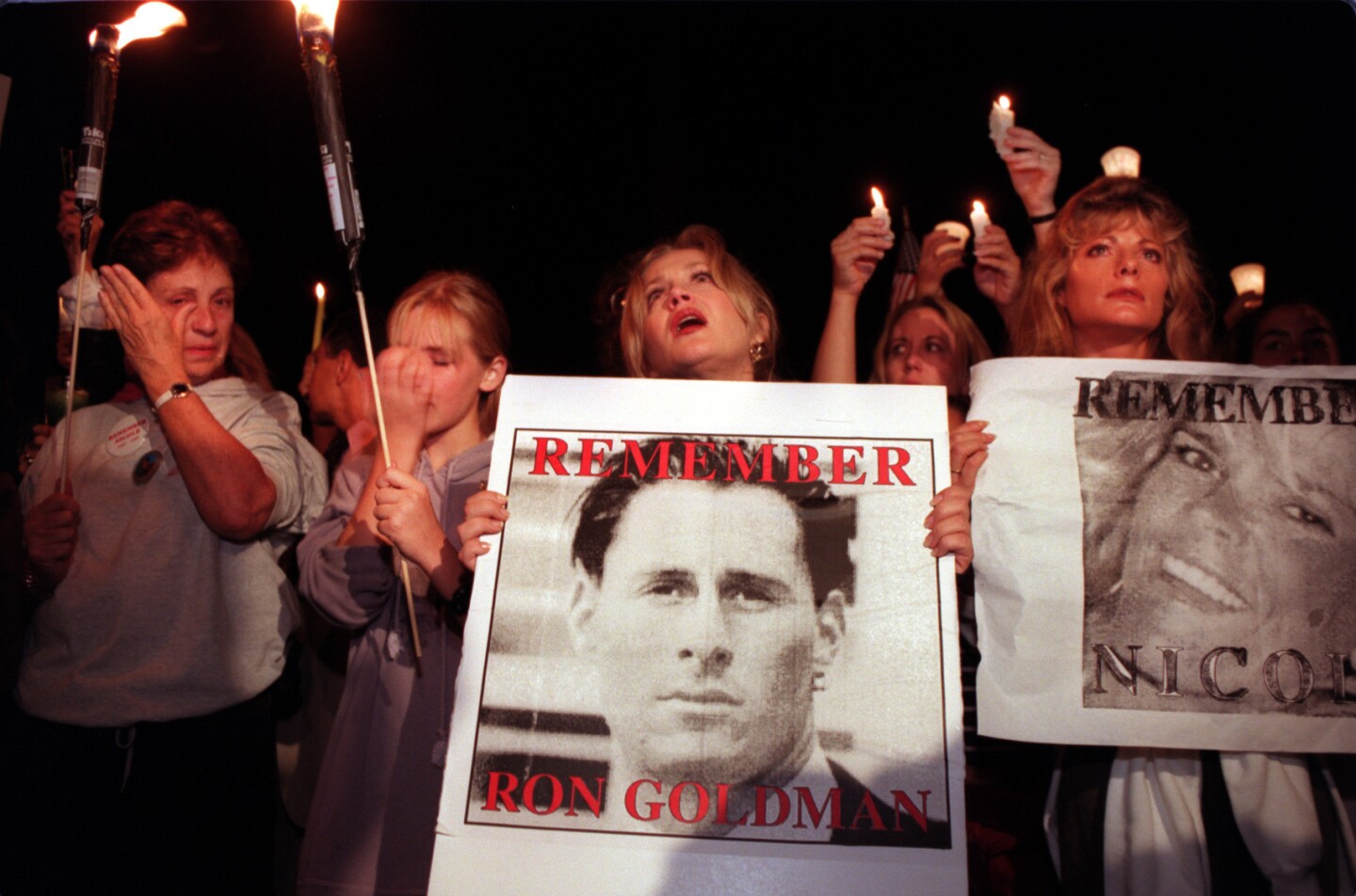 A candlelight vigil is held for Nicole Simpson Brown and Ron Goldman near the murder scene on Oct. 7, 1995.
(Francine Orr / Los Angeles Times)
MORNING
8:30 a.m.: Robert Shapiro, lawyer for O.J. Simpson, receives call from LAPD officials telling him to surrender his client.
9:30 a.m.: Shapiro goes to an undisclosed home in the San Fernando Valley and informs Simpson he will have to surrender by 11 a.m.
Murder charges are filed against Simpson in the slayings of Nicole Brown Simpson and Ronald Goldman; arraignment is scheduled for the afternoon.
11 a.m.: Simpson is scheduled to surrender.
AFTERNOON
Shortly after noon, according to Shapiro, the lawyer receives call from LAPD officials telling him that police must announce that Simpson is a fugitive. Shapiro gives police directions to the house.
Police arrive at the San Fernando Valley house. Shapiro, who is with Simpson's doctors and others in a room at the house, says Simpson and Al Cowlings, a former college and pro football teammate of Simpson who had been with him, had left the house.
1:50 p.m.: LAPD Cmdr. David Gascon announces that Simpson has not surrendered for arraignment as scheduled and is a fugitive.
2 p.m.: Police respond to 911 call at the scene of the slayings, after a man identified as Nicole Simpson's father comes out of the house asking people to call 911.
3 p.m.: An LAPD officer at Nicole Brown Simpson's condominium tells reporters, "O.J. Simpson is not here."
Dist. Atty. Gil Garcetti, at a news conference, says anyone helping Simpson to flee will be prosecuted as a felon. "We will find Mr. Simpson and bring him to justice." Police are searching for his former teammate, Cowlings. Garcetti says prosecutors have not decided whether to seek the death penalty in the case.
4:45 p.m.: Police issue an arrest warrant for Cowlings.
EVENING
5 p.m.: Shapiro holds a press conference, during which longtime Simpson friend Robert Kardashian reads a letter from Simpson: "Don't feel sorry for me," ends the note. "I've had a great life, great friends. Please think of the real O.J. and not this lost person. Thanks for making my life special. I hope I helped yours. Peace and love. O.J."
5:51 p.m.: Simpson reportedly makes a 911 call from a cellular phone in his Ford Bronco. His location is traced to the Santa Ana (5) Freeway in Orange County near Lake Forest, where his ex-wife, Nicole, was buried Thursday.
5:56 p.m.: CHP begins pursuit.
7:30 p.m.: After moving onto the Artesia (91) Freeway, the Bronco turns north on the San Diego (405) Freeway in Torrance, soon encountering crowds standing on the roadway and overpasses.
7:57 p.m.: Simpson and Cowlings arrive at Simpson's Brentwood home and negotiations for surrender begin.
8:47 p.m.: Police issue an all-clear after taking Simpson into custody.
9:37 p.m.: Simpson arrives at Parker Center in police custody.
ALSO
Knife found on O.J. Simpson property being tested by LAPD
One key player wouldn't talk for ESPN's Simpson murder epic 'O.J.: Made in America'
Is there anything more to say about O.J. Simpson's murder trial? Two projects say yes
Op-Ed: Why 'The People v. O.J. Simpson' should be required watching for America's police chiefs
---
The stories shaping California
Get up to speed with our Essential California newsletter, sent six days a week.
You may occasionally receive promotional content from the Los Angeles Times.