Military groups and L.A. County are in step on Bob Hope Patriotic Hall
Veterans salute during the Posting of Colors at the rededication ceremony for Bob Hope Patriotic Hall in Los Angeles.
(Genaro Molina / Los Angeles Times)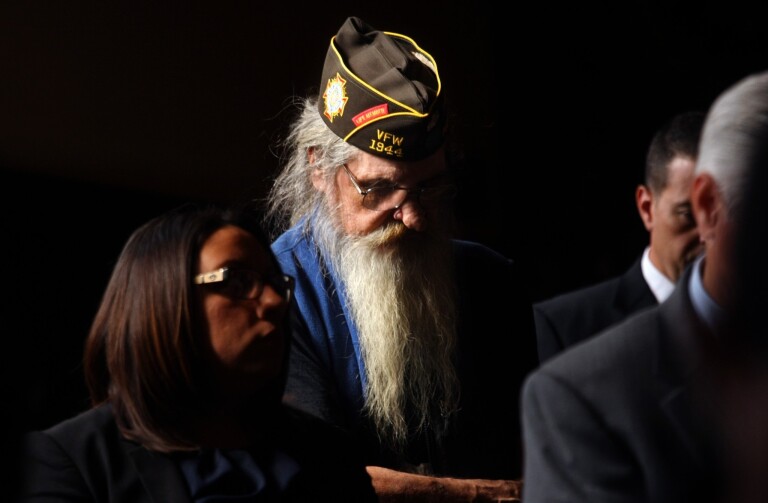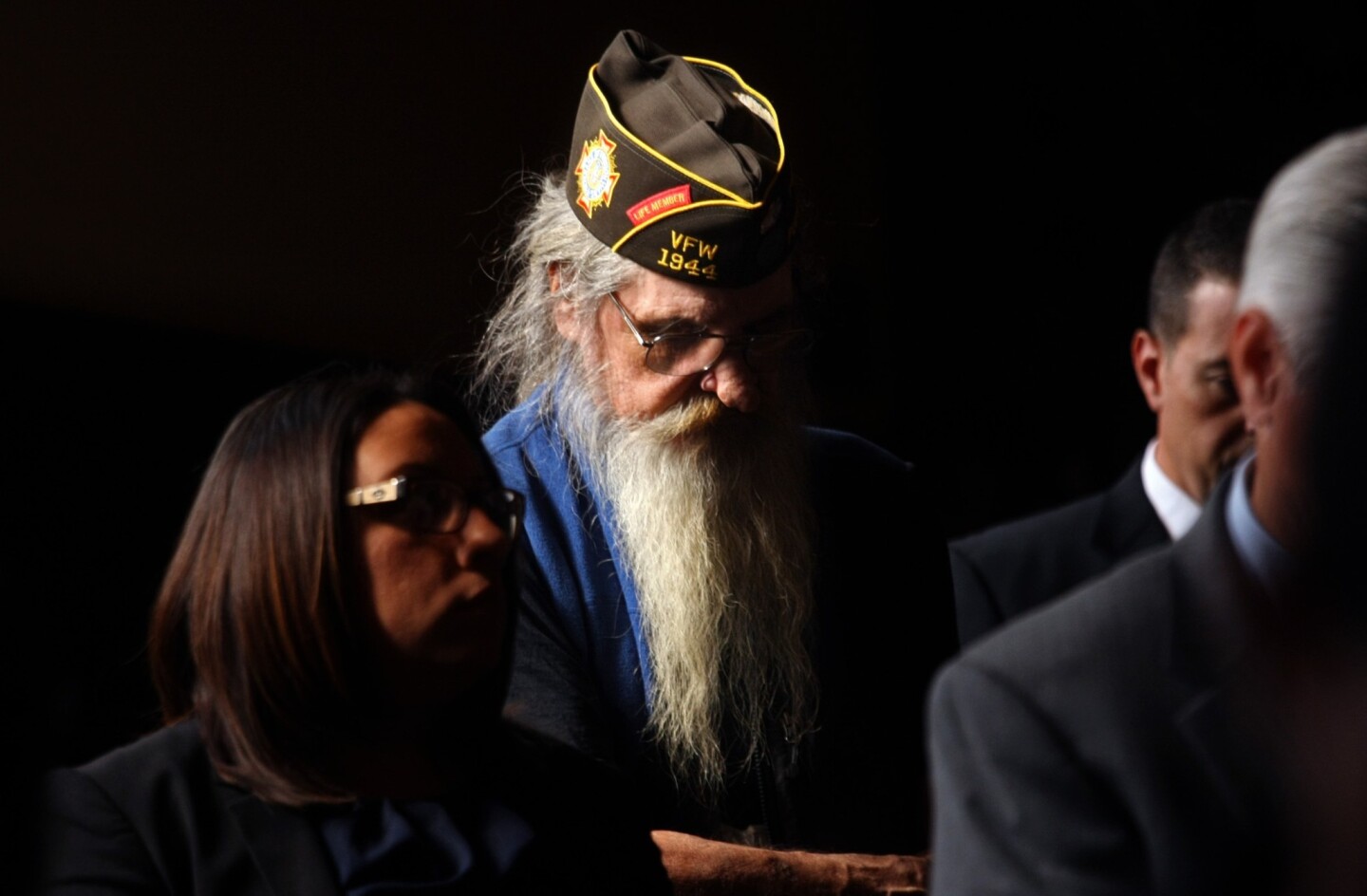 Vietnam veteran John James Bechtel Jr., 55, bows his head during the invocation at the ceremony.
(Genaro Molina/ Los Angeles Times)
The main entryway to the renovated Bob Hope Patriotic Hall, which was built in 1925.
(Genaro Molina / Los Angeles Times)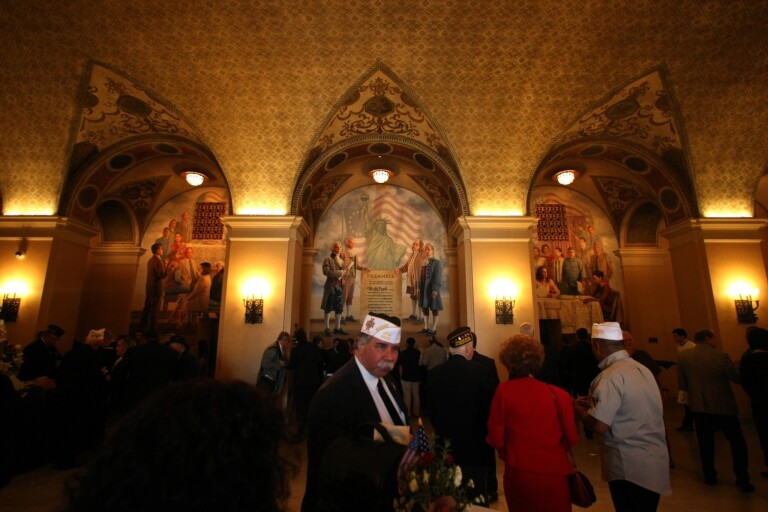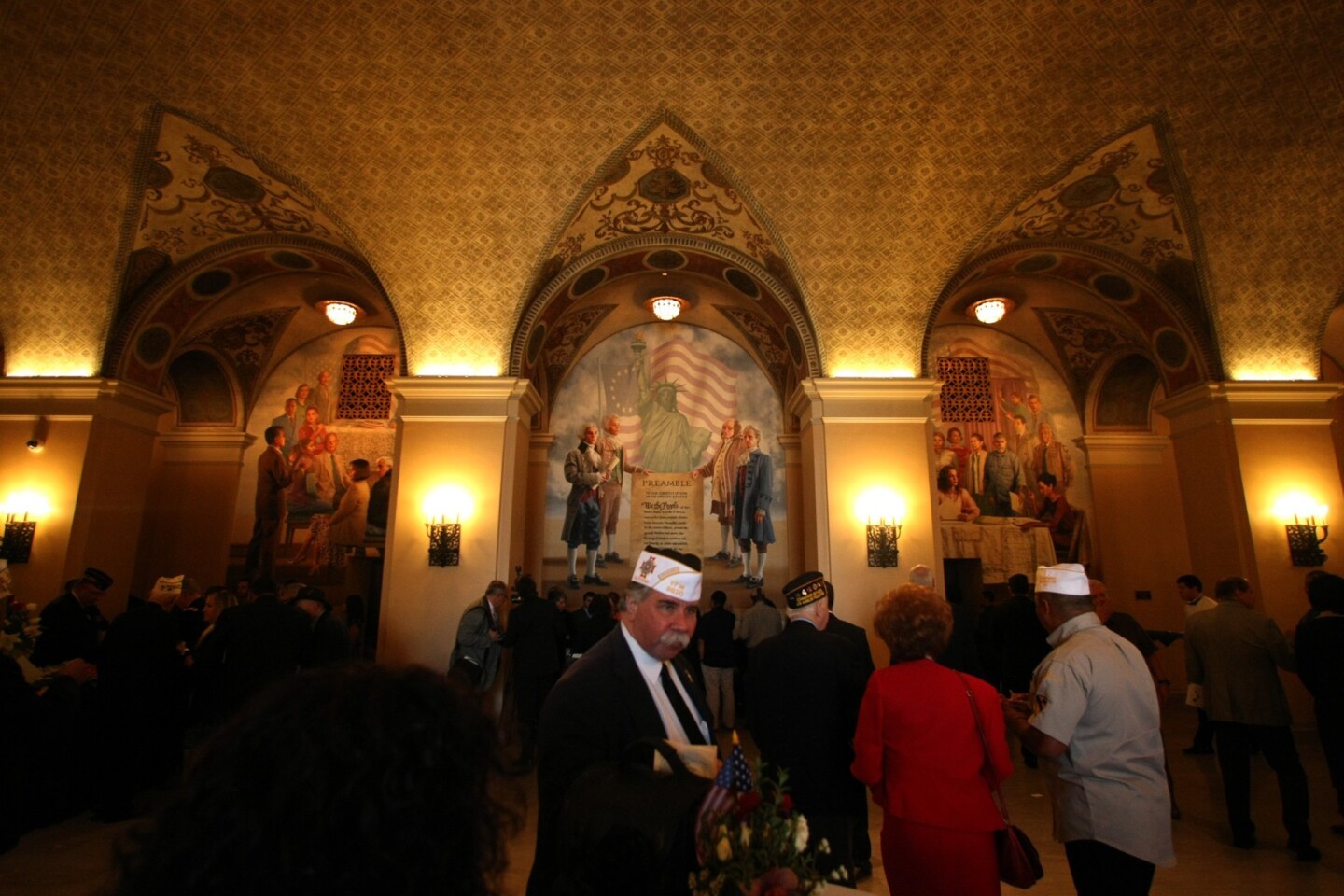 Veterans and visitors enjoy the newly restored lobby of Bob Hope Patriotic Hall. The new murals in the background were created by Los Angeles artist Kent Twitchell.
(Genaro Molina / Los Angeles Times)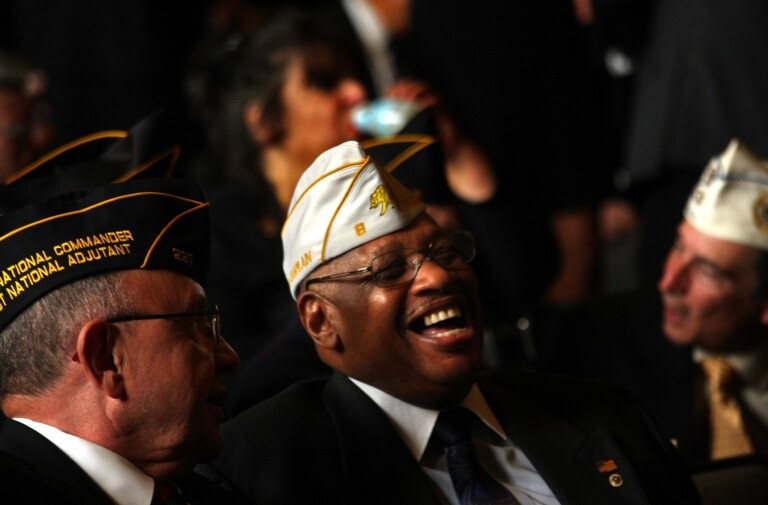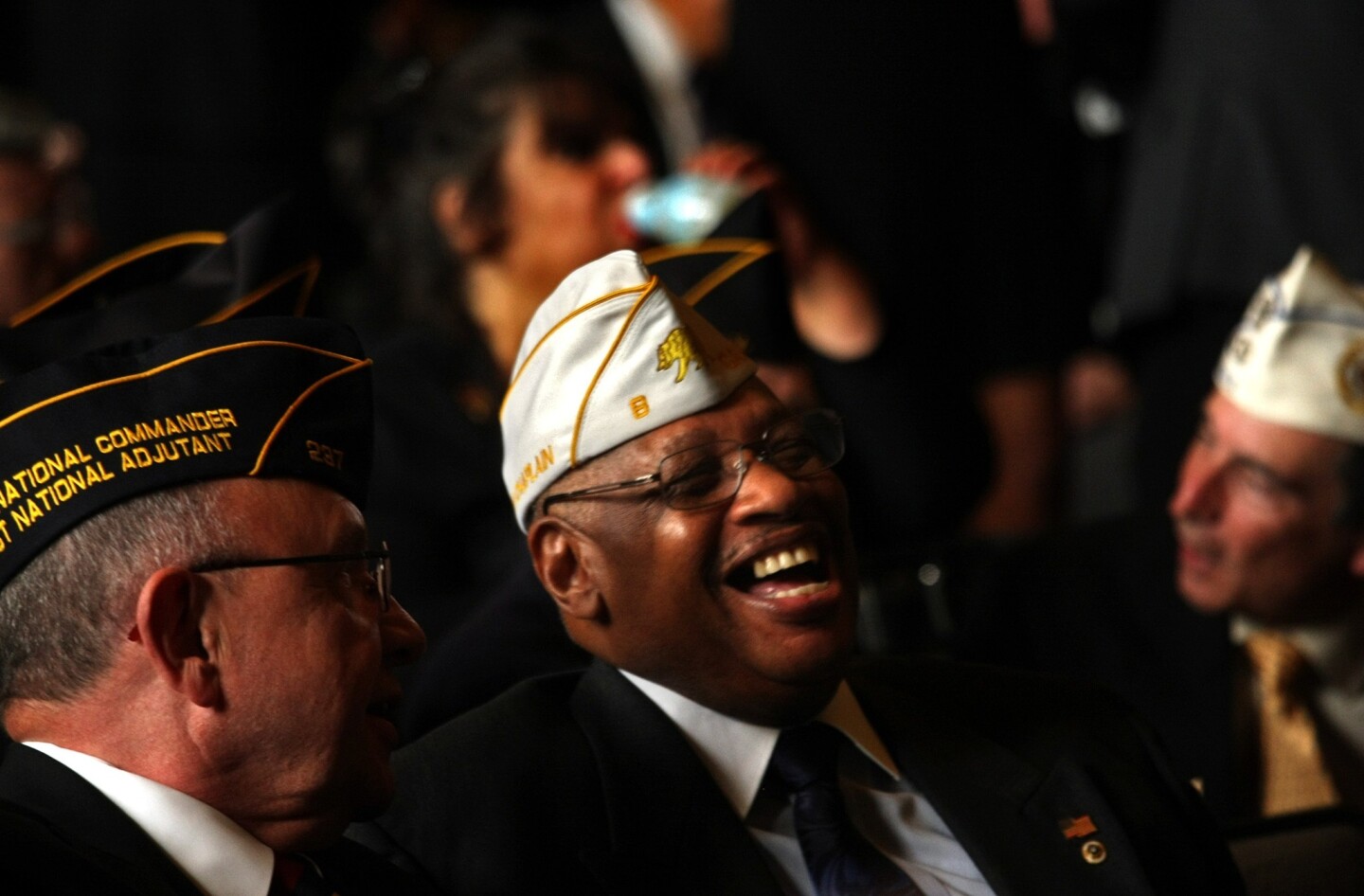 Vietnam veteran Hugh Crooks Jr. enjoys a light moment at the ceremony.
(Genaro Molina / Los Angeles Times)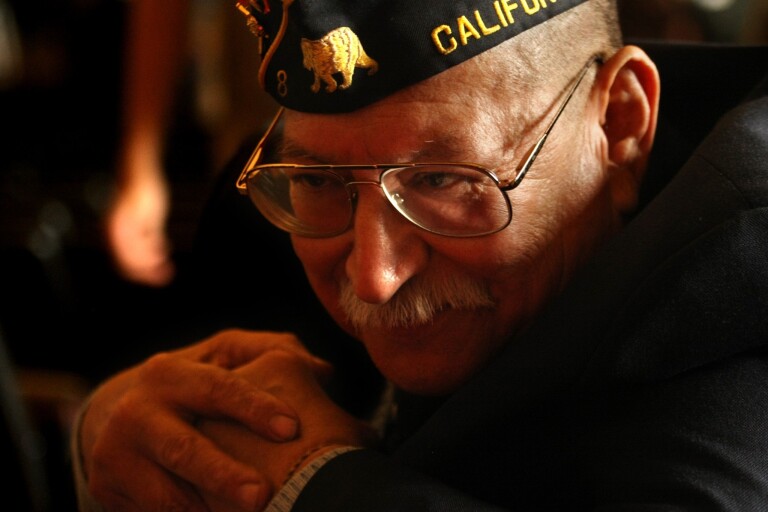 Vietnam veteran Jay Morales, 71, takes in the proceedings.
(Genaro Molina / Los Angeles Times)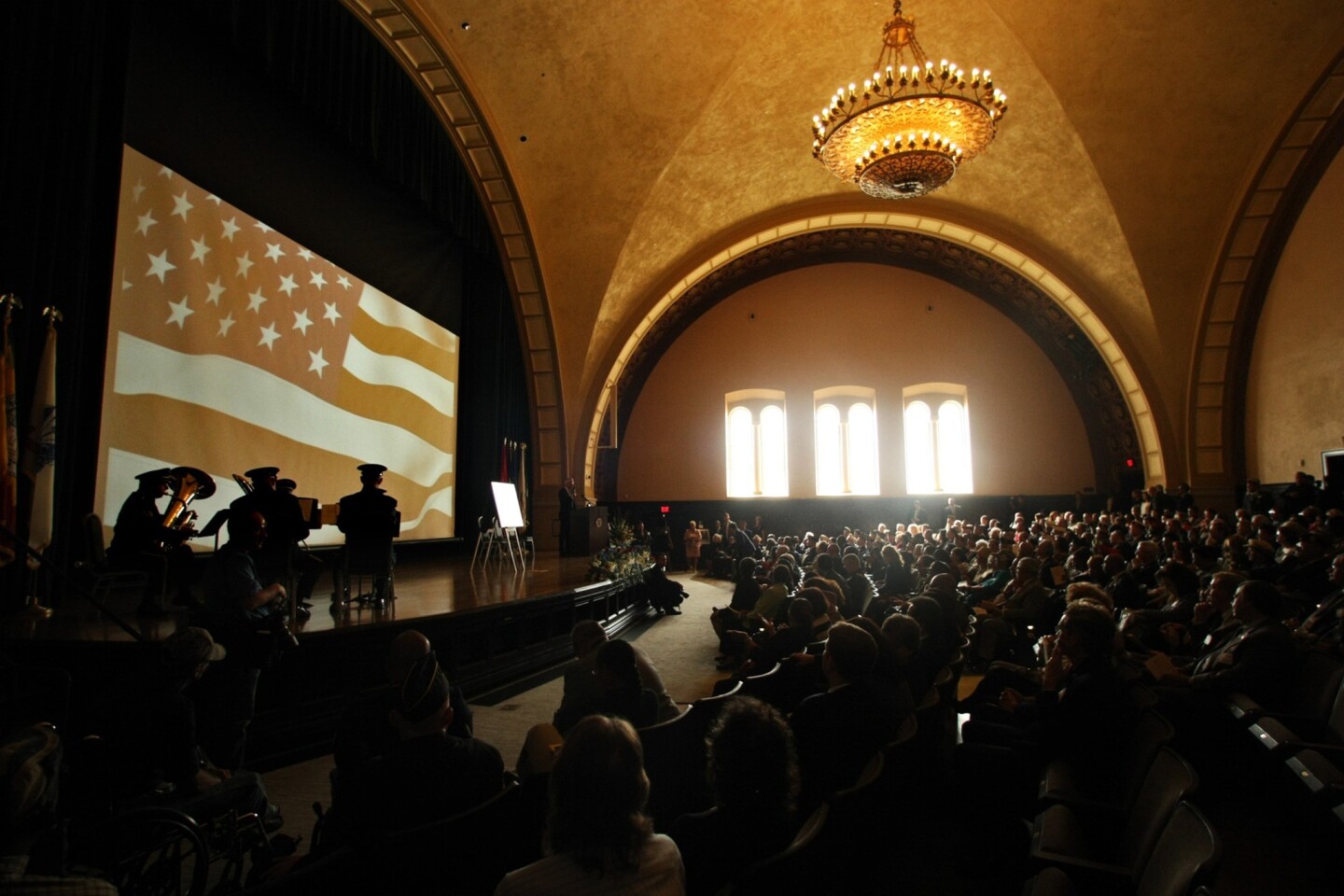 Members of the Air National Guard Band of the West Coast perform for visitors at the rededication.
(Genaro Molina / Los Angeles Times)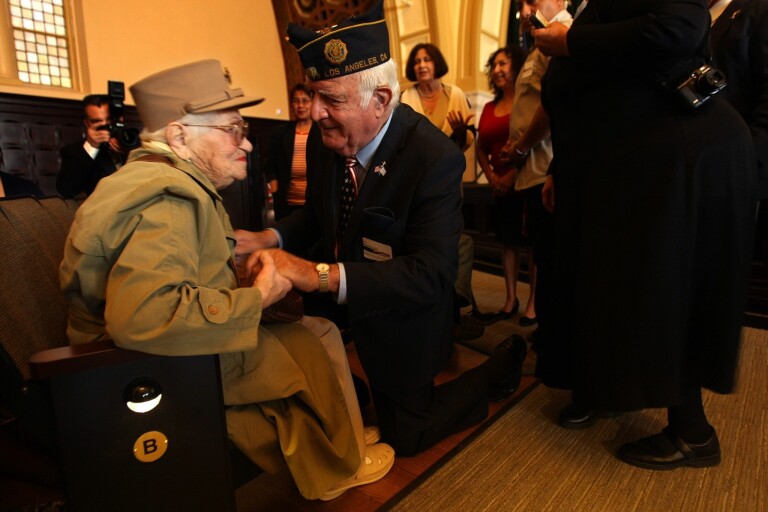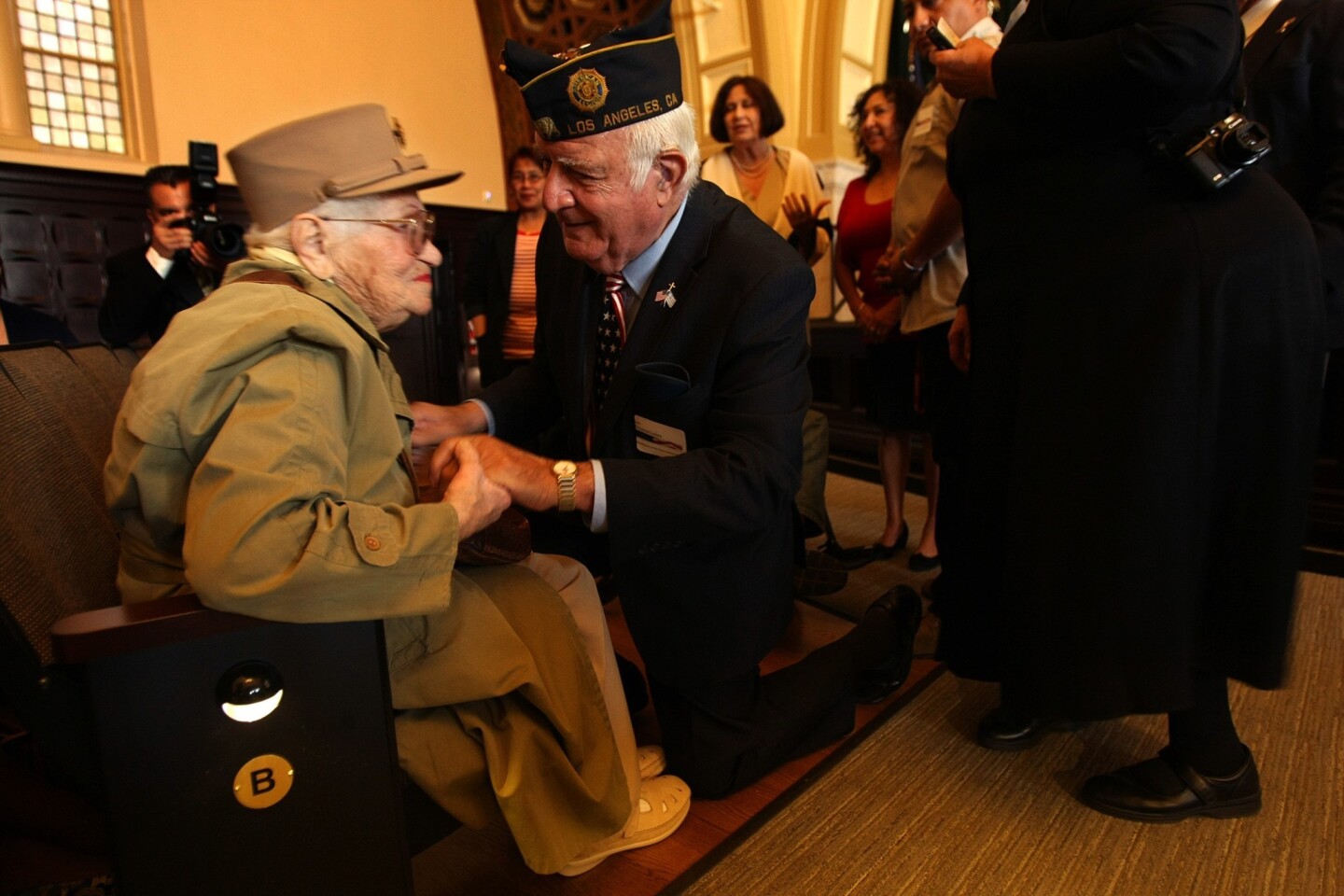 World War II veteran Bea Cohen, 103, left, is greeted by retired U.S. Army Master Sgt. John Stamatiades shortly before the start of the rededication ceremony.
(Genaro Molina / Los Angeles Times)
Just in time for Veterans Day, a dozen local military service organizations have reached an armistice with Los Angeles County over use of its newly refurbished Bob Hope Patriotic Hall.
Instead of being relegated to basement cubicles as the county had planned, the American Legion, Veterans of Foreign Wars, Disabled American Veterans and other service groups will get office space elsewhere in the hall, which reopened Friday after a seven-year, $45.3-million renovation.
About 460 people attended a rededication ceremony for the upgraded hall. As a U.S. Air Force band played a medley of the official songs for each of the military branches, veterans of the Army, Navy, Marines, Air Force and Coast Guard stood when they heard their tune.
The hulking 10-story Figueroa Street structure was built in 1925 and named for entertainer Bob Hope in 2004. The Italian Renaissance Revival building was designed by the Allied Architects Assn.
County Supervisor Gloria Molina reminded those gathered in the domed auditorium that the original hall lacked heat, air conditioning or even "a woman's restroom." Added board colleague Don Knabe: "Veterans can now obtain everything under one beautiful roof" — including services from the county's departments of Military and Veteran Affairs and Mental Health.
The hall's makeover includes air conditioning and heating, telecommunication equipment and new elevators. Other changes include a reworked 10th-floor gymnasium and a new full-service kitchen.
New murals for the ornate main lobby were created by artist Kent Twitchell, who used Los Angeles-area veterans as models. One of them, former Army 1st Cavalry member Michael Esparza of Granada Hills — who lost part of his right arm in Vietnam in 1967 — spotted his image. "It's realistic," Esparza said, gesturing with his prosthetic arm toward his arm hook that's depicted in the painting. "It's really an honor to be included."
After the ceremony, veterans were invited to tour the renovated structure's upper floors. But some were intent on seeing the basement, where the military organizations had been told they were being housed.
Hugh Crooks Jr. of El Sereno, who served as an Army infantryman in Vietnam and is past commander of the American Legion in California, accompanied Jay Morales. Morales, of Los Angeles, is a longtime adjunct to legion Post 8, which moved into the hall in 1926. Also in the elevator was past American Legion national commander Robert Spanogle of Indianapolis.
They quickly found the rows of 10-foot-square cubicles they had been told would be theirs.
"We're still negotiating with the county. They've moved everybody to the basement, but nobody will sign a leasing agreement with them," Crooks said.
"All of the veterans service groups are saying no and not signing," agreed Morales, who flew Marine helicopters for 22 years. He said he fears that half of his post's large historic photo collection disappeared during the renovation.
Back up in the lobby, retired Air Force Brig. Gen. Ruth Wong was thanking veterans for attending. She was named acting director of the Department of Military and Veterans Affairs in December and made permanent head in July.
"The veterans groups will be on the fourth floor, not in the basement," Wong said. "We're going to have a meeting with them on Nov. 21." Smaller offices are necessary because upgrades cost the hall 40% of its original floor space, she explained.
"The new space will accommodate all meetings and conferences," she promised. And all of legion Post 8's photos will be in the new museum, which will open by Memorial Day.
"They're in storage," Wong said. "I know that as a fact."
---
Get breaking news, investigations, analysis and more signature journalism from the Los Angeles Times in your inbox.
You may occasionally receive promotional content from the Los Angeles Times.