Fear sets up camp on a stretch of the L.A. River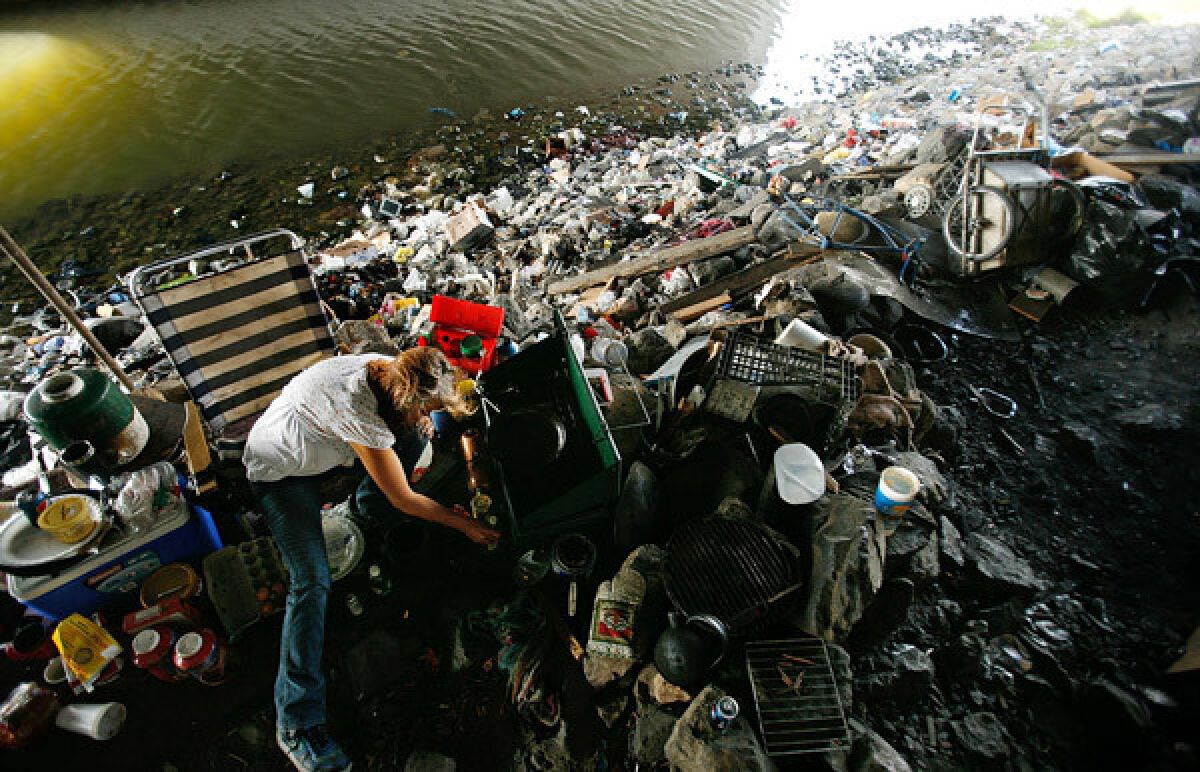 After the killings, the people on the river slept with their knives closer. They leashed guard dogs outside their tents and cardboard lean-tos. They listened for strangers' footsteps above the thrum of traffic on the bridges overhead. They got used to the sight of police stepping carefully along the big white rocks of the embankment. Below, in its concrete jacket, the dirty river crawled.
Violence is common and often unreported along the 51-mile Los Angeles River, daytime haunt of the occasional jogger and bird-watcher and in many parts a lawless no-man's-land populated by hard-core addicts, the mentally ill and uncountable others, broke or hiding. But what happened last November made an already fearful place feel more perilous still.
Someone gunned down three men and two women in a homeless encampment a few miles from the river's final southern curve into Long Beach Harbor. Hidden by bottlebrush trees along the Santa Fe Avenue off-ramp of the 405 Freeway, it was a cave-like spot with a single entrance -- a narrow footpath along a chain-like fence -- and a reputation as a drug den.
Police suspect the shooter came to punish a drug debtor and turned the gun on everyone to eliminate witnesses. Two things made it personal for river residents: One of the victims, 24-year-old Katherine Verdun, was a familiar face. And many understood how easily it could have been them.
For weeks, police who usually avoid the river were searching its banks, looking for witnesses, waiting for someone with information to claim a $20,000 reward. A year later, police are waiting still.
"You've got five people that were killed and no one came forward. That's unheard of," said Long Beach Police Det. Mark McGuire. "That community is terrified still. There's no way to get through to them yet, even with the reward."
McGuire calls it among the toughest cases he's worked in nearly 10 years in homicide, owing to "the nature of the victims" -- most were homeless -- and to their transient circumstances. Attempting to track down witnesses is to confront an ever-changing cast. On the river, McGuire said, "it's never the same person twice. Nobody knows who's who, who's coming or who's going."
The river, which once supplied a nascent metropolis with drinking water, is now a gargantuan drainage trench, built by the Army Corps of Engineers after a deadly 1938 flood. It begins behind Canoga Park High School and snakes under a network of bridges and freeways through the heart of Los Angeles.
Like other rivers, its personality changes as it bends and coils, trickling here, rippling there. In places, where the accumulated trash isn't too thick, it's almost picturesque, full of elderberries and willows, alders and sycamores. Visitors can spot hawks, egrets and schools of carp, and stroll in adjacent mini-parks.
On the mental topography of Southern California, it remains mostly a blank spot, a terra incognita glimpsed from an overpass and instantly forgotten. It's easy to grow up here, and grow old, without setting foot in it. It's an invisible city whose population centers do not figure on official maps.
Under the 7th Street Bridge in Long Beach, where a dozen or more people can be found living in the garbage-heaped shade between the pylons, the population obeys the rhythms of any flophouse.
There are relationships of convenience and survival, alliances made and broken, betrayals, sudden, violent spats -- a methamphetamine-fueled soap opera with an ever-changing gallery of prematurely haggard faces.
" 'As the World Turns' on the Los Angeles River," said Jolene Musgrove, a former carnival worker who goes by "Mama Jo" and looks at least a decade older than her 51 years. She's lived on the river on and off for about 30 years, most recently between bridge pillars, one of them scrawled with the words "Carny Power." Her boyfriend had lent their scavenged-wood shelter a tropical feel, hanging the facade with wooden mats and seashells. "I got two ex-husbands living on the river too."
Musgrove, who survives on food stamps and a general-relief check, said she knew Verdun, one of the homicide victims, and the killings scared her off the river. She stayed with her son in Long Beach for a week before returning. "Nowhere else to go," she explained. Decades back, she said, the river was a kinder place.
"I used to know who everyone was and where they were," she said. "It has gotten a lot meaner. People are more ruthless."
The bridge, about six miles south of the site of the killings, has no small number of addicts, their blasted olfactory sense numbing them to the reeking water, human waste and rotting garbage. Although Musgrove has lived in many spots along the river, she feels safest under the bridge -- a place where church groups deliver meals twice a week, and where "everybody cares about everybody, and they take care of each other."
Among the river's jerry-built villages, it's a common mantra: We take care of each other. Just as common is the remark that no one around here can be trusted.
All the talk of "community" is a joke, said Mike Ducret, who is in his mid-40s, corpulent and blind in one eye, a loner who lives on the rocks a couple of miles north of the bridge. He avoids the encampments and their dramas. "I don't want anything to do with them," he said. "They're just strung out all the time."
Ducret is too ashamed of his appearance to hunt for food from city trash bins in the daytime. "I'm dirty and nasty," he said. "I'm more of a vampire now." He tries to stay hidden from teenager taggers who throw rocks at him. He owns a filthy futon, paperback novels and a tiny radio that brought him news of the slayings last November. He knows that even these few possessions will be stolen if he leaves them unguarded for a few minutes.
Nearby lives Sarah Lomeli, an Arkansas woman in her mid-40s who said she keeps a machete or a Louisville Slugger close by and is terrified when her husband, Omar, wanders from their camp on the eastern bank. "I cry every day," she said. "I hate being scared all the time."
Sandra Lopez, a woman in her mid-50s, lives on the opposite bank and said she doesn't take her medication for manic-depression because she likes to stay alert. "It's like 'Wild Kingdom' out here. . . . I sleep with pepper spray, knives, clubs. I'm ready," she said. "Because of the murders, we don't want strangers down here."
For months after the killings, Merle Megee, a Long Beach cop whose beat is the homeless, frequented the river and nearby missions and soup kitchens, looking for answers, sifting through rumors. One of the victims had Megee's business card in his pocket.
There's no authoritative census of the river, which runs through more than a dozen cities, but Megee estimates the Long Beach portion probably has 150 to 200 people.
"They don't want to be seen, they don't want to be found. If I went down to the river and ran their rap sheets and really looked at their backgrounds, I'd probably pass out," Megee said. "These are the people that have fallen through the cracks, that have nothing going for them. If they had any kind of money, they wouldn't be there."
The isolation is at once the lure and the danger. "There's no pay phone. Nobody's going to hear you scream. It's like breaking down on the way to Las Vegas," he said. "If there's a stabbing out there, we may or may not hear about it."
Dangerous as the river might be, the rumor mill operating along its banks tends to exaggerate the violence. It's widely believed, for instance, that one man recently died there because someone smashed in his head, but Megee said a likelier scenario is that he got drunk and fell on the rocks. "It's not murderers' row. It might be dopers' row."
For its denizens, part of the river's reputation stems from its role as the dumping ground of a vast metropolis. Almost everyone who has lived there for long claims to have seen a body or two in the water.
Earlier this year, it became personal for Megee. He said a childhood friend who fell into a drug habit was slain in his Hawaiian Gardens apartment and thrown into the river. Weeks later, his body was found against a metal grate in north Long Beach.
In the winter, the wind hurts this close to the Pacific. On a chilly morning not long after the killings, Priscilla Gribble, 29, was climbing out of the tent she shared with her boyfriend, Aaron "Droopy" Martinez, 33, under the northernmost pillar of the 7th Street Bridge. "After all that's happened, I don't sleep alone," she said.
Gribble's demeanor goes from welcoming to ferocious "in 2.5 seconds," she conceded, depending on the perceived threat. She described herself as a former Red Lobster cook who was struggling to stay off heroin and has school-age kids living in the city with their father. She had been at the river for more than a year.
"I've been to the ballet. I've seen 'The Nutcracker.' I know that there's more to life than there is out here," she said. "I don't want to die out here."
Her boyfriend described himself as a former gangbanger and longshoreman who does meth -- "but not all the way," taking pains to distinguish himself from the hopeless addicts he believes have ruined the river. The drug gave him energy for his chores, he said, like foraging for spare tent poles and gathering cardboard for campfires -- the better to please Priscilla, his "headstrong, independent woman."
After the killings, it was a comfort to have a Doberman and a chow at the camp. "We grew a lot smarter; we have dogs now," Martinez said. Also, a mirror hung outside their tent so they could see who was approaching from behind. He made it a point, when strangers entered the camp, to give them some marijuana and strong liquor, in the belief that it would reveal their true nature. "I'm trying to make this bridge be a family bridge," he said.
Methamphetamine filled him with big plans. He spoke excitedly of rigging up another layer of security. He would bury plastic bottles under the dirt so he could hear the crunch of approaching footsteps. Piles of debris spoke of a dozen projects, begun in a frenzy and then abandoned.
At the next pillar over, Patrick O'Keefe, 41, who described himself as a former punk rocker and doorman, was flying a pirate flag from his tent. He hated the concept of working all the time "to live in someone's stupid little apartment."
Here, he could do all his laundry for a buck fifty at a local laundromat and get a hot shower at the nearby Multi-Service Center. The "bunkies," or camp mates, all had food stamps, and just last night they barbecued steaks. "One guy had vodka. Someone's got the weed," he said. "That's what I love about this -- a little community feeling."
Gathering planks to undergird his tent, O'Keefe rhapsodized about the romance of life on the river. "I'm building my own home, like I was out on the Oregon Trail," he said. "I'm the alpha male. I live by the river. How many live by the river? Like the Mississippi River. Indian tribes, all the way back."
Still, O'Keefe said, you couldn't let your guard down around so many meth addicts, known as "tweakers." "Don't ever look at me sideways, or I'll snap your neck and throw you down on the rocks," he said. "People know me as a sensitive, intelligent person. An artist. At the same time, I can be somebody who can snap your head in an instant."
Steve Hrenak, an employee of Mental Health America, a nonprofit that helps the homeless mentally ill, was handing out sack lunches. He considered O'Keefe's bluster. "He's the most scared person out here," he said. "He's not used to living this way."
O'Keefe's stay at the camp would be brief. About a week later, by Martinez's account, O'Keefe got drunk and tossed Martinez's trash can onto the rocks, and Martinez, also drunk, retaliated by flinging O'Keefe's tent planks into the river, and O'Keefe, furious, cold-cocked Martinez and screamed, "You stole my home!"
Within weeks, Martinez was gone too, and Gribble was displaying a bruise on her arm. "I still have feelings for him," she said, but "I don't want to be floating in the pier." The notion that she would report the incident was laughable. "Why would I go to the cops?"
The stories shaping California
Get up to speed with our Essential California newsletter, sent six days a week.
You may occasionally receive promotional content from the Los Angeles Times.