Deputies kill man in Athens; rights groups want an investigation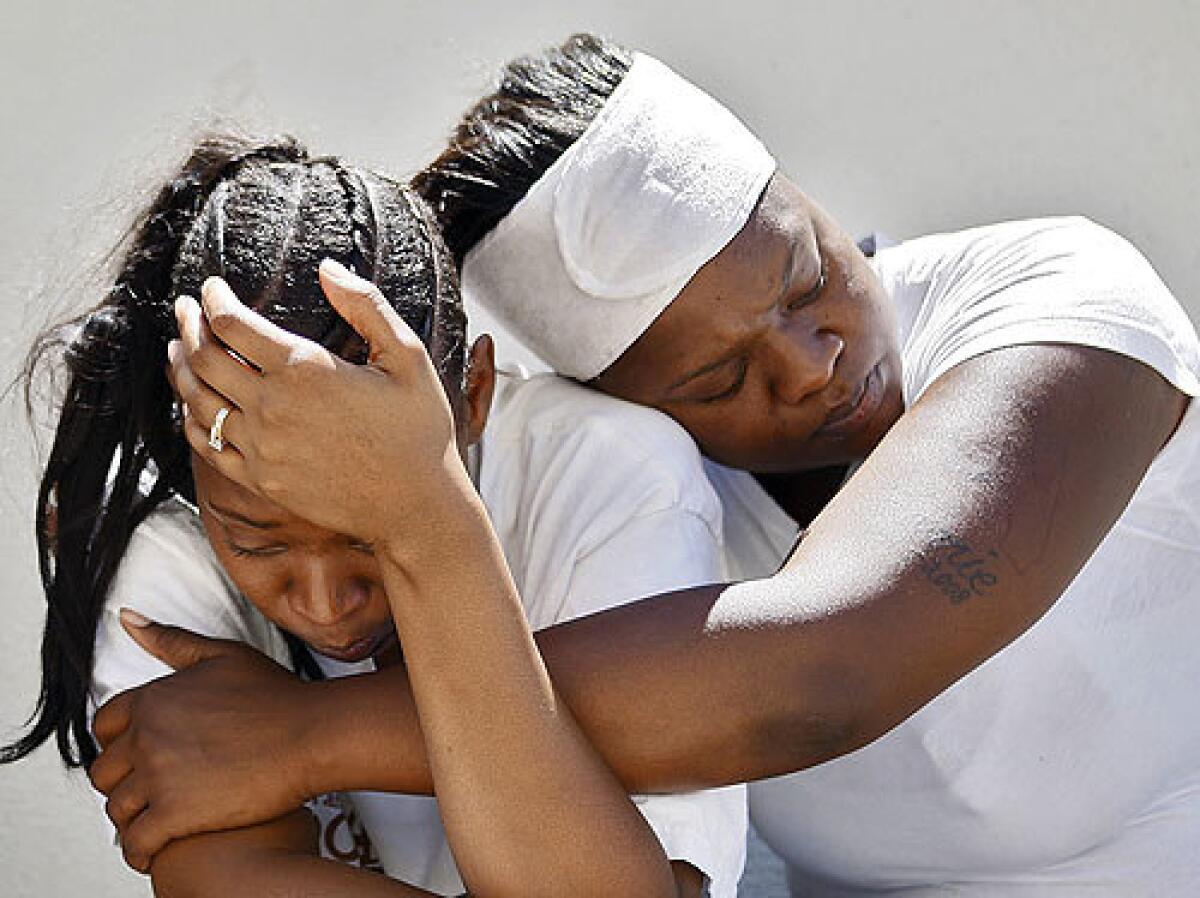 Civil rights leaders called for a federal investigation into the fatal shooting of Woodrow Player Jr. by Los Angeles County sheriff's deputies in unincorporated Athens, which became the scene Saturday of yet more shootings.
Player, 22, was shot multiple times as he ran from deputies in the 11200 block of Berendo Avenue about 8:45 p.m. Friday, authorities said.
Investigators said they recovered a gun from Player's car, but witnesses said he was unarmed when deputies shot him in the back.
Sheriff's Department spokesman Steve Whitmore promised a thorough review of the shooting.
"This will be examined from top to bottom. And if there are any inconsistencies, they will be brought forth," Whitmore said.
But Earl Ofari Hutchinson, president of the Los Angeles Urban Policy Roundtable, and Eddie Jones of the L.A. Civil Rights Assn. joined Player's relatives Saturday at the place where Player was shot to call for a federal investigation.
"We have no confidence in the Sheriff's Department to investigate itself," Hutchinson said, dismissing the sheriff's Office of Independent Review, which is investigating.
About 2:30 p.m. Saturday, half an hour before Hutchinson went to the area, three men drove up in a gray late-model Buick and shot three men and a woman gathered at a makeshift memorial. All four were taken to a local hospital.
"It's a shame. The streets are not safe," said Jody Mitchell, 42, whose 19-year-old son, Princeton Blackwell, was among those shot.
Investigators were still searching for the gunmen late Saturday and had not determined whether the shooting was gang-related, a sheriff's spokesman said.
The night before, deputies had stopped Player as he was driving about a block west of Imperial Highway and Vermont Avenue after a woman called the department to report that a man fitting Player's description had threatened her and their child with a gun.
Player and his wife have a 1-year-old daughter, but Tyisha Player, 24, said she did not call deputies. Player also has a 4-year-old son with an ex-girlfriend who lives nearby, but it was not known whether she made the call.
When deputies pulled up behind Player's car to question him, he ran toward a nearby alley, Whitmore said.
"The suspect reached for his waistband and turned toward deputies," Whitmore said. "They, thinking they were going to be shot at, fired."
Player was shot multiple times and died at the scene, said Lt. Brian Elias of the county coroner's office.
Shendall Duncan, 35, of Athens said she saw deputies shoot Player three times in the back before he fell. He attempted to keep running and was shot again, she said.
Investigators had not determined late Saturday whether Player was armed when he was shot or whether he was the suspect deputies were initially seeking, Whitmore said.
Player had been affiliated with the East Coast Crips, served time in prison on a drug charge and was on parole at the time he was shot, relatives said.
Since he was acquitted of a murder charge last year, he had begun to turn his life around, his wife said, attending church and studying for his GED.
molly.hennessy-fiske
@latimes.com
Rong-Gong Lin II contributed to this report.
Sign up for Essential California for news, features and recommendations from the L.A. Times and beyond in your inbox six days a week.
You may occasionally receive promotional content from the Los Angeles Times.