Writers Guild is close to a deal with UA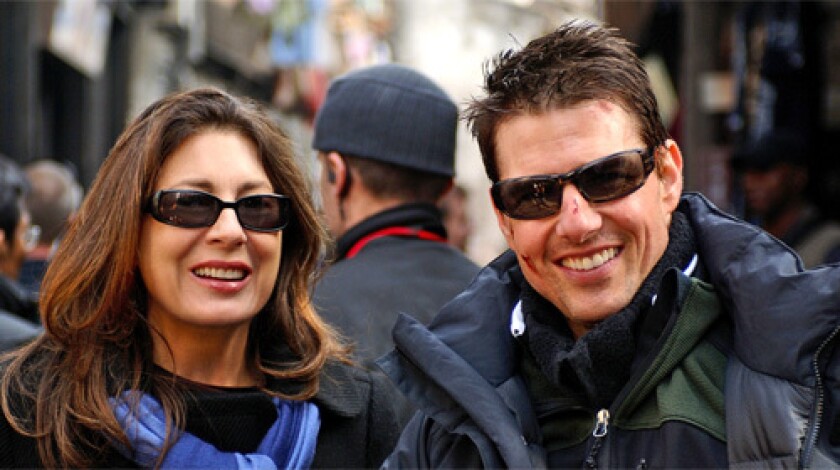 Los Angeles Times Staff Writers
United Artists, the independent production unit of MGM controlled by actor Tom Cruise and his producer partner, Paula Wagner, is expected to become the first movie company to reach an interim agreement with the Writers Guild of America, enabling the recent start-up to hire union writers despite the continuing strike.
The guild, which is close to finalizing a deal with UA that is expected to be signed possibly as early as today, is also in discussions with several other independent companies, including Lionsgate and the Weinstein Co., about similar interim agreements.
The agreement with UA would benefit the company's distributor and majority shareholder, Metro-Goldwyn-Mayer Inc., by supplying the studio with films once they were produced.
UA, based at MGM's headquarters in Century City, is a relatively small player in Hollywood, and a deal with the company is not expected to have an immediate effect on the larger dispute that has roiled the film and TV industry. Writers walked off the job two months ago, largely over pay for their work distributed on the Internet.
Since studios broke off talks in December, the guild has been attempting to sign up independent companies to put pressure on major studios to return to the bargaining table.
However, MGM, which is a member of the Alliance of Motion Picture and Television Producers, does not plan to break ranks with the alliance's other major studios and sign a similar side deal with the guild, according to people close to the situation who requested anonymity because they were not authorized to talk publicly.
The alliance represents the major studios in negotiations with Hollywood's labor unions.
In recent days, Harry Sloan, MGM's chief executive, has been attempting to dissuade Wagner and Cruise from making an interim deal with the guild, people familiar with the situation said. But Sloan ultimately must defer to Wagner, who as chief executive of UA has the final word on how the company operates. Some people close to the matter cautioned that the deal between UA and the guild could still fall apart.
Wagner and UA representatives did not return calls seeking comment. Spokesmen for MGM and the guild declined to comment. The proposed agreement was first reported by the New York Post and www.DeadlineHollywoodDaily.com.
The pending agreement with UA is patterned after a similar deal the guild has struck with Worldwide Pants Inc., the production company owned by late-night talk show host David Letterman.
Both agreements contain proposals that the union sought in its negotiations with major studios, including in the key area of Internet residuals.
Securing such deals is part of a strategy by the guild to present itself as a reasonable negotiating partner. The alliance has sought to portray union leaders as intransigent.
Wagner and Cruise, who have been production partners for more than 15 years, jointly own 35% of UA, with MGM and its equity partners controlling the majority shares.
In November 2006, Sloan recruited Cruise and Wagner to resurrect UA as a stand-alone production company, with its own financing, that could help fill MGM's distribution pipeline. Cruise and Wagner had previously been based at Paramount Pictures under a lucrative long-term production deal that the studio no longer wanted to bankroll.
Last August, UA raised $500 million from the investment bank Merrill Lynch to finance production of 15 to 18 films over the next five years.
UA's debut film, "Lions for Lambs," a political drama directed by Robert Redford and starring Redford, Cruise and Meryl Streep, bombed at the U.S. box office last year.
The company's planned production, "Pinkville," to be directed by Oliver Stone, was derailed by the writers strike in late fall because its script needed to be rewritten.
The guild has also been talking with the New York City-based Weinstein Co., owned by former Miramax Films founders Bob and Harvey Weinstein, and with Lionsgate about cutting similar interim deals.
Late last month, the guild made a proposal to the Weinsteins that the brothers are still considering, according to people close to the matter who declined to be named because they were not authorized to discuss the plans. Those people suggested that the Weinsteins, who formed their own outfit in October 2005 after a nasty divorce from Walt Disney Co., have been waiting to see what UA and Lionsgate would do before they make a final decision.
A spokesman for the Weinstein Co. declined to comment Saturday.
Lionsgate, an independent producer of movies and TV shows, is also contemplating making a deal with the guild. However, no decision is expected imminently.
A Lionsgate spokesman declined to comment beyond saying, "The company is always evaluating its options."
Also on Saturday, an NBC spokeswoman said plans are in the works for "Tonight Show" host Jay Leno and his ABC counterpart, Jimmy Kimmel, to be the lead guest on each other's programs Thursday.
Both comedians, who have gotten to know each other through dealing with the ramifications of the writers strike, returned to the air Wednesday without their writing staffs, causing them to improvise ways to fill time on their programs. Leno suggested the exchange, and Kimmel agreed, according to a person familiar with the discussions.
Earlier this week, Kimmel expressed dismay that the guild was picketing the studios where Leno and fellow NBC host Conan O'Brien tape their shows, noting their support for the strike.
Leno now is in a standoff with the guild over the fact that he has been writing his own monologue, a move the guild has criticized as a violation of strike rules.
Times staff writer Matea Gold contributed to this report from New York.
---
The stories shaping California
Get up to speed with our Essential California newsletter, sent six days a week.
You may occasionally receive promotional content from the Los Angeles Times.