Car-crazy Los Angeles might have a few things to teach the smug Bay Area about mass transit
Reporting from San Francisco —
When it comes to mass transit, the common narrative holds that the Bay Area has built a sleek, efficient commuter rail network while car-loving Los Angeles remains something of a primitive backwater.
But that perception is increasingly not the reality, as choices voters face in the November election make clear.
The Bay Area's dominant rail systems — BART and Caltrain — are bursting at the seams as ridership is rapidly overwhelming the services. BART and Caltrain cars, along with San Francisco's Muni trains, are filled to capacity at rush hour, and riders are clamoring for more trains and new routes.
BART's 44-year-old electric rail system is so decrepit that bay water is seeping into tunnels, ancient power systems surge so much they disable train cars, and even the steel rail itself has cracked and split off during the height of the morning rush hour.
Meanwhile, Los Angeles is in the midst of a major rail system expansion, building so rapidly that Metro's 105 miles of rail is nearly equivalent to BART's 107 miles. If two-thirds of voters approve Measure M — which would raise the sales tax by an additional half a penny for every dollar spent — Los Angeles County would see a dramatic expansion of rail over the next 40 years.
The two regions find themselves in very different positions. BART and the other Bay Area rail line still serve more riders than L.A.'s Metro rail and Metrolink, in part because owning a car is becoming more difficult in some areas, notably San Francisco. Los Angeles has been investing heavily in rail, opening up more regions of the county to trains at a rapid clip, but has still struggled to lure more riders to mass transit. Backers hope that once enough rail lines are built, the L.A. area will see the rise in passengers that the Bay Area is now dealing with.
"I think a lot of folks in the Bay Area look with a lot of envy toward Los Angeles," said Randy Rentschler, spokesman for the Bay Area's Metropolitan Transportation Commission. "I mean that seriously: A lot of people here wish we could find that political capital and raise that kind of money to expand the system that we have."
Bay Area commuters and planners dream of their own expanded system, such as a second transbay tube that could carry BART, Caltrain and Amtrak trains between San Francisco and East Bay suburbs, and new rail lines serving western San Francisco. But finding funding has proven challenging.
The city's Muni rail system is also buckling under heavy demand. The service still doesn't connect to many neighborhoods, requiring many riders to rely on the system's famously slow buses for their daily commute, with the average speed on the system 8 mph.
For now, the Bay Area is settling for a far less sexy goal: just trying to coax voters in three counties to approve a $3.5-billion bond measure, Measure RR, to rebuild the core systems of BART.
"We opened BART in 1972 and then proceeded to let it deteriorate and almost fall apart," said San Francisco Supervisor Scott Wiener, who chairs the county transportation authority. "Meanwhile, over the last 35 to 40 years, we've grown by about 2 million people in the Bay Area, and … we've fallen behind."
"I know people in Berkeley who work in downtown San Francisco who no longer take BART, because they physically cannot get on to the train," Wiener said. "They will take a bus instead or drive."
Complicating matters for planners is that the Bay Area's 7 million people are split into many counties. That makes it harder to plan on a grand scale compared with L.A.'s Metro, the transit workhorse for the nation's most populous county — home to 10 million people.
L.A. County for three decades has focused on building a rail network strictly within its borders and didn't have to form plans with neighbors. Orange County, for example, has debated various light rail lines and streetcar projects over the years but has yet to build any of its own.
"We have yet to develop the type of visionary package that L.A. County has," said Ratna Amin, transportation policy director for the San Francisco Bay Area Planning and Urban Research Assn., "in part because we are nine counties in our region, and no one of them captures a majority of residents or jobs the way L.A. County has."
The biggest challenge for Los Angeles is getting people to ride the rails.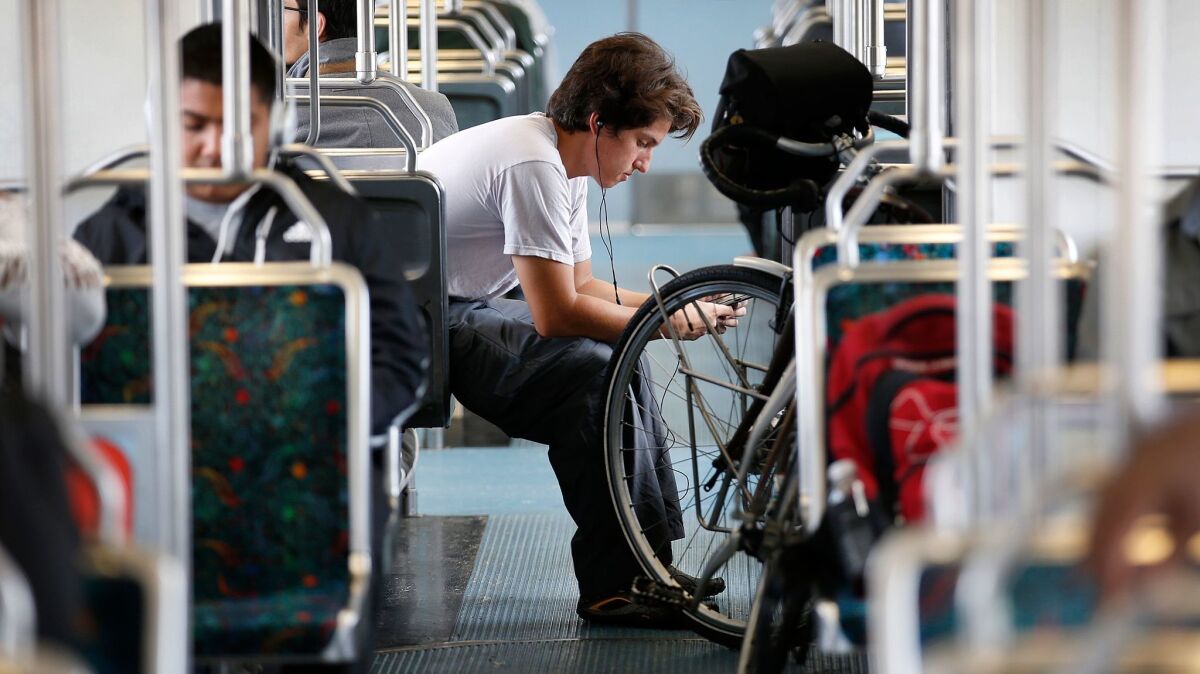 Despite the ongoing expansion of L.A.'s Metro rail system, annual ridership has declined, from 114 million riders two years ago to 108 million for the fiscal year that ended in June. Although the new rail routes are attracting commuters, overall rail ridership has fallen as fewer people ride the older lines, such as the subway.
Transit backers say the real test will come as the next major rail projects are completed, such as a new subway in downtown L.A., a subway to the Westside and service toward LAX, among others.
Los Angeles Mayor Eric Garcetti said he was confident that ridership would increase after more rail is built. He pointed out the unexpected popularity of the Expo line light rail extension to Santa Monica, where trains are so crowded officials are scheduling trains to run every six minutes for most of the day instead of every 12 minutes.
"The Bay Area shows you the promise of investing in rail density, which we still don't have. We're still too spread out," Garcetti said. "When you build it, people do come."
Others are more skeptical, questioning whether L.A. is simply too spread out and car-dependent for rail to ever gain a major following.
Passage of Measure M would dramatically expand L.A.'s rail network.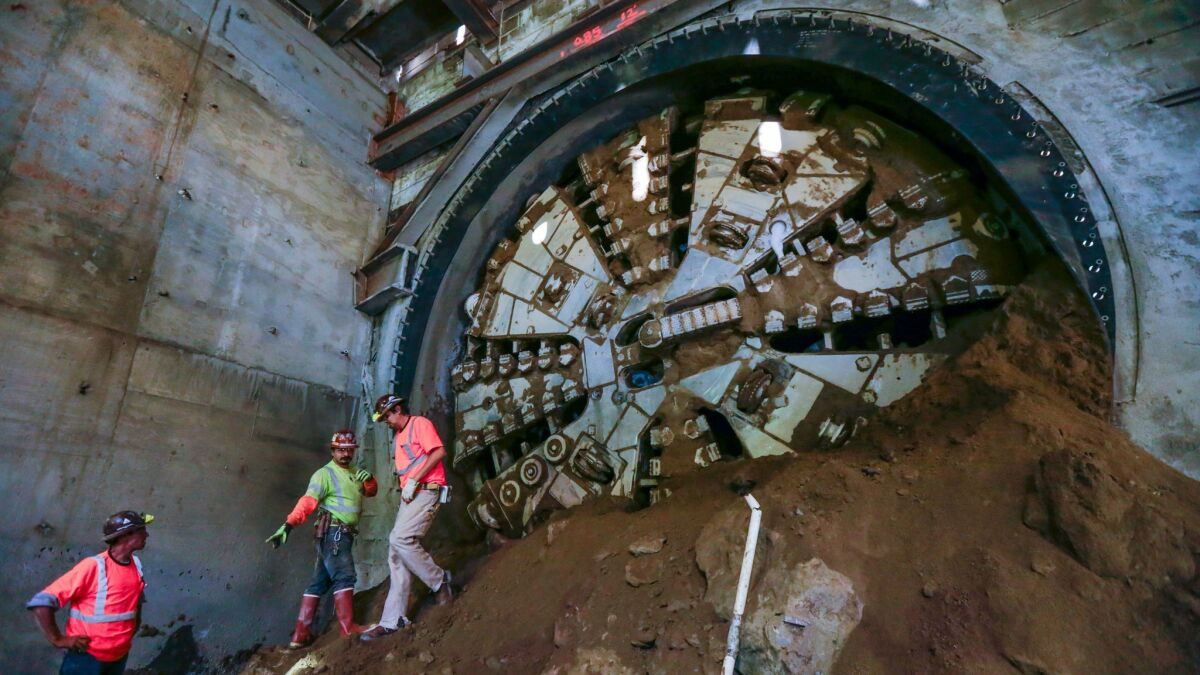 By raising about $120 billion in revenue over four decades, the plan envisions transit lines extending into the San Fernando Valley, the Westside, and the suburbs of Artesia, Claremont, Torrance, Whittier and South El Monte. About $2 billion would be set aside for Metrolink, which has already begun to replace its oldest locomotives and is working to add a second track to more areas along the San Bernardino line, which has only a single track for 80% of its length.
The Bay Area is also trying address its future transit needs.
BART's riders are angry, and it's easy to see why: Annual ridership has more than doubled in the last 30 years, from fewer than 60 million to more than 128 million, just as "much of our core system has reached the end of its life," said agency spokesman Taylor Huckaby. "Eventually, the whole thing needs to be replaced."
The single biggest tab is $1.2 billion to replace electrical transmission lines and substations that feed power into the third rail that powers the trains. The system is so old that it doesn't even use modern, rubber-insulated power lines, but antiquated technology that uses pressurized nitrogen in a pipe to insulate the copper lines. (And, making matters worse, the pipes are leaking nitrogen, costing nearly $90,000 last year to replace it.)
The list of items goes on: BART's tunnels in San Francisco need to be waterproofed from the bay and underground streams; water leaks have weakened the steel rails so much that they break apart during commutes, and crews have nicknamed the area "The Rainforest."
BART needs to replace 90 miles of rail. And the Apollo-era train control system needs replacement; BART currently has 669 train cars and wants to eventually operate to its maximum capacity of 1,081, but cannot operate more than 900 until a new control system is installed.
Finally, some of the rails need to be realigned, because of the slow creep of the Hayward fault, "and our trains are getting closer and closer to the tunnel walls," Huckaby said.
Caltrain has seen record-breaking growth in the last several years — growing from about 12 million annual riders six years ago to now more than 19 million. But Caltrain, too, has now reached capacity, and won't be able to grow unless two things happen.
The first is moving Caltrain from using diesel locomotives to be powered by overhead electrical lines, which will enable trains to accelerate and brake faster. That would enable the system to run six trains an hour per direction, instead of the current five. Construction could begin as early as next year and be completed by 2021.
Caltrain has also added a sixth car to some of its most crowded five-car trains, added after the system purchased 16 train cars from Metrolink. But it's not a perfect solution — some stations aren't designed to handle trains of that length, and the system will work on lengthening platforms in the coming years, said spokeswoman Jayme Ackemann.
And a major goal for Caltrain — extending the rail system in a tunnel directly into the heart of the city at a new Transbay Terminal — has been elusive. Funding has not been secured for that extension.
In addition, like BART, Caltrain has had a hard time with funding in the past. Forty percent of Caltrain's budget comes from transit agencies in San Francisco, San Mateo and Santa Clara counties, and any one of those agencies can decide to unilaterally cut back their financial contribution to Caltrain.
Meanwhile, in Silicon Valley, Santa Clara County transportation officials are asking voters to pass Measure B, which would raise the sales tax by half a cent for every dollar spent to fund a host of freeway and transit improvements, including funding to bring BART to downtown San Jose.
BART is already opening a South Fremont station this fall, and plans to open stations in Milpitas and northeastern San Jose by next year. But more funding is needed to complete a tunnel underneath downtown San Jose, where it would connect with San Jose State, Santa Clara University, Caltrain and rail lines to Stockton and Sacramento.
"Why is BART important? That's a lot of folks out of their cars onto BART cars — and completes the length of rapid rail around the entire Bay Area," said Carl Guardino, CEO of the Silicon Valley Leadership Group.
Other agencies are seeing past sales tax measures bear fruit. San Francisco voters in 2003 extended a half-cent sales tax, paving the way for the construction of the Central Subway. The first subway built in San Francisco since the 1970s, it will connect the Caltrain terminal near the ballpark to Market Street, Union Square and Chinatown.
But some commuters are hungry for more planning. San Francisco officials backed a plan by Wiener, the supervisor, to create a long-term policy for new citywide subway construction, and authorities have discussed lines on Geary Boulevard, down 19th Avenue as well as routes connecting to Fisherman's Wharf, the Sunset District, the South of Market area and southeast San Francisco.
City officials are also asking voters to pass Propositions J and K, which would increase the sales tax rate by three-quarters of a penny for every dollar spent and set aside about $100 million a year to pay for repairs, upgrades and infrastructure improvements to Muni.
And the Sonoma-Marin Area Rail Transit system, or SMART, expects to open up the first segment of a new passenger rail line by spring. It will cover a 43-mile route, running trains every half hour during peak hours, between Santa Rosa to San Rafael, with an extension to a stop near the Larkspur ferry terminal planned to open in 2018, where commuters can go on to San Francisco. That rail line is supported by a quarter-cent sales tax increase approved by voters in 2008.
ALSO
'It's almost like a death watch': Severely ill homeless people are at risk of dying on the streets of Hollywood
Records obtained by Times reveal boy was kept in closets for three years before his death
Coroner accidentally cremated wrong man as his family planned a funeral and viewing
---
The stories shaping California
Get up to speed with our Essential California newsletter, sent six days a week.
You may occasionally receive promotional content from the Los Angeles Times.