Metrolink unveils new locomotives that could help improve the region's air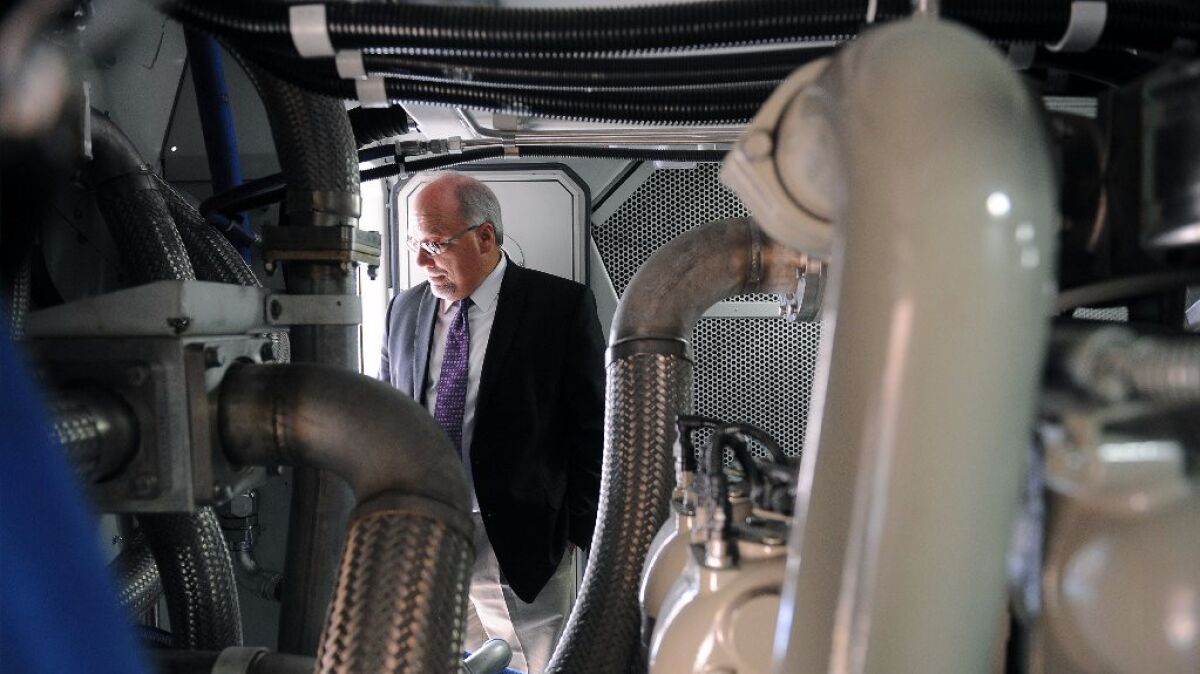 The Metrolink commuter railroad on Monday unveiled the first of 40 clean-air locomotives that will replace its aging fleet of diesel engines in an effort to reduce harmful exhaust emissions across the region.
The so-called Tier 4 locomotives, which cost about $280 million, are the cleanest available in the nation and designed to emit up to 85% less air pollution than the older engines Metrolink has had in service.
Rail officials also say the state-of-the-art vehicles, built by Electro-Motive Diesel in Illinois, are fuel efficient and have dramatically more horsepower than conventional engines, allowing trains to pull more cars.
"This is quite a piece of equipment," said Art Leahy, Metrolink's chief executive, during ceremonies at Union Station in downtown Los Angeles. "We will get more horsepower, less fuel consumption and lower emissions."
Metrolink, which has 512 miles of track and serves six Southern California counties, is the first passenger railroad in the country to put Tier 4 engines into service. Officials say three will go into operation this year. The rest will be phased in by 2018.
I'm hopeful that air quality will improve if the engines do what they say they will do.
— Grove Pashley of Northeast Los Angeles Residents for Clean Air
Equipped with catalytic converters and a fluid that filters exhaust, the engines are expected to slash emissions of nitrogen oxide and particulates well below the levels of older engines.
According to the South Coast Air Quality Management District, each locomotive will emit up to 12 fewer tons of nitrogen oxide a year while the reduction in particulates will be about a third of a ton.
Nitrogen oxide and particulates, which are minute pieces of exhaust, can penetrate deeply into the lungs and contribute to respiratory illness and aggravate heart disease.
Last year, the federal government required that rebuilt locomotives and new engines purchased by passenger and freight railroads must reduce nitrogen oxide emissions by 80% and particulates by 90%.
"Transitioning to cleaner fleets is vital to reaching our clean air goals," said Wayne Nastri, acting executive officer of the South Coast Air Quality Management District, which has committed $111 million to purchase the Tier 4 engines. "Metrolink riders and the entire region will benefit from this enhancement."
Concerns about air pollution from Metrolink engines and facilities have been raised by local residents, particularly in Elysian Valley, where the railroad's Central Maintenance Facility is located next to the Los Angeles River.
"I'm hopeful that air quality will improve if the engines do what they say they will do," said Grove Pashley of Northeast Los Angeles Residents for Clean Air, which has pushed for health studies of neighborhoods near the maintenance yard.
The locomotives also are part of broader program to improve customer service and rebuild ridership that has been lost since 2008.
It includes replacing faulty ticket vending machines, adding trains to the schedule, studying lower fares and reducing train delays caused by mechanical problems.
Rail officials say Tier 4 engines are necessary because the number of breakdowns in Metrolink's aging fleet has grown steadily for several years.
Many of the railroad's locomotives were built in the early 1990s and have traveled more than a million miles each. In addition, Metrolink has deferred costly overhauls, opting instead for reactive maintenance when mechanical problems arise.
In contrast, the new Tier 4s have up to 1,700 more horsepower, use up to 8% less fuel per mile, have longer service lives and are more reliable than rebuilt engines.
The added power will allow trains to climb grades faster and haul more passengers, which could ease crowding on the busiest Metrolink lines. In addition, the new engines are easier to repair because their modular components can be replaced quickly.
"Metrolink is the first passenger railroad in the nation to procure these locomotives. This is a great achievement," said Raymond Tellis, a Federal Transit Administration official in Los Angeles. "We hope other railroads in the nation will emulate this."
In addition to the commitment from the air quality management district, funding for the Tier 4 locomotives has come from the Federal Transit Administration, the California Department of Transportation, the California High Speed Rail Authority and transportation authorities in Los Angeles, Orange, Riverside, San Bernardino and Ventura counties.
Twitter: @LADeadline16
ALSO
Former top L.A. County attorney alleges misconduct by supervisors in new suit
Sewage spill in L.A. forces closure of beaches in Long Beach
Airbnb strikes deal with L.A. to collect millions in lodging taxes
---
The stories shaping California
Get up to speed with our Essential California newsletter, sent six days a week.
You may occasionally receive promotional content from the Los Angeles Times.