Two sport-utility vehicles are stuck in the mud while trying to make a U-turn across the median of northbound U.S. 101 in northern Santa Barbara County, where traffic came to a stop Wednesday morning after a tractor-trailer crashed just north of the Gaviota Pass tunnel. A winter storm settled over the Southland early Wednesday evening, closing Interstate 5 in the Grapevine area and beginning to soak the region's flatlands and valleys with an expected 2 inches of rain.
(Stephen Osman / Los Angeles Times)
A tractor-trailer carrying a load of auto parts on northbound U.S. 101 crashed through the guard rail and slid into rain-swollen Gaviota Creek in Santa Barbara County on Wednesday morning. The California Highway Patrol said the driver was not injured and no other vehicles were involved in the mishap north of the Gaviota Pass tunnel. But all northbound lanes were shut down for more than two hours as crews removed the wreckage.
(Stephen Osman / Los Angeles Times)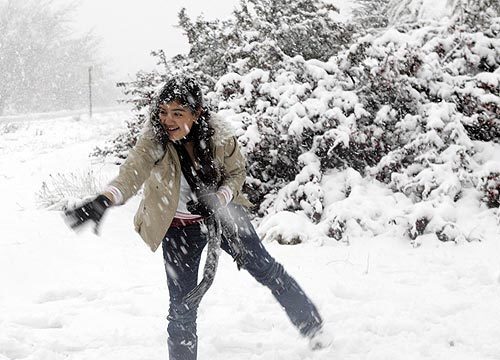 Susie Corona, 13, enjoys a snowball fight near Gorman. A winter storm watch was in effect Wednesday for most Southland mountains, where at least 2 feet of snow is expected before a cold, low-pressure system that moved in from the Central Coast tapers off early Thursday. As of Wednesday afternoon, at least 5 inches of snow had already fallen in the Grapevine area, and as much as 10 inches in Frazier Park, officials said.
(Lawrence K. Ho / Los Angeles Times)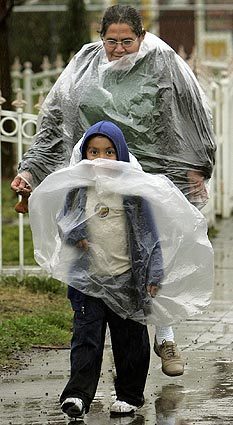 Ezequiel Molina, 5, and his grandmother, Zoila Molina, cover up with plastic to shield themselves from the rain Wednesday. "Things are definitely messy out there," says Jamie Meier, a National Weather Service meteorologist based in Oxnard. Flash-flood warnings were in effect in areas blackened by wildfires, as well as Beverly Hills, Hollywood and Long Beach, along with other coastal communities. Also threatened with flooding were Camarillo, Oxnard and Ventura.
(Mel Melcon / Los Angeles Times)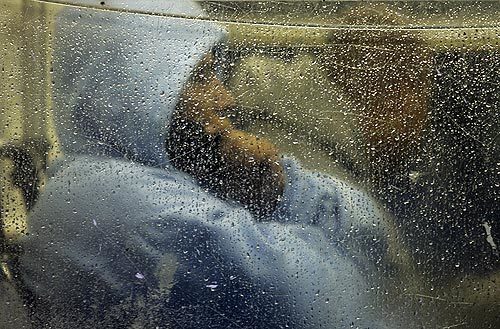 Raindrops obscure the view from a Metropolitan Transportation Authority bus in Los Angeles. The cold, low-pressure system that moved in Wednesday from the Central Coast largely spared downtown Los Angeles, where only a quarter-inch of rain had fallen by late afternoon. Up to 2 inches of rainfall, however, was expected in valleys and along the coast before the storm subsides early Thursday.
(Gary Friedman / Los Angeles Times)