Los Angeles Coliseum official was paid by rave firm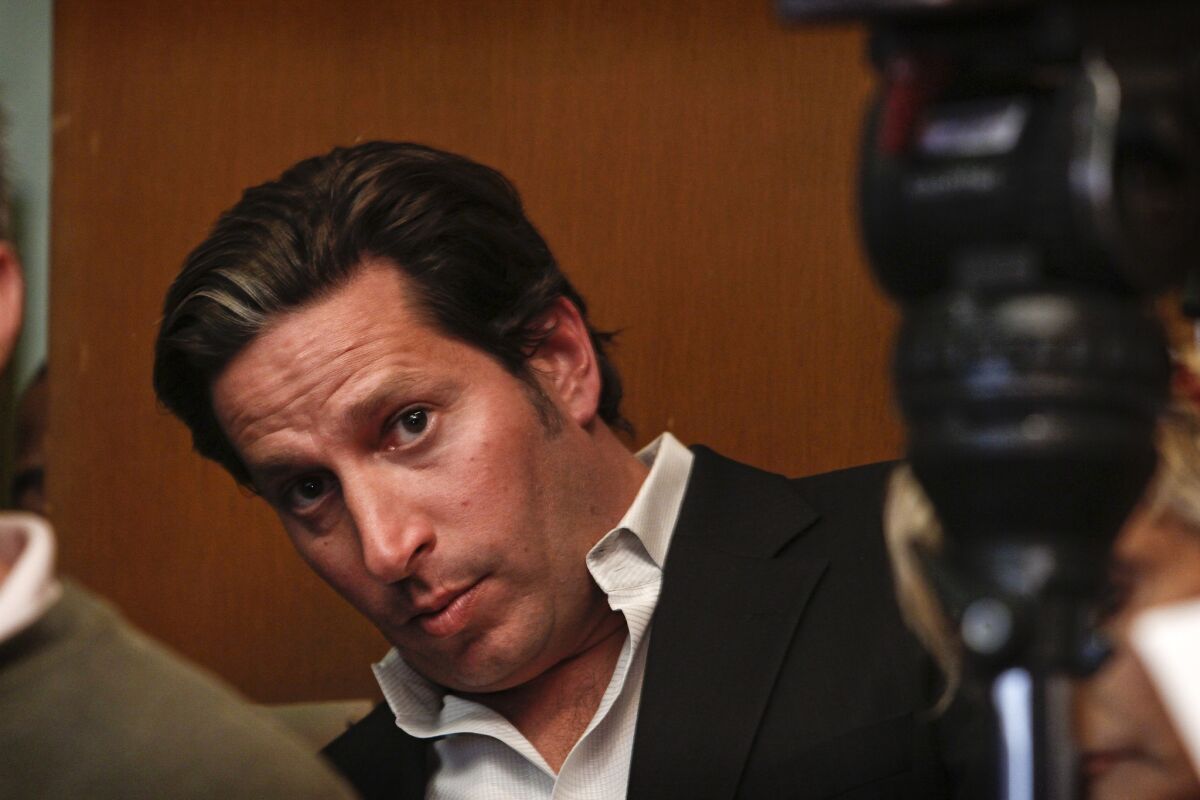 A top administrator for the Los Angeles Memorial Coliseum Commission helped plan and oversee security and emergency services for a huge rave, the 2010 Electric Daisy Carnival, at the same time he was a paid consultant to the company producing the event, which was marred by numerous drug overdoses and the death of a teenage girl.
Safety requirements for the annual rave were important to the company because it paid many of the security and first-aid costs. After 15-year-old Sasha Rodriguez died of an Ecstasy overdose, the Los Angeles Police Department said security arrangements were inadequate and drug use at the event was rampant.
Todd DeStefano, who was the commission's longtime assistant general manager for events, began working for the rave company, Insomniac Inc., about two months before the June concert, according to records and interviews. Commission General Manager Patrick Lynch approved the arrangement.
In an interview, DeStefano acknowledged his double employment, saying that he received payment through one of three companies that he has launched from his home since 2006. He declined to reveal the amount Insomniac paid him.
State law generally forbids managers such as DeStefano to participate in decisions affecting a company in which they or their immediate family members have a financial stake. Violations can result in civil or criminal penalties. DeStefano has not filed a financial disclosure required by the state that would show outside income.
DeStefano said his companies have not been engaged in any other business involving the Coliseum or the neighboring Los Angeles Sports Arena, which is also run by the commission. He said he did nothing wrong.
"There was no conflict of interest," he said.
LAPD Deputy Chief Pat Gannon said in an interview that more police and security officers should have been deployed at the rave.
He also said the commission did not provide mobile security cameras that it promised to install, citing a staffing shortage.
During the two-day event in 2010, about 120 people were taken to the hospital, mostly for drug intoxication. An independent review ordered by the commission found that several people were injured when a crowd overwhelmed security officers and stampeded the field, scaling two fences.
Lynch said commission and Insomniac representatives worked as a "team" in planning the event, leaving DeStefano no opportunity to unduly influence the agency's oversight of the company.
"We're all in it together," he said. "I'm in the meetings, the other guys are in the meetings, we're all in the meetings. There's no hidden ball here."
Asked if DeStefano represented both the commission and Insomniac in those meetings, Lynch responded: "I would assume so."
Lynch said he reduced DeStefano's salary and changed his title after he started with Insomniac, but DeStefano continued to work for the commission on the Electric Daisy preparations. Lynch said DeStefano might have taken part in closed-door meetings of the commission in which its dealings with Insomniac were privately discussed.
"I can't remember specifically," he said.
Lynch said he recently informed Commissioner David Israel of the situation and was told that DeStefano's ties to Insomniac were improper and that he should choose between the company and the agency. Israel confirmed Lynch's account.
"I was unhappy," said Israel, who became commission president last week.
DeStefano said he resigned from the commission staff in January to pursue a full-time career as an events promoter — including for Insomniac, which is seeking commission approval for another Electric Daisy. One reason he decided to leave, he said, was that events promotion promised "a much bigger upside" financially.
His total annual earnings from the commission last year were about $93,000, according to the city controller's office. That was after DeStefano's $60,000 salary cut, Lynch said.
In an e-mail to the commissioners, Lynch lamented DeStefano's departure, describing him as "my go to guy for events and revenue generation."
Raves have become a major revenue source for the commission, a joint authority of the state and the city and county of Los Angeles. Last year's Electric Daisy was the biggest, drawing 185,000 people over the two days.
Lynch said receipts from the rave put the commission in the black for fiscal 2009-10, although the agency showed a deficit after depreciation costs. In addition to his roughly $150,000 salary, Lynch said, he received a $125,000 bonus last November for helping the commission reach its revenue goals.
Lynch said he approved DeStefano's employment by Insomniac after consulting Donovan Main, the commission's attorney.
"I gave him the broad strokes of what it was all about … and he said it was OK," Lynch said.
Main did not return telephone calls seeking comment.
As assistant general manager, DeStefano was required to file the disclosure forms that would have reported his income from Insomniac. But, he said, "I've never actually seen one."
Commission documents reviewed by The Times state that he was advised in writing and verbally in 2008 and 2009 that he needed to file the Statement of Economic Interests.
Under rules enforced by the California Fair Political Practices Commission, officials must file if they make or contribute to government decisions that could affect their personal financial interests. Failure to file can result in fines of up to $5,000 per violation.
One of the companies that DeStefano founded since September 2006 is LAC Events Inc., which has a mail-drop address at a UPS store near the Coliseum. Asked if the acronym referred to the Coliseum, DeStefano did not respond.
He said all of his other side work in promotion was for out-of-town productions. He did not elaborate.
DeStefano's other companies are Private Event Management and Private Event Showcase. He said he started them to rent his home out for weddings in addition to promotion work.
LAC Events was the lender for a $350,000 mortgage on a Pasadena home that DeStefano and his wife bought for about $1.7 million in 2009, county property records show. DeStefano said his accountant advised him to get the mortgage through his own company. He said his wife's finances enabled the couple to buy the house.
He said the founder of Insomniac, Pasquale Rotella, approached him last spring about working for the firm.
"Pasquale came to me and said, 'This thing is going to be so big, I would love to have someone like you help me promote the front end of it,' " DeStefano said.
Rotella did not respond to an interview request.
DeStefano said his duties for Insomniac included arranging for security fencing, setting up stages and other operational chores beginning last April. As a commission manager, DeStefano was responsible for working with police and fire officials to help ensure that enough law enforcement and medical staff were at the Coliseum, according to the independent review.
Police made 118 arrests at the June rave, mostly for drug possession.
Gannon, who runs the LAPD's South Bureau, said he clashed with DeStefano over security planning for the event. He said DeStefano had promised to install 25 mobile cameras at a cost of $40,000 to help police monitor the crowd.
DeStefano reneged the day before the rave, Gannon said.
"He told me we didn't have the manpower to complete the installation," the deputy chief said.
DeStefano did not return a telephone call Tuesday about the cameras, but Lynch acknowledged that the commission failed to install them because of staffing and technical difficulties. He said the LAPD "never stressed to us that this was vitally or critically important."
Gannon and Lynch disagreed about the number of off-duty LAPD officers assigned to the rave at Insomniac's expense. The deputy chief said there were about 75 each night inside the Coliseum. Lynch placed the total at 85.
The stories shaping California
Get up to speed with our Essential California newsletter, sent six days a week.
You may occasionally receive promotional content from the Los Angeles Times.