Intersection near L.A. library named for Ray Bradbury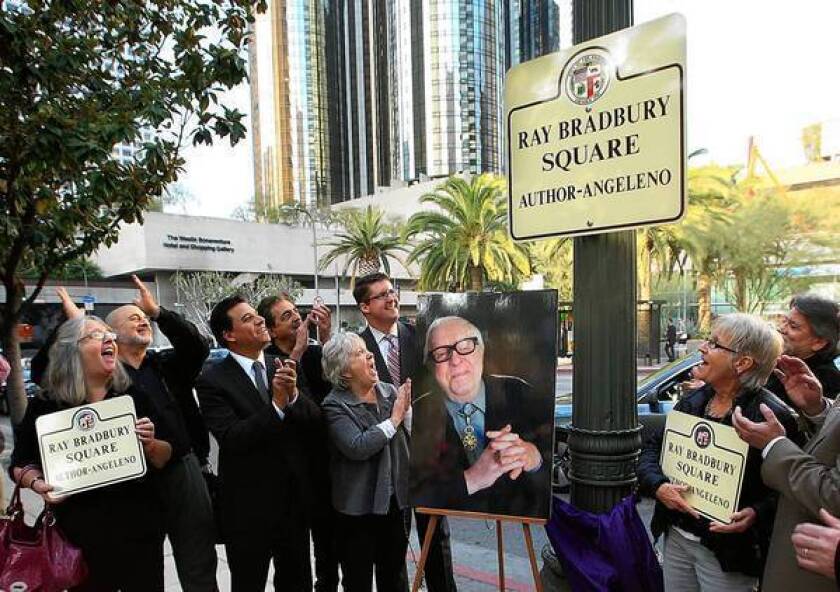 The intersection of 5th and Flower streets in downtown Los Angeles was designated Ray Bradbury Square by city officials Thursday.
But a better description might be "the intersection of imagination and inspiration," author and producer Steven Paul Leiva told fans of the noted writer who died in June at age 91.
The location, near the front entrance to the Central Library, is a fitting place to honor the author of "The Illustrated Man" and "The Martian Chronicles" because Bradbury was a lifelong supporter of libraries and wrote his early short stories and novels on library typewriters that were available to the public.
"Bradbury couldn't afford to go to college so he went to the public library instead," city Librarian John Szabo told a crowd of more than 100 on hand for the unveiling of the intersection's new signs. "He said he graduated at age 28 from the library."
Said one of Bradbury's daughters, Sue Bradbury Nixon:
"My father would say that the library was his university. He would lecture at libraries for free. He was concerned that without everyone's support libraries would close."
Bradbury's writing career began at age 12 when he met a carnival magician called Mr. Electrico, who touched him with his "electric sword" and caused his hair to stand on in end, which he later described as an epiphany.
"I knew something special had happened in my life," Bradbury would explain.
Those honoring Bradbury on Thursday recalled his poetically spun fantasy and horror tales, some of which reflected his fear that technology was causing humans to lose touch with their souls.
The theme of his 1953 bestseller "Fahrenheit 451," in which a totalitarian government destroys books, was not censorship but how technology such as television was deterring people from reading, he said.
Perhaps because of that fear, Bradbury pounded out his 1,000-word-a-day writing regimen on a typewriter instead of a computer and was reluctant to have his work published as e-books.
Nonetheless, he remained a futurist to the end. Actor Joe Mantegna, who had a role in the 1998 movie "The Wonderful Ice Cream Suit" — based on Bradbury's 1957 short story called "The Magic White Suit" — told the crowd that the author's dream was to have his ashes "put in a Campbell's soup can and sent to Mars."
"He was a science fiction writer who admitted he knew no science," said another friend, fellow science fiction author David Brin. "He couldn't solve an algebra problem. He'd say 'I don't write science fiction. I write fantasy.' But nothing made him happier than sitting next to Walter Cronkite during the moon landing."
Brin joked that Bradbury "nodded" in recognition to City Councilman Jose Huizar, who represents the downtown area, when a gust of wind knocked a large color portrait of him off an easel. It was caught by author Sam Weller, who wrote a 2005 biography of Bradbury.
He said a Fire Department ambulance's siren "saluted" Bradbury as it screamed down Flower Street, momentarily drowning out City Councilman Paul Koretz as he spoke to the crowd.
Although Bradbury was born in Waukegan, Ill., and his family didn't move to Los Angeles until he was 14, the new Ray Bradbury Square signs succinctly describe him as "Author-Angeleno."
---
For reporting and exclusive analysis from bureau chief John Myers, get our California Politics newsletter.
You may occasionally receive promotional content from the Los Angeles Times.