Former councilman seeks to drop charges against ex-lover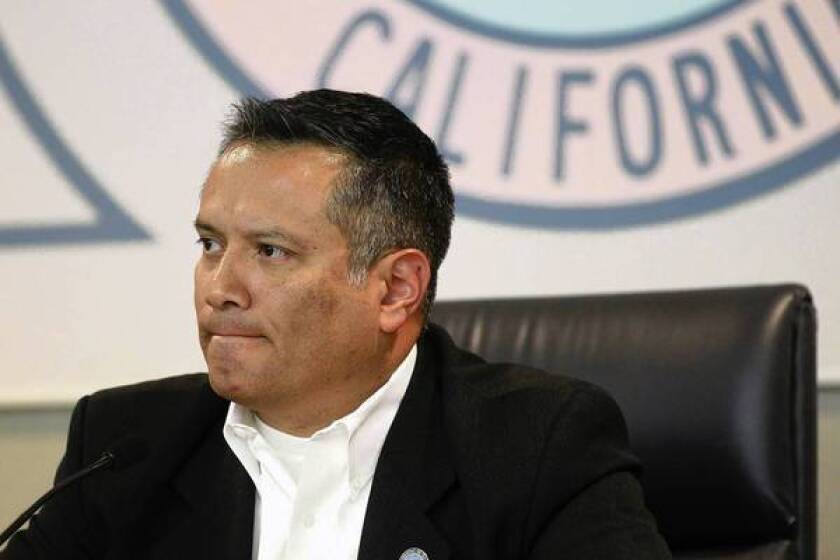 Former San Fernando Councilman Mario Hernandez, who resigned his post after his affair with Councilwoman Maribel de la Torre turned acrimonious last month, asked the district attorney's office Monday to drop charges of battery and vandalism against his ex-lover. Prosecutors, however, say they will continue to pursue the case.
It is the latest turn in a tempestuous relationship first revealed by Hernandez in November when he announced at a City Council meeting that he and De la Torre were having an affair. He made the announcement while his wife was sitting in the front row of the audience at the council meeting. Since then, Hernandez and De la Torre — along with Mayor Brenda Esqueda — have become the target of a recall effort.
Hernandez called police about De la Torre's alleged violence in a June 28 incident; each then labeled the other the aggressor and got competing restraining orders.
The Los Angeles County district attorney's office said that whether De la Torre continues to face charges will be a decision for prosecutors based on evidence. Spokeswoman Sandi Gibbons said the office will pursue a case of domestic violence in which a victim stops cooperating if there is evidence to prove an assault.
De La Torre was charged Friday with vandalism — for allegedly destroying Hernandez's laptop computer and a picture frame — and battery after allegedly attempting to strangle Hernandez.
Hernandez said he believes police pursued the case out of bias. He sent The Times several examples of Facebook postings by Sgt. Kevin Glasgow in which he allegedly liked stories about the recall effort.
"When you have the investigating officer posting comments on Facebook that clearly relate to the councilwoman, mayor and myself ... he is no longer impartial," Hernandez said.
Robert Wexler, an attorney for San Fernando Police Officers Assn., said that Hernandez is falsely accusing officers of showing bias and that officers followed procedure.
"The facts remain indisputable. Former Councilman Hernandez called police on the night of the incident, made a report of the incident, sought law enforcement assistance following the incident and showed signs of injury as a result of the alleged crime."
For months, Hernandez, De La Torre and Esqueda have feuded with the police officers' association, which has backed the recall. On Monday evening, the council voted unanimously to place the recall vote on the Nov. 6 general election ballot.
---
The stories shaping California
Get up to speed with our Essential California newsletter, sent six days a week.
You may occasionally receive promotional content from the Los Angeles Times.