San Marcos blankets are objects of affection among Latinos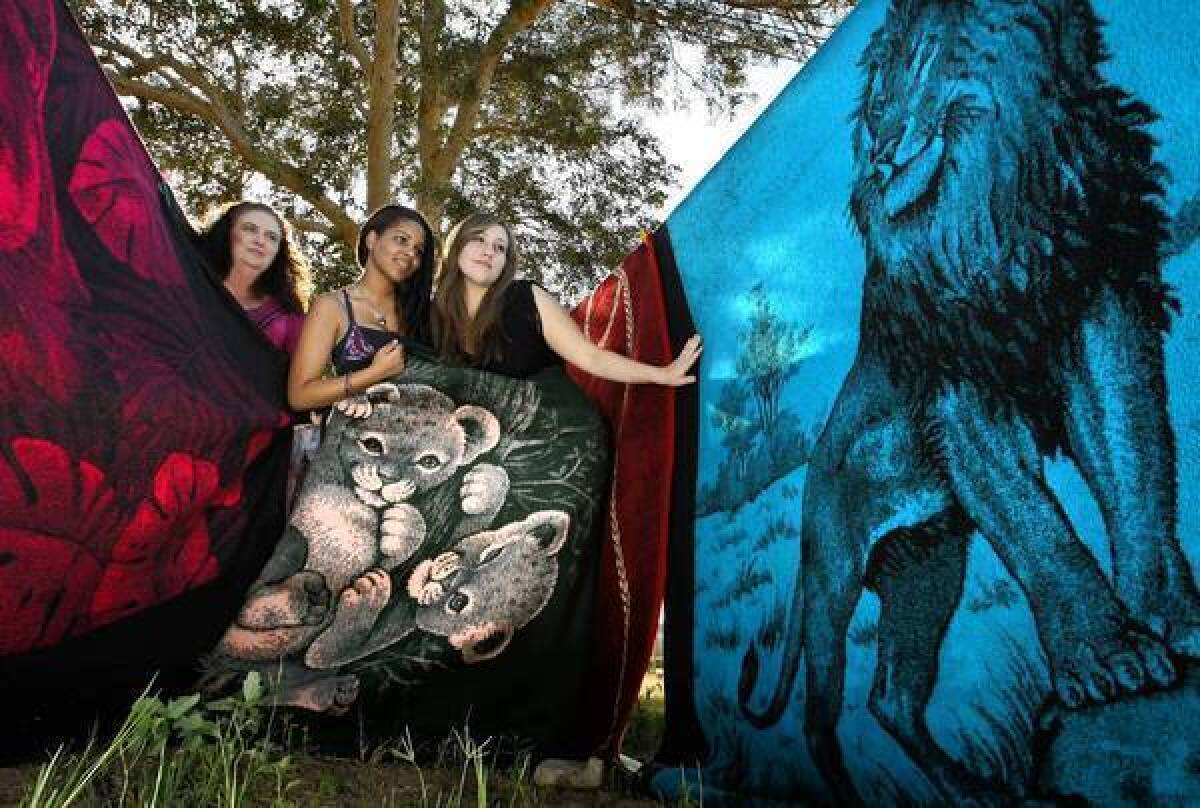 They once were hawked on street corners, displayed like the finest artwork with their images of Aztec warriors, Virgin Marys, lions, pandas and unicorns.
Laura Genao saw them growing up but never pictured herself owning one.
"Too tacky," she thought.
Years later, her mother slyly left one on her couch: a blanket with a giant tiger woven in shades of gray, black and white.
It was then Genao learned what most Latinos in Los Angeles come to understand as children: Love it or hate it, chances are you're going to forge a bond with a San Marcos.
The thick, plush Mexican blankets with designs of everything under the sun, including the San Francisco 49ers logo, Strawberry Shortcake, peacocks and geishas, have kept Latinos warm for nearly 40 years.
They're so popular they double as bedspreads, sofa slipcovers, car seat covers, wall art, curtains, rugs and even ponchos. They're a gift often given for Christmas, birthdays and baby showers. When a grown child is ready to leave home, a San Marcos usually goes along.
Genao got her tiger soon after she graduated from law school. Her mother considered it an upgrade from thick, plaid Mexican blankets and something more suitable for a professional.
The attorney resisted for a few weeks, but then decided to give the blanket a try.
"It was the warmest, most comforting thing in the world," Genao, 42, said. "It reminded me of family and of my mom."
When she wrote about the experience on her blog, responses flooded in. People across the country — in Texas, Illinois, Missouri — wrote in to boast and reminisce about their own San Marcoses.
In my family it's a must that we all have our own cobija San Marcos. When I moved to the US, that was the first thing I packed.
My old wolf San Marcos is threadbare after 30 years. ...
That blanket has gone everywhere with me in life. If it could talk!
The famous Mexican cobija, or blanket, is often a running joke among the thousands who own them, a likely contender for any list of Top 10 Things Latinos Love.
"It's like a black velvet Elvis," said Rafael Cardenas of East L.A., who's accumulated four blankets of his own. "It's so cheesy, but you're proud of it, you're nostalgic over it because it's your culture.
"If you sit at a table with any Mexican anywhere and say, 'Hey, remember the San Marcos blankets?,' they'll know exactly what you're talking about."
Tributes to what's been called the original Snuggie abound online: on Facebook, YouTube, blogs and forums.
In 2003, urbandictionary.com added the San Marcos to its list of streetwise lingo. Definition: Pimpin' warm blankets from Mexico. As in: "Hey vato, bring the San Marcos to the carne asada in Delano mañana."
Onantzin, a Latino website, recently poked fun at the blanket's notorious warmth, posting this bogus alert:
A warning has gone out to Hispanic parents cautioning them not to excessively layer their kids with thick San Marcos blankets after a teen that was covered with four such blankets suffocated to death this weekend.... Hispanic families nationwide are shocked by the news.
First produced in 1976, the San Marcos ceased production in 2004. That only made Latinos want them more.
Paula Valenzuela remembers seeing the vivid designs as a young girl in Florida. Fieldworkers toiling in her grandfather's fruit groves brought them in from Mexico.
"I remember asking my mom over and over for one, but she had no clue where to find them," said Valenzuela, who is white and now married to a Mexican.
When she moved to the border town of El Centro five years ago, her Mexican neighbors helped her find several blankets for her family. They taught her how to spot the real ones: They were sturdier, didn't shed and came with a San Marcos tag.
"I wanted more and more," the 46-year-old said. "Every available minute I had, I spent looking for blankets, begging people to sell me theirs."
She went to swap meets and yard sales across Southern California and Arizona. Other people searched on her behalf too.
By 2010, Valenzuela had collected almost 400 San Marcoses — designed with horses, kittens, cheetahs and all kinds of flowers.
She kept them stored in a trailer until her husband threatened to call the "Hoarders" television show.
She turned to the Internet and saw scores of requests from Latinos:
Seriously inquirer, please, I've been looking for San Marcos blankets forever.
Anyone know where I can buy one in metro Atlanta or on the web?
If you should get your hands on one, then cherish it because once they're gone, they're gone.
Today, Valenzuela has only about a dozen left. She sold the rest, new and used, through Facebook, collecting $40 to $120 each.
Francisco Rivera let out a hearty laugh when he recently heard about Valenzuela. He wasn't at all surprised.
His brother, Jesus Rivera Franco, created the San Marcos 36 years ago. The son of a sombrero-maker was a tiny man with snow-white hair and a large belly by the time he died in 2009 at age 91.
He started making serapes at age 12 in Aguascalientes, in central Mexico. Rivera said. At 20, Jesus and his family opened their own business making scarfs, shawls and blankets — striped colorful ones popular in the 1930s. He eventually opened his own factory.
In the mid-1970s, he began to look for ways to create a new kind of blanket.
"His dream was to come up with one that would last, that every Mexican would love," Rivera, 73, said.
He found it during a trip to Spain: a warm but not too heavy cover made of acrylic with a thick border and images repeated on both sides in reverse colors.
Jesus returned to Mexico determined to reproduce it. It took about five months and more than 2,000 tries. He called the blanket the San Marcos, after his neighborhood in Aguascalientes.
As soon as it hit the market in Mexico, it was a success. "Everybody wanted one," Rivera said.
Soon, Jesus' workers were producing 300,000 a month — in twin, queen and king sizes, as well as a crib version. Buyers gathered at high-end hotels in Mexico City to see Jesus' latest designs, created by artists in Spain. The first ones sold for as little as $8.
His success changed the face of Aguascalientes. Jesus eventually had six factories, employing more than 8,000 people. He built shopping centers, office plazas, housing developments, a school and a convent. A road on the south end of town bears his name.
Mexicans living in the U.S. swooped into Tijuana to buy his blankets in bulk.
"One morning, we delivered a huge truckload with at least 5,000 blankets," Rivera said. "By the afternoon, they were gone."
Jesus began distribution in L.A. Soon, his blankets were being peddled for $20 or $30 in the streets, at swap meets and wholesale warehouses. Women, eager to make money, sold San Marcos blankets as if they were Avon or Tupperware.
"When I'd go to Sears with my mom and we didn't see them," comedian Felipe Esparza said, "I would think, 'Damn, this store is cheap. How can they not carry San Marcos cobijas?'"
Josefina Lopez, a playwright, grew up without heat in Boyle Heights and counted on two San Marcoses to keep her warm. Her parents didn't often say "I love you," she said, but showed affection by keeping their eight children warm with plenty of the blankets.
"It was their gesture of love to us," she said. "Each time they traveled to Mexico, they would come back with pumpkin seeds and blankets."
In 1993, Jesus sold his business to a company in Monterrey, Mexico. Sales were good for a few years, but then knock-offs from Asia — Koreanas, as they're known among Latinos — began to flood the market.
The company in Monterrey struggled and in 2004, after six years of poor sales, stopped producing the famous blanket. Mexican newspapers announced its demise: Goodbye, San Marcos blankets. The tradition of the San Marcos blankets has come to an end.
Across L.A. today, fuzzy, colorful imitations are sold at swap meets and by wholesale dealers. Many Latinos who buy them have no clue they're knock-offs. Others know that a fake is as close as they'll ever get to owning one.
Lucia Torres, 32, of Highland Park still has an original blue-and-black San Marcos she got when she turned 10. It's worn, falling apart at the edges, but it never leaves her bed. It reminds her of lazy, rainy mornings when her mother was in the kitchen humming songs and making tortillas.
"Now that I'm older, I have so much to deal with," said Torres, a project manager for a nonprofit. "But at the end of the day I know I can always go home, crawl into bed and throw my blanket over my head."
Sign up for Essential California for news, features and recommendations from the L.A. Times and beyond in your inbox six days a week.
You may occasionally receive promotional content from the Los Angeles Times.