Shuttle Endeavour's final flight itinerary revealed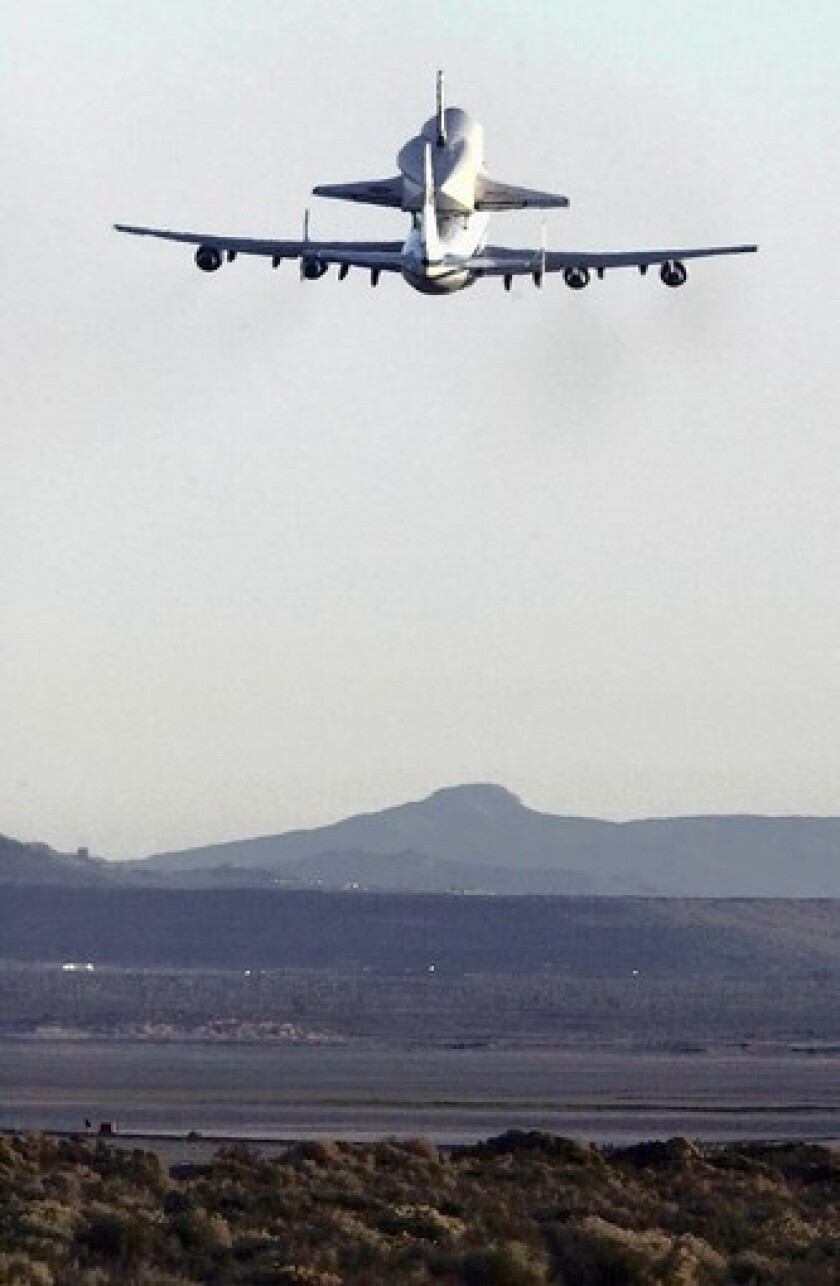 Before the space shuttle Endeavour glides into retirement at the California Science Center, the spacecraft will take one last spin in the air, flying over a good chunk of California.
NASA released new details Friday of low-level photo-op flyovers Endeavour will make before its scheduled Sept. 20 landing at Los Angeles International Airport.
That morning, Endeavour will leave Edwards Air Force Base atop its 747 transport aircraft and head north to the Bay Area.
There, the shuttle will fly as low as 1,500 feet near NASA's Ames Research Center at Moffett Field and unspecified landmarks in multiple cities, including San Francisco and Sacramento.
It will then head back south, where Endeavour is expected to perform one last victory lap across the Los Angeles Basin. Details are still to come and are highly dependent on weather.
The route of photo-ops is in keeping with the final flights taken by the shuttle Enterprise, which flew by the Statue of Liberty on its way to a New York City museum, and the shuttle Discovery, which buzzed monuments in Washington, D.C., before landing at a Smithsonian annex at Dulles International Airport.
On its trip from Kennedy Space Center, Endeavour will also do fly-bys of NASA facilities that played big roles during the 30-year shuttle program.
Endeavour will leave Kennedy Space Center at sunrise Sept. 17, flying over Florida's Space Coast and then over NASA's Stennis Space Center near Bay St. Louis, Miss., and its Michoud Assembly Facility in New Orleans.
It will then fly over Houston, Clear Lake and Galveston in Texas before landing at Ellington Field near NASA's Johnson Space Center.
On Sept. 19 the shuttle will head to Biggs Army Airfield in El Paso for refueling and conduct low-level flyovers of White Sands Test Facility near Las Cruces, N.M.
About midday, Endeavour is expected to touch down at NASA's Dryden Flight Research Center at Edwards air base in the Mojave Desert, where it sometimes landed on its own after space missions.
---
The perils of parenting through a pandemic
What's going on with school? What do kids need? Get 8 to 3, a newsletter dedicated to the questions that keep California families up at night.
You may occasionally receive promotional content from the Los Angeles Times.