Rowland Heights physician charged with murder pleads not guilty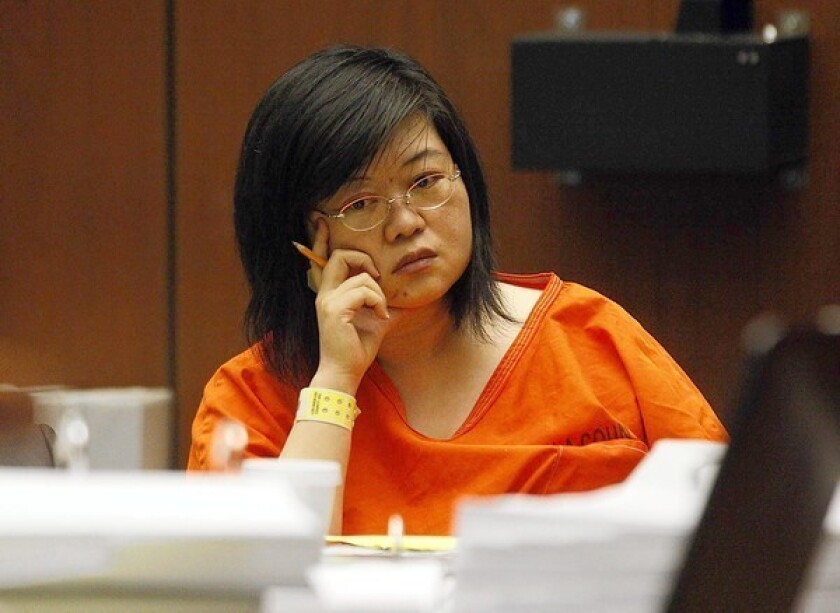 A Rowland Heights doctor charged with murder in the overdose deaths of three patients pleaded not guilty Friday.
Hsiu-Ying "Lisa" Tseng, 42, wearing a blue jumpsuit and her hair pulled into a ponytail, was silent throughout her brief arraignment in Los Angeles County Superior Court. Before the hearing began, Tseng met with several new attorneys handling her defense.
Tseng is charged with second-degree murder in the deaths of three men and is accused of recklessly prescribing addictive drugs to patients who had no medical need for them. She is the first doctor accused of murder by the Los Angeles County district attorney's office over the prescribing of drugs.
In June, Superior Court Judge M.L. Villar de Longoria ordered Tseng to stand trial for murder, saying the evidence suggested that the doctor may have "improperly used her prescription pad to cause irreparable harm." Tseng's three-week preliminary hearing included more than 40 prosecution witnesses.
Tseng is charged in connection with the deaths of Joey Rovero, 21, an Arizona State University student who died in San Ramon, Calif.; Vu Nguyen, 28, of Lake Forest; and Steven Ogle, 24, of Palm Desert.
Tseng has been in custody since she was arrested March 1. She is being held at the Century Regional Detention Facility in Lynwood in lieu of $3-million bail.
Tracy Green, a Los Angeles attorney who recently began representing Tseng, said she is "extremely confident" her client will be acquitted.
"This isn't a murder case," Green said. "In America, we believe in personal responsibility.... When [Tseng] prescribed these medications to the three patients at issue, they … had their own agenda, which was to seek drugs."
Tseng is expected to appear in court Oct. 11 for a pre-trial hearing.
---
The stories shaping California
Get up to speed with our Essential California newsletter, sent six days a week.
You may occasionally receive promotional content from the Los Angeles Times.