Litter by litter, he cleans up the area (and loses weight too)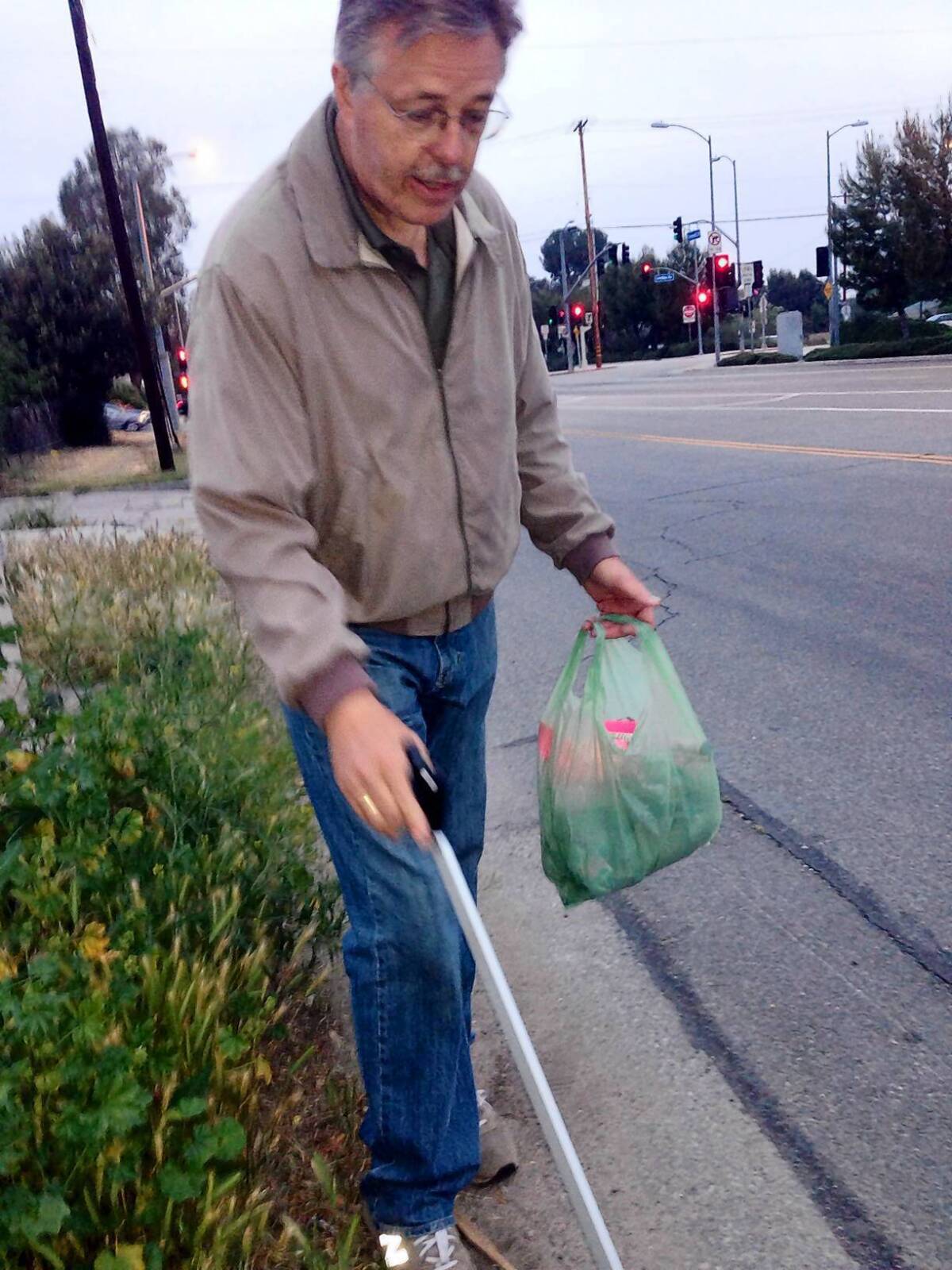 In the beginning, it was about losing a few pounds. Hans Svanoe, 64, would leave his house in Encino at 5:30 a.m. and walk for an hour before driving over the hill to Century City, where he works as a butler.
A what?
"A corporate executive butler," said Svanoe, who caters to the domestic needs of media mogul Haim Saban and his business partner, Adam Chesnoff, when they're at the office.
Before that, the Norwegian-born Svanoe was a domestic for Milton Berle, who once responded to a Svanoe quip by saying: "I'll tell the jokes around here."
His current job isn't terribly taxing, said Svanoe. "I twiddle my thumbs, serve coffee and twiddle my thumbs again."
He started the walking routine three months ago.
"That's when I saw the trash, and I thought, 'Why not pick up trash when I'm out here?'"
And so he did, quickly discovering that whether he scoured White Oak Avenue or Oxnard Street along the Orange Line busway, he always hit the junk jackpot. Six days a week, he stuffed two shopping bags and sometimes more, and he noticed something at least as irritating as the fact that so many slobs are out there.
"The trash cans at the bus stops are overflowing and hardly ever emptied. I have written twice to the MTA, but they are not following my advice to empty the cans at least once a week," he said in an email. "When I arrive at the Reseda station, it takes me 15 minutes just to clean up the station due to no more room in the public trash can."
On Friday morning, I met Svanoe at 5:30 to join him on his rounds. He handed me a spare trash-grabbing device and two shopping bags, and we headed west along the busway on Oxnard before the sun bothered to show up.
Svanoe's eye is sharp, even in the dark, and he began grabbing trash of all sizes and varieties with his long-handled tweezers. Candy wrappers, tissues, paper cups.
My first score was a two-quart plastic bowl, which sat in the middle of the bike path that runs alongside the busway. Two feet away from it was a metal fork.
By the time we got to Reseda, each of us had filled a shopping bag, even though Svanoe had picked the area clean just two days earlier.
We found fliers, business cards, plastic straws, paper cups, Styrofoam cups, paper plates, plastic bottles, a Skittles wrapper, take-out containers, paper bags, plastic bags, newspapers, a Marlboro pack and dozens of cigarette butts.
No used condoms, which Svanoe has found before. And no dog poop in plastic bags.
"People will pick up after their dog and toss it into the bushes," said Svanoe. "People just throw things out of their cars, with no respect for anything. They have no pride."
At the Reseda station, where Svanoe found an empty shoe box and I found a dirty T-shirt, we came upon the trash can he'd complained about. In the past, someone had placed a sawhorse over it to keep the overflowing trash from blowing around, but the bin had been emptied in the past day or two. Svanoe had no idea whether his emails to MTA did the trick. He said he hadn't been able to find out whether the can was the responsibility of MTA or the city.
Several feet away from the can, a handful of people sat on benches with litter at their feet, waiting for the bus as they watched us work. Svanoe took hold of an abandoned shopping cart and pushed it against a pole on the corner.
"I can't do the whole world," he said when I pointed out that there appeared to be more trash on the other side of Oxnard Street than on the side we had just cleaned. "That's out of my jurisdiction."
Svanoe and I were thanked by two bikers and a jogger, as he said we would be. "I get honks from bus drivers," he added.
But he shouldn't have had to take on this task, I told him. The city's incompetence at managing the budget and providing basic services isn't his fault. Nor should taxpayers have to volunteer to maintain police station landscaping or be required to pay the cost of repairing sidewalks ruptured by trees the city has neglected, two subjects I've written about lately.
Svanoe agreed, and he later took me to a spot on White Oak Avenue where a trash can has been overflowing for weeks near a median strip that hasn't been properly cared for in years. You can't blame city officials for all the litterbugs out there, but it doesn't help when the city's trash cans are so full that people have no place to throw their junk.
"I feel like I'm doing something useful, and it makes this a beautiful place for me to take a walk," he said as we headed back toward his house under a brightening sky.
Between us, we had filled four bags in just over an hour, and Svanoe said he's lost three pounds since he became a volunteer sanitation engineer.
"There are three kinds of people in the world," he told me.
"The people who throw trash. The people who complain about it. And the people who do something about it."
Sign up for Essential California for news, features and recommendations from the L.A. Times and beyond in your inbox six days a week.
You may occasionally receive promotional content from the Los Angeles Times.