Federal probe of L.A. County jails expected to wrap up this year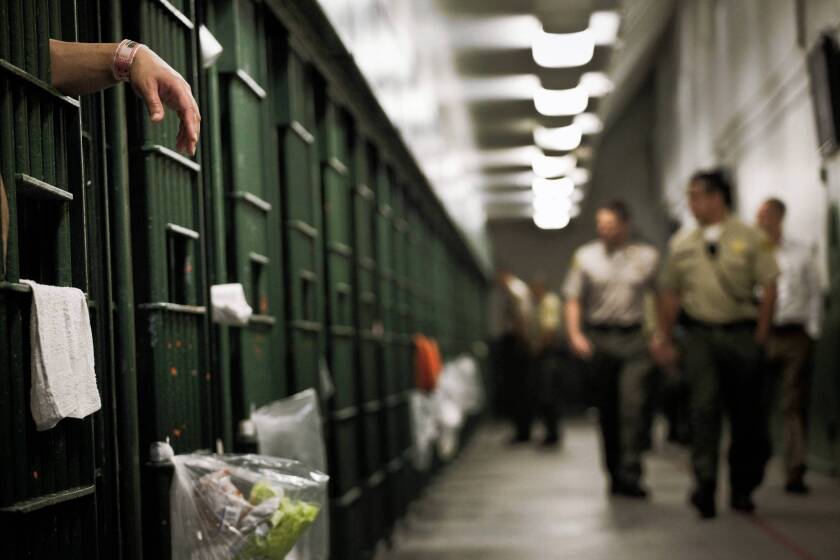 The federal investigation into allegations that Los Angeles County sheriff's deputies abused inmates is expected to conclude within the next five months, according to U.S. Atty. Andre Birotte Jr., who is overseeing the probe.
"My sense is the investigation, one way or the other, will culminate certainly before the end of this year," Birotte said during an interview with The Times' editorial board last week.
The FBI has been investigating the sheriff's jail system — the largest in the nation — since at least 2011. Sheriff Lee Baca told The Times he has been assured he's not a target; but he, his spokesman and many of his top commanders have been interviewed. Federal authorities have also interviewed inmates and lower-level jailers, and have subpoenaed extensive internal records.
Sources familiar with the investigation have said that at least two federal grand juries have taken testimony. Legal experts say that allegations of abuse, if substantiated by investigators, could result in charges against the deputies involved and possibly their direct superiors if, for example, they played a role in covering it up.
Federal authorities also have been investigating whether sheriff's officials purposely hid an inmate from the FBI after they discovered he was secretly working as a federal informant and collecting information on allegedly abusive and corrupt deputies.
In that case, The Times reported that sheriff's officials launched an operation called Pandora's Box, in which they moved the inmate — a convicted bank robber — to a different jail under fake names, including Robin Banks. Baca's spokesman has said the inmate was moved not to hide him from the FBI but to protect him from deputies because he was "snitching" on them.
Deputies involved in the operation have said otherwise and pointed to Baca and his top aide at the time, Paul Tanaka, as being involved.
When that inmate informant was first discovered, Baca publicly blasted the FBI and defended his jails. But he's since agreed to a sweeping set of reforms aimed at preventing abuse and improving accountability.
So far, only one deputy has been convicted in connection with the federal probe: a jailer who admitted to taking a bribe to smuggle the inmate informant a cellphone.
Interviews with people with knowledge of the probe, however, have revealed that the federal scrutiny of the Sheriff's Department has extended beyond the jails to deputy cliques and allegations of corruption. One deputy said he wore a wire for the FBI to secretly record a department supervisor over allegations of improper fundraising.
Federal authorities have generally remained tight-lipped or vague about what they're looking at and about what kind of indictments — if any — they expect.
Last week, Birotte said, "There's a lot of information. It's a big investigation. I'm very big on the notion that you dot your I's and cross your Ts."
He said he's been getting briefed on the probe every couple of months and is urging his people to be thorough so the end result will stand up to scrutiny.
---
The perils of parenting through a pandemic
What's going on with school? What do kids need? Get 8 to 3, a newsletter dedicated to the questions that keep California families up at night.
You may occasionally receive promotional content from the Los Angeles Times.