New breakdowns reported in LAFD's 911 computer systems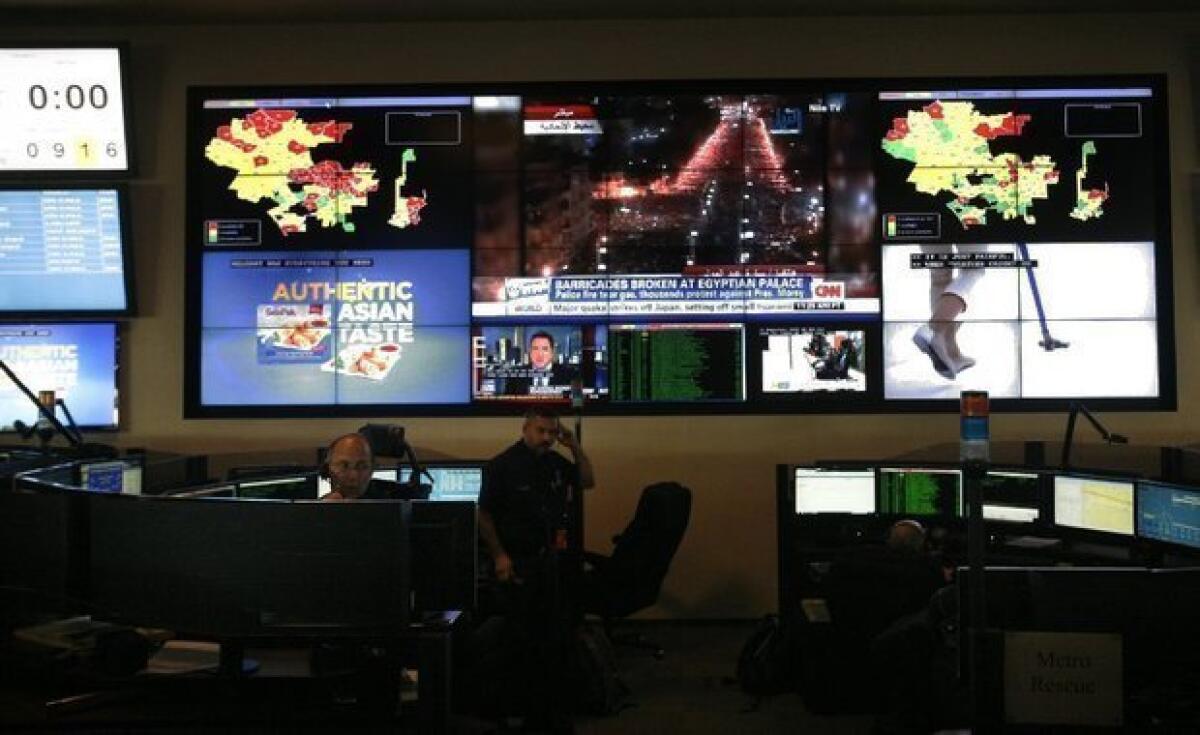 The computer systems that connect 911 callers to Los Angeles Fire Department rescuers broke down repeatedly last month, complicating and delaying emergency responses and prompting renewed calls to fix the agency's faulty technology.
Key parts of the decades-old system that the LAFD relies on to log emergency calls and automatically dispatch rescuers failed five times in July, according to city officials.
Together, the outages totaled more than 12 hours of disruption in normal operations and forced dispatchers to use radios to dispatch rescuers and manually track the availability and location of fire units, sometimes using golf tees and pegboards.
The problems delayed a small number of calls for several minutes, fire officials said. They said they knew of no "adverse" outcomes, but a full investigation of the effects of the outages hasn't been conducted.
Last year, a Times review linked similar breakdowns with slow responses to four serious emergencies, including a South Los Angeles structure fire in which two people died.
This week, officials blamed four of the outages, which began July 5, on a computer software error in the database at the heart of the agency's 911 call center. A fifth crash caused malfunctions in the alarm system that alerts rescuers at the fire department's 106 stations. The software bug has been corrected, they said, but the possibility of future crashes remains.
"Confidence is one of those things. You feel confident until something happens and you say, 'Oh boy,'" Ted Ross, a top official at the city's technology agency, recently told a City Council committee. "We're taking proactive steps to prevent this from happening in the future."
The recurring problems underscore a challenge faced by new Mayor Eric Garcetti, who has listed an upgrade to the LAFD's technology as a key priority. Members of the city Fire Commission, the county's Civil Grand Jury and the City Council have also called for a sweeping overhaul of the department's computer systems.
"Our general dispatch system, both in the human architecture, the technological architecture and the systems themselves, needs a serious upgrade," Garcetti said in an interview last week.
The outgoing commander of the LAFD's dispatch center has said the 911 computer system crashes are preventing the department from safely making cost-cutting changes. Last year, Fire Chief Brian Cummings proposed saving more than $3 million each year by switching dispatchers to eight-hour workdays and reducing the number of dispatchers standing by at the call center in downtown Los Angeles.
LAFD dispatchers are full-fledged firefighters who work 24-hour shifts about 10 days a month. While on the clock they take turns answering phones, training and sleeping. The work schedule means that in the event of a system crash or major emergency, 26 firefighters and three captains are quickly available to handle calls.
"We have a whole system of systems and anything can break it down," Assistant Chief Daniel McCarthy, the dispatch center's commander, said after a meeting of the Fire Commission on Tuesday. "If we had [fewer] guys there it would have been tragedy. There would have been death and destruction."
Expensive technology upgrades are in the works, but officials say it will take years to complete the changes. The pending improvements include installation of real-time GPS tracking devices on rescue vehicles, the replacement of the faulty 911 dispatch database and fixes to the fire station alarm system.
The department recently contracted with an outside consultant to review the situation and develop a long-term plan.
"We're slowing the process down," Cummings told fire commissioners Tuesday.
Garcetti has promised to improve a wide range of city services by using technology better. He has yet to say if he will retain Cummings as chief or chart a different leadership course for the fire department.
The chief has struggled to restore confidence in his management of the 3,500-employee agency since fire officials admitted last year that they had overstated response times, making it appear that rescuers arrived faster than they actually did.
A task force of experts concluded that officials charged with crunching data were poorly qualified and that previous LAFD data analysis "should not be relied upon." The department is still developing a new data analysis unit, modeled on a highly-touted LAPD team.
Times investigations have found delays in processing 911 calls and summoning the nearest medical rescuers from other jurisdictions, as well as wide gaps in response times in different parts of the city.
Even when LAFD systems are operating properly, city dispatchers take far longer than the national standard to send rescuers, according to a Times analysis of hundreds of thousands of calls handled over five years. Those findings were later confirmed in reports by the city controller and the LAFD's own task force.
ALSO
PHOTOS: Inside the 911 call center
MAP: How fast is LAFD where you live?
FULL COVERAGE: 911 breakdowns at LAFD
Times staff writer Michael Finnegan contributed to this report.
Sign up for Essential California for news, features and recommendations from the L.A. Times and beyond in your inbox six days a week.
You may occasionally receive promotional content from the Los Angeles Times.