Smartphone app speeds up border crossings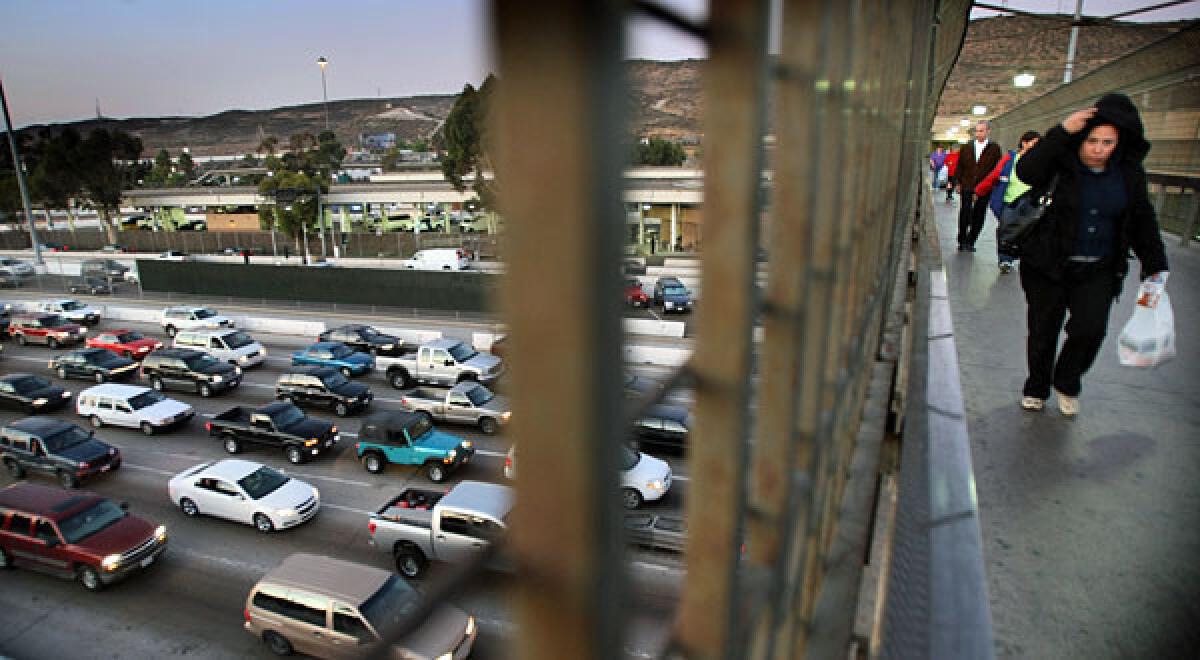 SAN YSIDRO — Two eternal truths about crossing the Mexican border: It's worth the drive to Rosarito Beach for Tacos El Yaqui. And coming back is hell.
In the last several years, crossing the border from the Mexican side has become a test of nerves. Two-, three-, even four-hour waits are typical.
As you burn gas, jockey for position in the lanes and swerve to avoid the vendors and begging children who weave on foot between cars, you are consumed by feelings of helplessness and rage that cannot be assuaged by all the striped blankets, Sponge Bob piñatas and plaster Last Suppers in the world.
RELATED: Is the border secure?
The lack of American efficiency, even in a time of jacked-up anxiety over illegal immigration and national security, is an embarrassment.
Will Carless, a reporter at Voice of San Diego, should get a medal for his recent trip. After touring the wineries of Baja's Guadalupe Valley last summer, he arrived at the Tecate crossing about 6 p.m. on a Sunday.
Five hours later, when he was a few cars away from the guard booth, Americans closed the border without warning. He drove 30 minutes west to the Otay Mesa crossing and waited in line another five hours. The family finally crossed at 4 a.m.
"It ruined the whole trip," Carless told me the other day.
I'm pretty lucky. I only cross a few times a year, usually after visiting our family cabin at Campo Lopez south of Rosarito Beach.
I recently received the border equivalent of a "get out of hell" card. I was approved for a SENTRI pass, which required a federal background check and a months-long wait for an appointment at the U.S. Customs and Border Protection office at the Otay Mesa crossing. With the pass, I can return to the U.S. in special lanes at comparatively lightning speed. On St. Patrick's Day, while pedestrians and cars in normal lanes waited 2 1/2 hours, I got across in 22 minutes.
For occasional crossers, Carless said, the waits are an inconvenience. "But for all the people coming across the border to work or see family every day, it's nothing short of a disgrace."
He's talking about folks like Liza Leyva, 43, who lives in Rosarito Beach, works for a union in Oceanside and crosses every weekday. With her three school-age children.
She wakes up at 2:30 or 3 a.m. The family leaves home an hour later so Leyva can get to work by 9 a.m. "It's awful," she said. "The border is so unpredictable. It's out of control."
That's what UC San Diego computer scientist Ganz Chockalingam thought as he wasted two hours of his life at the border in Tijuana a little over two years ago. He and his neighbor had popped down to Rosarito Beach from Encinitas for what his neighbor promised would be the best tacos of his life — at Tacos El Yaqui, of course.
The food was delicious; the interminable border wait left a very bad taste.
There ought to be a way to know in advance what the wait times are, Chockalingam thought, so you can decide when and where to cross. Chockalingam, principal development engineer at UC San Diego's California Institute for Telecommunications and Information Technology, went to work.
Traffic at the border, he discovered, isn't just an annoyance for the more than 60 million people who cross every year. It's a multibillion-dollar time suck. In 2007, the San Diego Assn. of Governments released a survey claiming that border traffic delays cost the economies of the U.S. and Mexico more than $7.2 billion and 83,000 jobs annually. Time is money.
Chockalingam collaborated with students and programmers — Gen Liu, Matthew Davis, Tarfah Alrashad, Rodrigo Rallo, Sam Fernald and Mike Chiu — who told me in their La Jolla lab how they created "Best Time to Cross the Border," a project they believe will do more for their job prospects than any computer company internship. (Alrashad, from Saudi Arabia, is already working on a similar app for the congested border traffic at the causeway that connects Bahrain to Saudi Arabia.)
The app, for Android and iPhone, gives three important data points: the official current wait time, as reported by the Customs and Border Protection agency (which is usually an hour old), the typical wait time and — most exciting for people who have to deal with border traffic insanity — the current wait time from travelers who are actually crossing.
Who knows what future apps will be driven by this kind of crowd sourcing? DMV wait times. Disneyland wait times. "Users will come up with ways to use it that we didn't even think of," said Davis, a computer science major.
Today, there are about 20,000 users. And some good feedback: In late February, at the World Mobile Congress in Barcelona, the app won third place among 40 universities that had entered the competition.
During my visit to his lab, Chockalingam could see that four people were using the app. One was in Cabo San Lucas, probably trying to time a flight to Tijuana. (U.S. budget travelers know it's cheaper to drive across the border and fly from Tijuana to Cabo. But then you have to contend with the border wait coming home.)
Last fall, Apple briefly rejected the app, saying it promoted criminal activity.
"I'm like, 'What the heck?'" Chockalingam said. "Then it occurred to me because our title was 'Best Time to Cross the Border,' they assumed it was for illegal purposes."
Daily crossers like Leyva say the free app has saved her untold hours. The first thing she does when she wakes up is grab her phone and check the app. "It tells me if I am going to cross at San Ysidro or Otay Mesa. It has become my everyday tool."
Chockalingam said his neighbor can't believe what a food run to Rosarito Beach launched: "We just went for tacos, and you start something like this?"
As I type these words at 5 p.m. on a recent Monday, the wait at San Ysidro is a soul-killing three hours, 15 minutes, according to the app. It tells me the typical wait time at this hour on a Monday is one hour, 30 minutes.
If I were stuck at the border right now, I'd probably grab a taco and cross over later.
Sign up for Essential California for news, features and recommendations from the L.A. Times and beyond in your inbox six days a week.
You may occasionally receive promotional content from the Los Angeles Times.