Ruling, red tape are a setback for California executions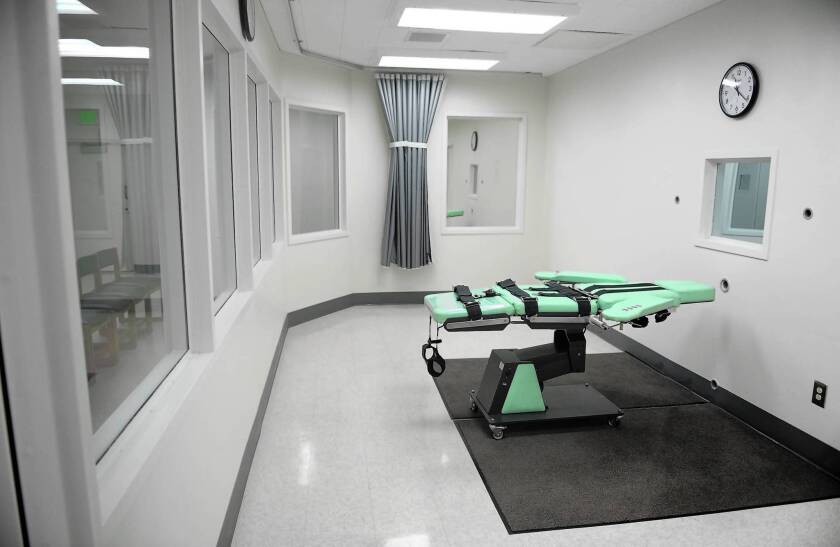 SAN FRANCISCO — California may be stymied for years to come in its efforts to resume executions as a result of a new court ruling, bureaucratic requirements and difficulty obtaining lethal injection drugs, advocates on both sides of the death penalty said Friday.
Supporters of capital punishment urged Gov. Brown to challenge a state appeals court's unanimous decision against California's lethal injection protocol, even though an appeal could take years. They also called on the governor to introduce a new single-drug execution method for public vetting.
"This should be attacked on every front," said Kent S. Scheidigger, legal director of the Criminal Justice Legal Foundation. "We have had justice held up for a preposterous seven years now."
Opponents of the death penalty expressed doubt the state could ever restart the death chamber at San Quentin State Prison.
"Any effort to resume executions will cost hundreds of thousands of public dollars and take years, with an extremely limited chance of success," said Natasha Minsker, an ACLU director who managed last year's unsuccessful campaign to repeal California's death penalty.
Thursday's ruling by the San Francisco-based 1st District Court of Appeal upheld a Superior Court judge's decision that the state's revised three-drug lethal injection protocol was not properly vetted and did not include enough consideration of a single-drug execution method. The decision was written by Justice J. Anthony Kline, Brown's former legal affairs secretary.
The ruling revived talk of placing a measure on the 2014 state ballot to speed up executions, and heightened the frustration of prosecutors whose efforts to change the system in Sacramento have failed.
California revised its death penalty protocol in 2010 after a federal judge blocked executions on the grounds the state's methods exposed inmates to the possibility of inhumane suffering. In response to that judge's concerns, the state even built a new execution chamber at San Quentin. It has never been used.
The halt to executions has caused California's death row to swell to 736 inmates, the largest in the nation. Condemned inmates, housed at San Quentin, are more likely to die of old age or suicide than by an executioner's needle.
A spokesman for the Department of Corrections and Rehabilitation said Friday that no decision has been made on whether to appeal Thursday's ruling to the California Supreme Court or propose a new lethal injection method. The corrections department has been considering a single-drug method of execution for months.
Seven states have executed inmates with a single dose of an anesthetic, and four other states have one-drug protocols but have not yet used them, according to the Death Penalty Information Center.
The three-drug method used by California has been controversial because it involves a paralyzing agent that could mask extreme suffering.
"States that have gone to single-drug executions got their litigation dismissed pretty quickly," Scheidigger said. "The state of Washington adopted it in March, litigation was dismissed in midsummer, and they carried out an execution in the fall. That was six months from adoption to execution."
But Minsker said none of the drugs California has used in the past for executions are now legally available, and alternatives are fast disappearing.
"A few states have been using pentobarbital, but the manufacturer now refuses to sell it to prisons," she said. " A few states still have some on hand, but their supplies all expire by September. So that drug is not available as an option for California."
A new protocol also would have to undergo public review, which would take at least a year.
Last year's relatively close vote on the death penalty repeal initiative — 52% against and 48% in favor — unnerved supporters of capital punishment. Scheidigger said a possible ballot measure for 2014 would be aimed at limiting repetitive appeals and exempting execution protocols from the requirements of an administrative procedures law.
The Court of Appeal said the state had not followed that law in revising the execution protocol, largely because the corrections department failed to explain why it had rejected a single-drug lethal injection method.
State officials contended the protocol had been extensively reviewed. They said they had responded to 29,416 public comments, posted notices of the proposal in all California prisons and held a lengthy hearing in which 102 people spoke.
But the court said the corrections department's view of the law was "far too limited and simplistic."
"Affected people cannot be thought to have been heard … simply because large numbers of interested people were provided an opportunity to be heard," Kline wrote. "The public participation contemplated by the [law] is not a numbers game."
Scott Thorpe, chief executive officer of the California District Attorneys Assn., said it has proposed new legislation in Sacramento to speed up executions, but not one of its proposals has made it out of a legislative committee.
Some prosecutors are seeking fewer death sentences because victims do not want to wait decades to see the cases resolved, Thorpe said. Death penalty appeals also are costly.
"Every attempt to get rid of the death penalty has been defeated," Thorpe said, "but they also defeat any of our attempts to speed it up."
---
Life is stressful. Our weekly mental wellness newsletter can help.
You may occasionally receive promotional content from the Los Angeles Times.