West Hollywood council compromises in City Hall rainbow flag debate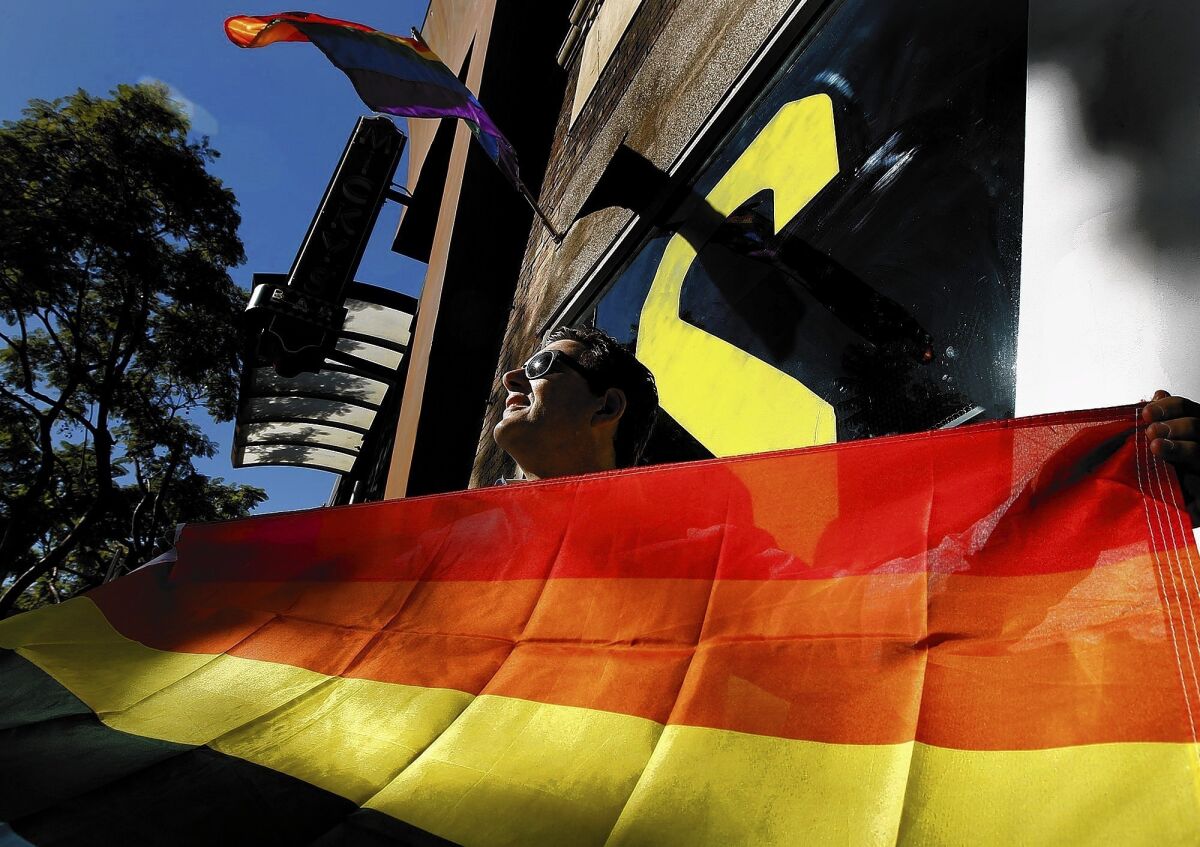 The West Hollywood City Council has responded to growing criticism over the removal of a rainbow flag atop City Hall by agreeing to a compromise.
The rainbow flag — raised above City Hall in June — will stay down. But the city will hang a new flag that incorporates rainbow colors into the city logo, a rough geographic outline of the municipality. Council members agreed to the change at a meeting last week.
"This has been a very exciting debate," said Mayor Pro Tem John D'Amico. "I think flying a rainbow flag at City Hall is perhaps not as interesting as flying the city of West Hollywood adopted flag that has the rainbow on it. There's a pedigree there, there's a history."
The rainbow flag was removed in January after a unanimous vote by the council to maintain the city's practice of displaying only the United States, California and city flags on public facilities. At one meeting, Councilman John Duran said the city "belongs to all of us" and is "not just a city of gay men."
More than 40% of West Hollywood residents identify themselves as gay or lesbian, according to city surveys, and four of the five council members are gay men.
Council members said they received complaints from the community as soon as the flag was removed.
The new flag will feature a rainbow-colored city logo that already is displayed on city vehicles and the vehicles of Los Angeles County sheriff's deputies in the West Hollywood Station.
The council also voted to add flagpoles to the Matthew Shepard Human Rights Triangle at Santa Monica and Crescent Heights boulevards on which to fly the rainbow flag and the pink, blue and white transgender flag.
The stories shaping California
Get up to speed with our Essential California newsletter, sent six days a week.
You may occasionally receive promotional content from the Los Angeles Times.