L.A. county, LAFD fire chiefs discuss regional dispatch network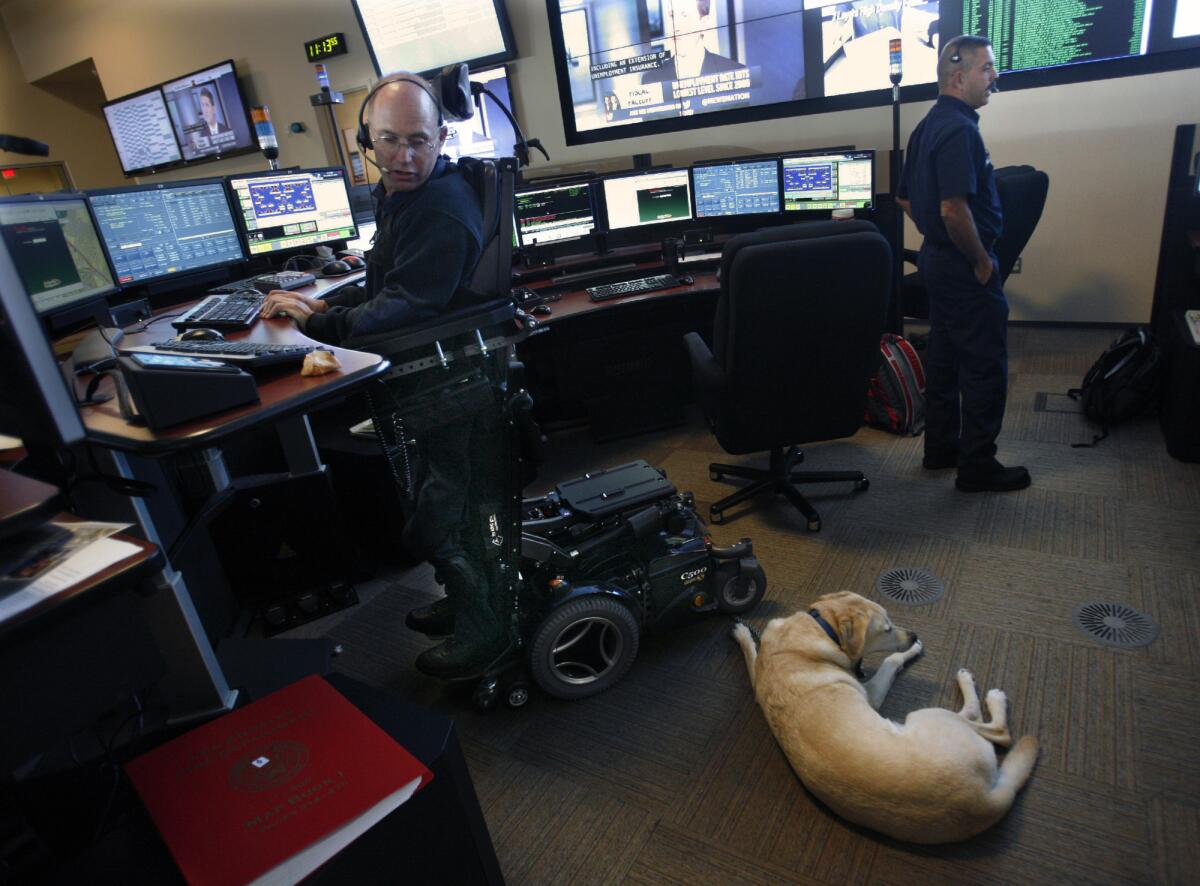 Los Angeles County's two largest fire departments are exploring ways to connect their dispatch systems and ensure that the closest available rescuers are sent to victims during life-threatening emergencies, according to interviews and records.
Fire chiefs from the county, Los Angeles city and Glendale met recently to discuss creation of a regional network that would automatically deploy fire and rescue units based on their proximity to an emergency, regardless of jurisdictional boundaries, according to L.A. County Fire Chief Daryl Osby.
The chiefs have begun identifying emergency communications experts and contacting additional local agencies about developing a multi-agency dispatching system, Osby wrote in a report to the county Board of Supervisors.
The report, prepared at the request of Supervisor Mike Antonovich, follows a Times investigation of extended wait times for 911 medical rescuers along the city of Los Angeles' jagged borders. An analysis of emergency responses showed that the LAFD rarely calls on the county's fire agency for assistance, which contributes to the delays.
In more than 70,000 medical calls since 2007, LAFD sent its rescuers to victims when county firehouses were closer, The Times found. More than 1,300 cases involved cardiac arrests, where delays of seconds can be critical because irreversible brain damage can begin just four minutes after the heart stops beating.
Capt. Jaime Moore, an LAFD spokesman, said his agency was planning to purchase a new dispatch system that will be able to communicate with other departments, but whether that happens will depend on the costs involved.
"We all agree that situational awareness of surrounding resources and incidents would benefit all departments," Moore said.
Los Angeles Fire Commissioner Alan Skobin said the discussions about regional dispatching are a positive step forward.
"Any time that you can take out of the process will result in saving lives," said Skobin, who asked the LAFD for a similar review of dispatching policies after The Times report.
For years, fire agencies across the country have pooled resources, used technology and adopted "automatic-aid" systems that alert rescue units closest to callers in need. Some of the largest fire departments in California, including those serving Orange County, San Jose and San Diego, have linked their dispatch operations.
But Los Angeles County has lagged behind. The LAFD and the county Fire Department formally agreed in 1979 to move toward linking their dispatch centers, but never completed the task. As a result, dispatchers still must use phone lines to summon rescuers from nearby agencies, a sometimes cumbersome process that can add to delays, officials say.
Both departments also rely on aging computer networks to run their 911 operations. Spending the time and money needed to upgrade and link the current dispatch systems would be a "short-lived investment," Osby said in his report.
The better strategy would be to invest any available funds in new dispatch systems, he said. The county Fire Department is considering buying a new 911 computer system, Chief Deputy Mike Metro said.
"It would be nice," Metro said, but "it's a very, very expensive proposition."
Said Skobin: "This is timely. We have to build the momentum."
Document: County fire chief's letter on automatic aid
Investigation: Delayed 911 response a matter of geography and jurisdictions
Full coverage: Life on the line, 911 breakdowns at LAFD
Sign up for Essential California for news, features and recommendations from the L.A. Times and beyond in your inbox six days a week.
You may occasionally receive promotional content from the Los Angeles Times.