Behind the story: A dying immigrant's quest to reunite with his estranged family
L.A. Times Today airs on Spectrum News 1, Monday through Friday at 7 p.m. and 10 p.m.
I was on vacation the day I got a text message from Pablo Alvarado, director of the National Day Laborer Organizing Network. He had a story to pitch to me about camaraderie and the importance of labor centers for immigrant workers.
On the phone, Alvarado said that a worker from the Pasadena labor center was dying of cancer. He had no family in the U.S., but his fellow laborers had been keeping him company, sharing meals and singing Mexican ballads with him as he weakly strummed his guitar.
Alvarado didn't know how long Eduardo Hernandez had left to live. It could be a few days, he said, or a few hours.
It clearly was a touching story about friends, many of them far from home and living in the country illegally, coming together at a difficult time. But then, as so often happens in journalism when we can pause to take a closer look, the story transformed into something else — a tale of forgiveness, legacy and what matters most when you're about to die.
The labor center had gotten word to Hernandez's family that he was dying, and his wife, Cecilia Rebeca Chavez, and sons Hugo and Alfredo Hernandez rushed to his hospital bed in Pasadena. They would reunite for his last 20 hours alive. He would only get to utter one last word to them: "Perdóname" — Forgive me.
Hernandez was far from perfect. He was an alcoholic who got antsy staying in the same place for too long. He left his wife and young children in search of something better. He broke promises, left Chavez a single mother and rarely sent money to help her afford necessities.
Column One: Alone in the U.S., an immigrant has one dying wish: To reunite with estranged family »
But to his family, harboring resentment was pointless. They didn't hesitate to fulfill Hernandez's dying wish to reunite with them. By then, it had been 10 years since they'd last heard from him.
After his death, I was able to join the family when they went to his dilapidated apartment in Pasadena and uncovered hard truths about his life. Rumors still circulate in Mexico of making easy money in the U.S. The reality is far different.
"People still believe it," Chavez later said of those rumors. "They come back [to Mexico] empty-handed, but talk about it like a great experience. When I saw where he lived, I realized how difficult it was."
Three months after the family's visit to Pasadena, I visited them in Mexico. An hour from Mexico City, Nicolas Romero was a collection of rolling hillsides, lush green at the time from spring rains. Chavez's entire extended family lives on a compound there.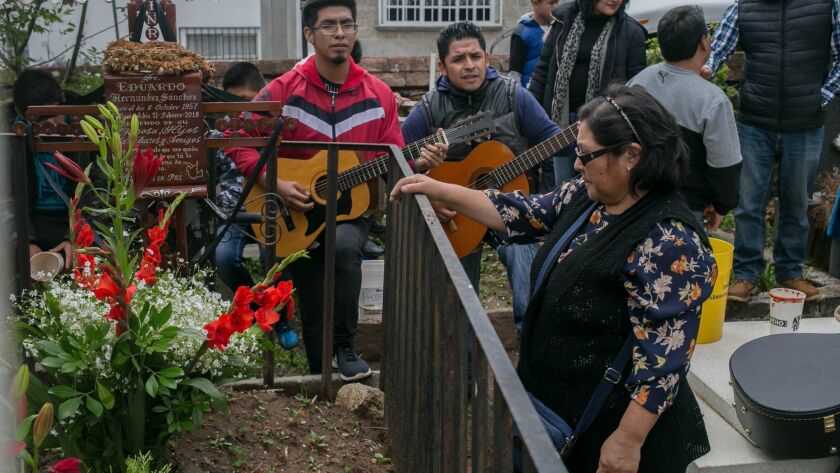 The city of 350,000 people was a farming community until factories opened up. Chavez works for a plastics manufacturer and Alfredo makes car parts.
Inside their modest brick home, the family reminisced about Hernandez. Adults sat on couches and chairs pulled out from the kitchen table. Grandkids piled onto the living room bed where Chavez sleeps. Occasionally, rain pounded on the metal roof so hard that we couldn't hear one another speak. It dripped inside and made the lights flicker.
When it calmed down enough, Chavez's brother Alvaro pulled out a guitar to play some of Hernandez's favorite songs. Hernandez had taught him to play guitar as a teenager, and Alvaro taught Hernandez's children in his absence.
Now the family gathers at his grave every month and, with his guitars, sings to him.
On a recent afternoon, I called Chavez to see how the family was doing.
She said the pain of losing Hernandez had just started to hit them now, nearly a year after his death. That week, they had gone to a birthday party and all four of her children ended up in tears. They lamented that their lives could have been different had he stayed and wondered aloud why, all those years ago, he left in the first place.
andrea.castillo@latimes.com | Twitter: @andreamcastillo
---
The stories shaping California
Get up to speed with our Essential California newsletter, sent six days a week.
You may occasionally receive promotional content from the Los Angeles Times.