Hikers lament the end of fun at Runyon Canyon Park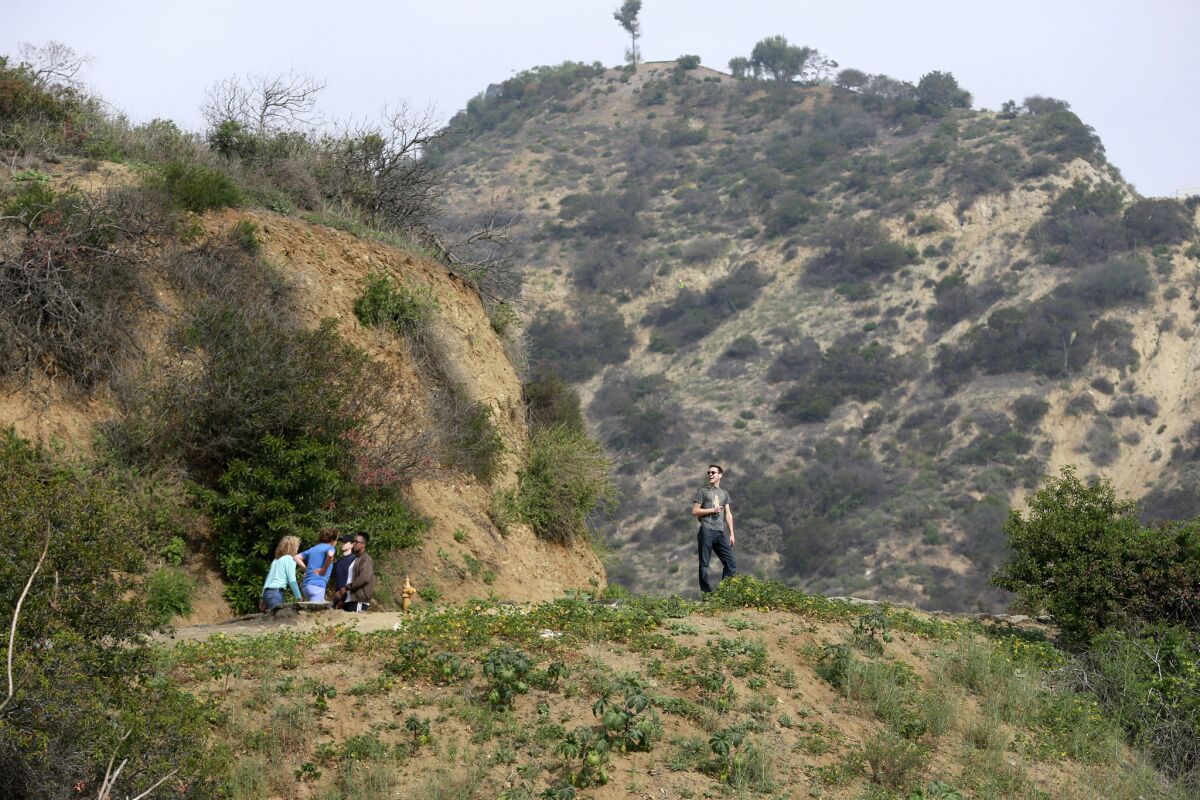 Mitch Gries said he moved to the neighborhood below Runyon Canyon Park 10 years ago for a specific reason: He wanted to take his beloved dog for daily strolls off-leash.
Now, the West Hollywood resident -- along with tens of thousands of other Runyon Canyon fans -- is scrambling to find a different trail to trek with the chocolate Labrador.
"It's such an inconvenience," the 60-year-old said.
On Thursday, city officials gathered at the park's entrance to hold a news conference and respond to the complaints of some parkgoers about its pending closure.
As officials prepared to speak, dozens of hikers in neon tops and designer leggings ambled up and down the hill with dogs in tow.
"Keep the park open!" a group of young men shouted as they walked by. "Don't shut it down! We're here to get shredded!"
On Wednesday, city officials confirmed that the park will be closed to the public for four months beginning April 1. The closure, they said, will allow workers to replace an aging 6-inch water main that snakes through the canyon for roughly a mile.
All 160 acres of the park will be closed, except a yoga field that the nonprofit Friends of Runyon Canyon lobbied to keep open.
At Thursday's news conference, officials said closing the trails would allow construction crews to work longer hours, making the repair process faster and more efficient. The closure also ensures the public's safety, they said.
"We know this is a very loved park," said Joe Salaices, superintendent of operations for the Griffith Park region of the city's Department of Recreation and Parks. "We're trying to do this in a condensed format."
The repairs will cost the city about $2 million and officials said they were saving a couple of million dollars by having crews work extended, uninterrupted hours. Those savings could potentially be parlayed into other park repairs, including the improvement of roadways and the installation of new water fountains.
Salaices acknowledged that shutting the park down was a "hard decision," but said the repairs "can't wait any longer."
Martin Adams of the Los Angeles Department of Water and Power said closing the park comes down to an issue of public safety. Officials identified more than 30 leaks in the pipe so far, he said.
If the pipe were to burst, it could wash out roads and damage nearby homes.
"We want to leave behind a better park than what we have now," Adams said. "This pipe has a grade of 'F.'"
Gries and others who attended the news conference weren't entirely convinced. Some wondered aloud why the LADWP couldn't keep one of the trails open while working on the pipe.
"I equate that to closing a freeway down completely for months, when you could keep it partially open and have some access to it," Gries said.
He said he understood the need to fix the pipe, but can't help but feel sad over the closure.
"It's so fun here," he said. "There's people here from all parts of the world."
Construction will run every weekday from 7 a.m. to 4 p.m. and sometimes on weekends, officials said.
See more of our top stories on Facebook >>
Roughly 35,000 people visit Runyon Canyon each week. The LADWP has suggested four other hiking areas for people looking for alternatives: Franklin Canyon, Fryman Canyon Park, the Hollywood Reservoir and Wilacre Park.
On Thursday, area resident David Dubinsky said he's thinking of trying out Franklin Canyon.
Like many locals, Dubinsky hikes Runyon trails every day. The Los Angeles native said he walks to the park with his friends and neighbors.
"It's unfortunate," the 51-year-old said of the closure. "I love the energy of the people and the smell of nature. It keeps me motivated more than a gym."
ALSO
L.A. hikers' beloved Runyon Canyon is closing for four months starting in April
High surf and rain ahead for Southern California
Strong winter storm to bring several feet of snow to Sierra Nevada, Lake Tahoe
---
The stories shaping California
Get up to speed with our Essential California newsletter, sent six days a week.
You may occasionally receive promotional content from the Los Angeles Times.