Wrong-way crash on 210 Freeway leaves 3 dead, 2 seriously injured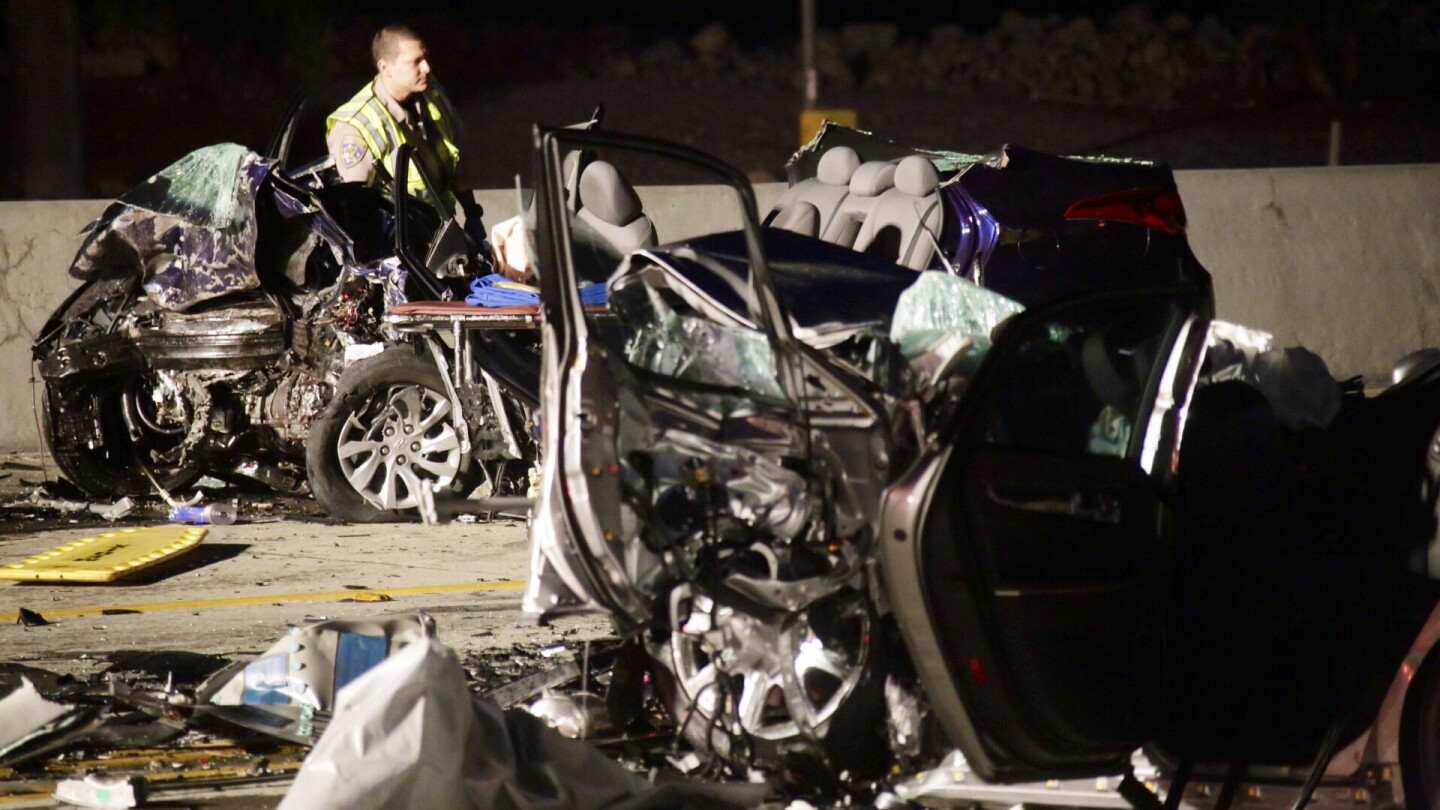 Three people died after a crash on the 210 Freeway early Sunday in Rancho Cucamonga. Authorities said one of the vehicles was heading the wrong way on the freeway.
(Irfan Khan / Los Angeles Times)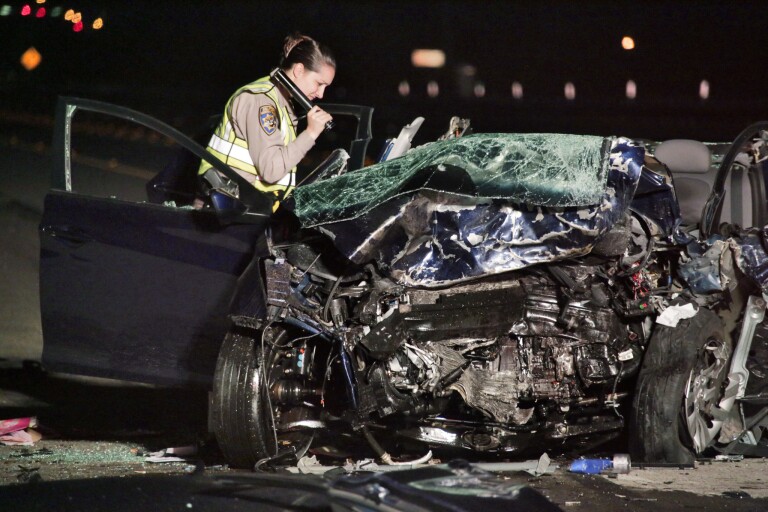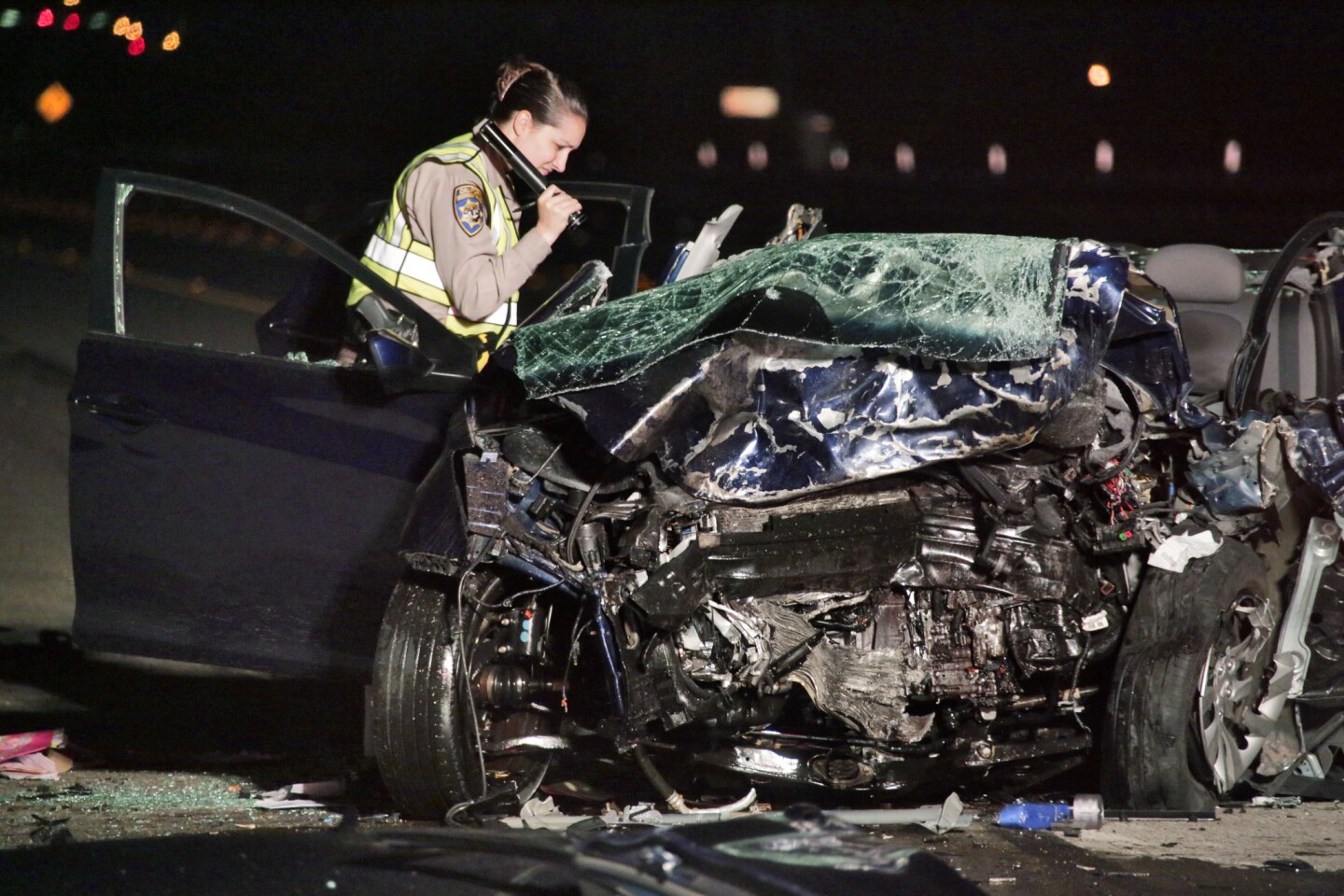 A CHP officer examines a blue Hyundai Elantra that authorities said was traveling west on the eastbound 210 Freeway when it collided head-on with another car.
(Irfan Khan / Los Angeles Times)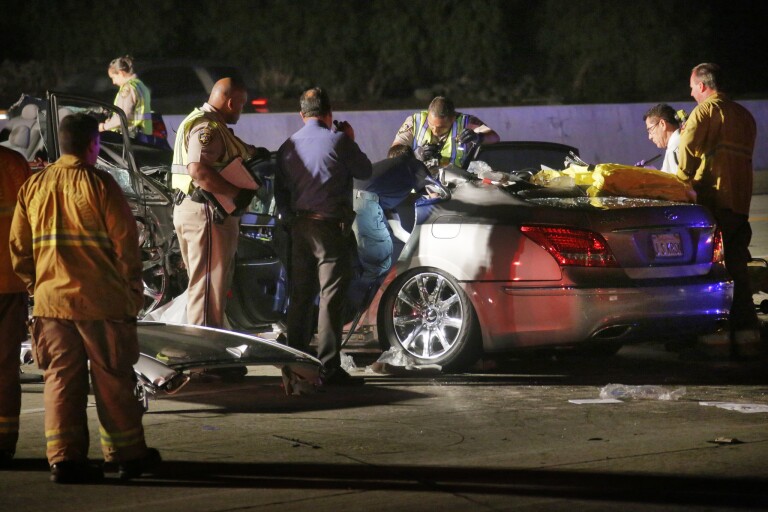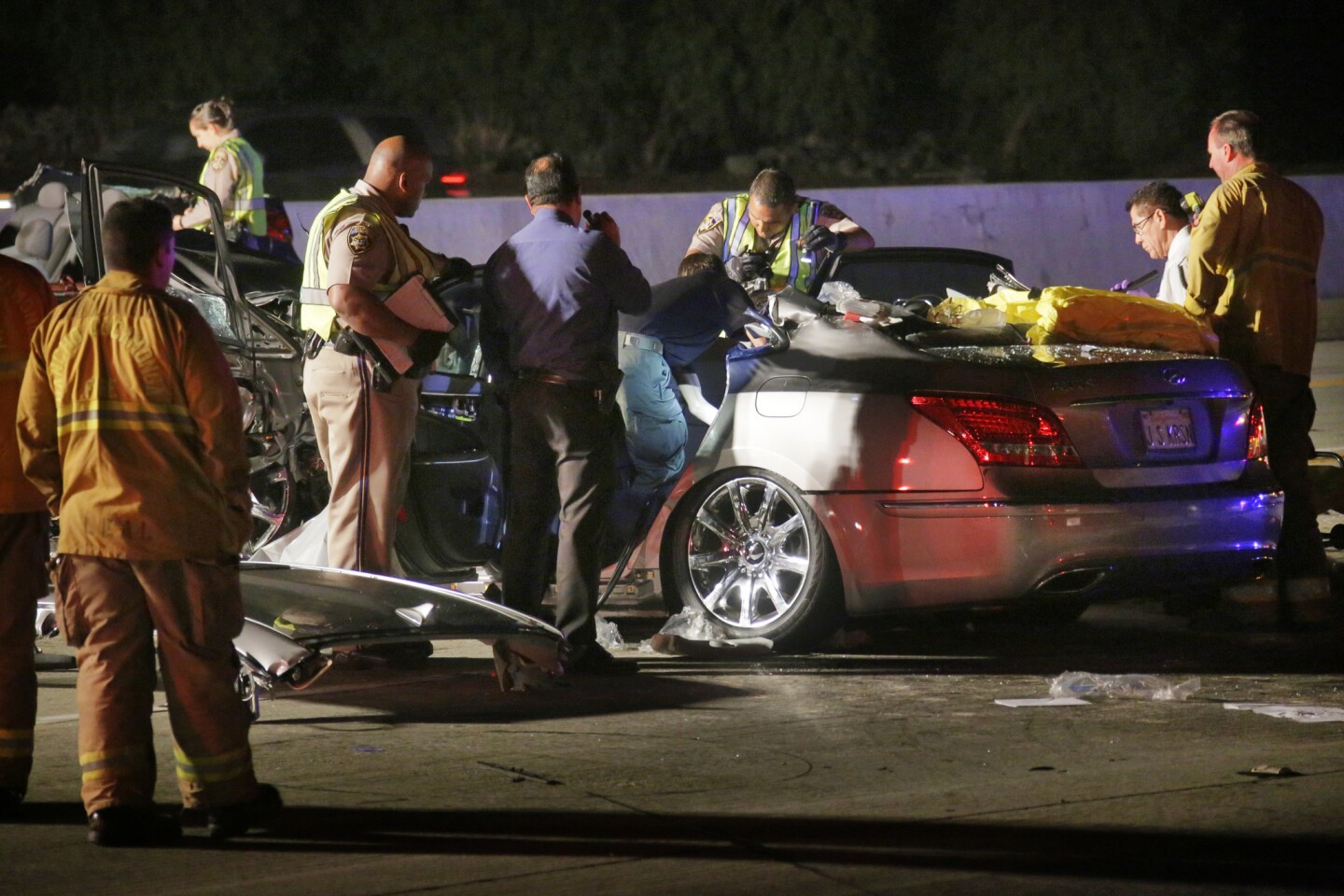 CHP officers investigate a crash on the 210 Freeway that left three people dead and two seriously injured.
(Irfan Khan / Los Angeles Times)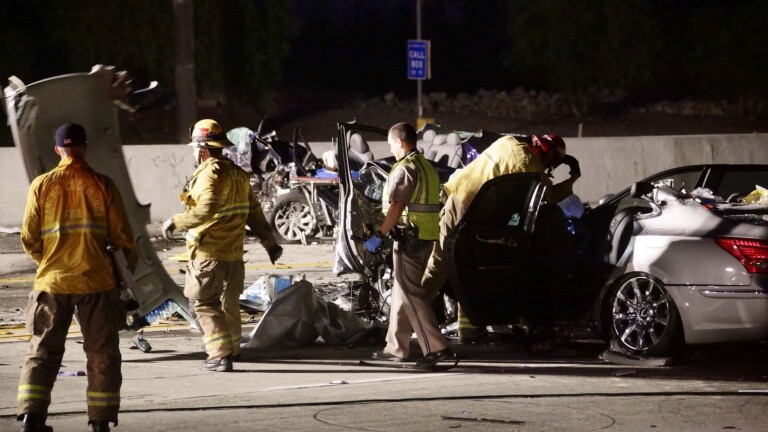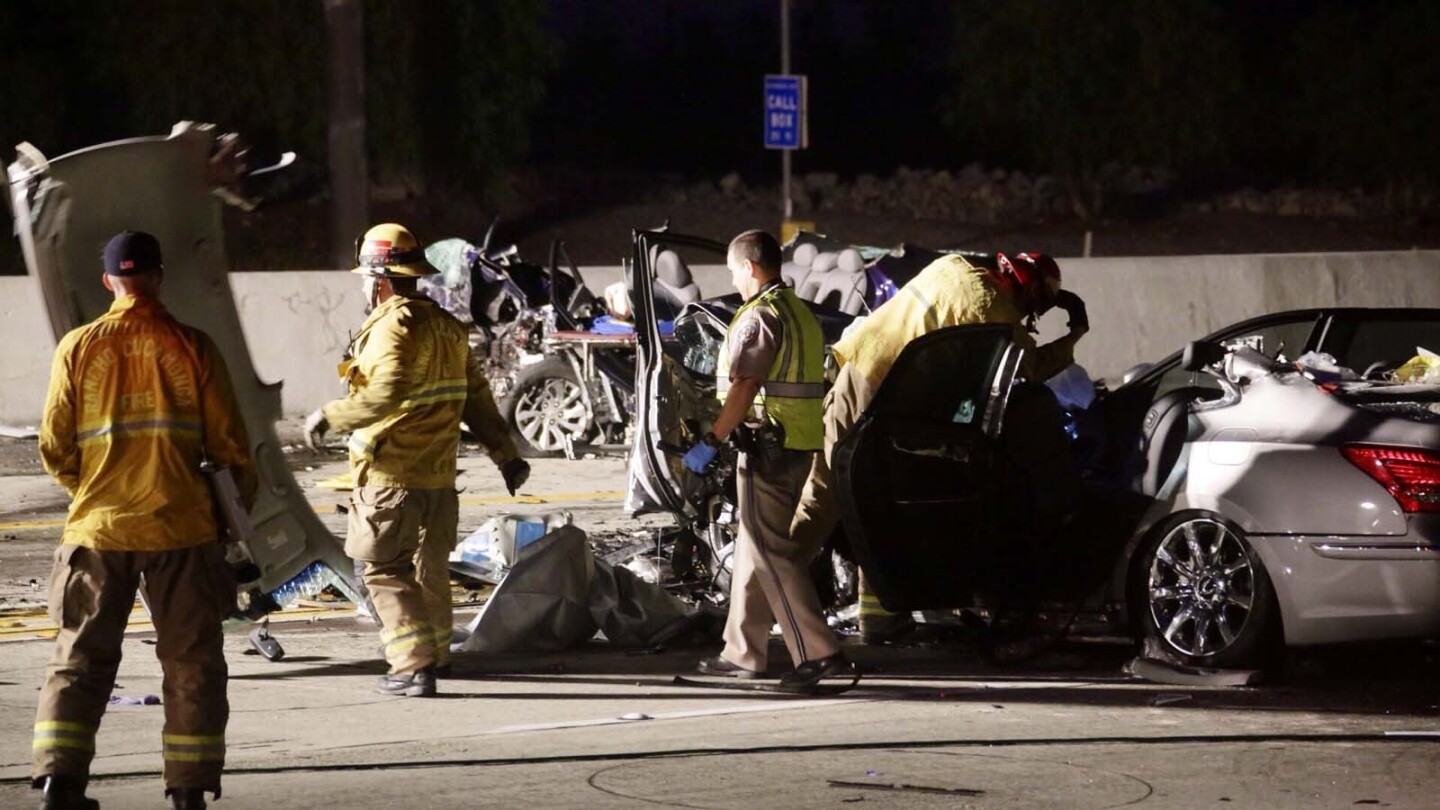 Authorities study the wreckage of a collision Sunday morning on the 210 Freeway in Rancho Cucamonga.
(Irfan Khan / Los Angeles Times)
A vehicle going the wrong way on the 210 Freeway crashed into another vehicle near Deer Creek Boulevard in Rancho Cucamonga early Sunday morning, killing three people and seriously injuring two others, according to the California Highway Patrol.
The alleged wrong-way driver, the lone occupant of what appeared to be a blue Hyundai, was heading west in the eastbound lanes at about 2:20 a.m. when he collided with a silver Hyundai that had four occupants, CHP Capt. Joe Flores said at a news conference.
The collision killed the silver Hyundai's two back-seat passengers as well as the driver of the blue Hyundai, Flores said.
The silver Hyundai's male driver and female front-seat passenger were seriously injured. One was taken to Loma Linda Hospital, the other to Arrowhead Regional.
The occupants of the silver Hyundai, all adults, appeared to be returning from a family reunion, Flores said.
Authorities are investigating whether alcohol was a factor in the crash, Flores said.
The names of those who died or were injured were not immediately available.
---
The stories shaping California
Get up to speed with our Essential California newsletter, sent six days a week.
You may occasionally receive promotional content from the Los Angeles Times.