Graphic novelist sentenced to life in prison for 2016 torture and murder of his fiancee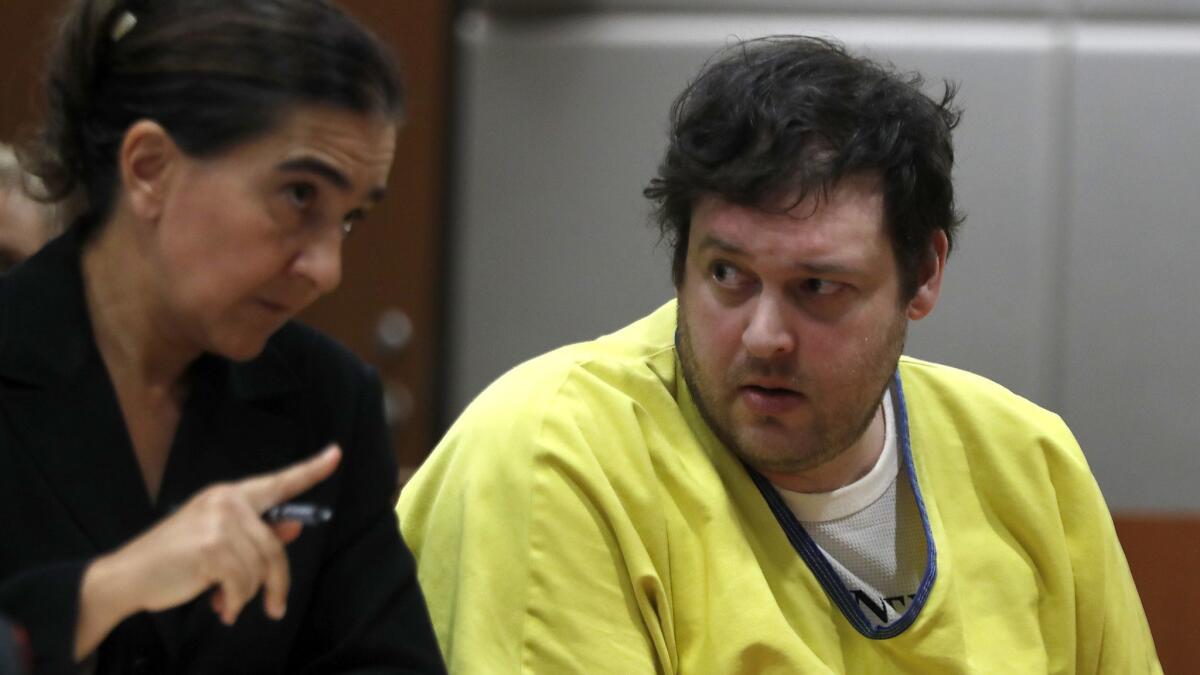 Olga Kasian's hands trembled as she addressed the court.
In the two years since her daughter Iana's murder, she told the judge, her life has turned into a hell of endless suffering. Her mind races with thoughts of Iana's dying hours and the slow torture she endured. She often asks God a simple question: "Why?"
And she lives with an agonizing reality: The man who murdered Iana is the father of her beloved granddaughter.
"The life of this little angel began with the fact that her father massacred her mother," Kasian said through a Russian interpreter, as she glared toward the defense table at Blake Leibel.
Her impassioned statement in court Tuesday, which ended with a plea that everyone go home and hug their children, came before Superior Court Judge Mark E. Windham sentenced Leibel to life in prison without the possibility of parole.
Leibel was convicted last week of the 2016 torture murder of Iana Kasian, 30, who had given birth to their daughter only weeks before her death. Prosecutors said Leibel, a 37-year-old graphic novelist who once had a fledgling Hollywood career, patterned the murder from the gory details of a book he worked on years earlier.
"The case is unusual only in its savagery," Windham said, adding that the defendant had shown "inconceivable cruelty."
In the days after the grisly slaying, news media across the continent highlighted features of the case that sounded as if they'd been lifted from a Hollywood horror script — a Canadian trust fund kid and a beautiful Ukrainian emigre, the birth of their newborn and then, weeks later, a bloodletting.
Before both ended up in Los Angeles in the 2000s, Leibel and Kasian lived very different lives on opposite ends of the world.
Leibel was born into a rich and powerful Canadian family — the son of Lorne Leibel, an Olympic sailor turned Toronto construction magnate. After moving to California in 2004, Leibel married, had a son and lived primarily off an allowance from his parents — installments that totaled $1.8 million over about seven years, according to legal documents filed after his mother's death in 2011.
He also worked on the animated series "Spaceballs," based on the 1987 film by Mel Brooks, and collaborated with a team of writers and an illustrator to create "Syndrome," his graphic novel.
In July 2015, court records show, he filed for divorce from his wife, Amanda Braun. Soon after, Iana Kasian was pregnant with the couple's child. She made an "ecstatic" phone call to her mother, Olga, saying her longtime dream of becoming a parent was finally coming true, according to a declaration filed in the family's wrongful-death suit against Leibel.
Kasian, who grew up in Ukraine with her mother, father and sister, went to law school and worked for several years prosecuting tax crimes in her home country, records show. She spoke fluent English and dreamed of traveling to work as an interpreter — an aspiration that came true when she immigrated to the U.S. in 2014.
Olga Kasian traveled to Los Angeles in spring of 2016 for the birth of her granddaughter. But she soon became concerned. Iana Kasian told her Leibel had become upset after the baby was born, according to court records. On May 23, Iana Kasian asked her mother to babysit. She happily agreed, not knowing that day would be the last time she would see Iana alive.
During closing arguments at Leibel's trial last week, Deputy Dist. Atty. Beth Silverman laid out the timeline of what followed. Olga Kasian panicked when she couldn't reach Iana, calling and texting her daughter's phone dozens of times. On May 25, she contacted authorities, who went to the couple's West Hollywood apartment. Leibel refused to open the door, Silverman said, but from inside insisted that Kasian was fine.
In fact, Silverman said, the torture had already begun.
Kasian's mother again pleaded for help, and when sheriff's deputies went to the apartment the next day, they forced their way inside. Leibel had locked himself in a bedroom with Kasian's naked, mutilated body, Silverman said.
As investigators searched the home, the extent of the brutalization came into disturbing focus. There were crimson stains on the white headboard in the guest room and clumps of dark hair stuck to a razor in the bathroom. In a dumpster, Silverman said, officials found Kasian's right ear.
"He threw away pieces of his fiancee … like she was trash," Silverman told jurors, as a series of gruesome photographs flashed on a screen in the courtroom. One showed Kasian's removed eyebrow, another her exposed facial bones and muscles.
One older juror shook his head and a woman in the audience left the courtroom, saying she felt faint. Kasian's mother narrowed her eyes, forcing herself to look at the images, before crying softly and burying her head in her hands. Leibel, who was dressed in a navy suit, stared down at the defense table. His brother, Cody, who lives in L.A. and works as a high-end property developer, sat stone-faced in the audience.
Kasian was alive for at least six hours during the torture, Silverman told jurors. Evidence suggests that Leibel dragged her body through the home and submerged her underwater in the bathtub. The victim died of exsanguination — severe blood loss.
Prosecutors argued that Leibel was motivated by envy and anger, saying he became jealous of the attention Kasian gave to their newborn.
"He continued to mutilate her bit by bit," Silverman said, adding that Leibel used "Syndrome," the fictional book he funded and helped develop, as a blueprint for his torture.
The novel, whose cover depicts a baby doll with a partly removed scalp, includes depictions of bloodletting, and when authorities found Kasian's body, Silverman said, nearly all the blood had drained from her organs.
"A case of life imitating art," the prosecutor said.
Toward the end of her closing arguments, Silverman asked jurors to recall some quotes from the book:
"Before we think we are deciding to act."
"In the end, we all become monsters."
Leibel's attorney, Deputy Public Defender Haydeh Takasugi, began her closing arguments by acknowledging the sadness and anger she'd witnessed in the jurors' eyes during the trial. Sorrow fell over the courtroom, she noted, when Olga Kasian took the stand.
She told the jurors that she hoped they could look at the evidence critically — if they did that, she said, they would no doubt acquit her client. Takasugi stressed that Leibel didn't write or illustrate "Syndrome," adding that the cover image of the scalped baby was someone else's idea.
"We're reaching for something that is not there," she said.
Though Takasugi didn't offer another potential suspect, she attempted to poke holes in the idea that her client was the perpetrator by asking jurors to think about the trash bags found in the condo's dumpster, which contained some of Kasian's body parts, as well as a T-shirt that belonged to Leibel. DNA samples retrieved from the drawstrings of three of the bags, the defense attorney noted, didn't match her client but revealed genetic evidence of an unknown male.
Jurors deliberated less than four hours before convicting Leibel of first-degree murder, aggravated mayhem and torture. Prosecutors did not seek the death penalty in the case.
During the hearing Tuesday, Olga Kasian occasionally glared at Leibel. When her time came to speak, she called him a monster who had ruined her life as well as that of his daughter.
Leibel was expressionless. Dressed in a yellow jail shirt and blue scrubs, he uttered only one word, answering "yes" when the judge asked if he would waive his appearance at an upcoming court hearing.
Times staff writer Matt Hamilton contributed to this report.
For more news from the Los Angeles County courts, follow me on Twitter: @marisagerber
---
UPDATES:
1:50 p.m.: This article was updated with additional details from Leibel's sentencing.
10:35 a.m.: This article was updated with Leibel's sentencing.
This article was originally published at 5 a.m.
Sign up for Essential California for news, features and recommendations from the L.A. Times and beyond in your inbox six days a week.
You may occasionally receive promotional content from the Los Angeles Times.