San Diego's trendy Hillcrest area cracks down on disruptive homeless, aggressive panhandlers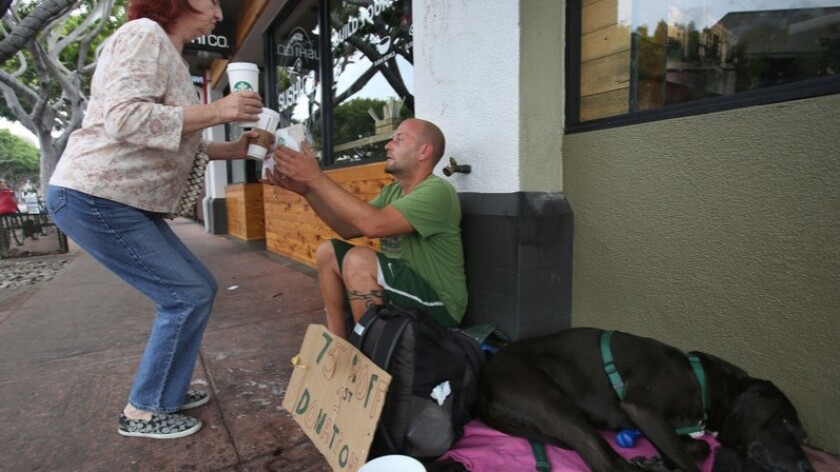 Panhandlers have asked for change from diners in restaurants, according to one business official. A furniture store owner said he has found homeless people napping in his showroom and sleeping on his doorstep. Another shop owner said he has to constantly clean human waste from the alley behind his business.
"I think it would be safe to say that the business community has lost patience," Hillcrest Business Assn. Director Ben Nicholls said.
The association in the affluent San Diego neighborhood has hired a new security firm that will begin cracking down on troublesome homeless people in the neighborhood beginning Monday.
Santee-based security company City Wide Protection Services will provide day and night patrols around Hillcrest, focusing on people who are disruptive or seen sleeping on private property.
Nicholls acknowledges that the stepped-up effort is not an ideal solution because it could pit neighborhood against neighborhood, causing homeless people to move but without creating a long-term solution,
"It's frustrating, because we are all just pushing the problem out," he said.
The move comes at a time when some business owners in Hillcrest say they've seen a migration of homeless people from downtown following efforts by the city to clean up that area with weekly sweeps of sidewalk encampments.
"The solution for East Village and downtown is, 'Let's push them out,'" Nicholls said. "Well, they did, and now the businesses here are saying, 'Enough.'"
Nicholls said the new security contract is in response to requests from business owners to deal with some homeless people who have become aggressive.
"I have restaurants who literally have to throw people out because there are homeless people panhandling inside," he said.
Brian Lovering, owner of Adam and Even on University Avenue, said he's seen Hillcrest change in the last year and a half because of homeless people.
"Lots of vandalism has been happening," he said. "Lots of small issues that add up."
Bob Ray said homeless people congregate under the overhang at his University Avenue business, Ray's Tennis, and sleep in the back, where customers are trying to park.
A walkway behind the building is an even greater problem, he said.
"They'll use it as a toilet, and I'll have to wash it down," he said. "It smells constantly."
See the most-read stories this hour >>
To the east of Hillcrest, the City Heights Business Assn. had used a private security firm to deal with homeless people and safety issues, but discontinued the practice three years ago because the board wanted the community to portray a friendlier image, said Executive Director Enrique Gandarilla.
"We need to have more of an overall proactive policy at the city and county level that addresses homelessness in a human and effective way," he said. "With security guards, we were displacing the homeless, so they'd go somewhere else."
Gandarilla said he doesn't blame Hillcrest for hiring a security firm, which he said is effective in the short term, but not a way to solve the overall problem.
Howard Haimsohn was not among the Hillcrest business owners who requested the change, but he said that as the owner of Lawrance Furniture on University Avenue, he is familiar with the problem.
"There's been days when I arrive and it's taken me an hour and a half to clean the side or front of the building," he said about debris left from people sleeping near his store, which his family has owned since 1937.
Haimsohn said he doesn't have a problem if somebody sleeps in the store's doorway at night but is gone without a trace in the morning. But about once a month, he said, he finds somebody still there when he arrives at 8 a.m.
He said he also has found homeless people napping on his furniture in the showroom, and that he knows of at least one business that left the area partly because of the growing homeless population.
"I feel bad when I have to tell somebody, 'You can't stay here,'" said Haimsohn, who said he donates to Father Joe's, the Alpha Project and other agencies that help the needy. "I don't know where they're going to go, but not in my backyard. Business is hard enough without having a deterrent from somebody trying to come to your location."
Hamsohn and Nicholls said a better solution would be to pair the security patrol with outreach teams who try to find shelter, homes, addiction programs and employment for homeless people.
The Downtown San Diego Partnership does that by combining safety and outreach through its Clean and Safe program. Various teams respond to calls from property owners, complement police, remove debris and work with shelters and service providers.
Hillcrest had outreach teams that tried to connect homeless people with services for about a year through a pilot program with the Alpha Project.
Amy Gonyeau, chief operating officer for the Alpha Project, said about 30 people were helped off the street before the pilot program ended earlier this year.
"I think it went extremely well because we got so many hotline calls from businesses, and we reacted immediately," Gonyeau said, adding that she was disappointed the program did not continue.
Warth is a staff writer for the San Diego Union-Tribune.
ALSO
Man armed with sawed-off shotgun killed by San Bernardino police
Preventing terrorism-by-truck in America would be 'extremely difficult,' officials say
Hundreds to attend vigil for UC Berkeley student killed in Nice terror attack
---
The stories shaping California
Get up to speed with our Essential California newsletter, sent six days a week.
You may occasionally receive promotional content from the Los Angeles Times.