Southern California smog regulator may be forced out amid shift on air board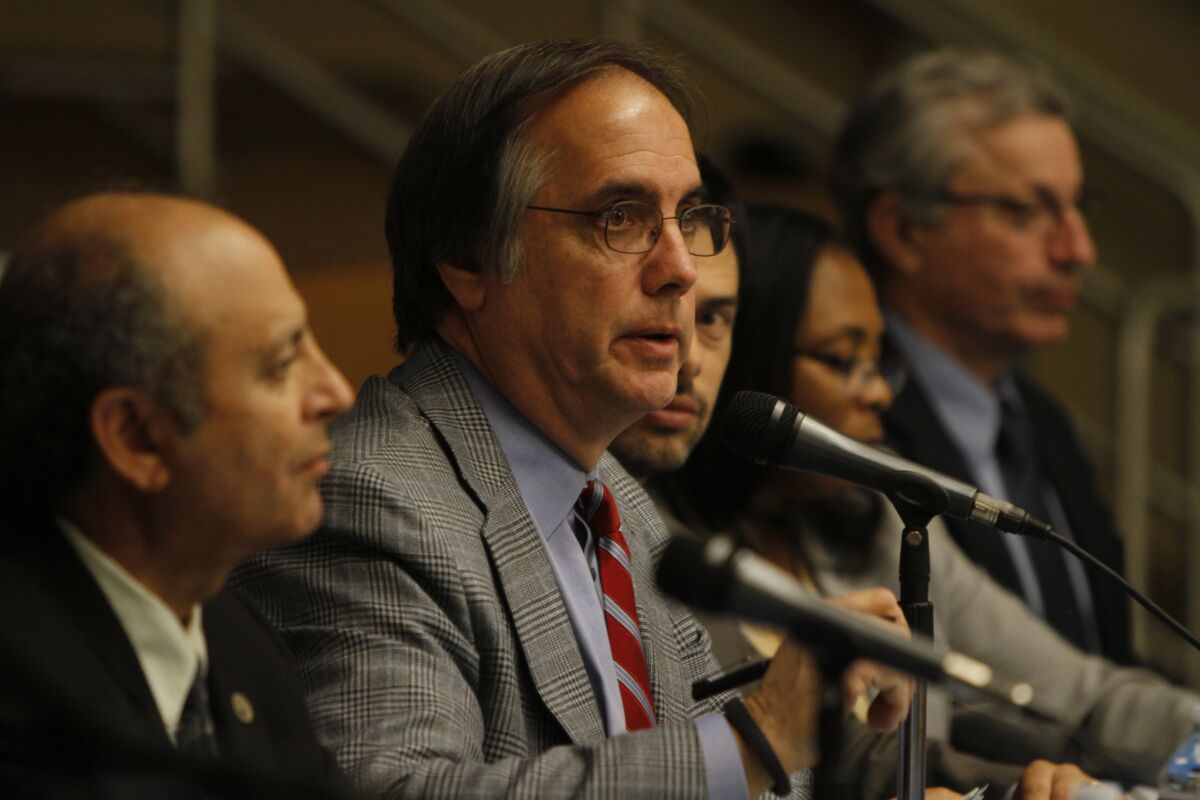 Southern California's air quality board is moving to replace its top executive a month after Republicans gained a majority on the panel with new appointees who have vowed to make pollution regulations less burdensome for businesses.
The South Coast Air Quality Management District gave notice in an agenda item posted Tuesday that its governing board will hold a closed-door session to evaluate the performance of longtime Executive Officer Barry Wallerstein and consider his resignation, dismissal or other personnel actions.
NEWSLETTER: Get essential California headlines delivered daily >>
The appointment of an acting director to replace Wallerstein might also be considered at the session, which will take place at the air board's monthly meeting Friday in Diamond Bar.
The potential departure of Wallerstein, who has worked for more than three decades at the nation's most powerful regional smog-fighting agency, comes after a campaign to shift its governing board toward regulation that is friendlier to industry.
The 13-member panel consists of elected officials and other appointees from Los Angeles, Orange, Riverside and San Bernardino counties. The board is charged with adopting pollution control regulations to protect the health of 17 million people in a region with the dirtiest air in the country.
In November, elected officials from cities in Orange County unseated Santa Ana Mayor Miguel Pulido, a Democrat and clean-energy advocate, and replaced him with Dwight Robinson, a Republican councilman from Lake Forest who has been outspoken about the effects of air pollution regulations on businesses.
In a letter in support of Robinson's appointment to the air board last year, Orange County Republican Party Chairman Fred Whitaker touted the councilman's "strong, pro-business policies" and his belief that "governments at all levels need to reduce regulations so businesses can thrive."
Robinson's appointment gave Republicans a seven-member majority on the board, starting in February.
Wallerstein has been executive director since 1997. Through a spokesman, he declined to comment.
Although it is unclear who placed the item regarding Wallerstein on the board's agenda, the name of William A. Burke, a Democrat who has long chaired the air board, appears next to an item in which severance and other personnel action on the executive director would be reported publicly.
Burke did not return a call seeking comment.
Larry McCallon, the Republican mayor of Highland in San Bernardino County who was sworn in to the air quality board last month, said in an interview Tuesday that the air quality district must do more to address the economic burden of pollution regulations on area businesses.
"I believe that having jobs are just as important for a person's health, for a family's health, as having clean air," McCallon said. He said he has not worked directly with Wallerstein long enough to form an opinion about his leadership.
McCallon downplayed the significance of the board's new Republican majority. As an example, he pointed to the board's controversial decision in December to reject tough new pollution control measures proposed by agency staff, noting that the 7-5 vote crossed party lines.
Four Democrats and three Republicans on the board voted to adopt a two-page alternative plan by the Western States Petroleum Assn. and other business groups that is expected to delay the installation of costly emissions controls at oil refineries and other major pollution sources and slow progress toward clean air.
Wallerstein and other staff members had warned board members before their vote that the industry-backed measures were not supported by the agency's analysis and was not legally defensible.
A month later, the California Air Resources Board took the unusual step of criticizing the air quality district board's decision. The state board said the weaker plan to cut smog-forming pollutants from oil refineries, power plants, factories and other major sources may violate the law and will harm people's health across the region.
See more of our top stories on Facebook >>
The staff-proposed emissions rules were intensely opposed by the oil industry, which argued they would force refineries and other facilities to spend billions to upgrade pollution controls. Residents from the region's most-polluted communities had urged the board to adopt stronger regulations to help ease asthma and other smog-related health problems.
Environmentalists on Tuesday called the move to replace Wallerstein an alarming signal that the air board may be shifting further from its mandate to protect residents' health. They said the action may have come in response to a defense of stronger emissions-cutting rules by Wallerstein and his staff.
"Dr. Wallerstein is one of the most knowledgeable and respected air quality officials in the nation, and his removal would be a big step backward in the struggle for clean air and public health," said V. John White, a former lobbyist for the air district and the Sierra Club who now is executive director of the Center for Energy Efficiency and Renewable Technologies in Sacramento.
L.A. Mayor Eric Garcetti issued a statement in support of Wallerstein, saying, "I will do everything possible to ensure that AQMD continues to have bold and strong leadership so that Los Angeles remains on a path towards healthier air."
The action also comes as the air district is preparing a sweeping new air quality plan that will guide the region's efforts to reduce emissions to meet federal health standards for ozone and fine particulate matter.
California Senate leader Kevin de León (D-Los Angeles), who appoints one air board member, said the move to replace Wallerstein "is the latest in a line of anti-clean air actions instigated by the polluters lobby."
He praised the district's leadership in cleaning the air and vowed to take all appropriate action to remedy the situation.
For more air quality and environment news, follow me @tonybarboza
ALSO
California's snowpack falls below average, sparking new drought fears
Dog park and other tenants fight to remain on VA land in West L.A.
Drought hasn't been all bad—we've learned some things too, California water chief says
---
The stories shaping California
Get up to speed with our Essential California newsletter, sent six days a week.
You may occasionally receive promotional content from the Los Angeles Times.