California's snowpack falls below average, sparking new drought fears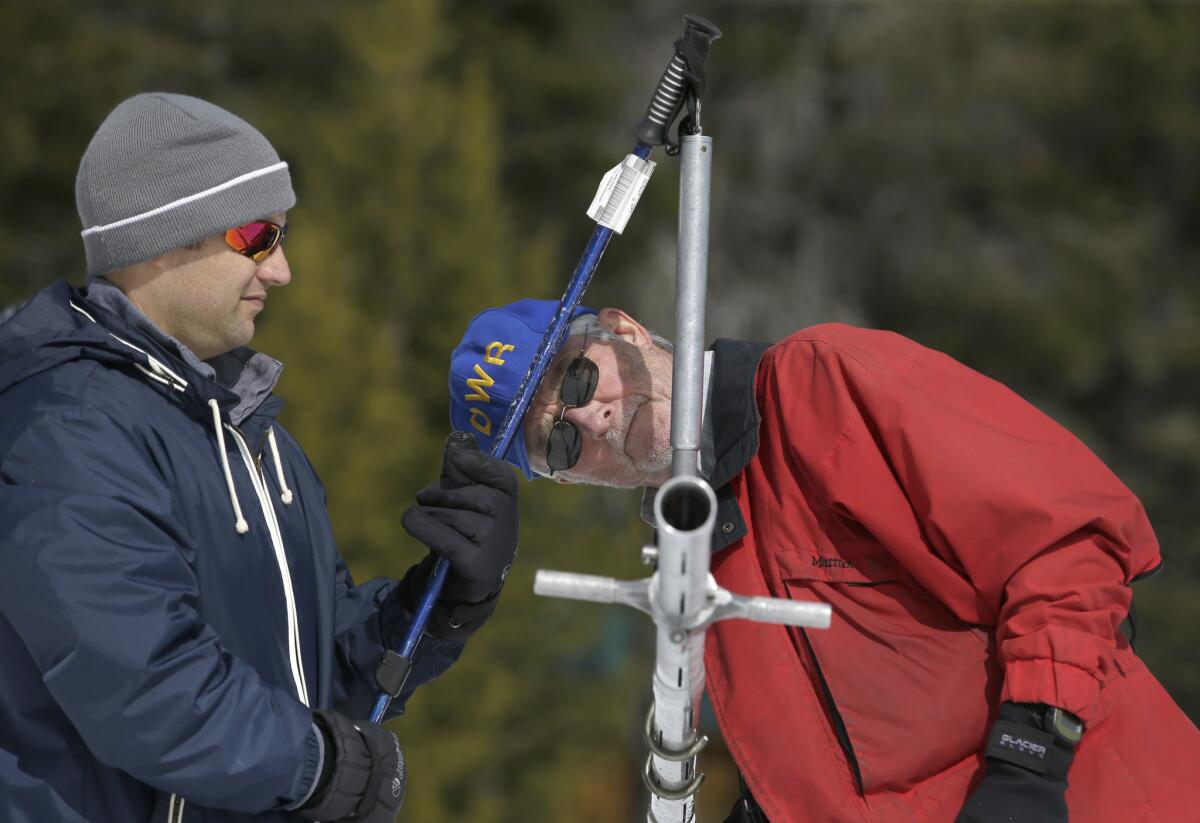 After a promising start to winter, California's snowpack has shrunk to below-average levels, causing state water officials to redouble their calls for water conservation.
On Tuesday, the statewide snowpack stood at only 83% of average for the day, a result the California Department of Water Resources blamed on fall and winter seasons that have brought only "moderate precipitation" and "relatively warm temperatures."
Officials say that traditionally, half of the state's annual water falls as rain or snow during December, January and February, so the declining state of the snowpack is cause for some concern.
See more of our top stories on Facebook >>
A healthy, robust snowpack in the Sierra Nevada is crucial to easing California's prolonged drought and the water contained in the snow is what is most important to officials. In normal years, the snowpack supplies about one-third of California's water needs as it melts and runs off into reservoirs during the hotter spring and summer months.
"Mother Nature is not living up to predictions by some that a 'Godzilla' El Niño would produce much more precipitation than usual this winter," Department of Water Resources Director Mark Cowin said in a statement. "We need conservation as much as ever."
DWR officials conducted the agency's third manual snow survey of the season on Tuesday, trekking 90 miles east of Sacramento to Phillips Station. Surveyors measured snow there that was 58.3 inches deep with 27.1 inches of water content – the best for the early March measuring period since 2011, officials said.
But the daily reports from about 125 automated snow sensors across the state provide a more accurate picture. Electronic readings of the northern Sierra Nevada showed the snowpack's water content at 89% of normal for March 1; the central region was 85% of normal; the southern region was 75%.
In March 2015, the water content in the snowpack statewide was only 19% of normal.
"Right now, we're obviously better than last year but still way below what would be considered adequate for any reasonable level of recovery," said Frank Gehrke, chief of the California Cooperative Snow Surveys Program.
DWR officials have said the statewide snowpack would need to be 150% of average on April 1 to make a serious dent in, or potentially end the drought. They are expected to manually measure the snowpack again on or around that day, when snowpack levels traditionally peak before beginning to melt.
For more on the California drought and water, follow me on Twitter @ByMattStevens.
ALSO
Prosecutors to consider charging anti-KKK protesters in Anaheim melee
More than a third of people shot by L.A. police last year were mentally ill, LAPD report finds
Drought hasn't been all bad—we've learned some things too, California water chief says
Sign up for Essential California for news, features and recommendations from the L.A. Times and beyond in your inbox six days a week.
You may occasionally receive promotional content from the Los Angeles Times.