Residents call on candidates for governor to shut down Aliso Canyon gas facility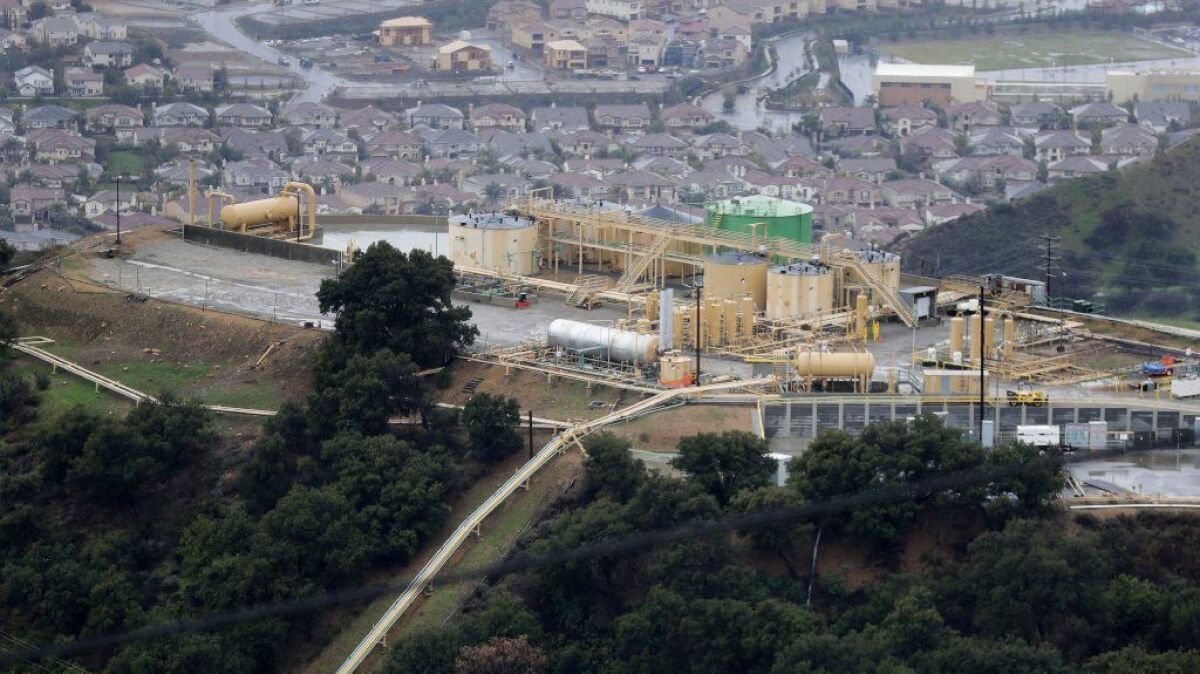 A mysterious disease is spreading through Kyoko Hibino's neighborhood, but you'd never know it by glancing at her sunny, tree-lined Southern California community, she says.
The Porter Ranch resident has suffered bronchitis, heart palpitations, headaches and nosebleeds, none of which amount to a diagnosis by doctors. Hibino said her cat also started getting nosebleeds, and now has cancer.
"We are slowly being killed," she said, noting that the air near her house is clear, making the problem hard to spot. "It's not 'dramatic' enough."
Three years after a massive gas leak at the Southern California Gas Co. storage facility at Aliso Canyon — the largest methane leak in U.S. history — nearby residents say they're still suffering health problems from toxins in the air.
Outside USC's Bovard Auditorium, where candidates for governor were minutes away from a town hall debate Saturday morning, advocates called on leaders to commit to permanently shutting down the site.
Though not government-owned, Southern California Gas is subject to state regulations. The candidates did not discuss the topic during the forum.
"This is our health! This is our air! This is not just in the Valley! The wind blows, and it blows everywhere," said Jane Fowler of nearby Granada Hills. "Some of you don't even know you've been affected."
Fowler, 58, said she had to stop working in elder care and driving an Uber due to unpredictable dizziness, blackouts and other ailments that she says are tied to the smelly leak. She said the emissions killed her dog and sickened her cats.
A broken well at the Aliso Canyon site forced about 8,000 families in the northwest San Fernando Valley to evacuate starting in 2015. After a state appeals court lifted a temporary ban on operations, Southern California Gas resumed injections at the facility this past summer and has been conducting safety improvements.
Use of the facility is now allowed on a limited basis, but opponents want the site shut down entirely.
Alexandra Nagy, a senior organizer with the environmental group Food and Water Watch, said there are still small leaks every day at the site which seep into the air. She noted that methane emissions add to greenhouse gases that exacerbate climate change.
Southern California Gas says methane is nontoxic when inhaled in limited quantities and that the Aliso Canyon leak doesn't pose continued health problems.
"All of the extensive data collected and analyzed by public health officials over the last two years have shown that there was and is no long-term risk to public health or safety from the gas leak," the company said in a statement.
"During the leak and for months afterwards, thousands of indoor and outdoor air, dust, soil, and mud samples were tested during and after the leak, by multiple public health agencies, including the Los Angeles County Department of Health, the South Coast Air Quality Management District, the Air Resources Board, and the Office of Environmental Health Hazard Assessment, and the data demonstrates that Porter Ranch is safe," the statement said.
Staff writer Seema Mehta contributed to this report.
Twitter: @mayalau
---
The stories shaping California
Get up to speed with our Essential California newsletter, sent six days a week.
You may occasionally receive promotional content from the Los Angeles Times.